This page/post may contain affiliate links. As an Amazon Associate, as well as an affiliate of other programs, this means if you purchase something using these links, I will receive a commission on qualifying purchases at no cost to you! For more detailed information, please visit our Affiliate Disclaimer page
In Acts 5:29, Peter tells the High Priest, "We must obey God rather than men."
Christians are dedicated to standing up for what's right–whatever the cost. We'd do anything from going to jail or death rather than reject Jesus and even defy authorities if it means preventing abortion or euthanasia in our family. While we take a firm stance on weighty issues like these, many of us still struggle with more minor matters that come into play every day; how well can we live out God's will each moment?
Obedience to God can feel like an uphill battle when our peers ask us to do things that don't align with His will. Whether it is being asked by co-workers, friends, and family members to participate in unethical practices or ignore worship services on the Lord's Day, peer pressure doesn't just end after middle school – adults still struggle with wanting approval from those around them versus following what they know deep down inside is right.
Following Jesus can often be a costly commitment. From persecuted Muslim converts to Christian prisoners in China, there are countless examples of those who have suffered greatly for their faith. But what about here and now? If you haven't lost anything due to your Christianity, does the thought of it terrify you, or do you stand strong against fear? Whatever situation we might find ourselves in today – one thing is sure: the choice to obey God rather than man has been expensive throughout history — even if that hasn't been true…yet…for us personally.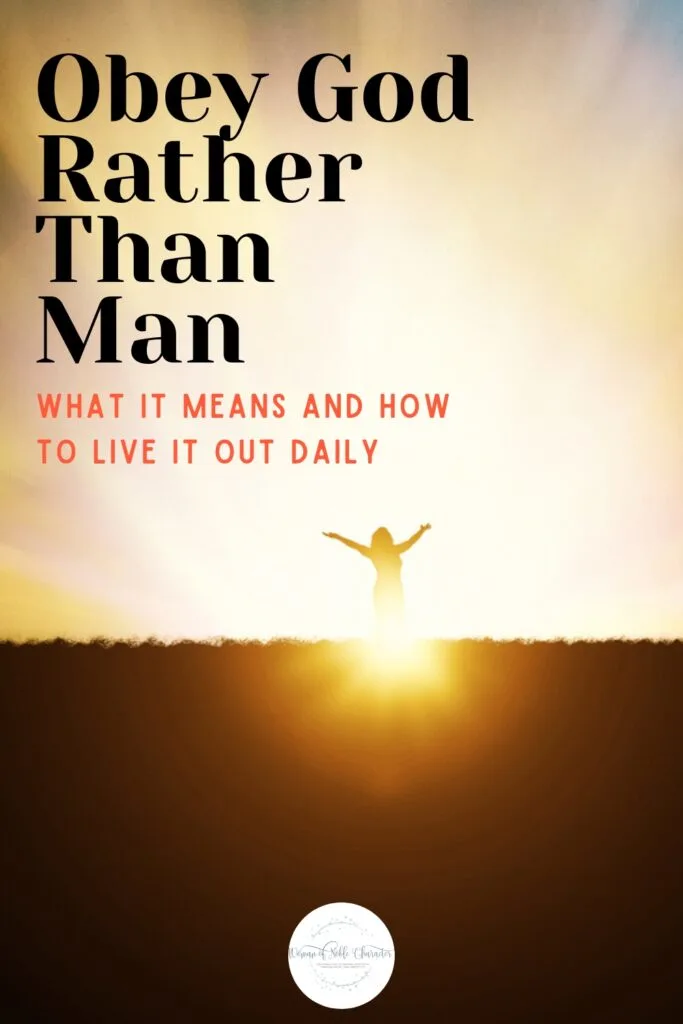 For some, to obey God rather than man can become a challenge when it means standing up to a loved one's sinful behavior. It requires courage and conviction to choose between the holiness God commands of us and our natural desire for acceptance – even if that means accepting something we know is wrong. Facing potential loss or disapproval from those close to us can be challenging, but remembering what matters most will help us overcome even the toughest decision.
Christians aren't always met with acceptance for their beliefs. Instead, they can face harsh criticism and persecution for simply holding on to the truth of God's Word – a daring act in itself that requires submission and trust in His ways above our own.
In today's world, it can be hard to stand our ground in the face of sin. Going with what everyone else is doing may seem like a natural response when we're faced with difficult circumstances and don't want to create tension or appear ugly – but that isn't God's plan for us!
Even though society often ignores traditional culture and its taboos, we should never let ourselves give in to sinful desires simply because it's easier; instead, we must strive towards being bold witnesses for Jesus Christ while keeping His message at the forefront no matter how much hostility comes your way. We shouldn't court hatred through aggression or rudeness – only by standing up proudly as disciples of The Lord will we bring glory unto Him.
Faced with an ultimatum of recanting their faith in Jesus Christ as the Messiah or facing persecution, Peter and the apostles courageously chose to stand for what they believed—no matter how difficult it was.
How would they respond – submit to God, risk persecution, or bow down before earthly authorities in exchange for safety? A decision between the two could mean imprisonment or even death.
For the apostles, the choice was clear. They chose to obey God rather than man.
What It Means to Obey God Rather Than Man
Peter and the other disciples had a unique first-hand experience of Jesus' power and grace; they were both amazed by His miracles and inspired by his teachings. No matter how powerful or dangerous this message was to any authorities at the time, nothing could stop them from spreading Christ's truth – one that promised salvation for all who believed in Him.
The apostles braved extraordinary challenges to follow Christ and deliver his message. Even when they faced death, they remained devoted to preaching the gospel.
When those previously trying to test Jesus challenged Him to tell His followers not to worship Him publicly, He had a powerful response.
Keeping the flame of faith burning in an increasingly hostile world is no easy feat. Still, countless believers have proven that with God's strength and guidance, even the most powerful threats cannot shake our unwavering loyalty to Him. The power of God has given us the courage to stand firm against those who seek to silence His Word – a reminder that although darkness may sometimes seem overwhelming, it can never extinguish the light.
Habakkuk also wrote,
Not even the most fierce opposition could silence or intimidate Christ's disciples into denying their belief in Jesus as Lord and embracing sin. Undeterred, they chose to obey God rather than men.
The disciples were firm believers in the glory of God's kingdom and had seen it working miracles – they knew that sticking with Jesus was infinitely more rewarding than settling for worldly pleasures. His love offered them something extraordinary, so they chose timeless richness over momentary comfort.
Trusting God is the basis of faithful obedience. He asks us to trust him, even in our most challenging times, and when we do, it shows an undying dedication towards Him that can conquer any challenge.
Biblical Examples of Choosing to Obey God Rather Than Man
The disciples' unwavering faith was on par with the courage of biblical heroes like Daniel and Shadrach, Meshach, & Abednego. With ferocious conviction, they risked punishment to uphold their beliefs; in Daniel's case facing a hungry lion and Shadrack, Meshach, and Abednego possibly burning alive at the hands of Nebuchadnezzar's fiery furnace.
These godly followers weren't afraid to obey God rather than man and embrace their convictions – just like Jesus' disciples did. On the contrary, they embraced obedience as an essential part of true faith, no matter what it cost them.
If you want to follow in Jesus' footsteps, it's not going to be all sunshine and roses- He emphasized that His disciples would have a tough road ahead of them and face persecution in their lives.
The Apostle Paul also wrote,
To the disciples, however, persecution did not stop them.
Why Should We Obey God Rather Than Man?
Christians have long been willing to put their lives on the line for Jesus Christ, driven by an undeniable love of God that exceeds any fear of man. Their faith allows them to embrace salvation and look ahead with hope until eternity joyfully – a testimony of selfless devotion inspired by the ultimate sacrifice made for all humanity.
To be a true disciple of Jesus Christ is to go beyond belief, embracing His teachings and emulating Him in our daily lives. Obedience means trusting that what God has in store for us surpasses the plans we have laid out ourselves – it involves decision-making with humility and surrendering control over to the Lord's will. In other words, obedience asks us to walk faithfully alongside Jesus while He leads! THIS is to obey God rather than man.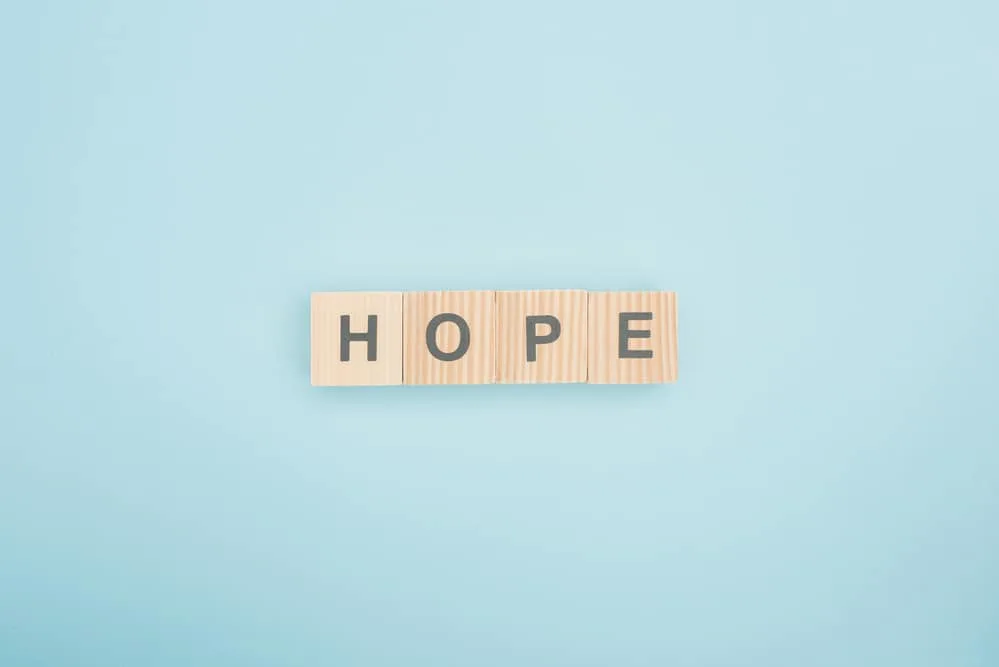 They are instructed to follow His commands and submit to His authority. Jesus told His disciples,
As followers of Jesus Christ, we are called to spread the gospel message, a simple but powerful directive founded on two fundamental pillars – love for God and love towards our fellow humans.
To obey God rather than man can bring immense challenges in this life, but those steadfastly devoted to Jesus will know the joy of a transformed life. Through perseverance and dedication to Christ's authority, we lay claim to an eternal future blessed by His sacrifice.
Remember that although we are called to respect the authorities here on earth, our primary allegiance is with Christ and His teachings. Therefore, submission shouldn't be thought of as a chore – instead, it should come from an overflowing joy for God in us!
Through Jesus, we're offered hope and the promise of transformation. God's Word gives us further insight into wisdom to thrive in our lives now and for eternity.
The form you have selected does not exist.
How to Obey God Rather Than Man
Do not rely on your own strength
Jesus has blessed us with an incredible gift – the Holy Spirit. We never face life's battles alone because this divine presence strengthens and emboldens us just like it did for the Apostles when they courageously stood before powerful authorities.
Jesus taught the disciples they were not alone in Luke 12:12.
Stay in Fellowship With God
Do you make prayer a priority in your everyday life? Paul encourages us to "pray without ceasing," but is that how we live out our faith daily? Worship God through devotions and with family, pray together with friends, and set aside time for uninterrupted conversation with Him, making each of those activities part of the regular rhythm of your day.
Know God's Word
Knowing and understanding God's Word isn't just important—it's essential. By seeing how Jesus answered Satan with scripture, we can understand why it matters so much to read the Bible and store its words in our hearts! Let us be diligent students of His teachings, for if we want to follow Him faithfully, then learning and obeying His commandments is a must.
Fellowship With Other Believers
The early church knew that fellowship and breaking bread were integral to the Christian life. Likewise, having reliable friends in our faith journey gives us someone to turn to for support and an environment where we can feel safe for honest accountability and repentance.
God has entrusted us with a mission to be his messengers of the Gospel. He equips us through His Word and Spirit, placing the true desire in our hearts to follow Him when facing big decisions or mundane tasks. Therefore, to obey God rather than man should always remain at the forefront of every Christian's life.
In this passage from Scripture, many see a call to 'Christian civil disobedience,' standing up for religious liberties in the face of government regulations. But when we look closer at what Peter was saying here, it's clear that he meant something much more powerful: not merely defying governmental restrictions on faith expression – but courageously speaking out about Jesus no matter the cost! Unfortunately, today so many Christians choose silence over boldly proclaiming His name – we rarely stand firm and vocal regarding who He is or what He stands for.
You may enjoy the below video sermon on the topic of to obey God rather than man.
Or one of these recommended resources for further study.
Jimmy Swaggart : To Obey God Rather Than Men by Charles R. Fontaine, Lynda K. Fontaine
We Ought to Obey God Rather Than Men by Leonard McNeill
To obey God rather than man is not always easy, but it is always worth it. When we obey God rather than man, we choose what is right, even if it goes against what everyone else is doing. This can be a difficult thing to do, but there are ways that we can help make it easier. First, we need to pray for guidance from the Holy Spirit. Second, we need to read our Bible and look for examples of obedience. And finally, we need to find a community of like-minded believers who will encourage and support us in obeying God. How have you chosen to obey God rather than man in your life?
ESV – "Scripture quotations are from The ESV® Bible (The Holy Bible, English Standard Version®), copyright © 2001 by Crossway, a publishing ministry of Good News Publishers. Used by permission. All rights reserved."