This page/post may contain affiliate links. As an Amazon Associate, as well as an affiliate of other programs, this means if you purchase something using these links, I will receive a commission on qualifying purchases at no cost to you! For more detailed information, please visit our Affiliate Disclaimer page
One of the greatest gifts that you can give your husband is prayer. You should be praying for your husband daily.
Praying for your husband is something most wives do; however, in talking with other wives, I've found that most of the time, we pray for our husbands, it's during a time of difficulty or crisis.
Praying for your husband during a time of need is always good, but I would argue that it's even more important to pray for your husband during smooth sailing. I believe that you should be praying for your husband every day.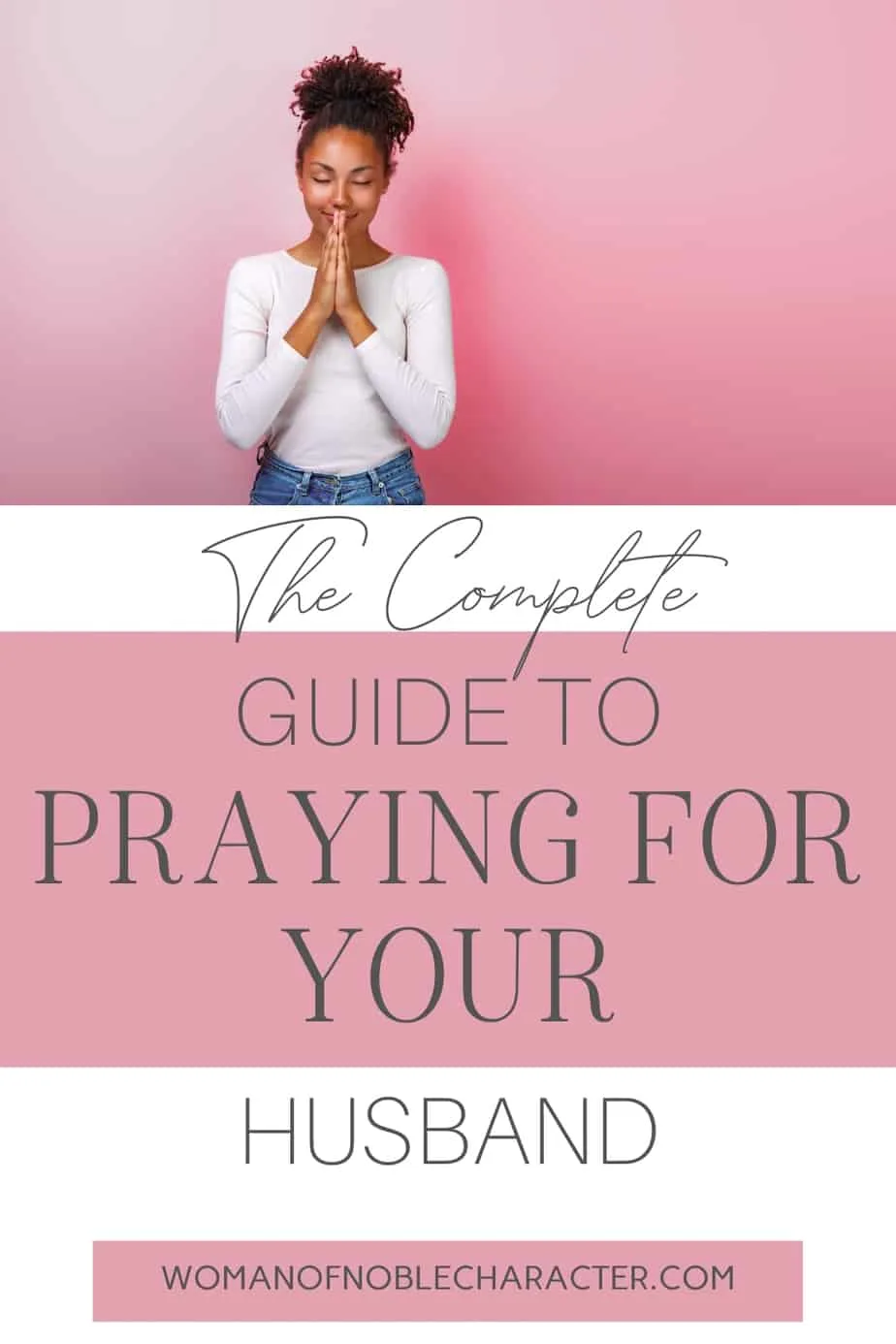 Why Should You Pray for Your Husband?
To Remind Us of Our Marital Relationship
Yes, yes, I know that we always know that we are married, but praying for your husband shines a light on the intimate relationship we have with our spouses. Who knows your husband better than you? (except God, of course!)
You know when something is troubling him and what his weaknesses are. Of course, the enemy goes after those weaknesses, but through prayer, we can fight the enemy and ask God to put a hedge of protection around our husband, avoiding temptation.
To Grow Closer in our Relationships with God and Your Husband
A solid Christian marriage must have God at the center. Praying for your husband will strengthen your relationship with God, the Father, and your husband. When we focus intently on our husbands in prayer, we open our hearts to God on their behalf.
Prayer Softens our Hearts
Marriage has its ups and downs. We all know that. We, at times, get angry with our husbands or have times of resentment. But, when you pray for your husband, God softens your heart toward him. Sometimes I find myself praying for God to change my husband in specific ways. But when I go before the Lord in humble prayer, my heart softens, and I find my strong, prideful opinion also softens.
Prayer Helps Your Husband and Builds Him Up
We know that God is faithful, and if we go to Him on behalf of our husbands, we know that God will work in him. Prayer "girds his loins" for the battle of everyday life.
The form you have selected does not exist.
Praying for Your Husband
So, we know that praying for your husband is good, but sometimes it's just hard to do. So, what do we pray about outside of praying for him during a crisis? How do we pray for our husbands as part of our daily prayer life?
I have the book The Power of a Praying Wife by Stormie Omartian. I keep it on my nightstand. I try to, most days, open to a page and start praying for my husband in areas including:
His health
His work
His friendships
His faith
(You may also enjoy this five-star rated book: Praying for Your Husband from Head to Toe: A Daily Guide to Scripture-Based Prayer by Sharon Jaynes)
However, the most powerful thing we can pray for on behalf of our husbands is that they are truly saved and filled with the Holy Spirit.
Prayers for Your Husband
There are many ways to pray for your husband (outside of pleading with God when something goes wrong or your husband faces a difficult challenge). You can, of course, pray in your own words, but below will give you an inspiration point.
Below are some powerful prayers that you can pray for your husband daily. You'll find specific prayer around fourteen areas of your husband's life.
Consider also scripture-based prayers using the Word of God below to include in your daily prayer.
I firmly believe in the power of prayer and that by praying for your husband, for a specific issue, or his life in general, will blossom into blessings and put your marriage on a firm foundation. Pray and feel His Heavenly Love.
1) Go before God in prayer to help your husband succeed in his work.
Most men identify strongly with their professions. God has created them to be the hunters and gatherers (I cover this in detail in my book, The God-Centered Marriage). Pray for him to reach his work goals and his next career move and learn and succeed at his job.
Dear Lord,
Please help my husband as he begins the day. Fill him with strength and positivity so his mind can stay focused on his work. Give him restful sleep and wisdom beyond measure when difficult decisions arise. But, most importantly, Lord, be right by his side; guide him every step of the way – let your presence speak louder than any words ever could. In Jesus' name Amen!
2) Ask God to help your husband overcome any problems he may face.
Whether it's a demanding boss or co-worker, financial difficulty, the temptation to sin, or a struggle with self-doubt, ask God to give him the faith and strength to overcome it.
Loving Father,
Lord, I come to you in prayer, asking that you give my husband the strength and courage he needs as he weathers his current trials. Be a source of comfort to him when those dark times feel overwhelming – let your presence be felt so that even through difficulty and sorrow, joy can still shine through. May these experiences refine him with resilient character while feeling contentment from knowing You are always standing by his side. Amen!
3) Appeal to God to draw your husband closer to God.
Ask God to give your husband, a hunger for a relationship with Christ. Pray for this every day and trust that the Holy Spirit will empower your husband in every area of his life.
Dear God,
Lord, I pray for my husband's spiritual walk with you. Help him to grow in faith and to walk with you each day. May he desire to spend time reading and studying your Word each day. Help him to gain wisdom and direction from your Word each day and grow in the fear of the Lord. Amen.
But he gives us more grace. That is why Scripture says:
4) Go to the Father and ask Him to protect your marital bond.
God brought the two of you together and blessed your union through the covenant of marriage that He created. Ask God to protect your bond. To keep each other's thoughts and eyes focused on the other. Ask Him to remove any temptation or untoward thoughts. Ask God to put a hedge of protection around you, your husband, and God – the three-cord strand.
Good Father,
I pray that our marriage may be filled with unity and joy. Help us to honor each other as You have called us to do–with me showing respect for my husband's leadership and him loving me sacrificially in the way Christ loves His Church. Let healthy communication foster a deeper connection, where we speak words of encouragement rather than criticism. We are grateful, Lord, that through Your grace, we can experience oneness even when it seems hard; this is all for Your glory so that others will see how unconditional love, both from ourselves and You, brings people together forever! Amen
5) Ask God to let you view your husband through His eyes
God sees your husband as a wonderful, amazing man. His own creation. As humans, we are flawed. We get on each other's nerves. Ask God to let you see your husband the way He sees him.
Dear Father,
You created man in Your likeness and declared it to be good. I pray that You would open my eyes so I can see my husband the way You do – highlighting all of his excellent qualities, both big and small. Grant me with words that honor him according to Your standards and those moments when nothing comes forth from the mind, especially when he needs affirmation the most! Generously fill our relationship with praise for each other constantly, Lord – let us bring cheer into one another's lives every day through Jesus' Name. We humbly ask Amen!
6) Appeal to God to keep your husband safe from harm.
Go to the Father, asking that He keeps your husband safe while traveling to work and at work and everywhere he goes. Ask God to bring him home safe to you every day. Ask God to walk ahead of him and keep him safe physically, emotionally, and spiritually.
I humbly ask that you shower my husband with the everlasting safety of your refuge. May he find comfort and strength beneath your watchful shadow, and may his steps be guided by Your favor like a faithful shield – guarding him in all ways. In Jesus' name, Amen!
7) Pray that the Lord will give your husband godly friends.
Ask our Heavenly Father to surround your husband with other men striving to be Christlike, those who pursue the Father. Who we spend our time with has a significant influence on our life. Therefore, ask God to provide your husband with a godly best friend.
Good, Good Father:
Jesus is our rock-solid Friend who never abandons us, but He also encourages us to build connections with people in the flesh. Today we ask for God's guidance as our husband builds and cultivates meaningful friendships that will challenge him spiritually and mentally – wise friends who can help sharpen his faith just like iron sharpens iron. We pray he has discernment when choosing good company over bad, so he stays on a righteous path! Amen
8) Pray for a hedge of protection for your husband against physical, emotional, and spiritual temptations and attacks.
Satan has quite the bag of tricks and will try them all to attack us and separate us from God. So rebuke the devil in Jesus' name to protect your husband against any attack from the enemy.
Dear Father,
With an awe-inspiring heart, I come before you, Lord, to ask for your graciousness over my husband and me. We all need forgiveness every now and then, so please help us be forgiven no matter our wrongdoings. The devil's power looms large against humanity, but victory will surely follow with You leading the way in battle! The blood of Christ shields from any evil spirits that may try to harm him – so cancel out these threats instantly, oh God almighty; let not a single one linger near his presence unscathed. Furthermore, protect him spiritually by sending angels down on high as guards around my beloved husband; together, fight off principalities and powers and make sure nothing stands between us anymore! Amen
9) Ask Our Lord that your husband would recognize his need to confess and repent for his sins.
Pray, also that he would confess to God and repent, rather than hiding it or letting guilt hold him back.
Father God,
Dear Lord, I pray that You help my husband see and recognize his own mistakes. May Your truth convict him in the depths of his being so that he may come before You with a humble heart, confessing any secret sins instead of hiding them out of pride or shame. Help us both to remember that suffering is part of repentance but also brings healing when we turn our hearts back towards You. Thank you for teaching us what it means to be truly humbled. Amen.
10) Pray that your husband will be a faithful spiritual leader in your home and family.
Many men struggle with this. Ask God to give your husband confidence, wisdom, and compassion as he leads your entire family and his calling as the spiritual leader of your home and family.
Dear Lord,
I pray to our faithful God, asking Him for the gift of strong leadership in this world. May my husband be blessed and filled with Your wisdom and love as he serves faithfully as the leader of our family – may You continue to guide him on the right path, granting all that is necessary so he can glorify You through his actions. In the name of Jesus, we ask these things; Amen!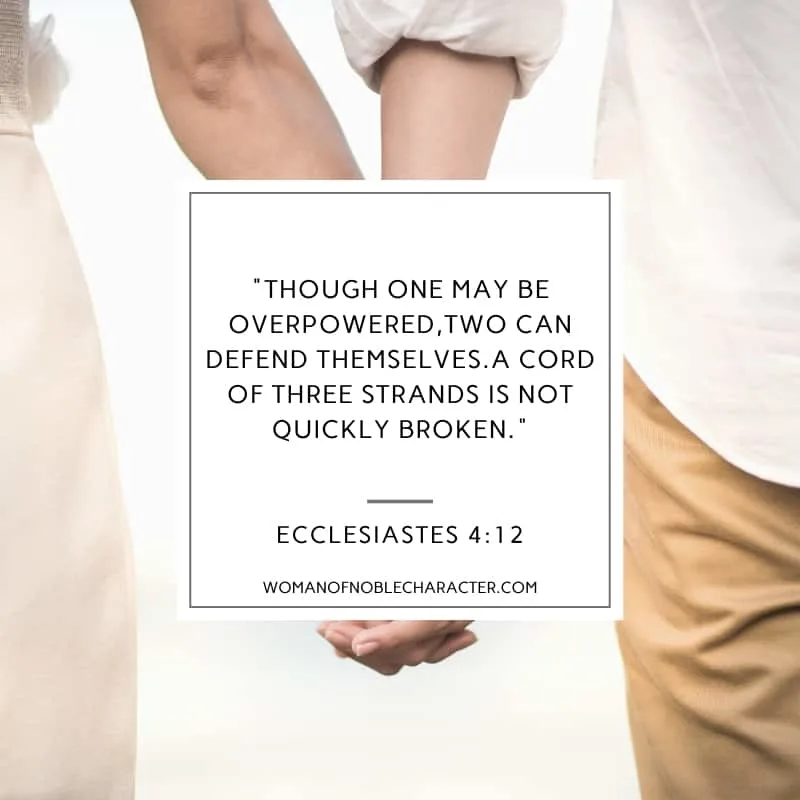 11) Pray for your husband's relationship with your children.
Pray that your husband would have a loving, open, and compassionate relationship with his children. Ask that your husband would communicate with them (men often have a hard time with this) and lovingly discipline them.
Lord,
I pray that You grant my husband the mercy and endurance he needs to become a God-fearing father. Help him lead our children in truth and wisdom so that their faith will never waver even as they grow older. Let his example be that of Yours – one full of grace, love, and patience, an image we can all aspire towards with joyous hearts. Amen
12) Appeal to Our Father for Him to provide for your husband emotionally, practically, and financially.
God doesn't always give us what we want, but he always gives us what we need. So pray that God will meet all of your husband's needs. Even an open or closed door may be an answer to prayer.
Dear God,
We put our faith and trust in You to fulfill all my husband's needs. We know your word is true – You are a faithful provider! Please bless him with physical strength, spiritual wisdom, financial security, and emotional peace so he knows without a doubt what a steady presence you have been throughout his life. Help us both learn more fully how to depend on Your provision alone for everything we need – body & soul – knowing Your love will never fail us when entrusted into Your hands. Amen
13) Ask God for His will to be done in your husband's life.
We often think we know how our life should go and pray for all to go according to our plan, but we really should be praying that God's will (and our husbands') be done in our lives. Remember always that no matter how things may look, He is working all things out for good.
Lord God,
As my husband moves through life, please provide him with steady guidance. Allow his heart and mind to be filled with boldness as he makes difficult decisions–big or small–so that each choice may bring Him closer to fulfilling Your will. Finally, if ever faced with a challenge too great for one man alone, give him the strength of character needed to find peace along His path. Thank you in advance, Lord; Amen!
Tips for Praying for Your Husband
If you haven't been in the habit of praying for your husband (except in times of need), here are four tips for praying for your husband.
1) Thank God for your husband.
Share with God how much gratitude you have for your husband and God for loaning him to you. This is especially important when your husband gets on your last nerve or has sinned. Thank God for your marriage; The Lord is at the center of it.
2) Advocate for your husband.
If your husband is struggling in an area (work, relationships, self-esteem, etc.), ask God for Him to intercede on your husband's behalf. Then, whatever the situation or your husband's need, lift it to our Heavenly Father, who can do more than we can ask or imagine – no matter how the situation looks to us.
3) Ask God to make you a better wife.
It may be tough to face that there are areas that you can improve in. Ask God to reveal those areas to you. To shine a light on them and ask Him to help them in those areas. Listen to your husband, but most of all, for God's voice to bring these weak areas to mind and give you the strength and wisdom to recognize them and to change. God is at work in your life.
4) Don't give up.
Even when you don't feel God is at work, He is. If you don't immediately see an answer to prayer, just wait. God may have something better in store for you. Pray daily for your husband – even when especially when you are angry with him or your marriage is in a challenging time.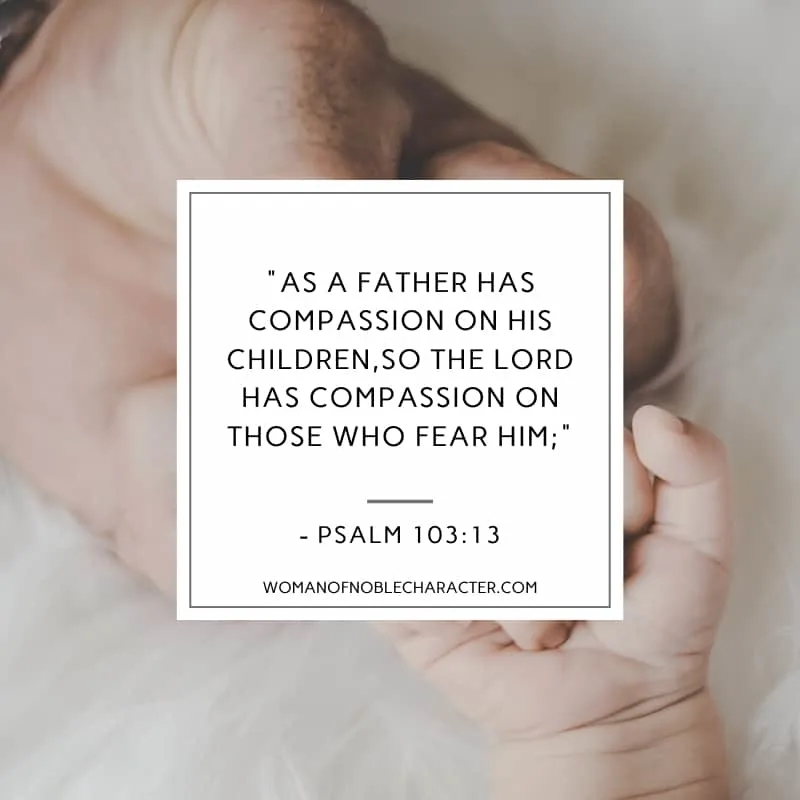 How Praying for Your Husband Changes You
Prayer changes things and can have an incredible impact on your marriage. You may find that God changes your husband, but you'll undoubtedly discover it will also change you.
Praying for your spouse will:
Give you compassion
Praying for someone allows you to take off your blinders and see them as God does (see the note above about asking God to enable you to see your husband as He does). You may be furious with your husband. You may be displeased or even disgusted by his actions, but praying for them softens your heart and may help you understand why he said or did what he did or why he may be feeling the way he does.
Give you humility
This relates to the above about compassion, but when you pray for your husband, you put their needs and heart before yours. It's hard not to feel humble when you are going to The Father on behalf of another. Praying can remove pride or ego from your heart.
But he gives us more grace. That is why Scripture says:
Remind you that prayer is not a magic trick but a vehicle for miracles.
If you consistently pray for your spouse (and especially if your spouse is consistently praying for you), you will see change and possibly even miracles.
I've seen marriages on the brink of divorce. Still, when they recommitted their lives and marriage to The Lord and developed a habit of prayer, God performed miracles, and the marriages became stronger than ever. Prayer is our conversation with God. It is pouring our hearts out to Him. He listens, and He answers. Not always in the way we want or expect, but He answers. So allow Him to work a miracle in your life and marriage through praying for your husband.
Here's a video you may enjoy about The Power of a Praying Couple.
As with any prayer, begin by thanking God for your blessings. Thank God for your marriage, for choosing your husband for you, and for how he provides for your family. Then talk to God about working in your husband's life. Talk with Him as you would a friend; after all, God loves us!
Throughout God's Word, God instructs us to pray. If we are to pray for others, wouldn't it make the most sense to pray for the one God chose as your lifelong partner?
The form you have selected does not exist.
"Therefore, confess your sins to one another and pray for one another, that you may be healed. The prayer of a righteous person has great power as it is working" (James 5:16).
I encourage you to start praying for your husband every day. Commit to praying over one area of his life daily – not just in times of hardship.
Grab our Praying for your husband ebook here (or click the image below).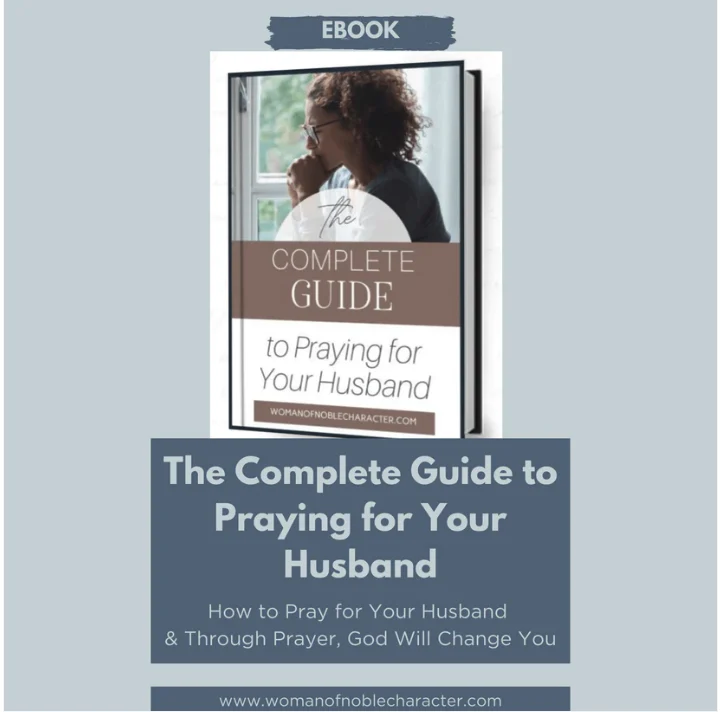 For more on Christian marriage, consider my book, The God-Centered Marriage.
Because He Lives,
Sue
ESV – "Scripture quotations are from The ESV® Bible (The Holy Bible, English Standard Version®), copyright © 2001 by Crossway, a publishing ministry of Good News Publishers. Used by permission. All rights reserved."