Printable Packs for the Proverbs 31 Woman
Printable packs for just the area that you are looking to shore up in your life. Choose by room of the house or area of your life.
Looking for ways to strengthen your marriage? I have resources for you!
Wanting to learn great tips to clean and organize your bedroom and closet? I've got you covered!
How about getting more out of your Bible study time? Yep, I have great worksheets for you!

Printable Scripture Cards
(Pack of 18 – covering topics from God's promises to communication to marriage)
4.99


Marriage Printable Pack
(Pack of 15 printables including a marriage check up, dividing household chores, love notes, date night ideas, money and parenting and so much more!)
4.99

Finances Printable Pack
(Pack of 9 printables including monthly budget and bill paying, organizing household accounts and debt trackers, how to stop arguing about money, bank account information resource and so much more!)
2.49


Ultimate Meal Planning/Holiday Gathering and Food Storage Printable Pack
(Pack of over 17 printables and more than 25 pages!) of resources, charts, templates and worksheets on everyday meal planning, holiday meal planning, grocery shopping time and money savings, food and leftover storage and much more! You'll want to print this out and keep in a binder in your kitchen for handy reference. It's my go-to for all things food!
9.99


Laundry Printable Pack
Pack of 4 printables including stain guide, laundry tips to make mount laundry go away, clothing label guide and laundry room cleaning checklist)
.99


Bible Study Printable Pack
Pack of 6 resources including character study worksheet, SOAP study and instructions, beautiful books of the Bible reference chart and more!)
1.99


Bedroom and Closet Organizing Printable Pack
Pack of 7 resources including how to declutter step by step, condition and calamity organizing form, organizing your closet step by step and additional resources for your neatest closets ever!)
1.99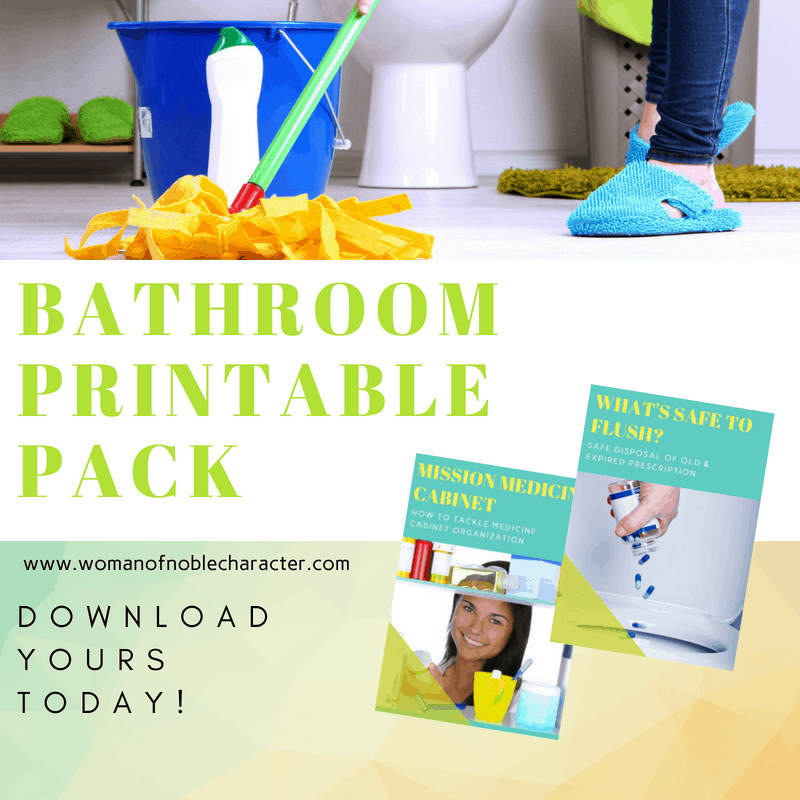 Bathroom Printable Pack
Pack of 6 Resources including what prescriptions are safe to flush, Mission Medicine Cabinet. Mission Bathroom (step by step organizing your medicine cabinet and bathroom), linen closet, organizing ideas and tips for the bathroom.
1.99


Living Room/Den/Family Room Organizing Printable Pack
Pack of 7 resources to help you organize your family room/den/living room from top to bottom including DVD and video game checklists, tips for cleaning and organizing these rooms and decluttering 101 plus more!
1.99


Printable Images for Bible and Art Journaling, Scrapbooking or Planners
Pack of 6 sheets includes "Bible girl", home, finance, marriage and more!
1.99


Just for Fun Printable Pack
Pack of 10 fun crossword puzzles, word searches, coloring pages and more for the Christian women – Great for a short stress break!
1.99