PureFlix – A Wholesome Alternative to Mainstream Media
This page/post may contain affiliate links.  As an Amazon Associate, as well as an affiliate of other programs, this means if you purchase something using these links, I will receive a commission on qualifying purchases at no cost to you! For more detailed information, please visit our Affiliate Disclaimer page
I don't know about you, but I've been finding it harder and harder to find clean, wholesome programming on television and movies. Everywhere I look, I see immorality, nudity and profanity.
My kids are grown, and it's usually just my husband and I but we strive to "keep it clean" in the media we consume.
I was so excited to find PureFlix, a Christian alternative to Netflix! (Apparently, it's been around awhile, but I've only discovered it recently – I guess I've been hiding under a rock 🙂 )
PureFlix Digital strives to be the most trusted faith and family-friendly video-streaming source on the web.
They have a mix of family-friendly and wholesome entertainment including movies for all ages, kid's animated titles, documentaries, how-to's, hobbies, educational, health and fitness, sports, outdoors and travel plus many inspirational and devotional titles, all streamed directly to PC's, iOS, Android and Roku devices. (We use a USB cable and connect my laptop to our television).
They even have a library of homeschool curriculum! (Where was this when my kids were growing up? :D)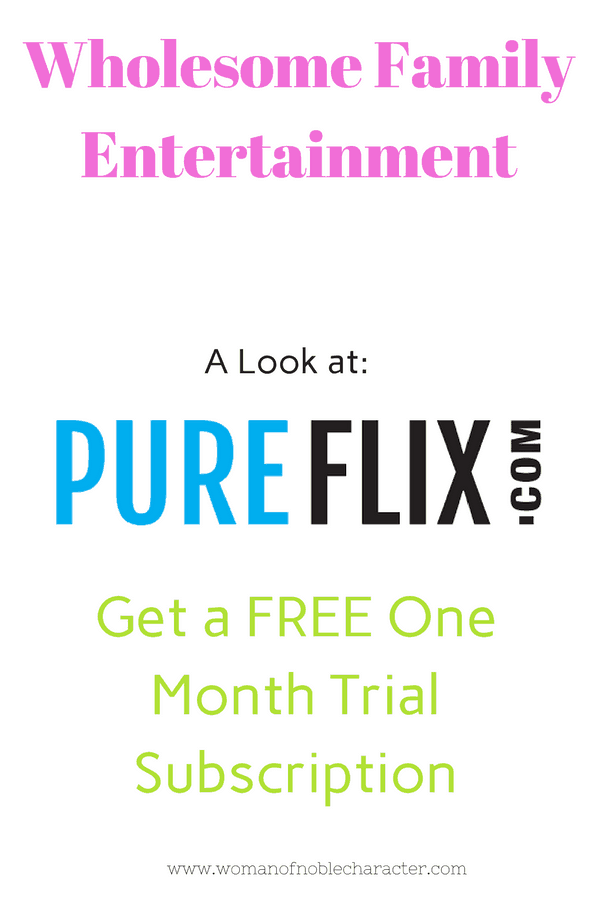 PureFlix is the worldwide leader in faith-based entertainment.
I love that they choose a new charity partner every month and donate to that charity. They truly have a heart for serving others.
You can grab a FREE month subscription by usingthis link: PureFlix Free Month
If you join the free subscription, let me know how you like it! We are loving our experience, so far!
If you are looking for good book recommendations, check out my Tools and Resources page.
Because of He Lives,
Sue
www.womanofnoblecharacter.com