This page/post may contain affiliate links. As an Amazon Associate, as well as an affiliate of other programs, this means if you purchase something using these links, I will receive a commission on qualifying purchases at no cost to you! For more detailed information, please visit our Affiliate Disclaimer page
Rahab in the Bible. Oh, Rahab! I've been asked which biblical figures I'd most like to meet or have dinner with on several occasions. Of course, Jesus, Mary, and Paul are on my list, but I have one biblical character on my list that is a bit more, well, shall we say, colorful: Rahab.
Rahab in the Bible was a prostitute. She was defined by what she did for a living, like many of us. According to rabbinical tradition, Rahab was one of the four most beautiful women in the ancient world.
If you aren't familiar with Rahab and her story, I'll recap it.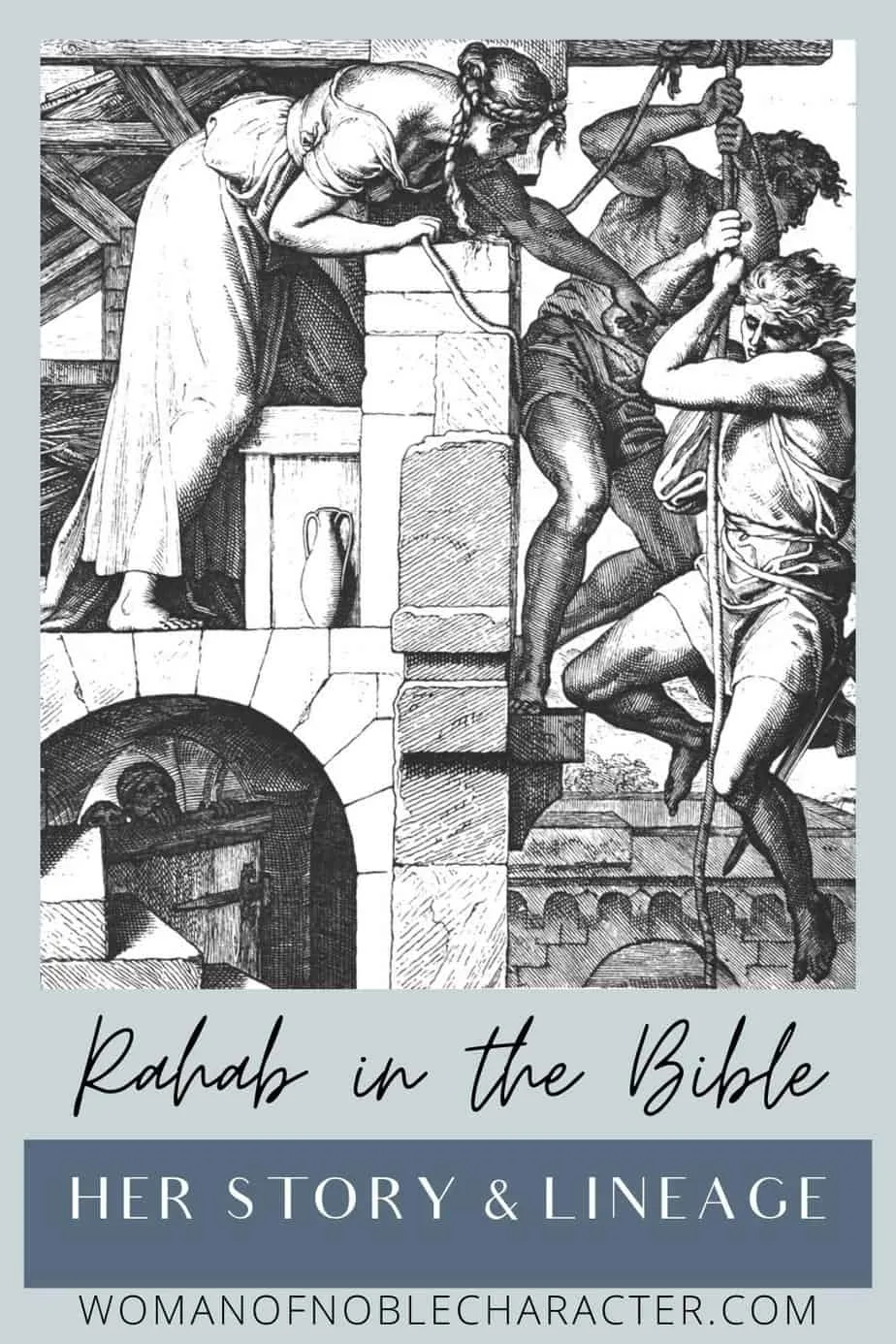 If you aren't familiar with Rahab and her story, I'll recap it for you.
Rahab in the Bible: Story Recap
In the Old Testament, specifically the book of Joshua, we are introduced to one of the most intriguing and brave women of the Bible. Rahab in the Bible was a prostitute in the Canaanite city of Jericho. She is known for her strong faith and for her position in the lineage of Jesus.
The life and times of Rahab in the Bible can lead us to a greater understanding of God's plan for His church as well as individual believers in grace and mercy.
We read about Rahab in Joshua 2–6. In these chapters of the Bible, we learn about the Israelite's conquest of a fortified city called Jericho. It is said that in its day, the most important Canaanite fortress city of Jordan was Jericho.
The city was a stronghold that lay directly in the path of the advancing Israelites. They had just crossed over the Jordan River and now stood at its banks looking towards this secure location for protection from enemies.
Joshua sent two spies to look over the land West of Jordan. When the king of Jericho heard that two Israeli spies were in his city, he ordered them to be brought before him.
Through God's hand, two righteous Israelite spies ended up at her doorstep. She took these men in and hid them, even though she was told to hand them over, and if she didn't, her own life would be taken. Rahab had a choice to make.
We all have decisions to make in life. Few of our decisions, however, determine the course of eternity.
In Joshua 2 we read the account of Rahab and learn that she risked her life to hide two men she'd just met.
Rahab believed in God. She knew that something big was about to happen in Jericho and trusted these two men she'd just met enough to save them – EVEN if it meant risking her own life and the lives of her family members.
She had been watching and had seen the power of God at work. She believed in Him and gave her heart to Him. She had accepted that God is real and who He says He is.
The Canaanite woman Rahab in the Bible is a fascinating example of someone who found faith even though they didn't seem like their typical biblical heroines.
The ancient city of Jericho was an important center of idol worship, and many people worshiped Ashtaroth there, the goddess of the moon.
The Old Testament teaches that the people of Canaan were depraved and followed an evil religion. Some biblical scholars have tried to disassociate Rahab from being a harlot. However, the word for a harlot, zanah, appears in both the story of Rahab in the Bible and other stories firmly denoting Rahab as a prostitute.
Rahab in the Bible was a perceptive woman, intelligent and well-informed. She identified the spies for what they were, hid them, and had a convincing story ready with which to deceive the king's men. Rahab didn't disclaim that she had "entertained" the men. They left when the sun was low in the sky, and it would have been difficult for anyone to see clearly what happened.
The spies were more valuable to Israel than a single woman and her family, so the agents dared not risk stopping to search Rahab's house for them. The Canaanite woman's advice was sound, and it turned out to be a great blessing for the two men. She tells them to take sanctuary in the hills for three days before attempting a crossing of Jordan.
The spies were able to avoid capture by staying with Rahab, a woman who kept them hidden on her roof. She shared with them that the citizens of Jericho had been afraid ever since the Israelites defeated Egypt and their army via the parting of the Red Sea forty years prior.
She agreed to help them escape, but only they promised to spare her family during the upcoming battle. The spies agreed to her request as long as three conditions were met: 1) By hanging a scarlet rope from the window, she could distinguish her home and ensure safety for those inside 2) Her family but be kept inside her home during this battle, and 3) Rahab must not at any time turn on the spies.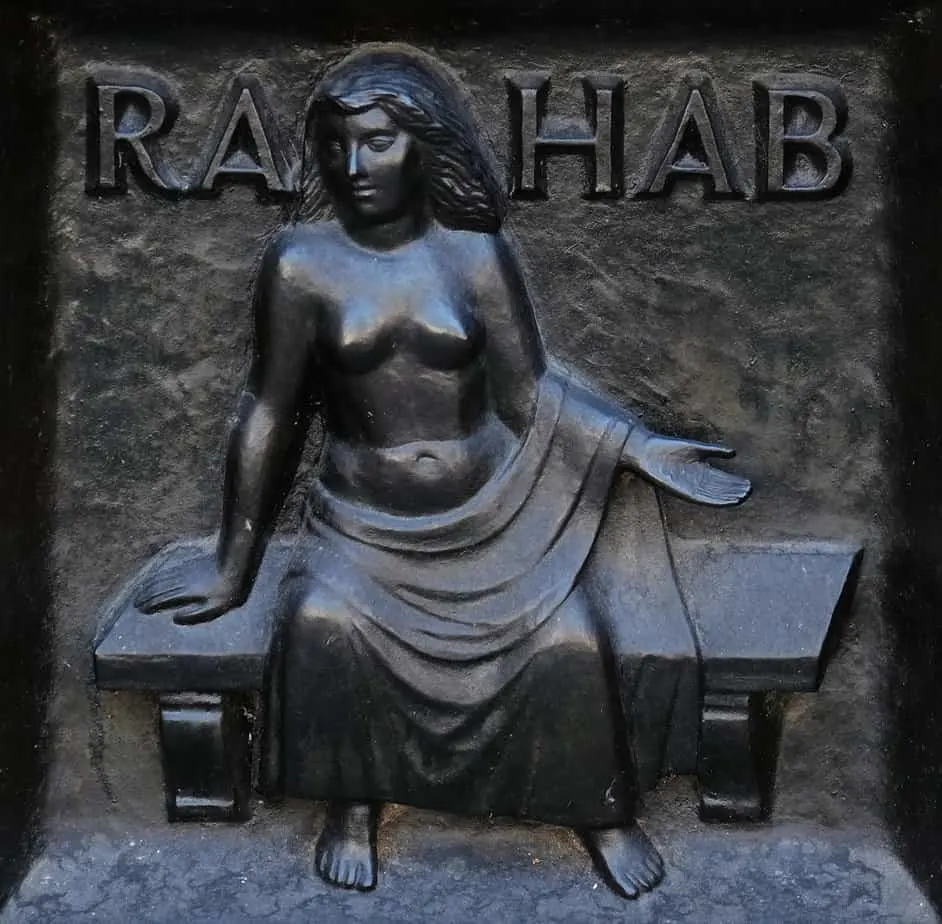 Rahab and the Window
The Hebrew word for "window" appears three times in the story of Rahab in the Bible (Chalon/חלון.) in relation to how she helps the spies escape and marks her home so it will be spared destruction and her family saved.
Windows are an important part of the stories of several other biblical women: Michal (2 Samuel 6:16), the mother of Sisera (Judges 5:28­), and Jezebel (2 Kings 9:30).
Then she let them down by a rope through the window, for her house was built into the city wall so that she lived in the wall.
Joshua 2:15 (ESV)
Behold, when we come into the land, you shall tie this scarlet cord in the window through which you let us down, and you shall gather into your house your father and mother, your brothers, and all your father's household.
Joshua 2:18 (ESV)
And she said, "According to your words, so be it." Then she sent them away, and they departed. And she tied the scarlet cord in the window.
Joshua 2:20 (ESV)
They are all looking out of their windows, separated from what they see and hope to see. These elite women are removed from the real world outside their window, an example of a proud yet aloof demeanor.
In contrast, Rahab uses the window as a vehicle for connection and communication with those outside.
As the two spies returned to Joshua, they reported that "the whole land was melting with fear."
The Israelites, led by Joshua and Caleb trekked across the Jordan River into Canaan where they laid siege on the city of Jericho.
When the city was destroyed, every man, woman, and child in it was killed. Rahab and her whole family were the only ones saved from the agreement of the spies and were included among the Jewish people.
Eventually, Rahab married Salmon. He was an Israelite from the tribe of Judah!. Rahab had a son named Boaz, the husband of Ruth. Joseph, the earthly father of Jesus, is her direct descendant.
Rahab in the Bible: Foreshadowing of the Church
Though she was a true historical person, Rahab in the Bible also served as a symbol of the church and Gentile believers. In fact, she was the first recorded Gentile convert.
There are many ways in which the church is depicted by Rahab.
First, she lived in a pagan city that worshipped false gods, was a harlot, and by her conversion to believer, became a daughter of God, a bride of Christ.
We all know that the Jews were given a special place in history with God. They are considered "the chosen people," and it is true they have been set apart by His grace, but even though this may be so, Christ's holy church still stands as an equally precious bride of Christ.
To dive deeper into Ephesians on a level you haven't before with Kneel Before the Throne, Exploring Ephesians.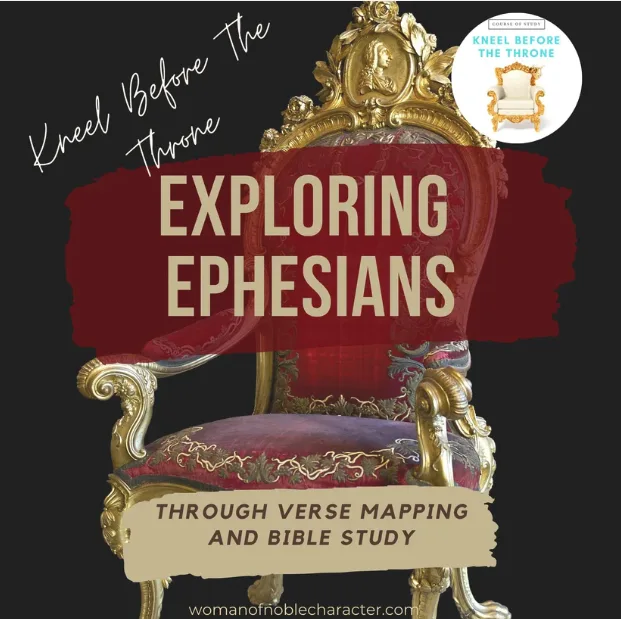 Second, Rahab, who welcomed the spies, was saved because she had faith in "God above" and on earth below."
Likewise, faith in Jesus Christ saves us from everlasting punishment.
Third, although Rahab and Christians are saved by an act of grace through faith, true saving belief requires that we take action. (James 2).
Rahab was instructed to put a scarlet cord out of her window. Christians are to accept Jesus as their Savior and then go forth to live a godly life that demonstrates that our faith is true.
Fourth, Rahab in the Bible could have marked the location of her home in many ways. But the only way that Rahab and her family could be saved from the destruction to come was to follow the instructions that the Israelite spies gave to her.
The world tells us that there are many ways to God and salvation, but the Bible tells us
Fifth, Rahab's faith in God enabled her to turn away from her culture, her people, and her false Gods and to the Lord. Commitment to true faith in God may require us to set priorities that are contrary to those of worldly views, as we are reminded to do in Romans 12:2.
Finally, once we give our hearts to Christ, we shed our old selves and become new in Him. Our slates are wiped clean as we believe in the sacrifice of Jesus on the cross.
Rahab in the Bible was no longer viewed as a city harlot, but as one worthy of grace and mercy and blessed to be part of the lineage of our Jesus Christ. Just as she was grafted into the line of Christ, so we become children of God and partakers in His inheritance. This passage speaks not only about spiritual adoption but also tells us that through faith, our circumstances and our lives are changed forever.
I recommend reading Romans 11 as a beautiful reminder of this.
The life of Rahab is an inspiring story for all sinners who have been saved by grace.
The grace of God shines through in this story, as it shows how even the worst sinner can be saved and made whole with Christ.
Rahab in the Bible was also selfless. Her actions demonstrated that she was concerned for her family's welfare and not just her own. She wanted her family to be saved, and the two spies agreed that her family was to be saved.
They trusted Rahab to protect them, and Rahab trusted the men to protect her family and herself. They agreed on the specifics, including hanging a scarlet cord from her house so that her entire family would be saved during the attack on Jericho.
Scarlet (or red) is rich in biblical symbolism. Rahab's sins were as scarlet as the thread that hung from her window and also just as obvious. She was a prostitute, after all!
God's grace is so amazing, isn't it? When we confess our sins, we are shedding our old lives and washed clean by the blood of Jesus. We no longer wear the scarlet, but are clean, washed white, and full of His grace.
Reading further, in Joshua 6, we read about the Israelites marching around Jericho and the city's downfall. There was one family spared, and it was Rahab's. The two Israelite spies came and led Rahab and her family out to safety.
Rahab was a beautiful woman on the outside, but we have also learned how beautiful she is on the inside. It's easy to see why Salmon would choose her for a wife.
In Matthew chapter 1, we read that Rahab, the harlot, yes, this same woman, is a part of the lineage of Jesus Christ!
What I love about this, and it is one of the reasons why I'd so much like to meet Rahab, is that with God, it doesn't matter who you are or what you do. What matters is your heart and the person you are becoming.
Our past does not determine our future. Rahab is known for her bravery, not what she did for a living. Not her past.
I believe that James chose to illustrate Rahab as an excellent example of someone who lived her faith. She just didn't say the right things; she did the right things.
We can go to church, attend Bible study, and sing praises to God, but if we are not known to those around us by our faith or our bravery for God's kingdom, it may be time to examine our hearts and see what God might be asking us to do.
It is interesting to note that Rahab is only mentioned three times in the New Testament, once in Matthew's genealogy and twice in Epistles. Both times in the Epistles, it is "Rahab, the harlot," almost like it was her last name.
When mentioned in the OT outside of Joshua, the reference symbolically refers to Egypt, not the woman who assisted the spies.
What about you? Do you sometimes wonder how God can use you? I know that I do. I am a broken vessel. I've sinned and made many mistakes, but God can use me. How and where may not always be apparent, but I'm listening for His voice.
I have shed my old ways and put on my new life. I'm praying that I would hear God when He tells me to move to further His kingdom. What about you, my friend? Do you have faith like Rahab?
For a great sermon about Rahab in the Bible, check out this video by Pastor Tony Evans.
If you want to learn more about Rahab and her incredible faith, you may enjoy the below books. I adored Lineage of Grace by Francine Rivers.
Non-Fiction
I Am Rahab: Touched By God, Fully Restored by Autumn Miles
Rahab, Scarlet Woman: Study Notes on Women in the Bible Series by Drs Monique Van Helvoort
Fiction
A Lineage of Grace: Biblical Stories of 5 Women in the Lineage of Jesus – Tamar, Rahab, Ruth, Bathsheba, & Mary (Historical Christian Fiction with In-Depth Bible Studies) by Francine Rivers
Because of Him,
Sue
ESV – "Scripture quotations are from The ESV® Bible (The Holy Bible, English Standard Version®), copyright © 2001 by Crossway, a publishing ministry of Good News Publishers. Used by permission. All rights reserved."