Women Of The Bible: Rahab, The Harlot Advancing The Kingdom Of God
This page/post may contain affiliate links.  As an Amazon Associate, as well as an affiliate of other programs, this means if you purchase something using these links, I will receive a commission on qualifying purchases at no cost to you! For more detailed information, please visit our Affiliate Disclaimer page
On several occasions I've been asked which biblical figures I'd most like to meet or have dinner with. Of course, Jesus, Mary and Paul are on my list, but I have one biblical character on my list that is a bit more, well, shall we say, colorful: Rahab.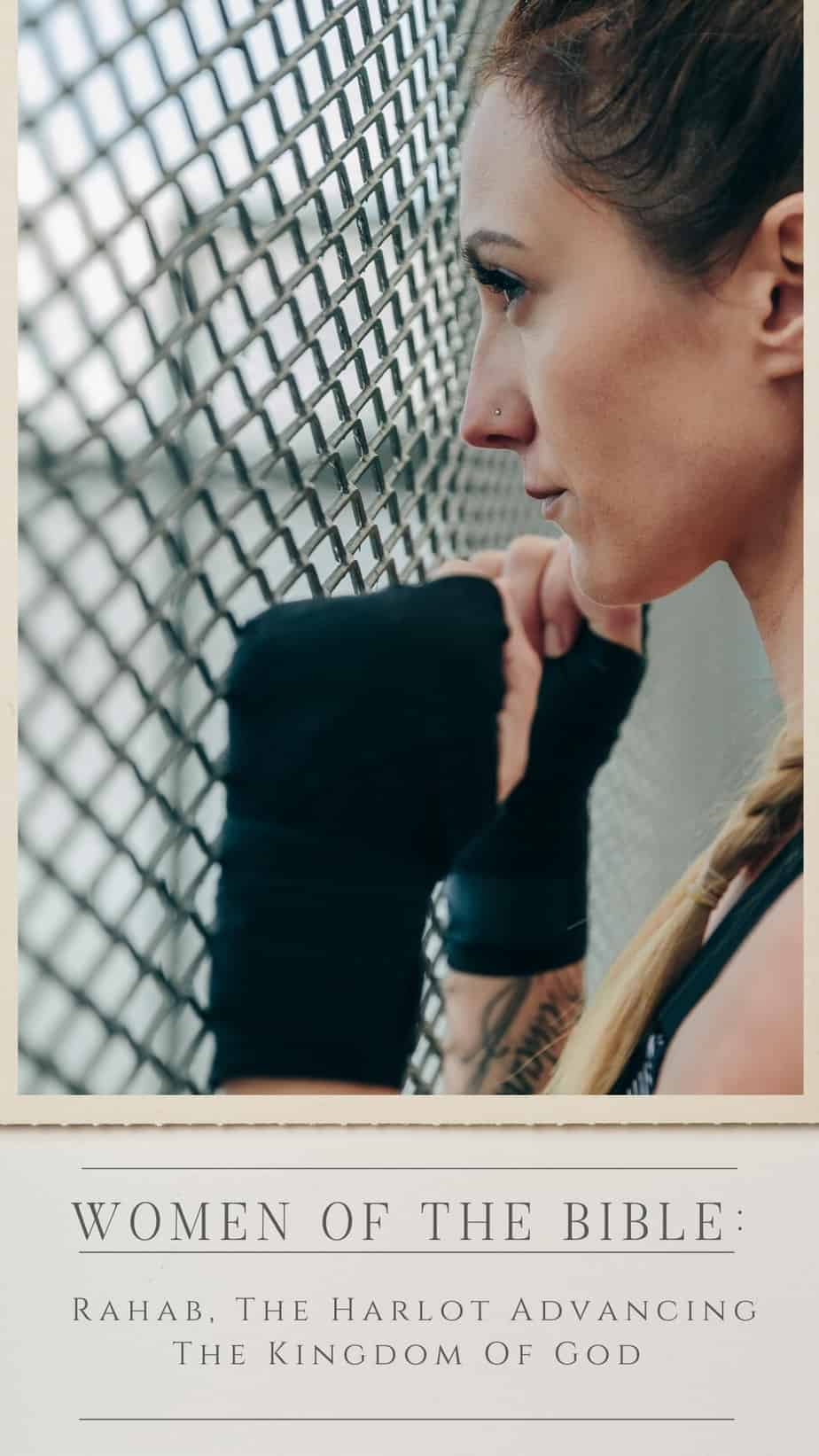 If you aren't familiar with Rahab and her story, I'll recap it for you.
Rahab, The Risk Taker
Rahab was a prostitute. She was defined by what she did for a living, like many of us. According to rabbinical tradition, Rahab was one of the four most beautiful women in the ancient world.
Through God's hand, two righteous Israelite spies ended up at her doorstep. She took these men in and hid them, even though she was told to hand them over, and if she didn't, her own life would be taken. Rahab had a choice to make.
We all have decisions to make in life. Few of our decisions, however, determine the course of eternity.
In Joshua 2 we read the account of Rahab and learn that she risked her life to hide two men she'd just met.
Rahab believed in God. She knew that something big was about to happen in Jericho and trusted these two men she'd just met enough to save them – EVEN if it meant risking her own life and the lives of her family members.
She had been watching had seen the power of God at work. She believed in Him and gave her heart to Him. She had accepted that God is real and who He says He is.
Rahab was also selfless. Her actions demonstrated that she was concerned for her family's welfare and not just her own. She wanted her family to be saved, and the two spies agreed that her family was to be saved.
They trusted Rahab to protect them, and Rahab trusted the men to protect her family and herself. They agreed on the specifics including hanging a scarlet cord from her house so that her entire family would be saved during the attack on Jericho.
You can find everything that you are looking for about Women of the Bible: Unintentional Mentors, in this post as well as in-depth studies on each of the 8 women we cover (Deborah, Elizabeth, Miriam, Rahab, Sarah and more) but you may also wish to purchase the ebook for your convenience. No ads, no pop ups and you'll have it forever to refer to when fasting. It includes tons of videos and additional downloads. The best part – it's only $7 for 137 pages! Your choice, read it here or have it forever.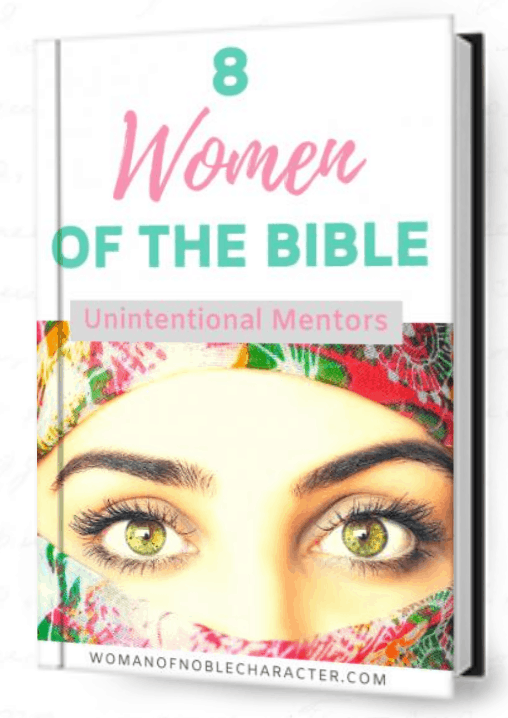 Scarlet (or red) is rich in biblical symbolism. Rahab's sins were as scarlet as the thread that hung from her window, and also just as obvious. She was a prostitute, after all!
You say, "Food for the stomach and the stomach for food, and God will destroy them both." The body, however, is not meant for sexual immorality but for the Lord, and the Lord for the body. -1 Corinthians 6:13 (NIV)
God's grace is so amazing, isn't it? . When we confess our sins, we are literally shedding our old lives and washed clean by the blood of Jesus. We no longer wear the scarlet, but are clean, washed white and full of His grace.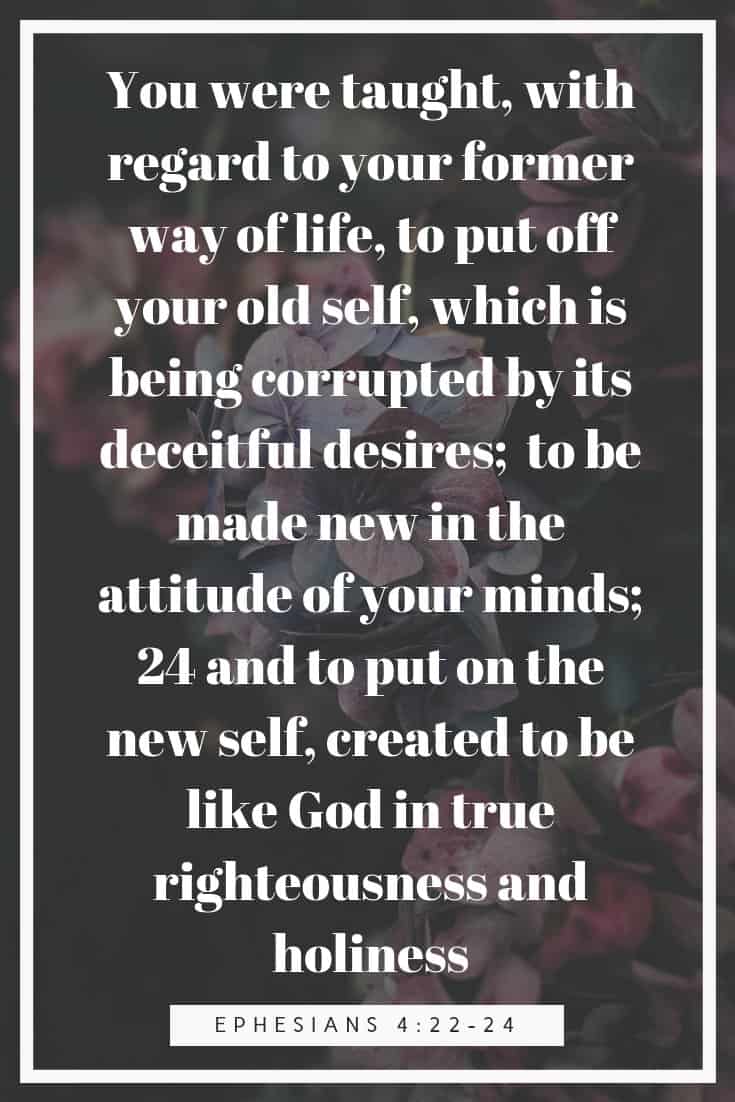 Reading further, in Joshua 6, we read about the Israelites marching around Jericho, and the downfall of the city. There was one family spared, and it was Rahab's. The two Israelite spies came and led Rahab and her family out to safety.
Rahab was a beautiful woman on the outside, but we have learned how beautiful she is on the inside, as well. It's easy to see why Salmon would choose her for a wife.
In Matthew chapter 1, we read that Rahab, the harlot, yes, this same woman – is a part of the lineage of Jesus Christ!
What I love about this, and it is one of the reasons why I'd so much like to meet Rahab, is that with God, it doesn't matter who you are or what you do. What matters is your heart and the person you are becoming.
Our past does not determine our future. Rahab is known for her bravery, not what she did for a living. Not her past.
I believe that James chose to illustrate Rahab as a good example of someone who lived her faith. She just didn't say the right things, she did the right things.
We can go to church, attend Bible study, sing praises to God, but if are not known to those around us by our faith or our bravery for God's kingdom, it may be time to examine our hearts and see what God might be asking us to do.
As the body without the spirit is dead, so faith without deeds is dead. – James 2:26
It is interesting to note that Rahab is only mentioned three times in the NT, once in Matthew's genealogy and twice in Epistles. Both times in the Epistles it is "Rahab, the harlot" almost like it was her last name.
When mentioned in the OT outside of Joshua, the reference is symbolically referring to Egypt, not the woman who assisted the spies.
What about you? Do you sometimes wonder how God can use you? I know that I do. I am a broken vessel. I've sinned and made many mistakes, but God can use me. How and where may not always be apparent, but I'm listening for His voice.
I have shed my old ways and put on my new life. I'm praying that I would hear God when He tells me to move to further His kingdom. What about you, my friend? Do you have faith like Rahab?
If you want to learn more about Rahab and her incredible faith, you may enjoy the below books. I adored Lineage of Grace by Francine Rivers.
Because of Him,
Sue