An In-Depth Look at the Spiritual Seeds Planner
This page/post may contain affiliate links.  As an Amazon Associate, as well as an affiliate of other programs, this means if you purchase something using these links, I will receive a commission on qualifying purchases at no cost to you! For more detailed information, please visit our Affiliate Disclaimer page
While I use a digital calendar for meetings and appointments, I love a physical planner for all of the other things in life. When I was offered the opportunity to review the Spiritual Seeds Planner, I jumped at the chance.
Be sure see the bottom of this post to grab the 20% off coupon code. They make great gifts for every Christian woman on your gift list!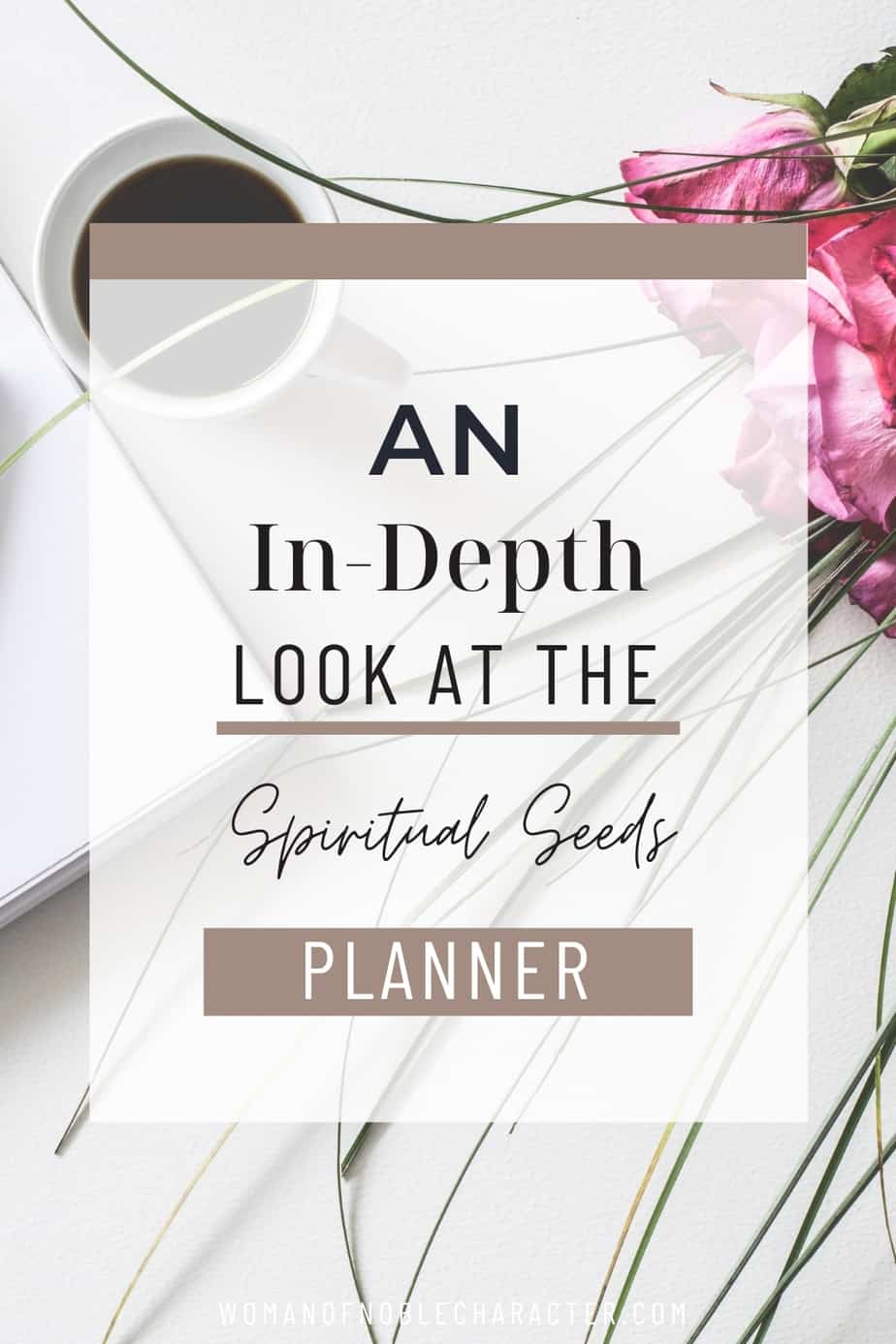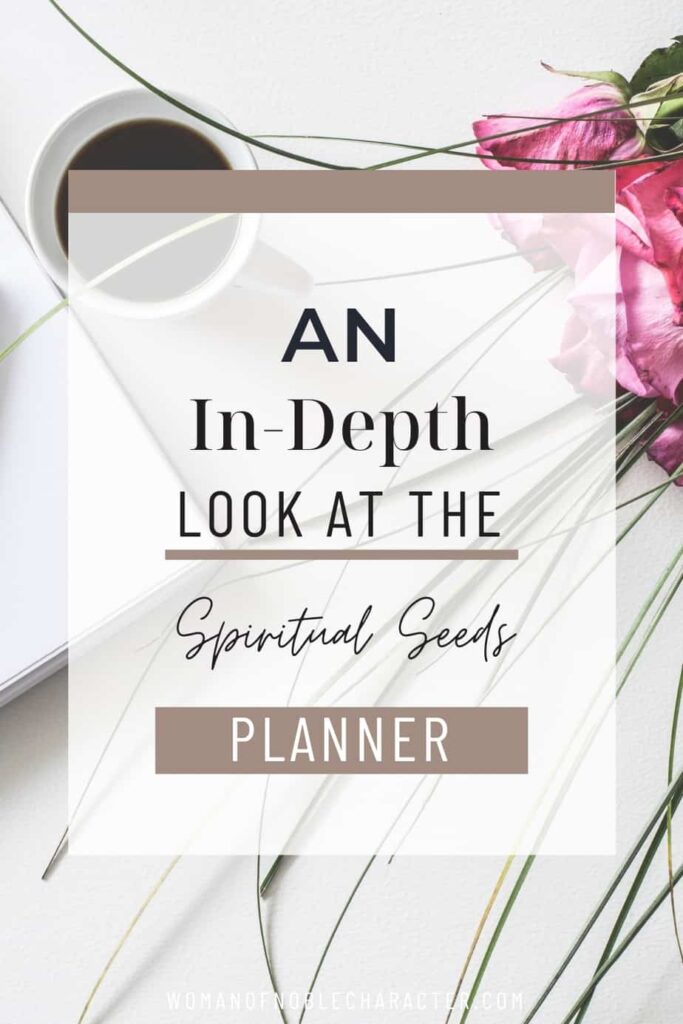 Spiritual Seeds Planner
The planner is available in three beautiful colors: Grapefruit Pink, Slate Grey (the one I have) and Coconut Brown.
Spiritual Seeds Planner is a planning tool designed to help Christians prioritize living a fruit filled life, guided by the Holy Spirit. The Fruit of the Spirit is Love, Joy, Peace, Patience, Kindness, Goodness, Gentleness, Faithfulness and Self-Control. (Galatians 5:22-23)
The planner uses a gardening theme concentrating on four garden plots – Friends/Family, Self, Community, Vocation/Work. Each month focuses on one Fruit, detailing actions to plant + cultivate + grow. (You choose which Fruit to focus on each month) Actions are planned daily for highest yield.
Cute garden themed stickers provide visuals for tracking growth. Unlike any other planner, Spiritual Seeds Planner prioritizes and plans Spiritual growth over daily "to do" lists and activities focusing on growth rather than achievement, but the planner does have monthly and weekly planner pages to ensure you are on top of everything you have to do!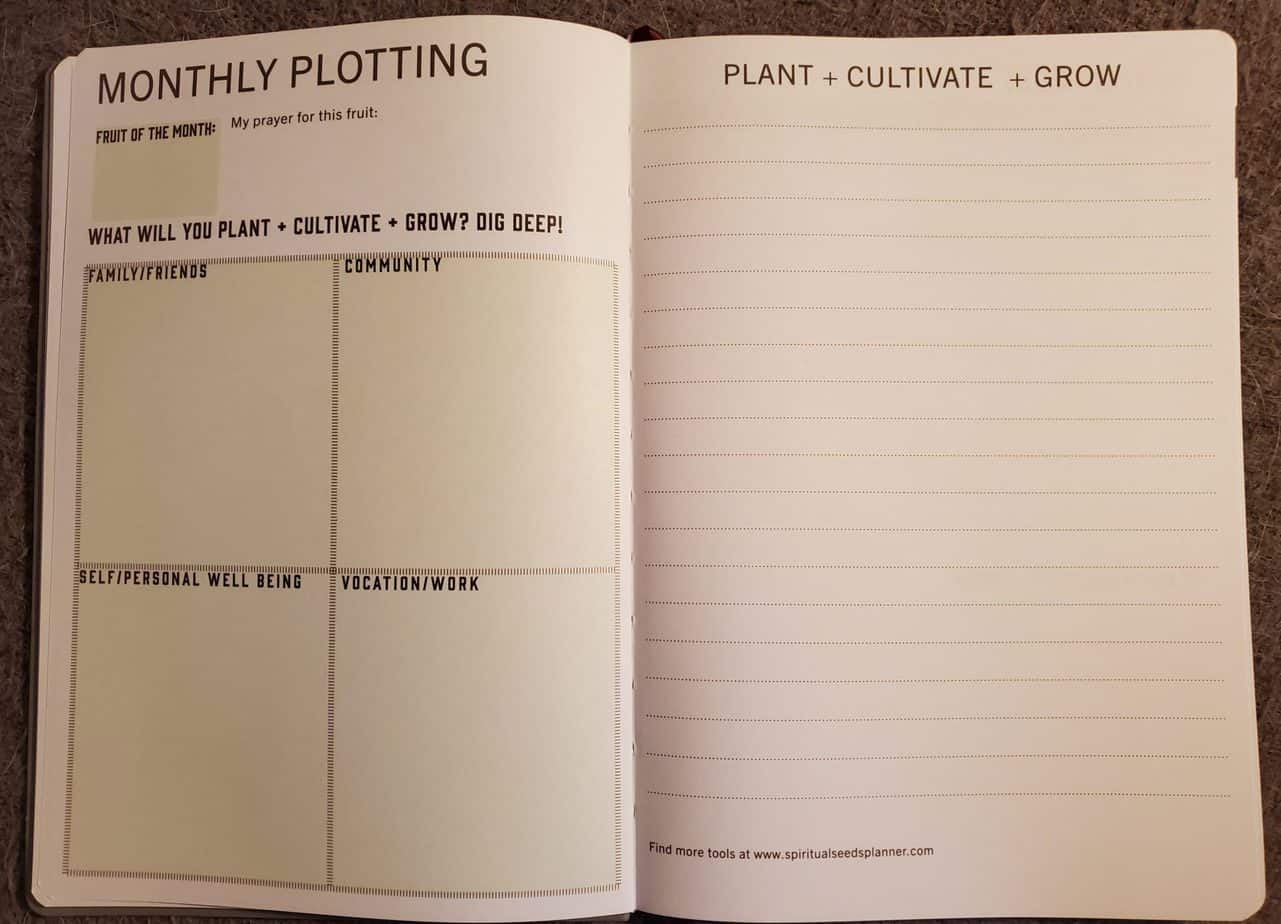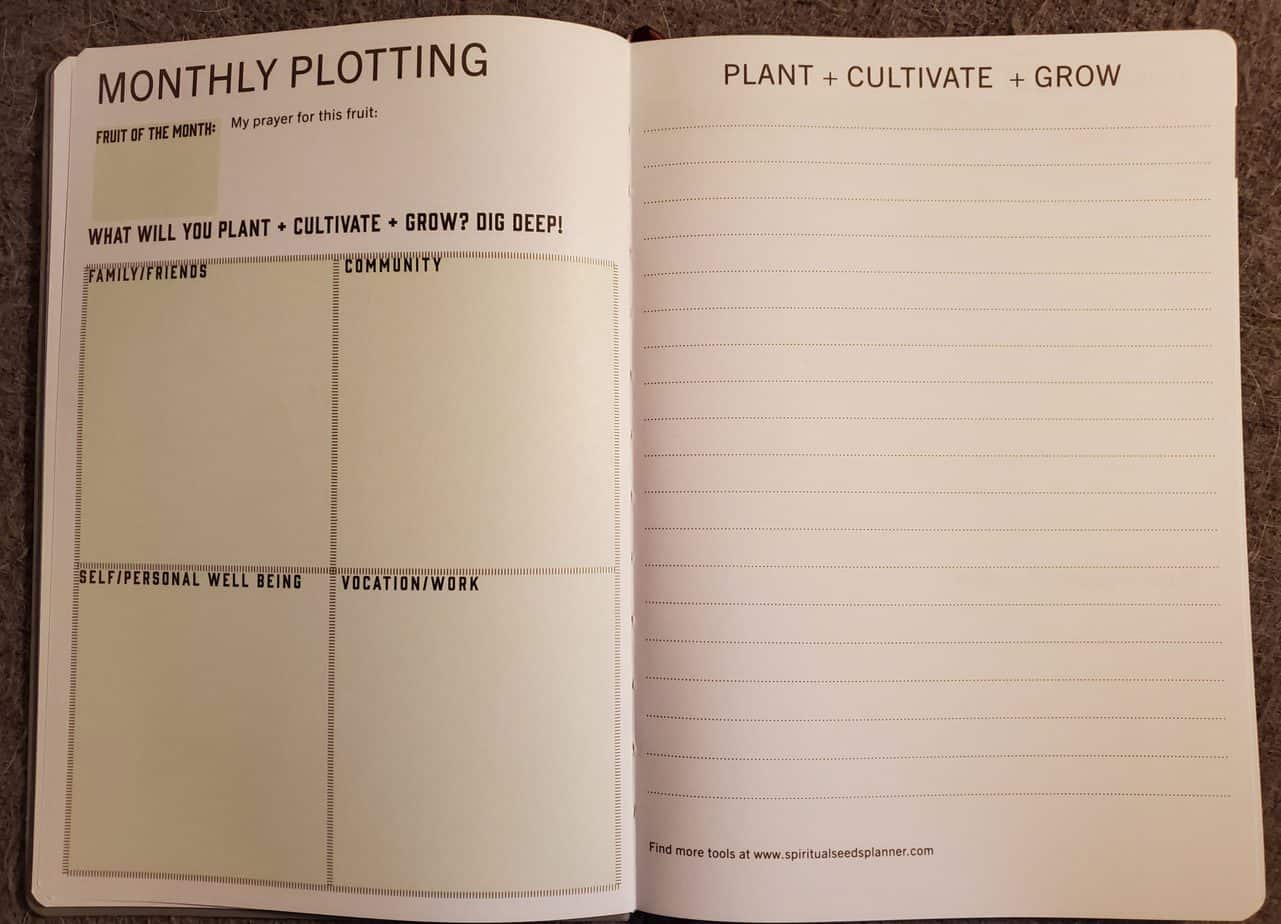 What makes the Spiritual Seeds Planner different:
· Puts God in charge
· Inspired, led and powered by the Holy Spirit
· Based on Scripture
· Impacts all areas of life
· Improves relationships
· Fills life with an abundance of Spiritual Fruit – Love, Joy, Peace, Patience, Kindness, Goodness, Faithfulness, Gentleness, Self-Control
Grab your free fruit of the Spirit printables for Bible journaling or your war binder below!
Features of the Spiritual Seeds Planner:
· Easy to follow instructions with visuals
· Vision Board
· Monthly Fruit Focus & Planning Pages
· Monthly Inspirational Prayers
· Weekly Planning
· Beautiful faux leather cover
· Fruit of the Spirit Bookmark with definitions and scriptures
· Fun Garden Themed Stickers
· Back pocket
· Blank pages for notes
· Brown Ribbon Bookmark
· Monthly Tabs
Spiritual Seeds Committment to Helping Others
In addition, Spiritual Seeds Chrisitian Planner has partnered with Pacific Northwest Adult and Teen Challenge supporting their commitment to seeing people freed from life controlling issues through the power of Jesus Christ.
Adult and Teen Challenge students dedicate twelve months to transforming their lives. A Spiritual Seeds Planner provides the student a place to plan their days and record their journey.
If you purchase a Teen Challenge Package, they will donate and deliver a planner to a student! As a special thank you, your order will include a free Fruit of the Spirit Tote bag, notepad, pencil case and pens.
What I love about it: I adore the focus on growing in the Fruit of the Spirit and focusing on cultivating the fruit in various areas of your life: Friends/Family, Self, Community, Vocation/Work. I also think the gardening theme is so appropriate and the stickers make planning fun and the copious blank note pages are great for prayer requests and gratitude.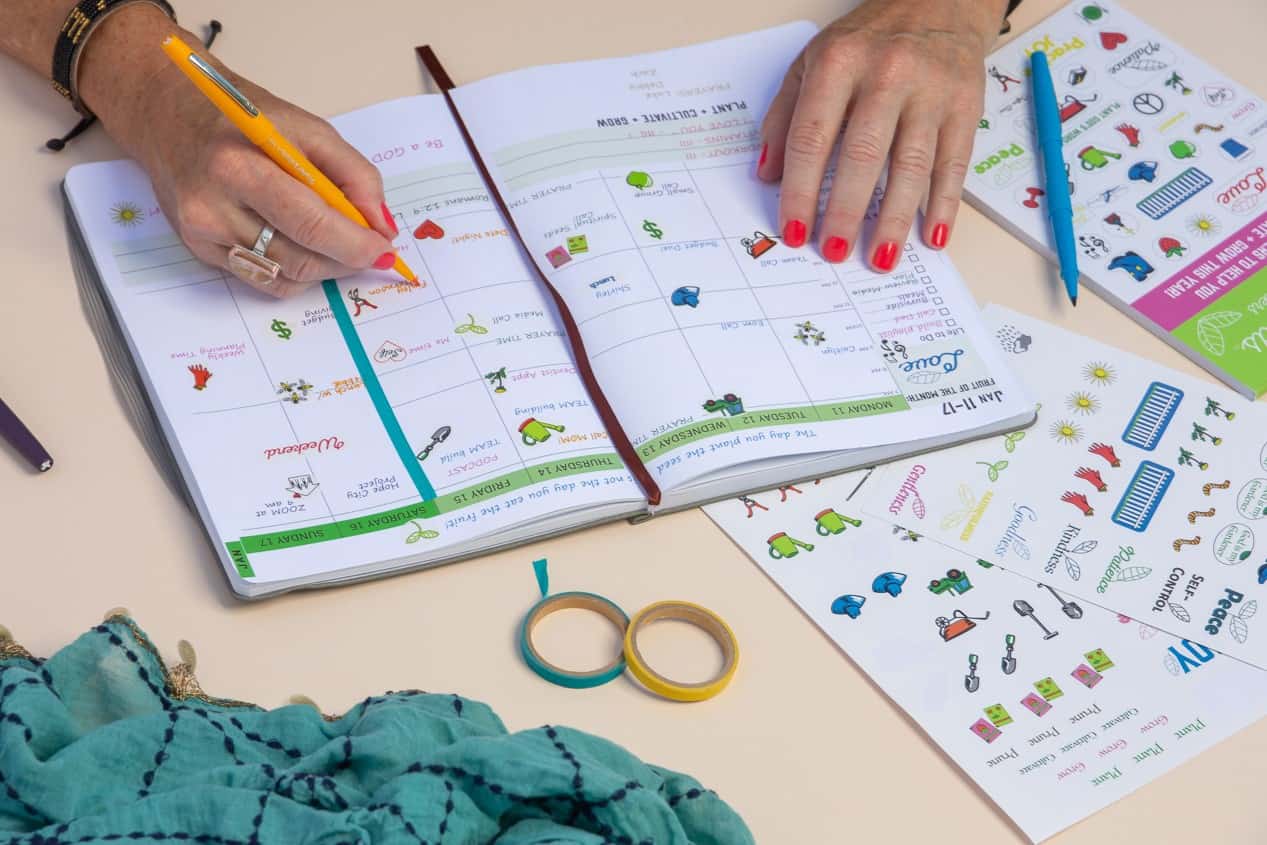 What I don't love about it: I wish there were more sections such as sermon notes, gratitude, etc, but overall it is a fantastic planner which will help you get and stay organized and grow closer to God.
The Spiritual Seeds Planner is the perfect planner to get and stay organized while growing in the Fruit of the Holy Spirit. They make great gifts, too!
To see more and purchase yours, go the the Spiritual Seeds Planner site. Be sure to use coupon code: FRUITOFSPIRIT to get 20% off of your order!
What do you think of the Spiritual Seeds Planner? How do you think you'll use it?
Because of Him,
Sue