This page/post may contain affiliate links. As an Amazon Associate, as well as an affiliate of other programs, this means if you purchase something using these links, I will receive a commission on qualifying purchases at no cost to you! For more detailed information, please visit our Affiliate Disclaimer page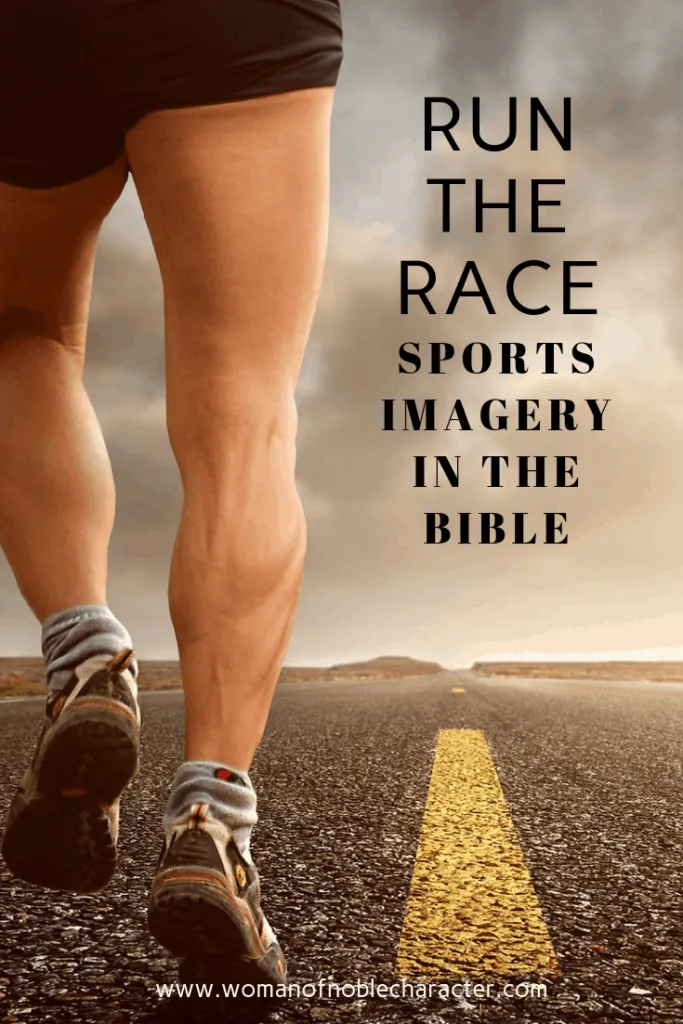 Sports imagery in the Bible: If you are a regular reader of my blog, you know that a) I love Bible imagery and symbolism b) I love sports (I've reviewed a sports-related devotional and posted a gift guide for female sports fan, plus mentioned it several other times) and of course c) I love Jesus! So, when I can connect all three, it gets me excited.
Sports Imagery in the Bible
Today, we will explore sports imagery in the Bible. Sports imagery in the Bible is found in both the Old and New Testaments.
Let's start with some basics, first. The word athletics (or sports) comes from the Greek word "athlos" which means "to contend for a prize."
Before the conquests of Alexander the Great (332 B.C.) and the subsequent spread of Greek, or Hellenistic, culture, athletics and "games" weren't very common in Palestine, particulary among Jewish people.
We do, however, find sports references in both the Old and New Testaments. For this post, we won't go into depth on any particular sport, but rather focus on scripture which includes sports imagery in the Bible.
It's easy to see from these Scriptures that while training and skill is important for succeeding in sports, it is God who makes all victories possible.
Sports Imagery in the Bible – Old Testament
The power of the Lord came on Elijah and, tucking his cloak into his belt, he ran ahead of Ahab all the way to Jezreel. – 1 Kings 18:46
With God's help, Elijah was able to run in the rain and outrun horses for nearly 30 miles!
David said to the Philistine, "You come against me with sword and spear and javelin, but I come against you in the name of the Lord Almighty, the God of the armies of Israel, whom you have defied. – 1 Samuel 17:45

All those gathered here will know that it is not by sword or spear that the Lord saves; for the battle is the Lord's, and he will give all of you into our hands. – 1 Samuel 17:47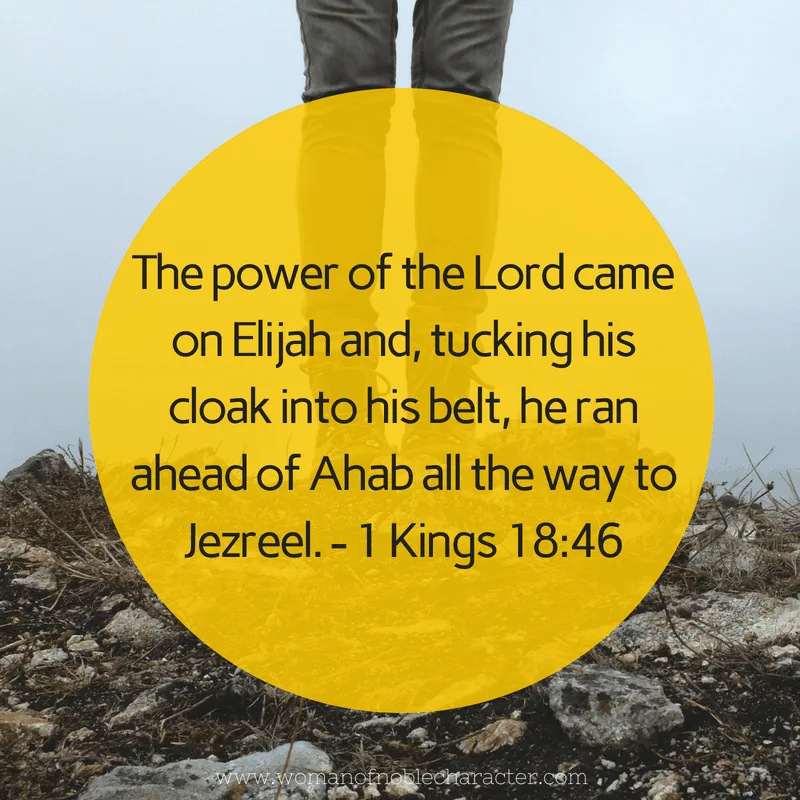 Even as a small child, when you probably first heard about this story of David and Goliath, it was easy to understand that, without God, David could not have defeated this giant. David had the skill in using a slingshot, but it was God who guided that rock to hit just the right spot and allowed David to fell the giant.
And it came to pass, when their hearts were merry, that they said, Call for Samson, that he may make us sport. And they called for Samson out of the prison house; and he made them sport: and they set him between the pillars. – Judges 16:25 KJV
Samson has incredible strength through God's annointing. When he was blinded, he was brought out to the Philistines and was expected to perform for them. The KJV, as referenced above, says "he made them sport".
The lookout reported, "He has reached them, but he isn't coming back either. The driving is like that of Jehu son of Nimshi—he drives like a maniac. – 2 Kings 9:20
If Jehu were living today, there's no doubt that he would be a NASCAR driver as the Bible says that "drives like a maniac"!
So Joab said, "Run!" Then Ahimaaz ran by way of the plainand outran the Cushite. – 2 Samuel 18:23
Ahimaaz just wanted to run and, from what we read in 2 Samuel 18:19-27, he was probably a good long-distance runner. This passage also mentions that he was identified at a distance by his style of running (verse 27). He in fact overtook the 1st runner who had already been sent out by Joab to inform David about Absalom's death.
Also amazing is the fact that some of the early Fathers and Prophets used to climb mountains quite skillfully to meet with God and to hear from Him. Example: Moses (Exodus 19:3) and Elijah (I Kings 19:8-11). Caleb conquered a mountain filled with enemies at the age of 85!! (Joshua 14:12)
In the above scriptures, we see examples of successful athletes in the Old Testament, but one unsuccessful athlete would be King Saul. Although he love throwing spears, especially at David and Jonathan, he missed the mark every time. (1 Samuel 18:10-11, 19:9-10, 20:33)
Sports Imagery in the Bible – New Testament
In the New Testament especially, sports are often used as a way to illustrate a teaching and provide more insight into it. The Apostle Paul mentions sports quite a few times. I would imagine that he, if alive today, would be a big football and baseball fan and maybe even have a fantasy sports team!
However, I consider my life worth nothing to me; my only aim is to finish the race and complete the task the Lord Jesus has given me—the task of testifying to the good news of God's grace. – Acts 20:24
In this verse, Paul talks about finishing the race he had begun; of completing the task of testifying about the Gospel of God's grace.
Do you not know that in a race all the runners run, but only one gets the prize? Run in such a way as to get the prize. Everyone who competes in the games goes into strict training. They do it to get a crown that will not last, but we do it to get a crown that will last forever. Therefore I do not run like someone running aimlessly; I do not fight like a boxer beating the air. No, I strike a blow to my body and make it my slave so that after I have preached to others, I myself will not be disqualified for the prize. – 1 Corinthians 9:24-27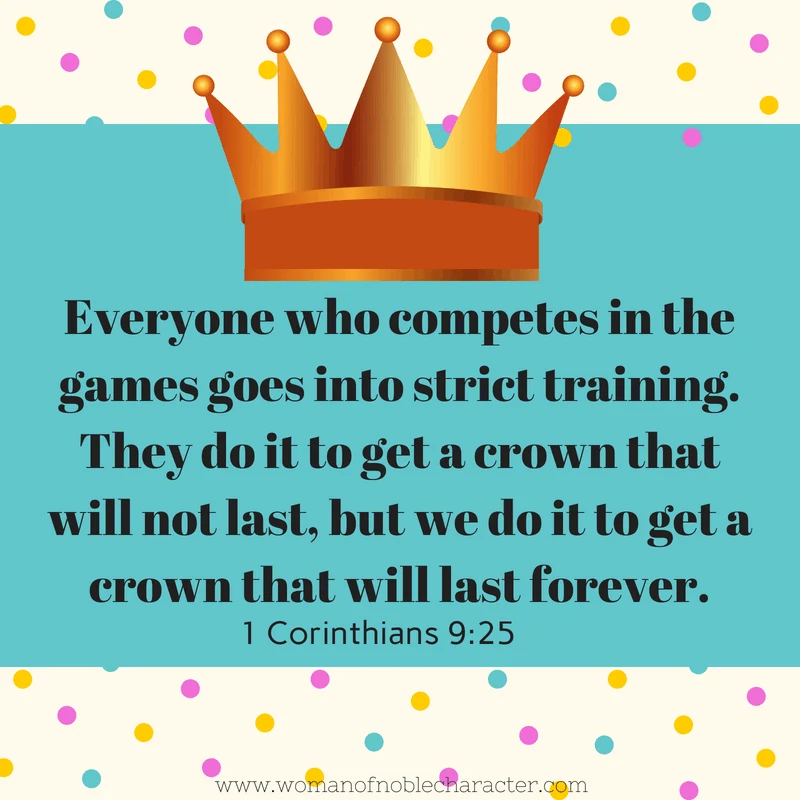 Here Paul refers to possibly both boxing and wrestling and to athletics. He talks about the 'strict training' required to succeed (also mentioned in 1 Timothy 4:8), not only for the famous Isthmian games*, but also for the Christian journey. He didn't want to run or to beat the air aimlessly. He also realized that he could be disqualified if he competed poorly.
Everyone who competes in the games goes into strict training. They do it to get a crown that will not last, but we do it to get a crown that will last forever. – 1 Corinthians 9:25
Paul refers to the crown he would receive at the conclusion of his journey (the one we will receive in heaven!) and not the one that will wither and die (the wreath the winning athlete would receive at the games).
I have fought the good fight, I have finished the race, I have kept the faith. Now there is in store for me the crown of righteousness, which the Lord, the righteous Judge, will award to me on that day—and not only to me, but also to all who have longed for his appearing. – 2 Timothy 4:7-8
Here Paul reflects on his lifetime of Christian ministry. Like a successful boxer/wrestler or athlete, he states that he has fought well, finished the race and kept the faith! He was looking forward with anticipation to the crown he would receive from the Lord.
Additional writings from Paul include more examples of sports imagery in the Bible (Philippians 2:16, Philippians 3:12-16, Galatians 5:7, 1 Timothy 6:12 and Hebrews 12:1-2 )
One thing is clear from all this. In Hebrews 12:1-2, we are encouraged to run the race well and with perseverance, by dropping off all hindrances (sin/disobedience). To do that, we need to keep our eyes fixed on Jesus and on heaven (the finish line). The word 'persevere' obviously refers to more of a long-distance race than a short-distance one. The prize will be way better that what any successful Olympian or athlete of any time period could receive!
[thrive_leads id='1186′]
Some Lessons Learned From Sports Imagery in the Bible
There's much to learn from sports imagery and analogies in the Bible, but for this post, let's focus on just five of them:
Spiritual Training is Important
Paul emphasized the discipline, training, and focus required for those events, and applied those qualities to the spiritual life. He used the same basic metaphor in writing to Timothy, telling him, "Train yourself for devotion, for, while physical training is of limited value, devotion is valuable in every respect, since it holds a promise of life both for the present and for the future" (1 Timothy 4:7-8).
Play By The Rules
Every society, every sport, has rules. Even the Bible emphasizes that athletes cannot win unless they abide by the rules of their sport. 2 Timothy 2:5 says: "Similarly, anyone who competes as an athlete does not receive the victor's crown except by competing according to the rules." Sports have always had rules or there would be no order, no sense, no way to determine a winner. Today, (and I'm sure in biblical times, too) there are cheaters, but they are the same people that often get publicly removed from their sport and shunned by the public. What the Bible says here holds true: an athlete is not crowned and given praise unless they win while competing by the rules of their sport.
Exercise Self-Control
In 1 Corinthians 9:25, the Apostle Paul writes: "and everyone who competes for the prize is temperate in all things. Now they do it to obtain a perishable crown, but we for an imperishable crown." Here, Paul talks about the self-control that athletes need in order to be successful at their sport or win the prize. Every athlete needs a strict diet and exercise regimen to succeed in his sport. He can't get lazy or veer off track or his competitors will outperform him.
Exercise is Important
Ok, ok, we all know that exercise is good for us. It keeps our bodies healthy and even our minds sharp. The Bible, however, uses this truth to illustrate a spiritual truth. 1 Timothy 4:8 tells us that "For physical training is of some value, but godliness has value for all things, holding promise for both the present life and the life to come." Physical exercise is important, but spiritual exercise gives us hope in Christ Jesus and that is greater than any other exercise.
Finish Strong
I have fought the good fight, I have finished the race, I have kept the faith. – 2 Timothy 4:7
In the above verse, Paul tells Timothy that he has "fought the good fight" and has "finished the race." This is what all Christians strive for, isn't it? Yet, it's one of the hardest things to do. Just as it's difficult for a fighter to continue fighting after many rounds, it's difficult for a Christian to stay faithful and committed until his very last breath—yet it's so crucial!
And, just like it's hard for a person to finish a long race, it's hard for the Christian to continue on in faith after so many years. Jesus never said being a Christian would be a walk in the park—but there are ample amounts of illustrations that talk about fighting, running, enduring, and engaging in warfare. In this passage, the Apostle Paul lists two different sports illustrations to illustrate this very important point: running and fighting. Isn't that the way the Christian life seems at times? You're constantly fighting battles, resisting temptations, and trying your hardest to serve the Lord. Hey, it's okay to admit it's hard—even Jesus did (if you don't believe me, go back over the Garden of Gethsemane passage).
Fortunately, Jesus runs the race with us and fights for us. We have the greatest help there is! And, Paul shows that it is possible to fight the good fight and finish the race well.
Are you an athlete? Are you an athlete for Christ?
As always, here are some recommended books on sports and sports imagery in the Bible:
and this great one for kids:
If you enjoy Bible journaling or art journaling through the Bible, here are some free images for you to download and print on the theme of sports in the Bible.
Because of Him,
Sue