This page/post may contain affiliate links. As an Amazon Associate, as well as an affiliate of other programs, this means if you purchase something using these links, I will receive a commission on qualifying purchases at no cost to you! For more detailed information, please visit our Affiliate Disclaimer page
The Twelve tribes of Israel. Or wait, is it 14? Will get to that in a moment.
Each of the tribes of Israel had its own personality, history, territory, and lessons we can learn. They also each had their own blessings from Jacob as he lay dying. Many were also blessed by Moses. (Genesis 49:1-28)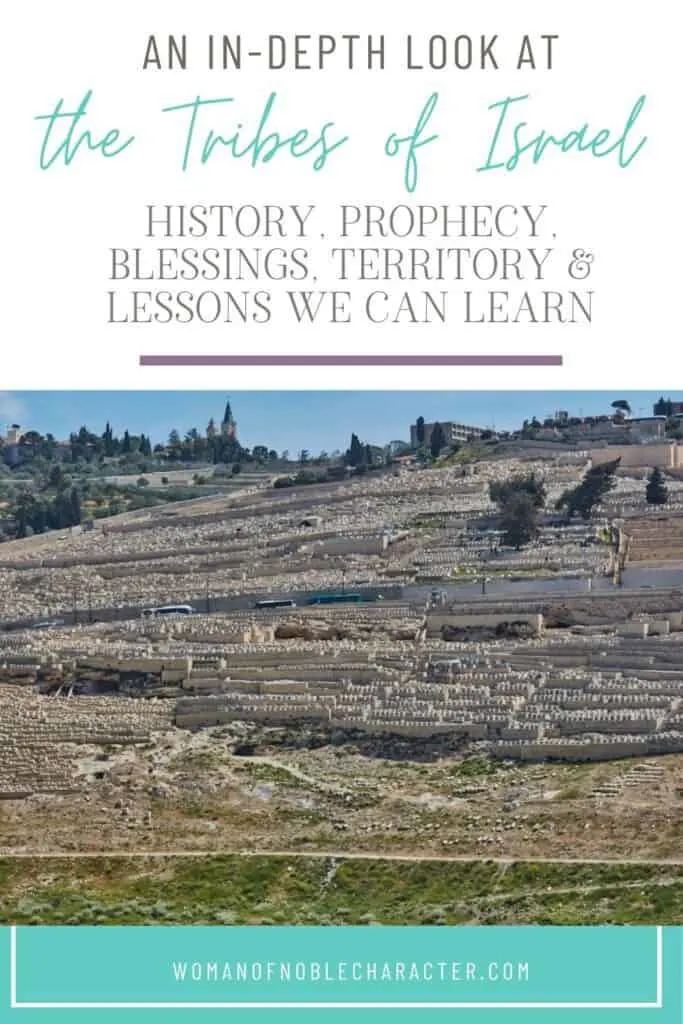 These blessings also included prophecies concerning the fate of each of the tribes of Israel.
Then Jacob called his sons and said, "Gather yourselves together, that I may tell you what shall happen to you in days to come. – Genesis 49:1 (ESV)
These tribes were known as the tribes of Israel in honor of Jacob, whose name was changed to Israel by God.
Then he said, "Your name shall no longer be called Jacob, but Israel, for you have striven with God and with men, and have prevailed." – Genesis 32:28 (ESV)
The twelve tribes (14) individually bore the names of Jacob's sons: Reuben, Simeon, Levi, Judah, Dan, Naphtali, Gad, Asher, Issachar, Zebulun, Joseph, (Manasseh and Ephraim) and Benjamin.
As a compass for our time here on earth, we have much to learn from these blessings. Each of the tribes of Israel took a unique path.
At the end of the blessing by Jacob, we read:
All these are the twelve tribes of Israel. This is what their father said to them as he blessed them, blessing each with the blessing suitable to him. – Genesis 49:28 (ESV)
Let's start by looking at the word "blessing".
In Hebrew, the word Berakah (בְּרָכָה) means blessing. It also means gift or of God.
To understand the tribes of Israel, it is interesting to note that they are each described in three ways:
By their mother
By their blessing from Jacob
By their blessing from Moses. (Deuteronomy 33:6-25)
When you look at each of the tribes, take special note of how each son of Jacob and each tribe of Israel was described by their mother, Jacob, and Moses.
Tribes of Israel
The 12 Tribes of Israel (or is it 14?) Overview of Tribes & Lessons We Can Learn
The form you have selected does not exist.
The tribes of Israel are fascinating studies on the character of not just each tribe, but God as well. We learn of punishment, redemption, grace, and love.
Each of the posts above includes history, territory, prominent members of the tribe and lessons we can learn from each of these tribes of Israel.
You may also wish to grab my new book, The Twelve Tribes of Israel (or is it 14?) and Lessons We Can Learn.
Which tribe of Israel do you find most interesting?
Because He Lives,

Sue