This page/post may contain affiliate links. As an Amazon Associate, as well as an affiliate of other programs, this means if you purchase something using these links, I will receive a commission on qualifying purchases at no cost to you! For more detailed information, please visit our Affiliate Disclaimer page
I want to welcome Kristin Coulson to Woman of Noble Character as she shares with us how vital the Gospel is in the lives of Christians. It is the very Word of God and is sharper than any two-edged sword! So join me as I welcome Kristen as she shares with us how the Gospel changes everything!
The Gospel Changes Everything
I remember when I was younger, I struggled to see how the gospel impacted my daily life. It wasn't something I heard talked about a lot, nor was I keenly aware of my need for Jesus in every moment. Fast forward to the years when I first got married and had children, and it became plainly obvious to me how dependent I am on God's unending grace toward me. It was in these early years of marriage and motherhood that God really began to peel back the layers of my heart and show me how much the gospel changes everything about my life.
What was it about these years that were so influential and transforming?
I think it comes down to dependency and getting to a point of desperation for the hope of the gospel. For the first time, my sinful nature was right in front of me all day long. If I wasn't struggling to be patient with my kids, I was struggling against bitterness toward my husband. Instead of having a quiet, focused heart on Jesus all day long, my mind was consumed with the thoughts, emotions, and worries of motherhood, housekeeping, and you name it!
It was in these years that God met me and showed me the power of the gospel at work, not only for salvation but for transformation throughout each and every moment of each and every day. God began to show me what the gospel had to do with dirty dishes, changing diapers, and relationships. He revealed to me how to apply the gospel to daily life and how it truly changes everything about my life.
But before we get ahead of ourselves, what exactly is the gospel? We can't know how it changes everything before we take a look at what it truly is.
What is the Gospel?
In order to unpack the gospel, we have to begin at the beginning of the story. "In the beginning, God created the heavens and the earth." Genesis 1:1. God created all things very good, without blemish, spot, or wrinkle. There was no sin, death, or evil. The first humans, Adam and Eve, walked with God and had beautiful fellowship with Him (Genesis 1-2).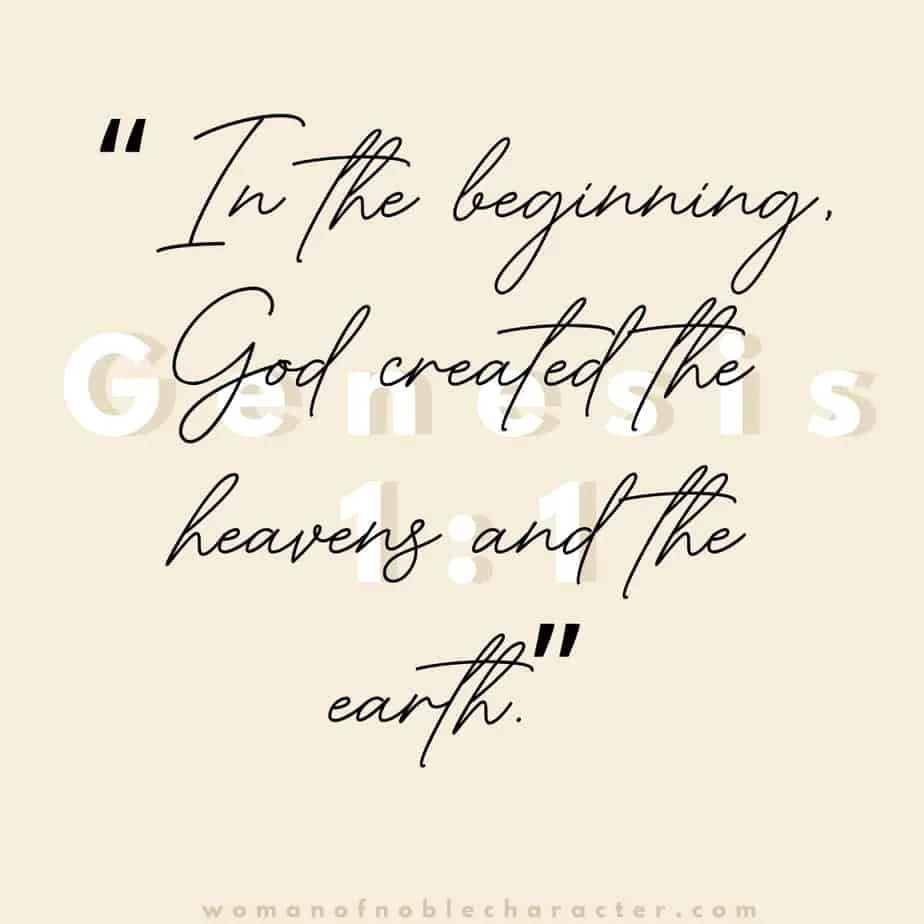 All of this changed when sin entered the world. Adam and Eve were tempted to sin by the evil serpent. For the first time, they doubted God's goodness and chose to go their own way instead of trusting Him as their loving Creator. The consequences of their sin brought death, destruction, and pain to every part of their lives and to the whole earth. And the biggest consequence was that they were now separated from God. They could no longer be in His presence because of their sin. Everything was changed by the destruction that sin wrecked on the earth (Genesis 3).
But God didn't give up on His children. He promised to save them from the consequences of their sin. He promised that One would come to redeem them, to pay the penalty of death that they deserved, and bring them back to God.
And God kept His promise!
Many years later, God sends His Son, Jesus, to the earth to live a perfect life and to die an awful death in order to pay the penalty for our sins. And three days later, He rose from the dead, overcoming sin and death! He took our place so that we didn't have to take the punishment for our sins. In God's great mercy, He put His wrath against sin on His own son instead of on us. Ephesians 2:4-10 says it well:
"But God, being rich in mercy, because of the great love with which he loved us, even when we were dead in our trespasses, made us alive together with Christ—by grace you have been saved— and raised us up with him and seated us with him in the heavenly places in Christ Jesus, so that in the coming ages he might show the immeasurable riches of his grace in kindness toward us in Christ Jesus. For by grace you have been saved through faith. And this is not your own doing; it is the gift of God, not a result of works, so that no one may boast. For we are his workmanship, created in Christ Jesus for good works, which God prepared beforehand, that we should walk in them."
Now, because of Christ's death on the cross and resurrection from the dead, we can be saved by grace through faith. Nothing of our own doing can restore our broken relationship with God. Only through believing in Jesus and making Him our Lord can we experience the newness of life through Christ. This is incredible news!!
And it gets better…
The story doesn't end there. The gospel narrative doesn't end with receiving and believing in Christ for salvation. That is only the beginning! As we continue to seek Christ each day, we grow to know Him and are transformed to be more like Him. Not only that but we are called children of God with an eternal hope of life with God forever.
While the hope of salvation starts now, we still continue to struggle against sin as we live on this earth. We still struggle with selfishness, pride, and choosing our own way. The effects of sin on the earth will still be here. But there's hope! One day, Christ will return to usher in His Kingdom, where there is no more sickness, pain, suffering, and heartache in this world. Revelation 21:3-4 proclaims this good news!:
"Behold, the dwelling place of God is with man. He will dwell with them, and they will be his people, and God himself will be with them as their God. He will wipe away every tear from their eyes, and death shall be no more, neither shall there be mourning, nor crying, nor pain anymore, for the former things have passed away."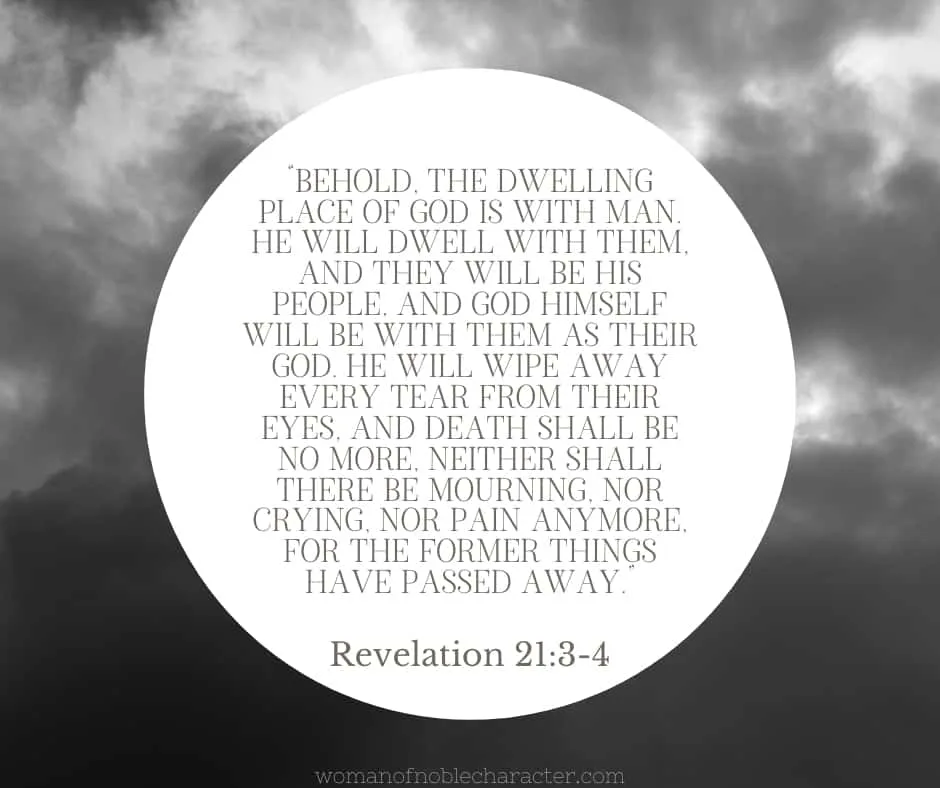 This is the good news of the gospel. The gospel is not primarily about us but is about God. A merciful God who loves His people with a sacrificial, unending love that brings glory to His name from the mountaintops. And it is not just good news for one day, but it is the life-giving truth that we need to pour into our hearts each and every day.
How does the gospel change everything about every day?
As we look into the gospel and experience it in our lives, we see that it permeates ALL of our everyday moments. Not only did sin wreak havoc on all aspects of life, but we now see how grace and redemption also restore all aspects of life. As we go about our everyday lives, we can look at everything we do through the lens of the gospel, and as we do, we see it transform everything about our lives.
It is in these moments of our days that we see our faith come to life.
We see that what we read in our Bibles that morning actually applies to our lives.
We see God's grace wash over us as we struggle to be patient with our children or we fight a bitter attitude towards a friend.
We see our dependence on God to persevere in hard times and to walk with Him through the moments of our day.
We see how much we need His strength to fix our eyes on Him or to love our neighbor as ourselves.
It is in these places that we are reminded of the glorious truths of God's grace towards us through Christ as we see our daily need for a Savior. It is there that we see our need for the truths of the gospel to be on our hearts and our minds all day long as we seek to pursue Him and His likeness each day. And it is there that we fix our eyes on eternity, with a longing for the day when we won't struggle with the sin issues of this world any longer and will be in perfect communion with our Father.
This kind of gospel transformation can only take place as we spend time each day diving deep into God's Word and allowing the Spirit to do the work on our hearts. It takes not only spending time in the Bible but also memorizing and meditating on these truths all throughout the day and asking God to work out a heart of worship and praise in us. It takes actively putting my sin to death and seeking the righteousness of God in every moment, whether doing the laundry, or washing the dishes, or interacting with friends and family. Then, as we do these things we learn to depend on God, to bring all things to Him in prayer, and to allow His grace to pour over us throughout the day.
So how do we get started with this type of gospel hope that changes everything? For me, it is filling my mind with the truths of the gospel each and every day. Here are some incredible verses to get you started meditating on the gospel. I would encourage you to memorize, meditate on, and pray over these verses. Maybe hang them in a room of your house to remind you of the goodness, mercy, and grace of God each moment of each day.
Gospel Verses to Meditate on Throughout the Day
"Praise be to the God and Father of our Lord Jesus Christ! In his great mercy he has given us new birth into a living hope through the resurrection of Jesus Christ from the dead, 4 and into an inheritance that can never perish, spoil or fade. This inheritance is kept in heaven for you, 5 who through faith are shielded by God's power until the coming of the salvation that is ready to be revealed in the last time." 1 Peter 1:3-5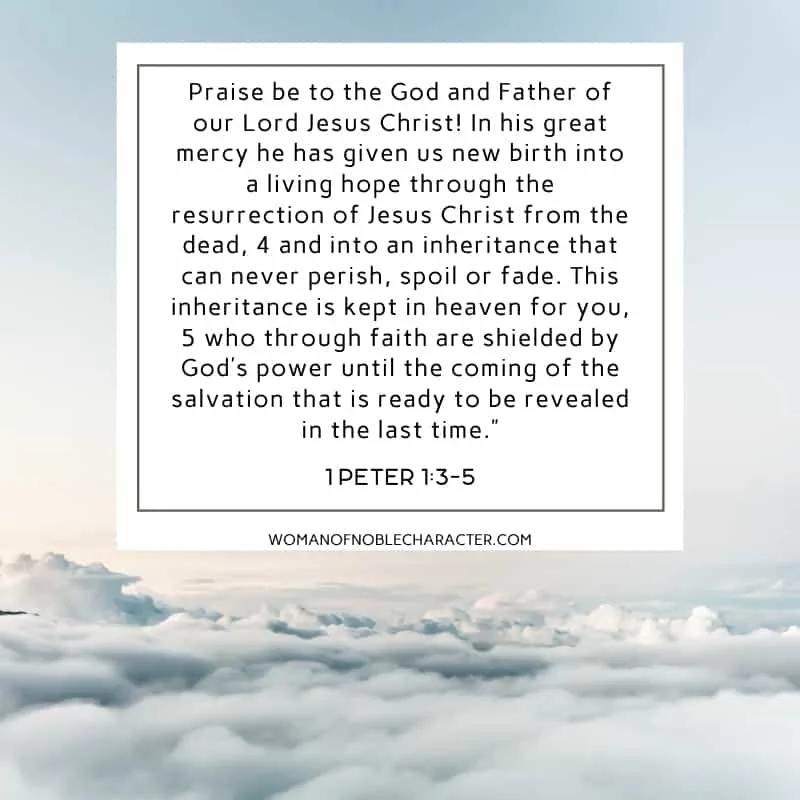 "but God shows his love for us in that while we were still sinners, Christ died for us. Since, therefore, we have now been justified by his blood, much more shall we be saved by him from the wrath of God. For if while we were enemies we were reconciled to God by the death of his Son, much more, now that we are reconciled, shall we be saved by his life. More than that, we also rejoice in God through our Lord Jesus Christ, through whom we have now received reconciliation." Romans 5:8-11
As for you, you were dead in your transgressions and sins, in which you used to live when you followed the ways of this world and of the ruler of the kingdom of the air, the spirit who is now at work in those who are disobedient. All of us also lived among them at one time, gratifying the cravings of our flesh and following its desires and thoughts. Like the rest, we were by nature deserving of wrath. But because of his great love for us, God, who is rich in mercy, made us alive with Christ even when we were dead in transgressions—it is by grace you have been saved. And God raised us up with Christ and seated us with him in the heavenly realms in Christ Jesus, in order that in the coming ages he might show the incomparable riches of his grace, expressed in his kindness to us in Christ Jesus. For it is by grace you have been saved, through faith—and this is not from yourselves, it is the gift of God— not by works, so that no one can boast. For we are God's handiwork, created in Christ Jesus to do good works, which God prepared in advance for us to do. Ephesians 2:1-10
Praise be to our great God that the gospel is sufficient, glorious, and powerful to change everything about our lives for His glory and praise!
Biography of Guest Writer Kristin Coulson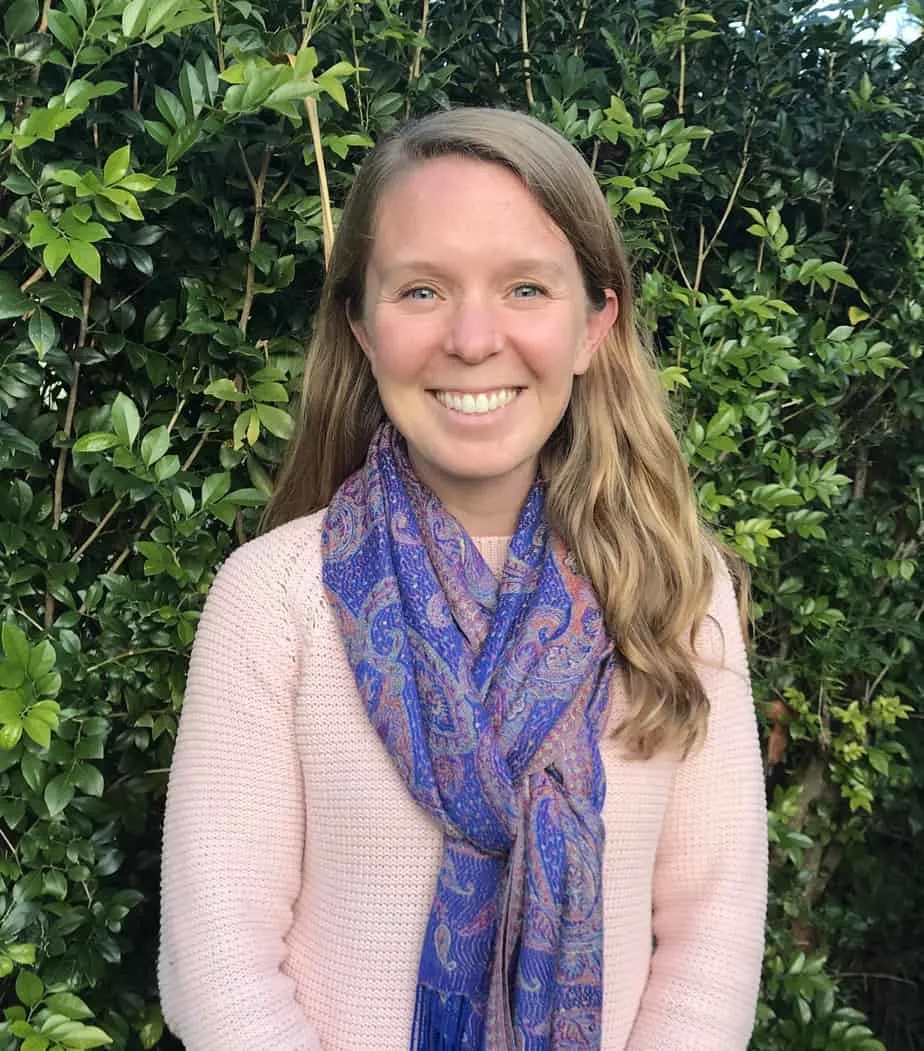 Kristin Coulson and her husband, Josh, along with their two kids, Hunter and Adelaide, live in Sydney, Australia where they do full-time ministry discipling college students. She has a passion for empowering believers to see how the gospel applies to our everyday moments of life, for equipping families to disciple their children and others God puts in their path, and to see God's name praised among all of the nations, which is why she started Raising Everyday Disciples, a blog focused on these topics. You can find out more about her at raisingeverydaydisciples.com or follow her on Instagram/Facebook/Pinterest.