The SOAP Bible Study Method: 4 Simple Steps to Understanding God's Word
This page/post may contain affiliate links.  As an Amazon Associate, as well as an affiliate of other programs, this means if you purchase something using these links, I will receive a commission on qualifying purchases at no cost to you! For more detailed information, please visit our Affiliate Disclaimer page
If you are new to Bible study or are just looking for a straightforward Bible study method, the SOAP Bible study method is perfect.
Why is it Important to Study the Bible?
Simply put, the Bible is God's Word. While reading it, you will find, God's message especially for you.
God's Word is a gift from Him that is not only speaking right to you, but also serves as an instruction manual for life. God's Word provides encouragement, answers to life's pressing questions, and it is the absolute best tool for personal spiritual growth.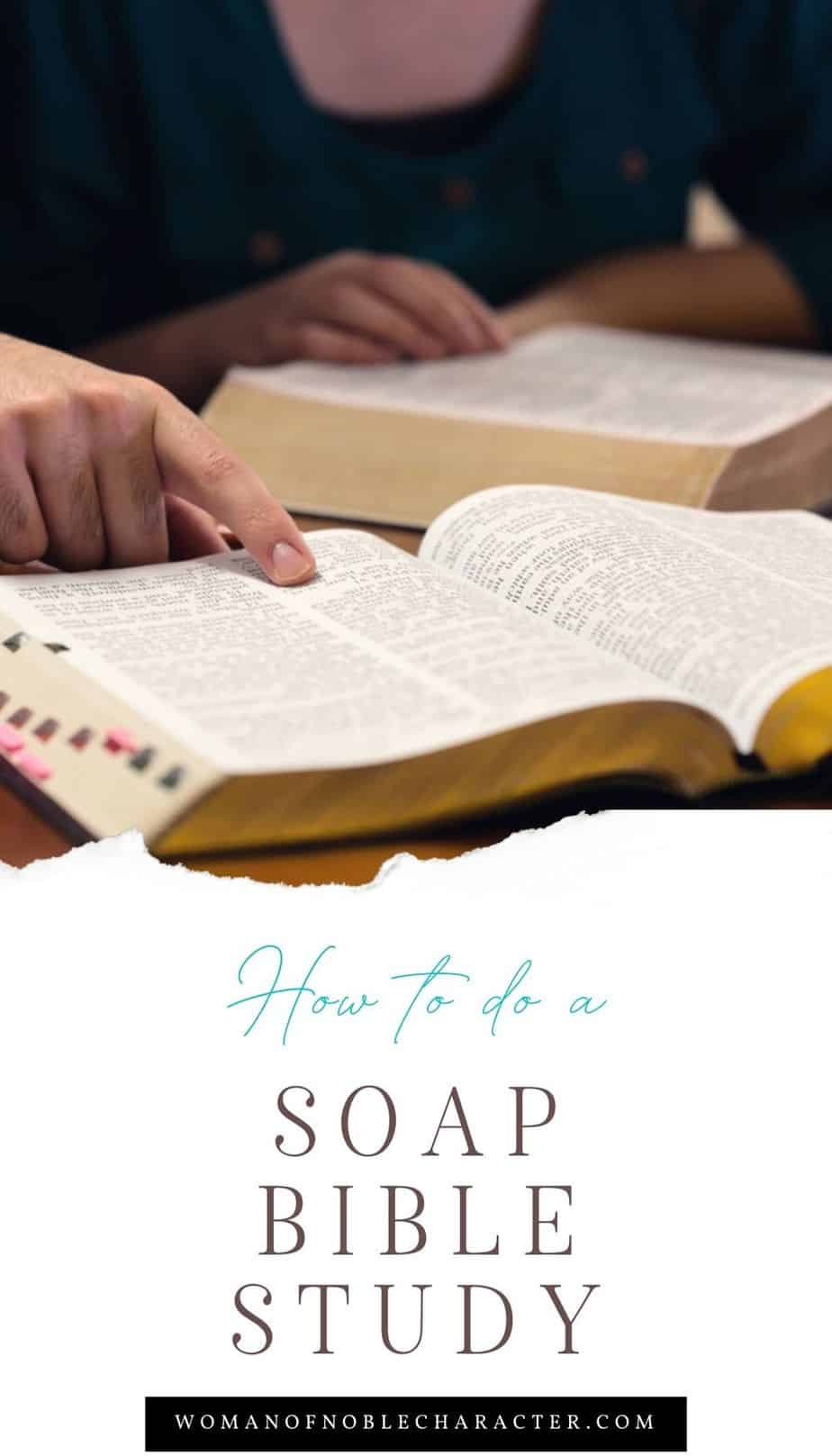 There are many benefits to reading the Bible, most importantly, reading the Bible draws us closer to The Father and helps to shape us into who He created us to be.
How can we know what God wants for us if we never read the Word He gave to us?
As you begin to study the Bible, you will start to notice a change in yourself. With regular study, you may find that you are actively seeking His will and feel more at peace.
God's Word gives us the joy, peace and wisdom that we need in our lives.
Reading and studying the Bible is also important for us to stay connected to the Lord. It also grows our faith and helps us to understand His commands and listen for guidance from the Holy Spirit.
Prayerfully, it may increase your thirst for more of Him and His Word.
Using a Bible study method that you enjoy doing will also help you to understand more about:
What you believe in our Christian faith
Why you believe what you do
Christian doctrine and theology
the context of certain passages
situations and topics that pertain to your life
Methods of Bible Study
There are numerous ways and methods that you can use to study the Bible, including Inductive study, Bible Character Study, Verse Mapping and more.
The SOAP Bible study method is one that I love because it is simple and straightforward; perfect for someone new to Bible study or one with many years of Bible study experience.
"For the word of God is alive and active. Sharper than any double-edged sword, it penetrates even to dividing soul and spirit, joints and marrow; it judges the thoughts and attitudes of the heart." Hebrews 4:12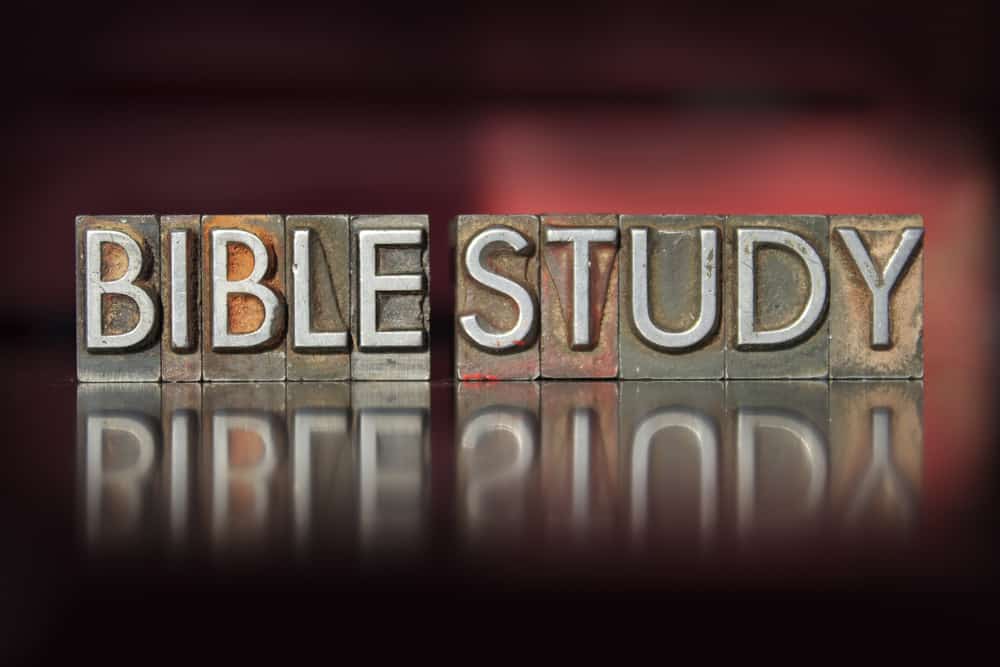 The SOAP Bible Study Method
The SOAP Bible Study Method walks you through taking a verse, digging into the details and learning how to apply it to your life.
You begin and end each Bible study time with prayer, asking God to help you write the Word on your heart and to apply what you've learned.
SOAP stands for Scripture, Observance, Application, and Prayer. Let's dive into what each one of those mean, in depth.
Then, I'll show you an example from my own SOAP Bible study.
Why Use the SOAP Bible Study Method?
It's one thing to read scripture, but when you study it, interact with it, and dive deep into it, you will find that God is speaking directly to you.
By using a study method, such as the SOAP Bible study method and studying verses, you will be able to understand each verse much more and truly see what scripture says.
I encourage you to try the SOAP Bible study method for yourself and see how much more clearly you read and understand the Bible.
You will get so much more out of your daily Bible reading, I promise!
How to do the SOAP Bible Study Method
The first thing you should do when using the SOAP Bible study method (or any study of the Bible) is to pray.

Ask God to open your eyes and your heart to what He wants to show you. Ask Him to reveal any area of your life that needs correction through His Word.
Ask Him to write the Word on your heart and in your life.
Next, before you can begin the SOAP Bible study method, you need to determine which verses you will study.
I suggest choosing one book and breaking it into paragraphs. For example, you may choose the book of James. It has five chapters. The first chapter has four paragraphs. I would start with the first paragraph and depending on the amount of time I dedicate to my daily Bible study (or how deep I go), I might do one verse per day or the whole paragraph.
The SOAP Bible study method is terrific for deep diving into a particular topic or book that you are hearing about or learning about at church or small group.
The important thing is that you are intentional with your study. Skipping around from chapter to chapter is great for learning the SOAP Bible study method, but not for an in-depth study of a section of scripture.
Once you've chosen your passage (book, chapter) you must read it. This sounds overly simple, but I recommend that you read the verse several times, preferably in different translations.
You can use a Bible app or an online tool such as Biblegateway.com to see the verse in many different translations with just a few clicks.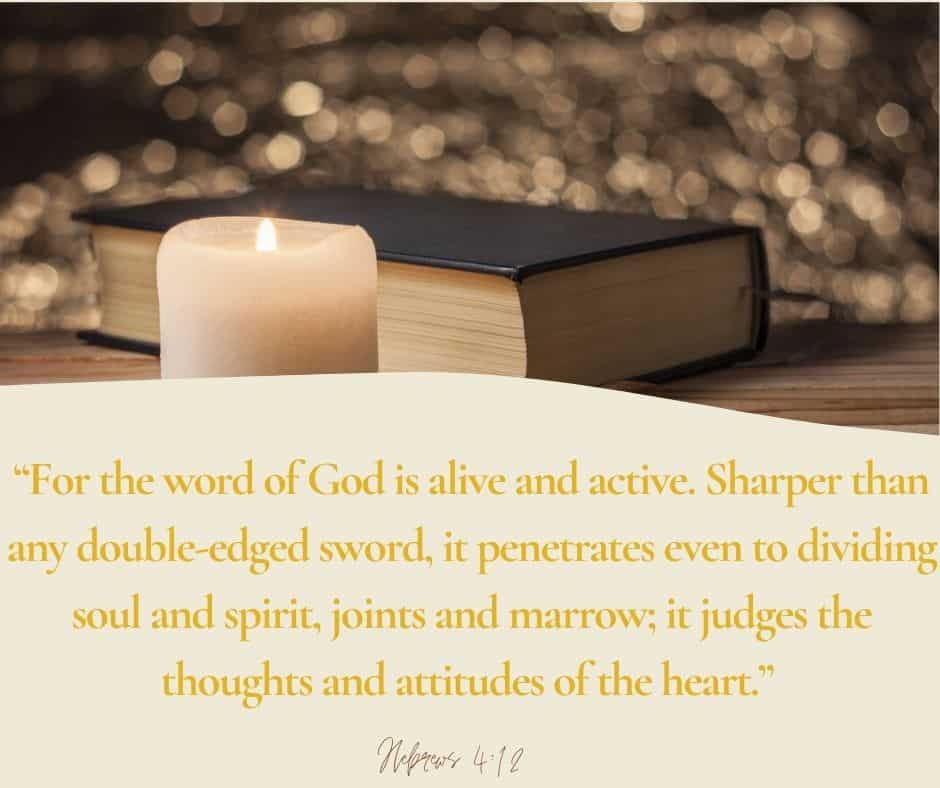 The SOAP Bible study Step-by-Step
Now that we know what we will study, let's learn how to do the SOAP Bible study method.
S – Scripture
The S stands for Scripture. This is where you – write out the scripture. You may choose to use your war binder, a prayer journal or a simple notebook or a worksheet, such as the one I've included for you below. It doesn't matter what you use as long as you find a place to write the verse out.
I love these journals by Paper Sunday.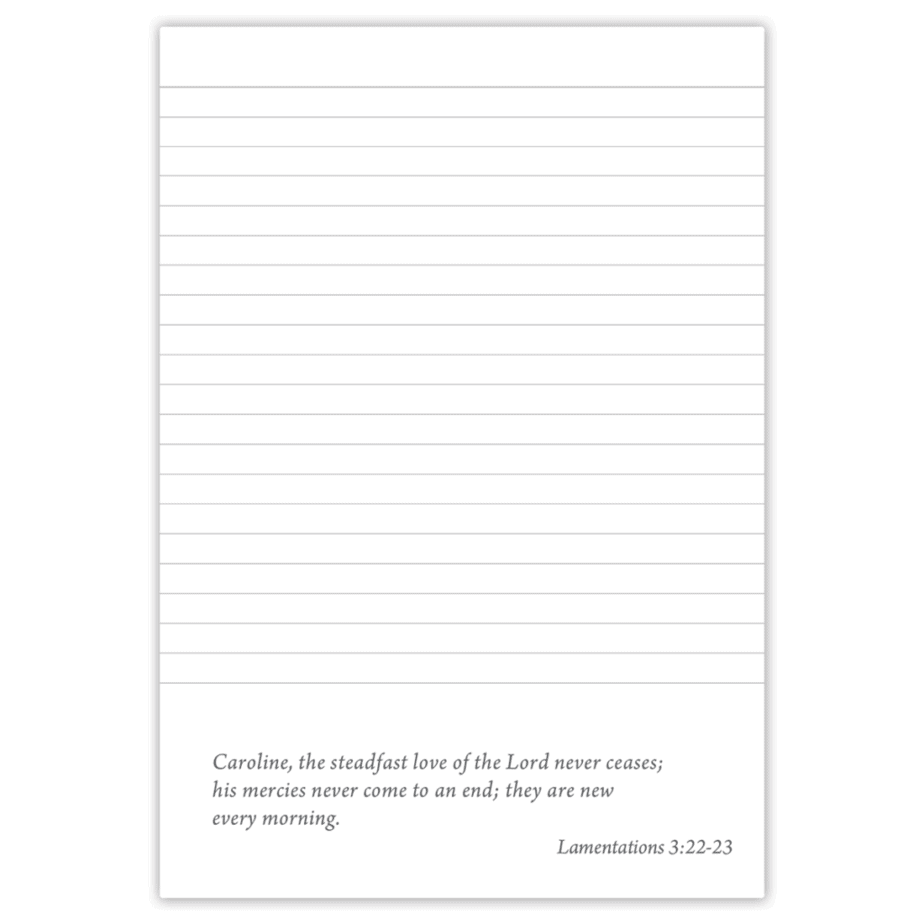 You can choose to write one verse, several or the entire paragraph.
Writing scripture helps me to focus on each word individually and on the passage as a whole. It truly helps me to soak in it and meditate on it.
There are many benefits to writing scripture, but I promise that you will be amazed at what God reveals to you by taking the time to slow down, focus and write out His Word!
O – Observance
The second step in the SOAP Bible study method is observance. This step is one of the most exciting ones for me.
Observance is where we deep dive into the scripture we have just read in several translations and wrote in our war binder or worksheet.
First, make a note of anything that stood out to you.
Next consider some or all of the following questions:
What do you see in the verses that you're reading?
Who is the audience?
Is there a repetition of words?
What words stand out to you?
Who is it written by?
What is one thing you didn't notice before?
What seems interesting or unusual about the verse or the words used?
What comes before the verse or after that is significant?
What comparisons or contrasts did you notice?
Many people like to use the 5 W's method: Who, what, when, where, why, and how?
Try to answer as many of the questions above as possible (or any others that come to you) about the verse in order to fully understand it.
You may also wish to:
Read a commentary about the scripture
Look up the original words in Greek or Hebrew, etc.
Read the notes about the verse in a study Bible (I love the Life Application Study Bible and the Quest Study Bible).
When you first begin to use the SOAP Bible study method, these observances may be simple or obvious such as, "Jesus prayed alone", but they will gradually become deeper, and you will expand on them.
A – Application
The next step in the SOAP Bible study method is application. This step is when God's Word becomes personal to you.
After observing the verse and diving into the specifics, now is the time to ask What is God saying to me through this verse? What light is He shining on any changes I need to make in my life? How can I apply this verse to my life? Are there any actions that I need to take?
If you are led to take an action, what is that action? Is it measurable? Is it time-bound? Is it specific?
Think about your words, your behavior, your relationships, your job, your ministry and volunteering, your church, your family. Nothing should be off-limits to the Holy Spirit.
This is the most personal and deep aspect of the SOAP Bible study. You truly need to be honest with yourself. Take a hard look at any changes you need to make in your life or struggles you currently have.
Asking specific questions may help you think of possible actions the Lord may want you to take. Ask yourself questions about sin, obedience, attitudes, character traits, and promises of God. Although it may be tempting to come up with several applications, try to focus on just one or two. Just like with the other steps, write down your application.
P – Prayer
The last step in the SOAP Bible study method is prayer. Pray God's Word back to Him. If He has revealed something to you during this time in studying His Word, pray about it. Confess if He has revealed some sin in your life.
Pray that God will show you how to apply this verse to your life.
Reflect with God on what you' have learned today. Have an open and honest conversation with God – just like you would with your best friend. Remember that HE IS your best friend!
Share with Him your worries and fears, especially those that were brought up in your study today.. If you feel confused or worried, pray that God will open your heart to what He has in store for you right now.

Thank Him for the gift of His Word and His love for you. And ask the Holy Spirit to continue growing you into a disciple of Jesus.
You may wish to write your prayer to God (or just parts of it) in your prayer journal, war binder or worksheet.
Truthfully, you can pray throughout the SOAP Bible Study and surround your study in prayer so that your heart and mind are open to what God wants to reveal to you through His Word.
You may find that throughout the day you feel God's voice speaking to you and revealing even more lessons about from your study time.
Studying God's Word with the SOAP Bible study method can take as little or as long as you would like. Some days it can take just 10 or 15 minutes, other days as much as an hour or more.
An Example of the SOAP Bible Study Method
S – Scripture
Luke 6:12
One of those days Jesus went out to a mountainside to pray, and spent the night praying to God. (NIV)
Now it came to pass in those days that He went out to the mountain to pray and continued all night in prayer to God. (NKJV)
In these days he went out to the mountain to pray, and all night he continued in prayer to God. (ESV)
One day soon afterward Jesus went up on a mountain to pray, and he prayed to God all night. (NLT)
At about that same time he climbed a mountain to pray. He was there all night in prayer before God. (MSG)
(Can you notice the small, but in some cases, significant differences in these translations?)
O– Observance
Jesus often went alone to pray before every important event
He was preparing to choose His disciples
He was praying to The Father
(I like to use bullet points to write my observances, so they are cleaner and easier to read than paragraphs).
I would continue here with what mountain it was, if known, where it was located. I would also use a Hebrew/Greek Key Word Study Bible to look at each word in this verse and use some of these other Bible study tools to dig deeper.
I have a tendency to go very deep and look at Old or New Testament history, commentaries and more.
Feel free to go as deep as you are comfortable with and have time for.
A – Application
I felt drawn, after reading this, to go for a walk, in nature, and pray to God. Away from the distractions of home – just me and my Father in heaven.
P– Prayer
Dear Lord, please help me to prioritize my time and put you first. Remind me to take walks, in your creation, where we can talk, as friends. Press upon my heart, Father, that before any big event or decision that I come before you and pour out my heart. My fears, my concerns, my joys and blessings. Thank you, God for always loving me, even when I fail to put you first.
The SOAP Bible study method is a wonderful method for studying God's Word, digging into the meaning and applying it to your life.
It's easy for a beginner and yet, meaty enough for an experienced Bible student.
For an easy way to study the Bible using the S.O.A.P. Method, use this free SOAP Method worksheet. Click the image to download and print.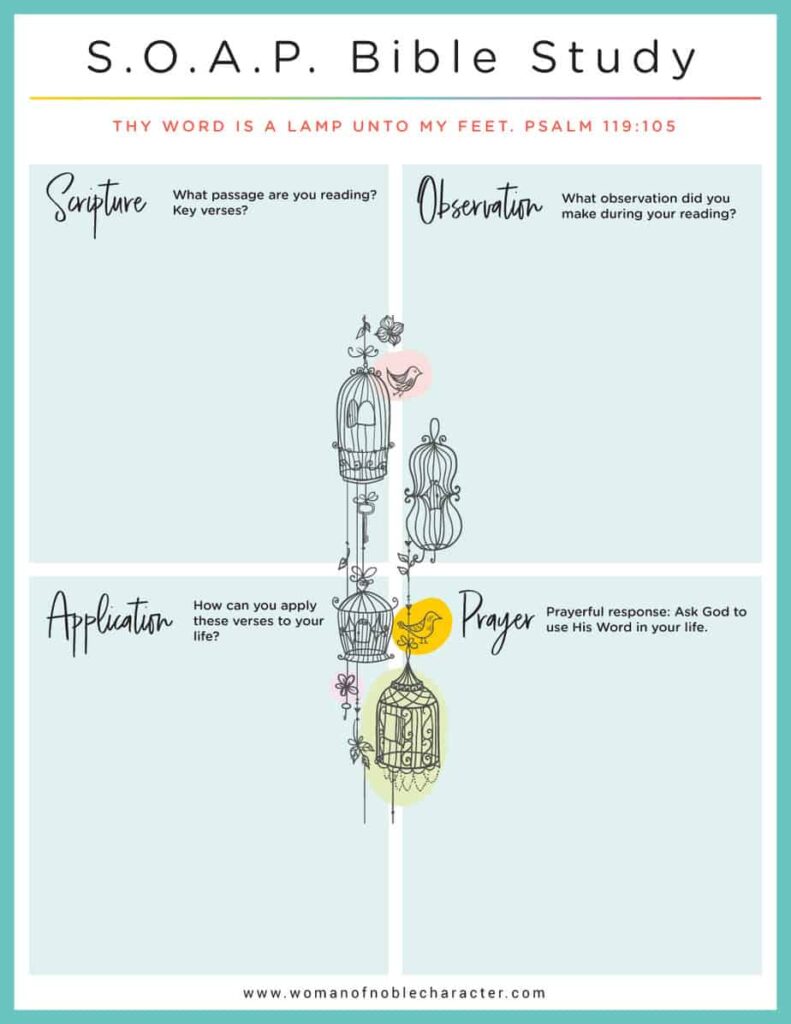 Remember to read the Word daily and allow God to speak to you through His Word. Bible study, including the SOAP Bible study method is meant to make your study time more fulfilling.