How To Set Up A War Binder For Your Time With God
This page/post may contain affiliate links.  As an Amazon Associate, as well as an affiliate of other programs, this means if you purchase something using these links, I will receive a commission on qualifying purchases at no cost to you! For more detailed information, please visit our Affiliate Disclaimer page
Come closer. Closer..I have a secret to tell you. Setting up your very own war binder doesn't have to be complicated or expensive. Yep, it's true.
If you aren't familiar with the term "war binder", a war binder, also known as a faith journal, is essentially a binder or notebook with multiple sections that you use to document your walk with God.
The term 'war binder" may have come from the movie "The War Room", starring Karen Abercrombie, where Ms. Clara guides a struggling wife in creating her own "war room" as a place to pray, reflect on scripture and give thanks. A war binder is like having an entire war room in one convenient place. This is especially great if you don't have a room in your house to dedicate as a war room or, you prefer something that you can take with you.
I've always been a creative person and have spent years scrapbooking, art journaling and other mixed media and paper arts. I've also kept separate scripture and prayer journals for the past few years.
Creating a war binder of my own has been on my list of things to do for some time as it can be a blend of creative and spiritual. Notice how I said "can be"? Your war binder can be whatever you want it to be.
So, What's in a War Binder?
Whatever you want!
Here's a list of the sections you might choose to put in your war binder:
Prayers

Scripture

Gratitude

Sermon notes

Journal

Inspiration

Answered Prayers

Testimony

Reflection

Growth Areas

Affirmations

Reference – tithing, books of the Bible

Trackers – prayer, tithing, etc.
Additionally, you can choose to add photos, drawing, printables or anything else that inspires you.
My War Binder
When I decided to set aside a Saturday morning to "play" in my office and set up a war binder, I grabbed things I'd already had on hand:
small 3 ring binder (mine is 8 x 8)

scrapbook paper

tab punch

faith based stickers and die cuts

washi tape
I didn't spend any money on setting up my war binder as I had a large "stash" of items, already in my office/craft room, that I knew would be great for this project. If you don't have much on hand, the dollar section at Target has tons of cool things, but my ABSOLUTE FAVORITE place to find items to use in my war binder is Dayspring/Illustrated Faith. All of my stickers and die cuts were previously purchased from them.
I've included Amazon links to the products I used to help you in locating them.


How I Set Up My War Binder
I started with an 8 x 8 3 ring binder that I had in my closet (I actually have two of them. I'm saving the second one for when the first runs out of room 🙂 )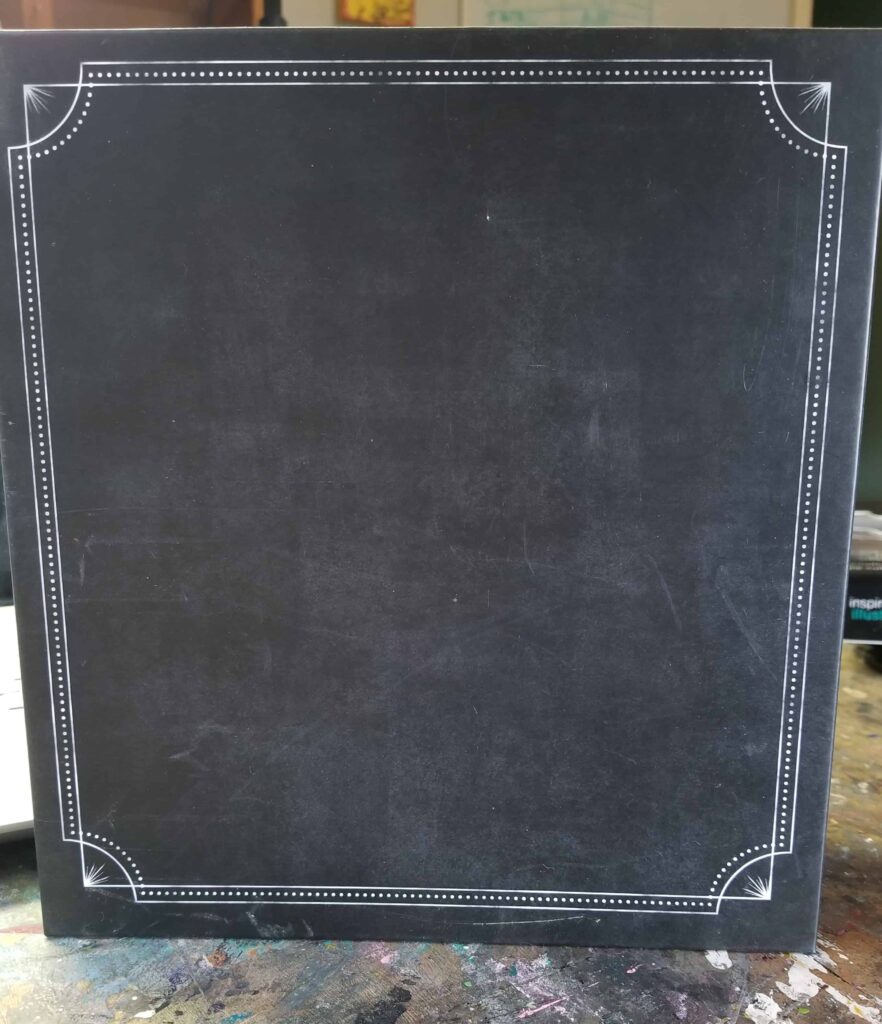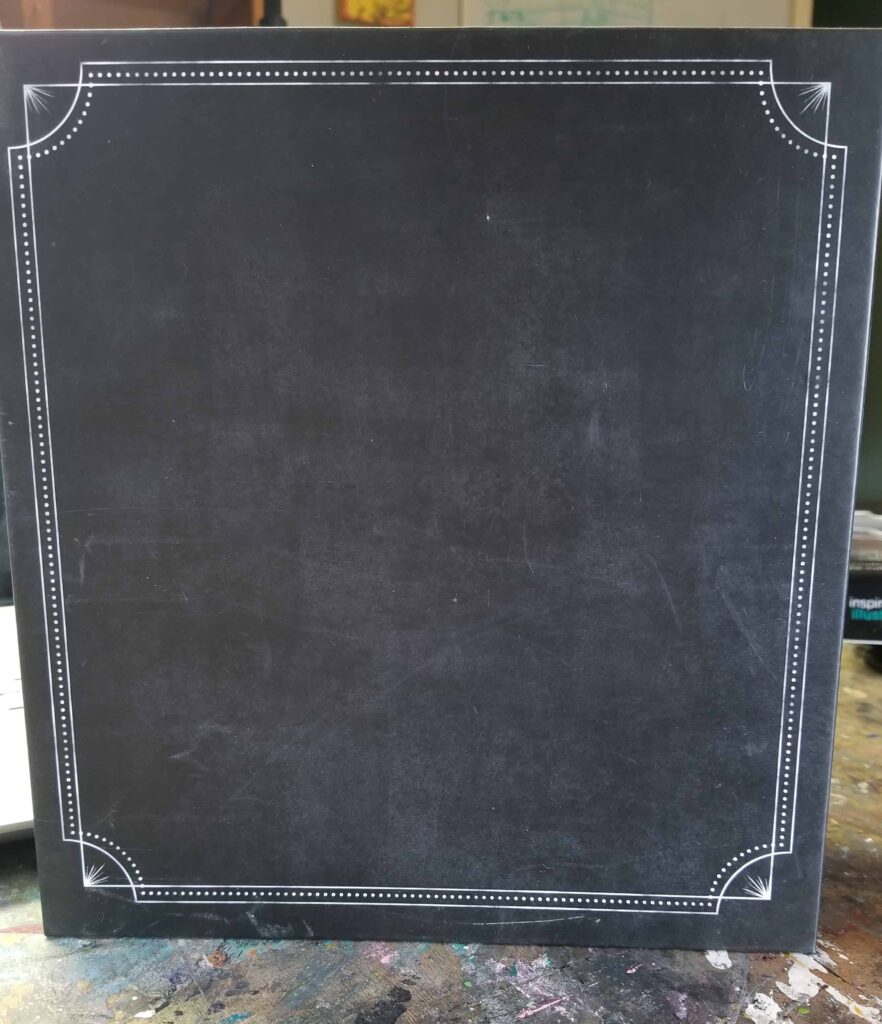 Bo Bunny 3 Ring Binder 8″ x 8″
For my next War Binder, I plan on using this binder from Stampin' Up! – because it is Kraft, rather than black, my options are endless for decorating the cover and inside. Plus, it is a good bit cheaper than the Bo Bunny one.
Next, I decided what sections I wanted to include, so I knew how many dividers to make.
I decided to use the following sections:
Prayers
Gratitude
Sermon Notes
Journal
Scripture
and then grabbed some fun, two-sided scrapbook paper which I cut to 8″ x 8″.
Then I punched divider tabs from coordinating scrapbook paper, added stickers to label the tabs and placed tab protectors (you can use contact paper or laminate them) so they would hold up better.
After punching the holes, you may wish to use hole protectors to make the pages more sturdy.
I added the tab dividers to my dividers, punched holes in it and I was off to a good start.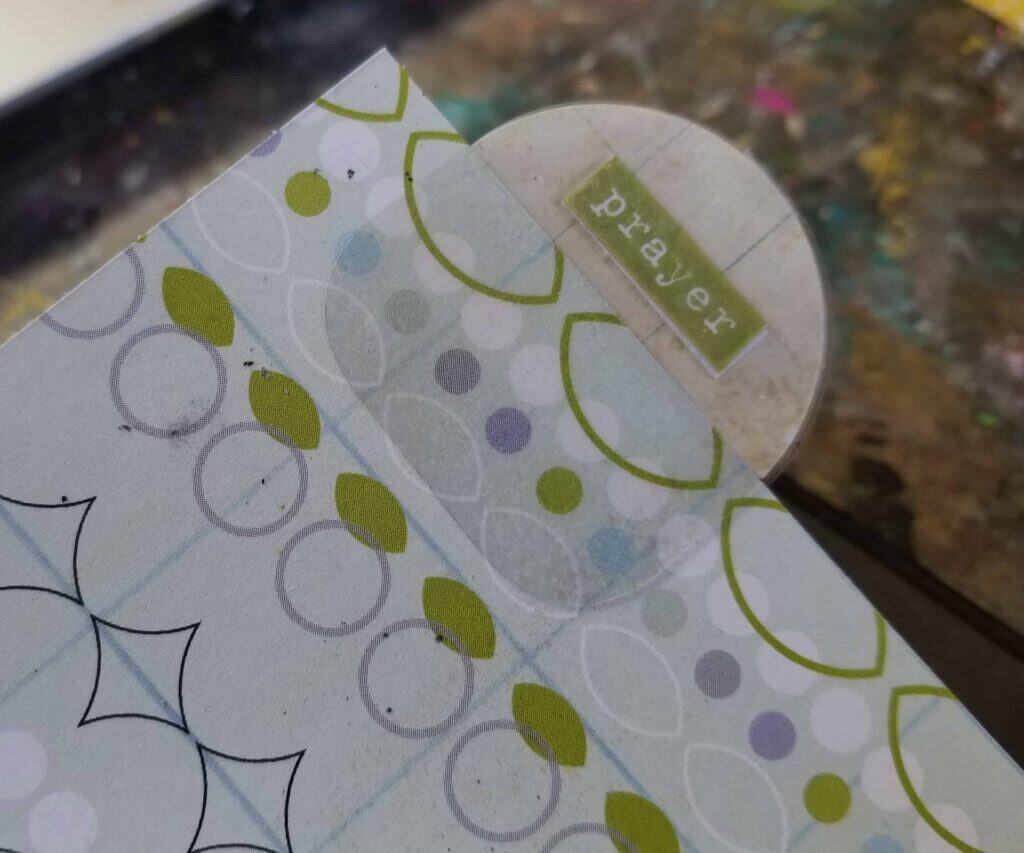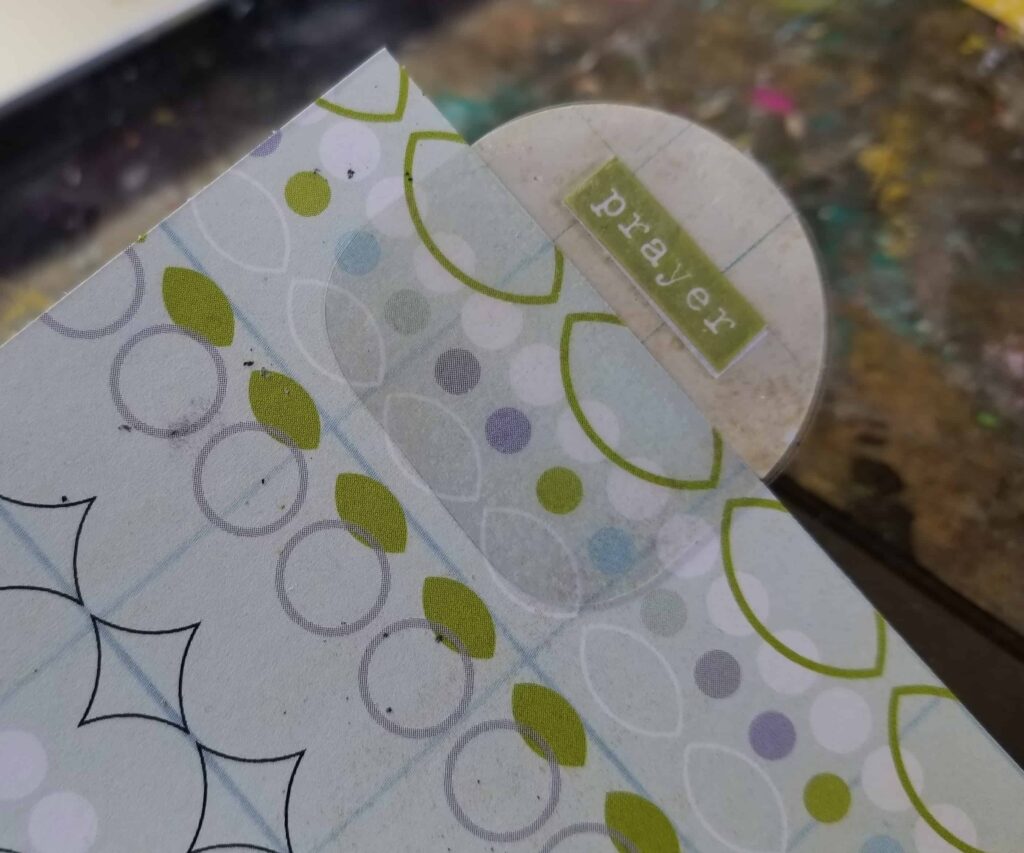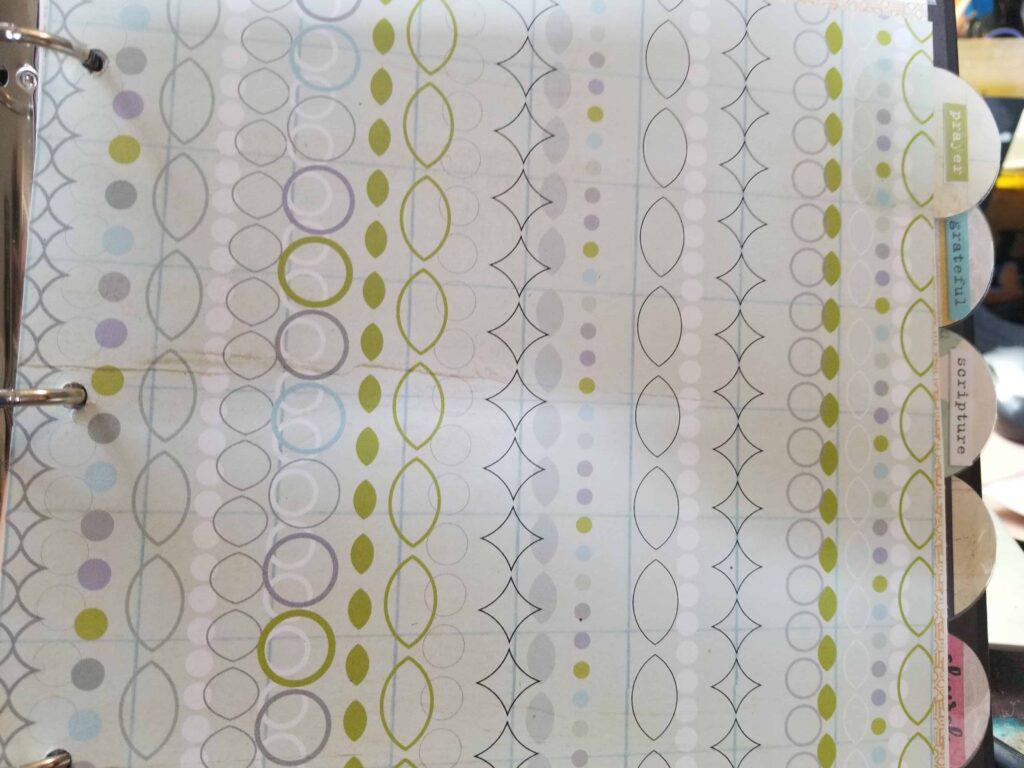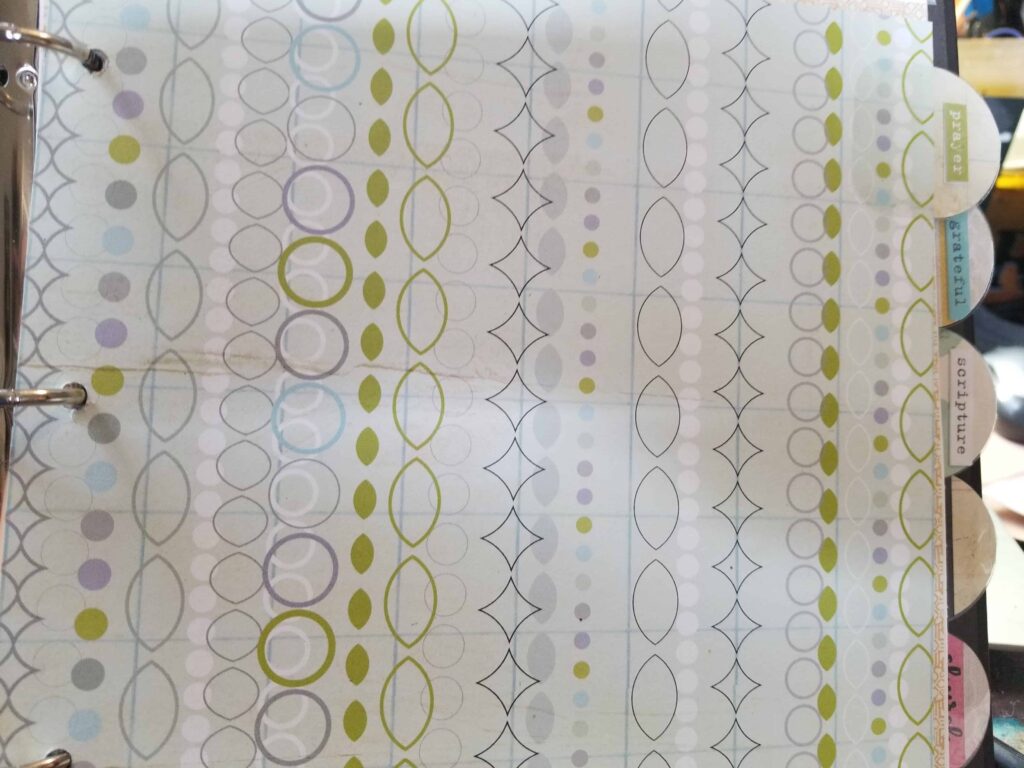 We R Memory Keepers Tabbed Punch – Round (this is the one that I used)
We R Memory Keepers Tabbed Punch – Flat
Or this round one that is more versatile
Next, I made a few pockets out of scrapbook paper to have a place for saving sermon guides, prayer requests and other tidbits that I'd like to save.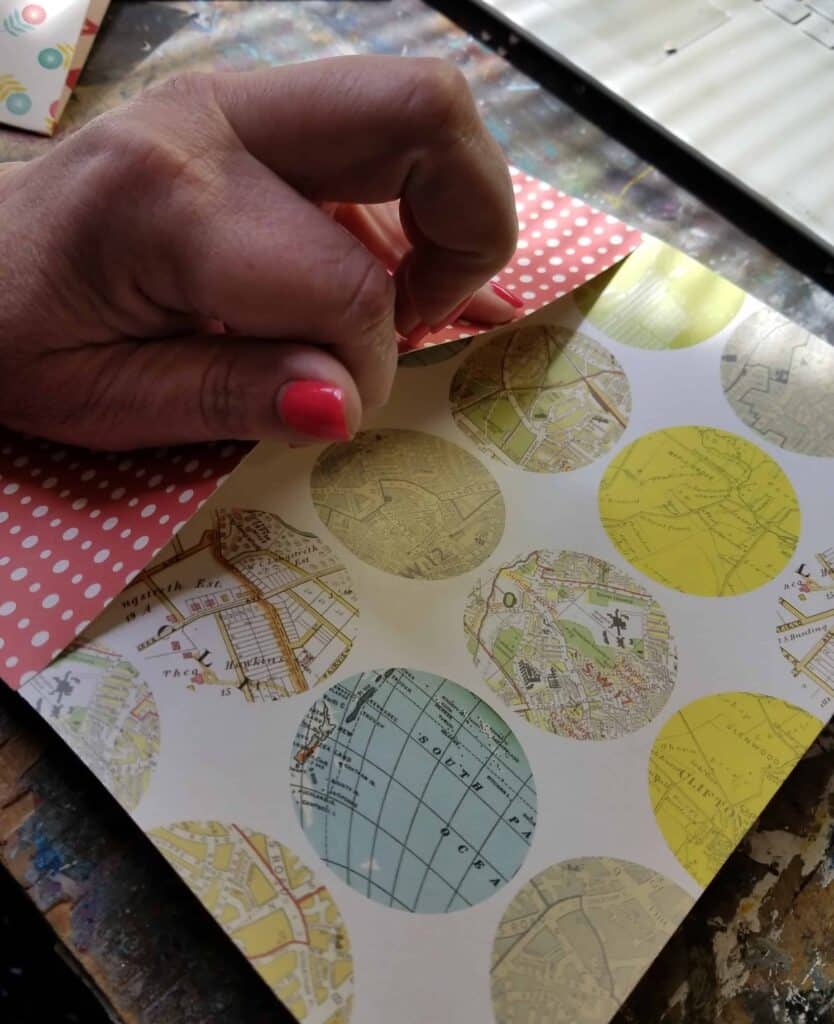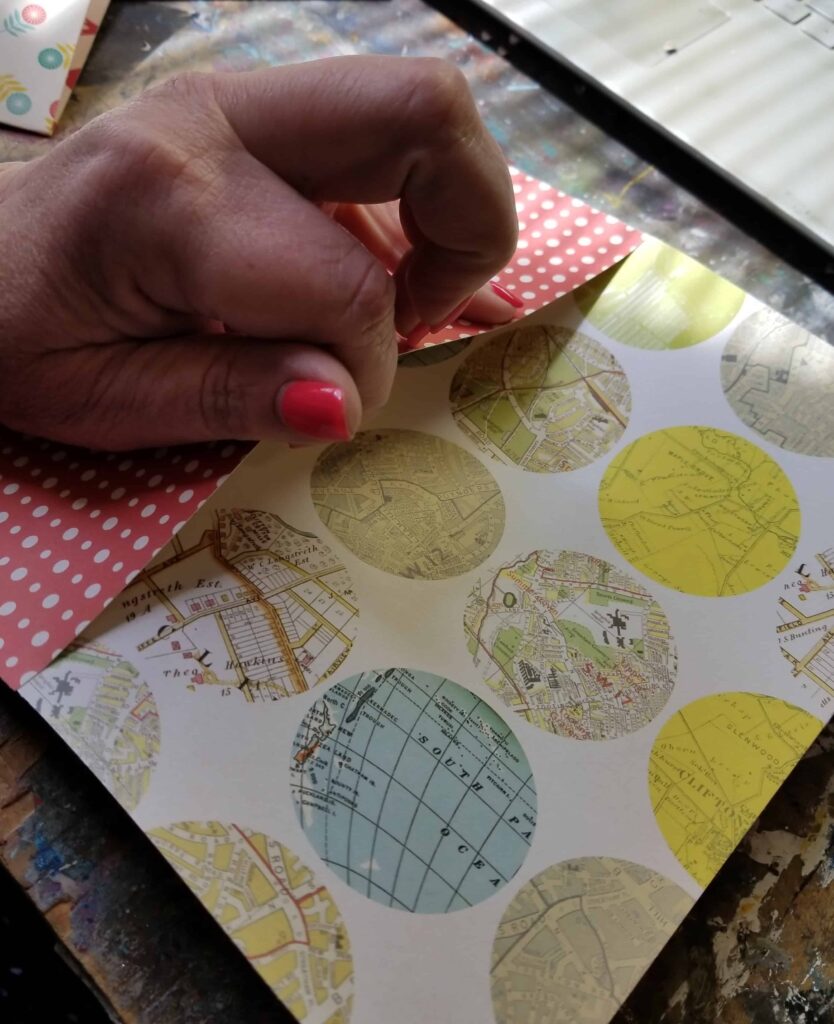 So..now the basic set up was complete, it was time to fill it up and add some pizzazz to it.
Want a free war binder printable? Enter your name and email address to get it delivered to your inbox.
Here are some faith based scrapbook paper packages that I've found (some that I have), if you don't want to use general scrapbook paper. As I've mentioned, I've used what I already had on hand for the scrapbook paper in my war binder.
For the actual pages that I will write on, I cut lightweight scrapbook paper to fit the book, punched holes and placed a few in each section. I also used some pretty lined and grid paper that I had that was already the right size. I'm not a huge fan of the color combo but it will work just fine and it's not about me – it's about praise, prayer and worship to Him, right?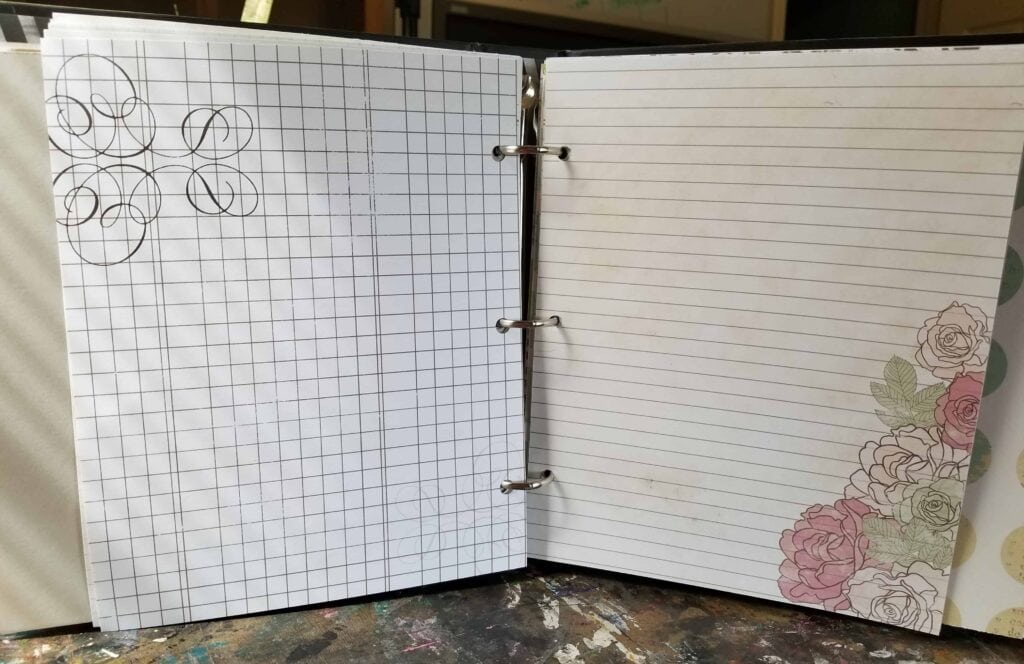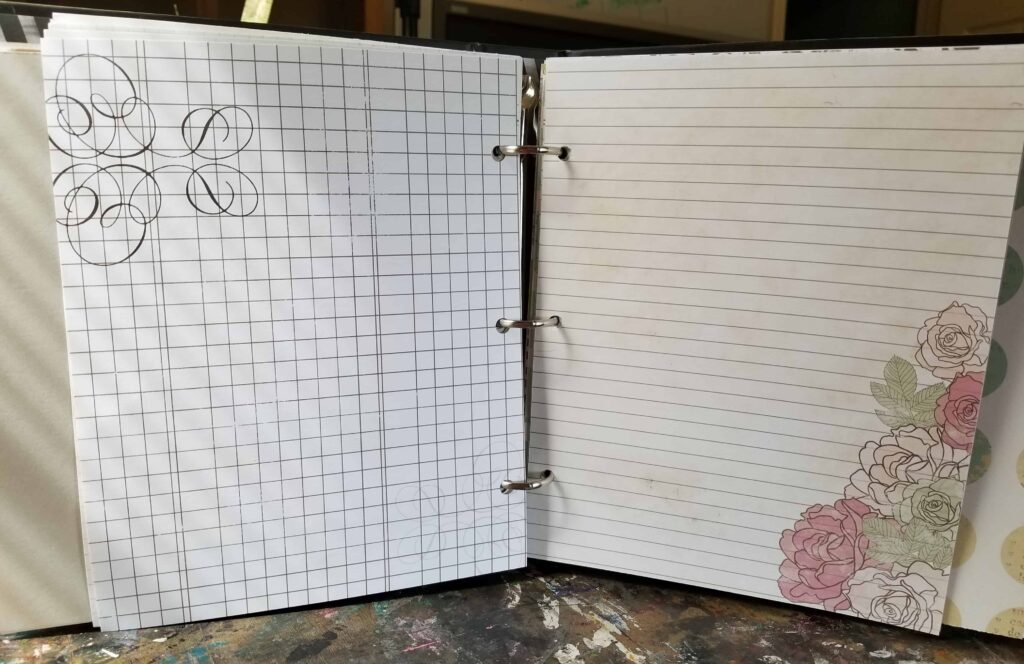 The lined and grid paper that I used for my inserts is from Bo Bunny Press. I don't believe that it is available anymore, but any paper – lined, grid or blank will do! Remember, it is YOUR prayer journal or war binder.
Personalizing My War Binder
Here's the fun part! I was able to use my creativity to make the war binder truly mine and reflect my walk with our Savior.
I added some ink to edges of the paper, some stickers and die cuts and went to town!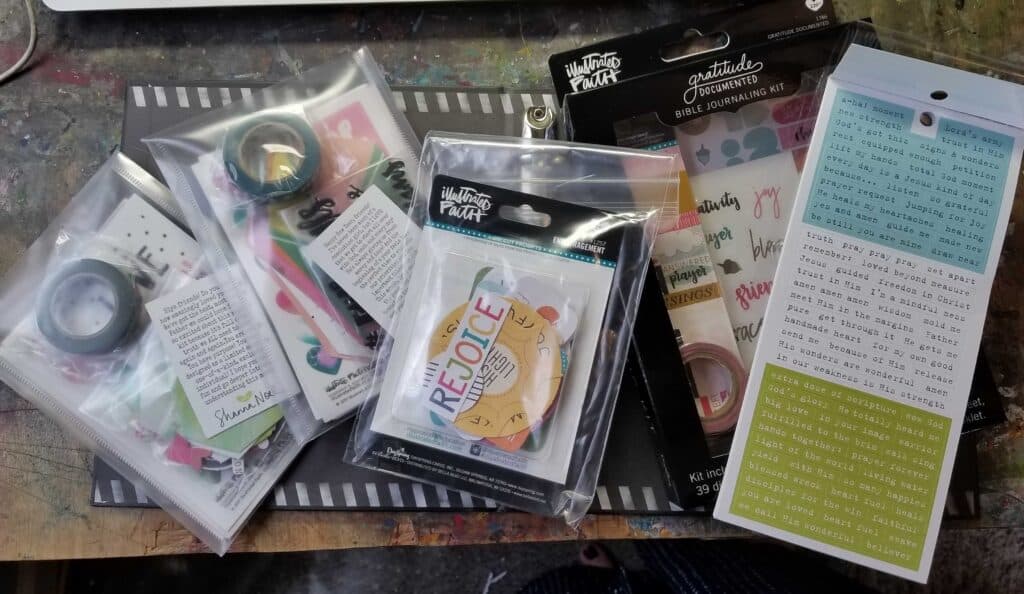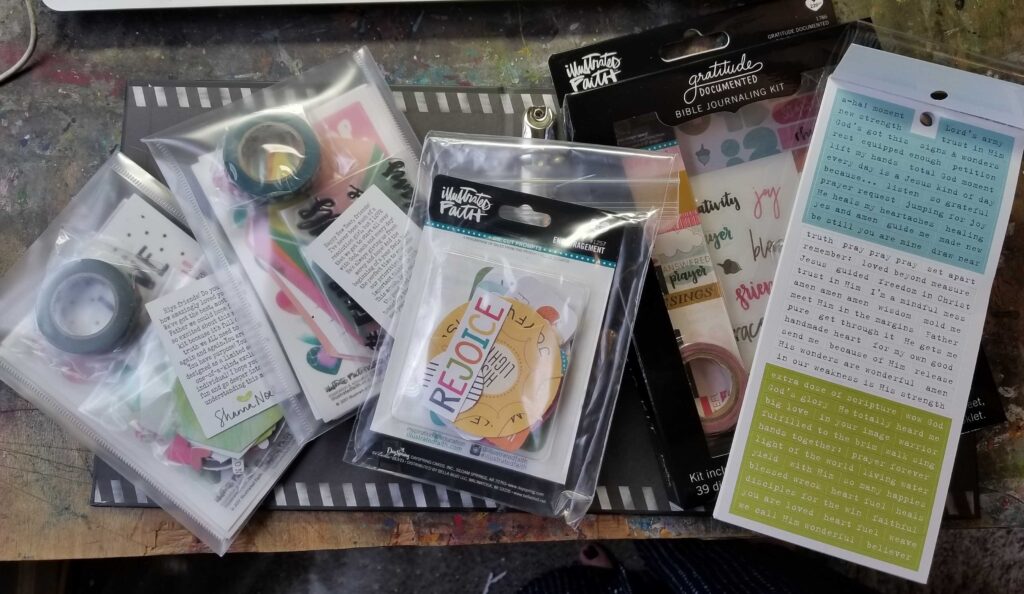 I just love the die cuts and stickers from Illustrated Faith. Here are some of my favorite Bible journaling or war binder supplies from them, including the ones that I used for my war binder:
Illustrated Faith Goals and This is Love Combo Kit (This is one set that I used)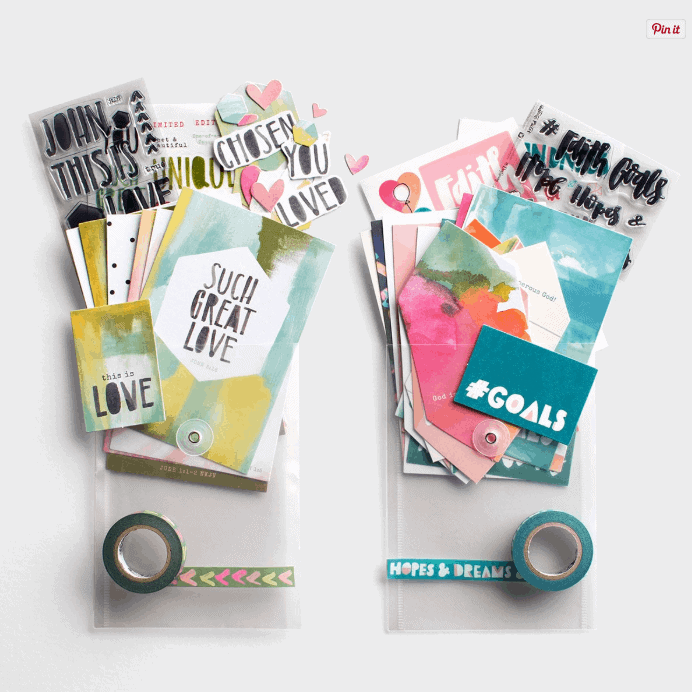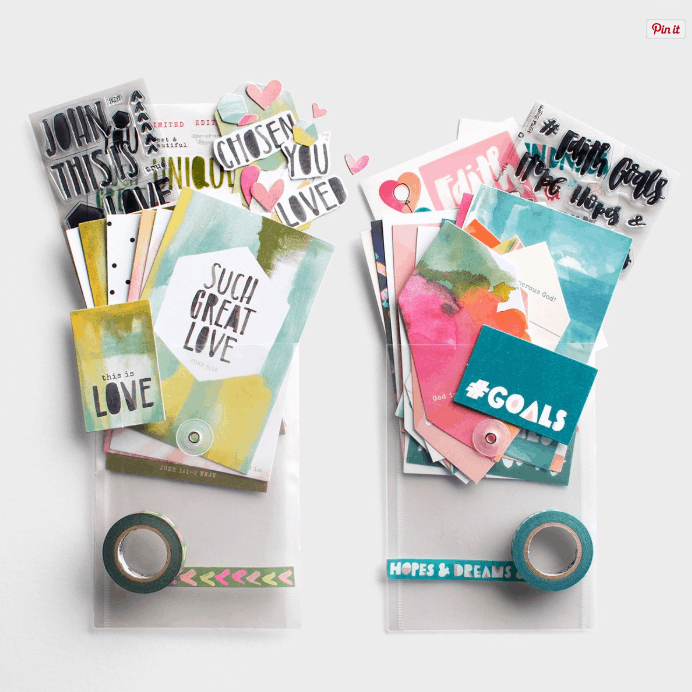 Illustrated Faith – Word – Cardstock Booklet (I used these for the labels on my tabs)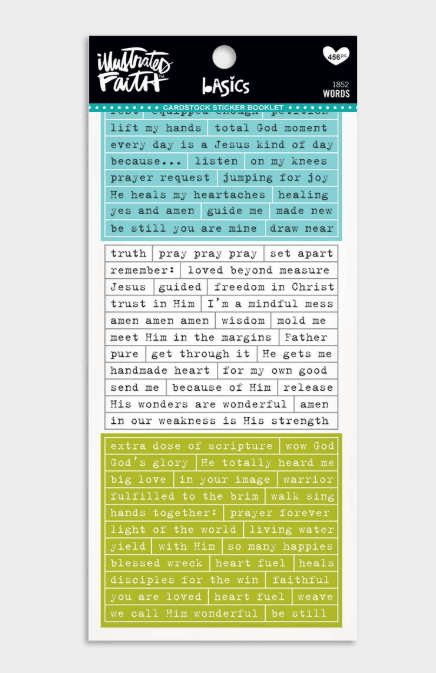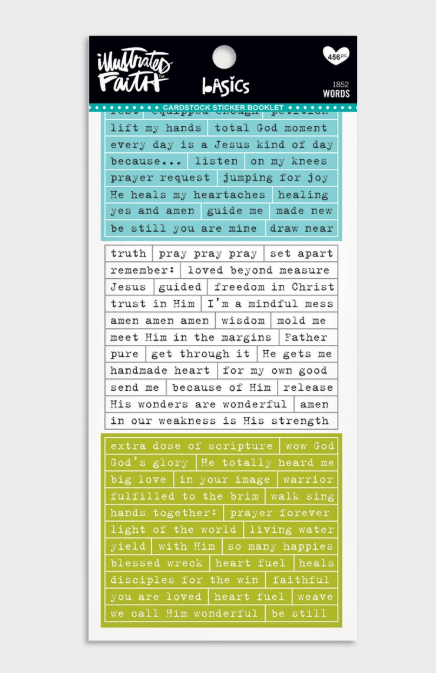 I also love to add stamped images to my war binder. Here are the two sets that I use most (all are Stampin' Up!): I also use lots of flowers and tree stamp sets.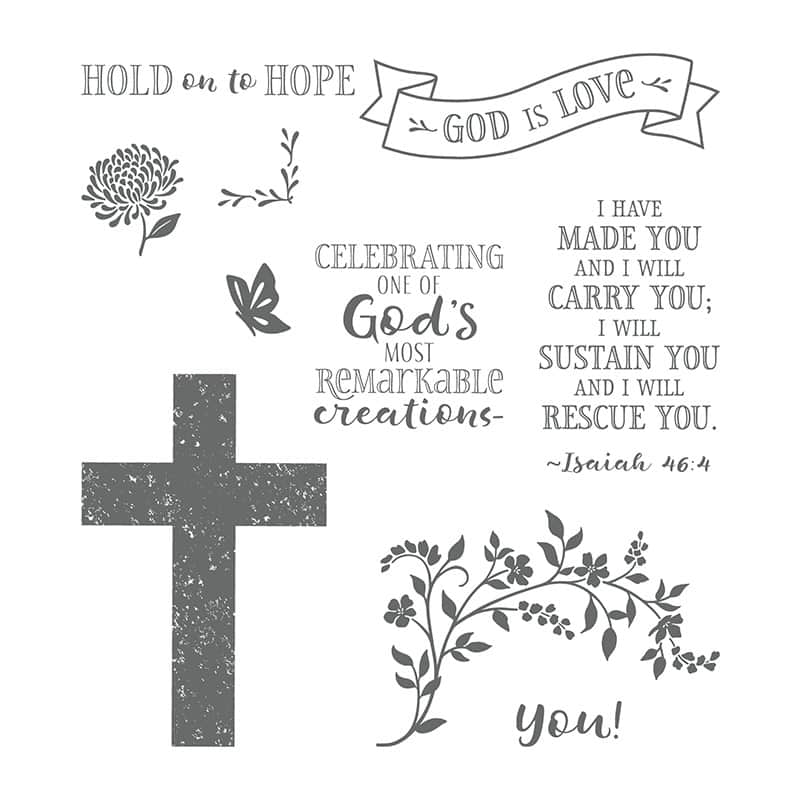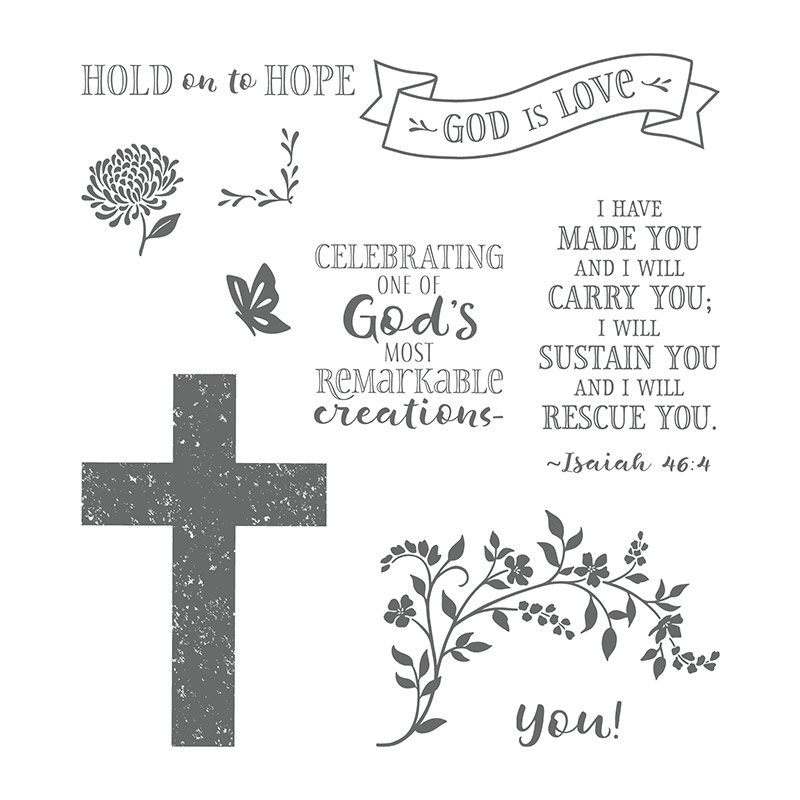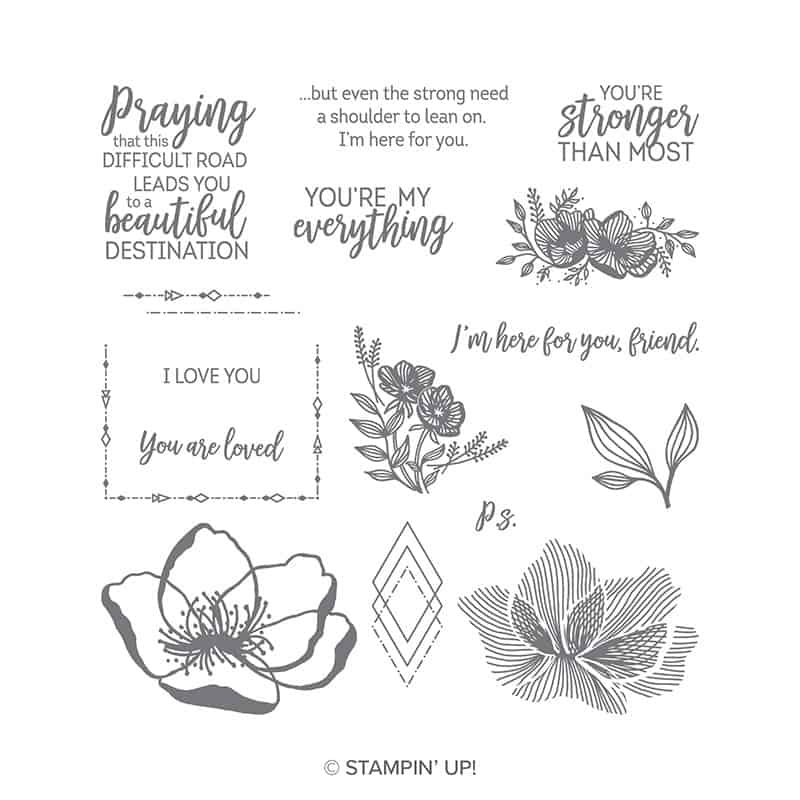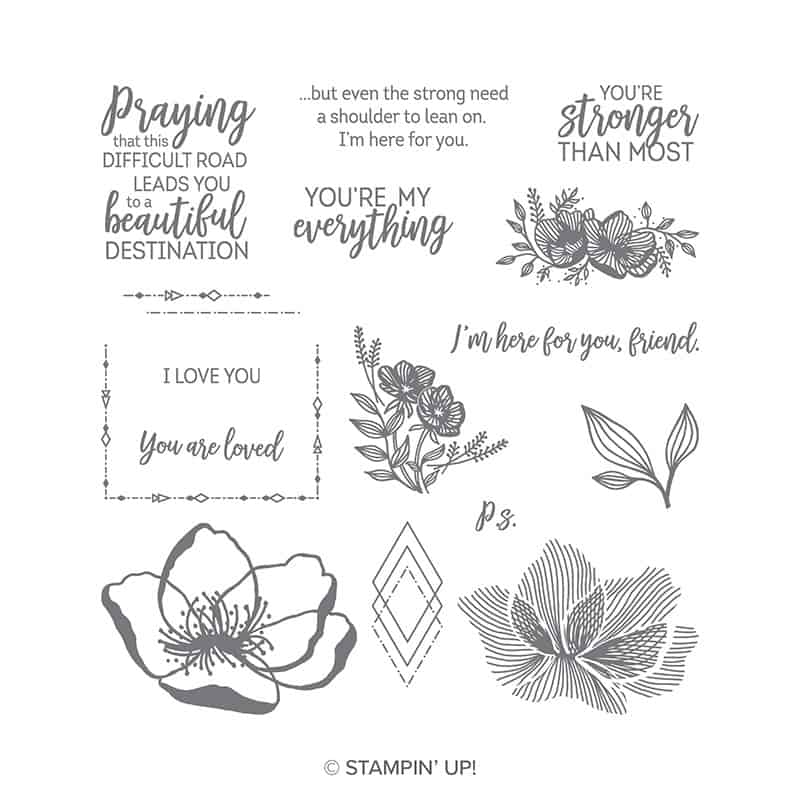 Here are some of my finished war binder pages and dividers: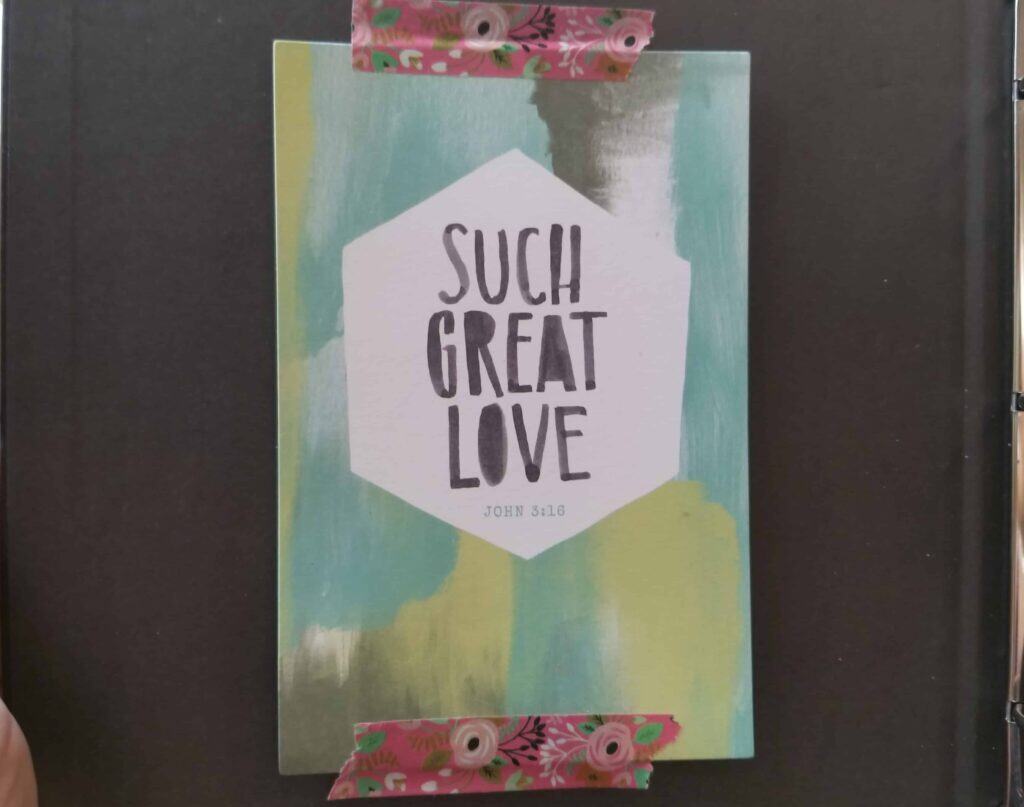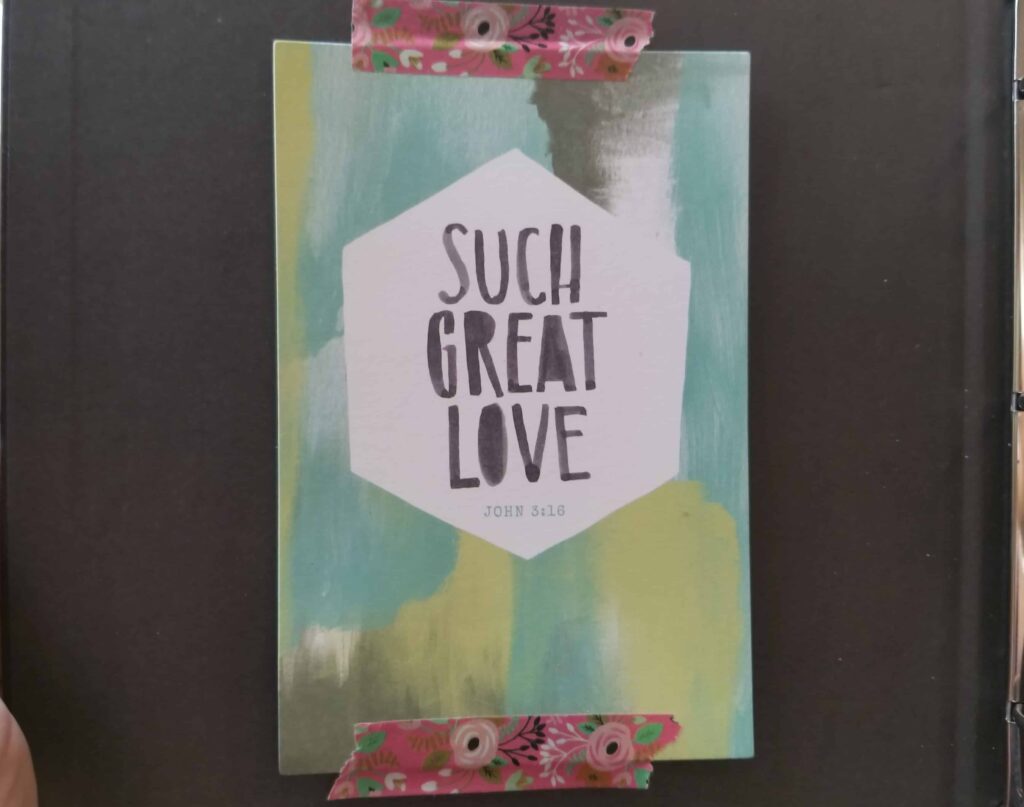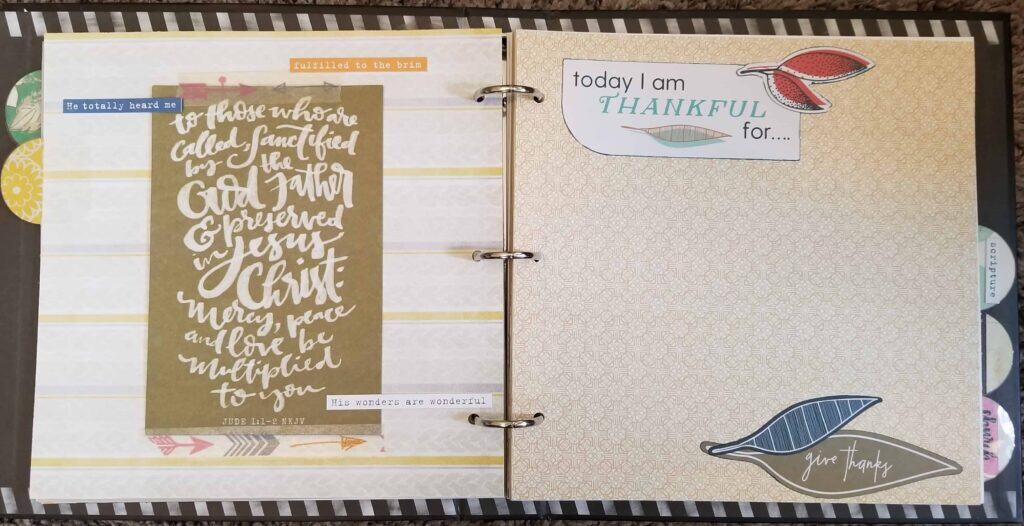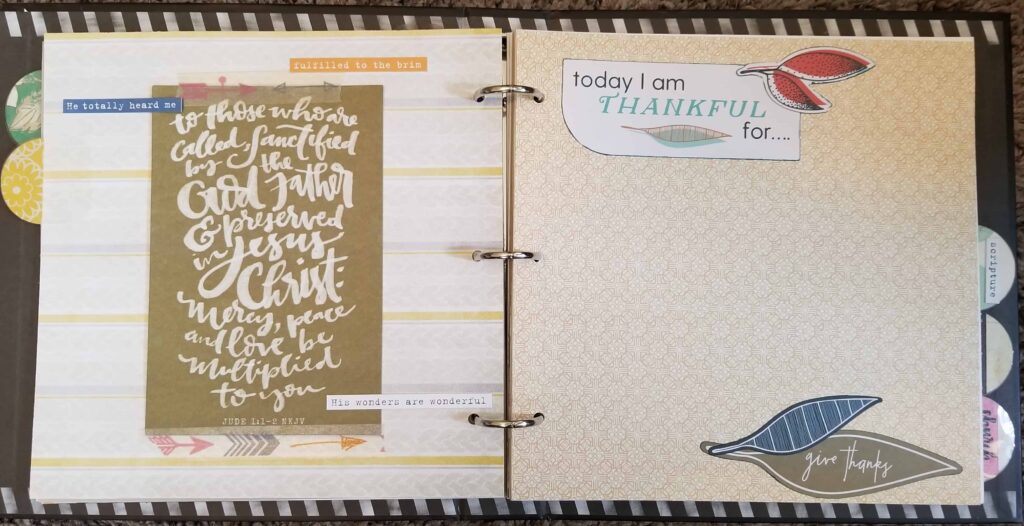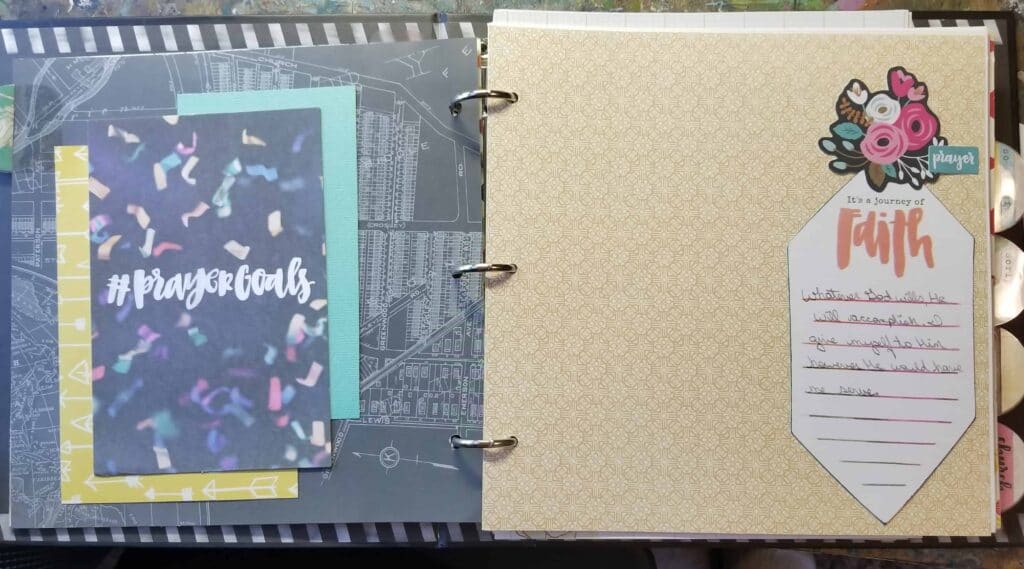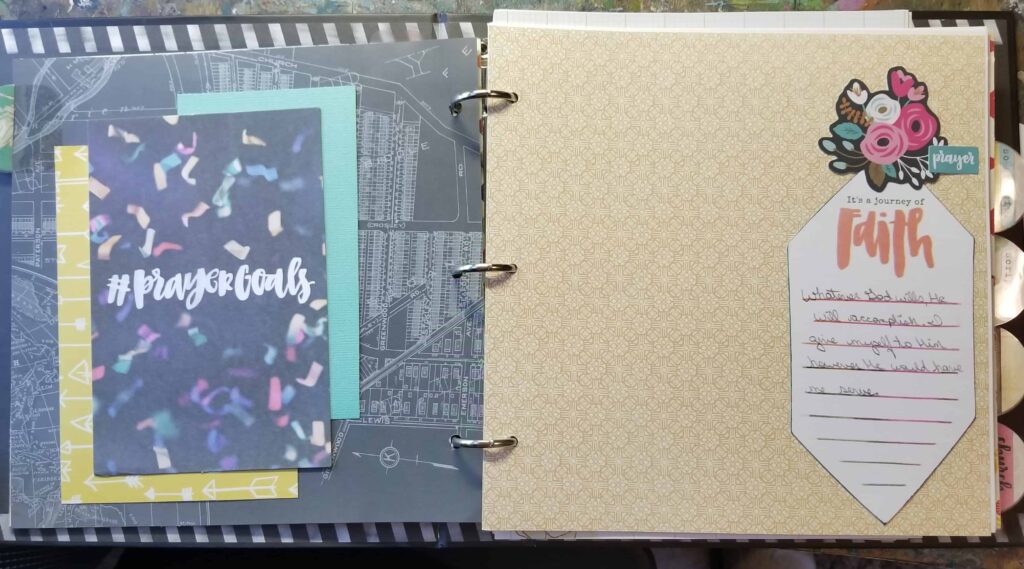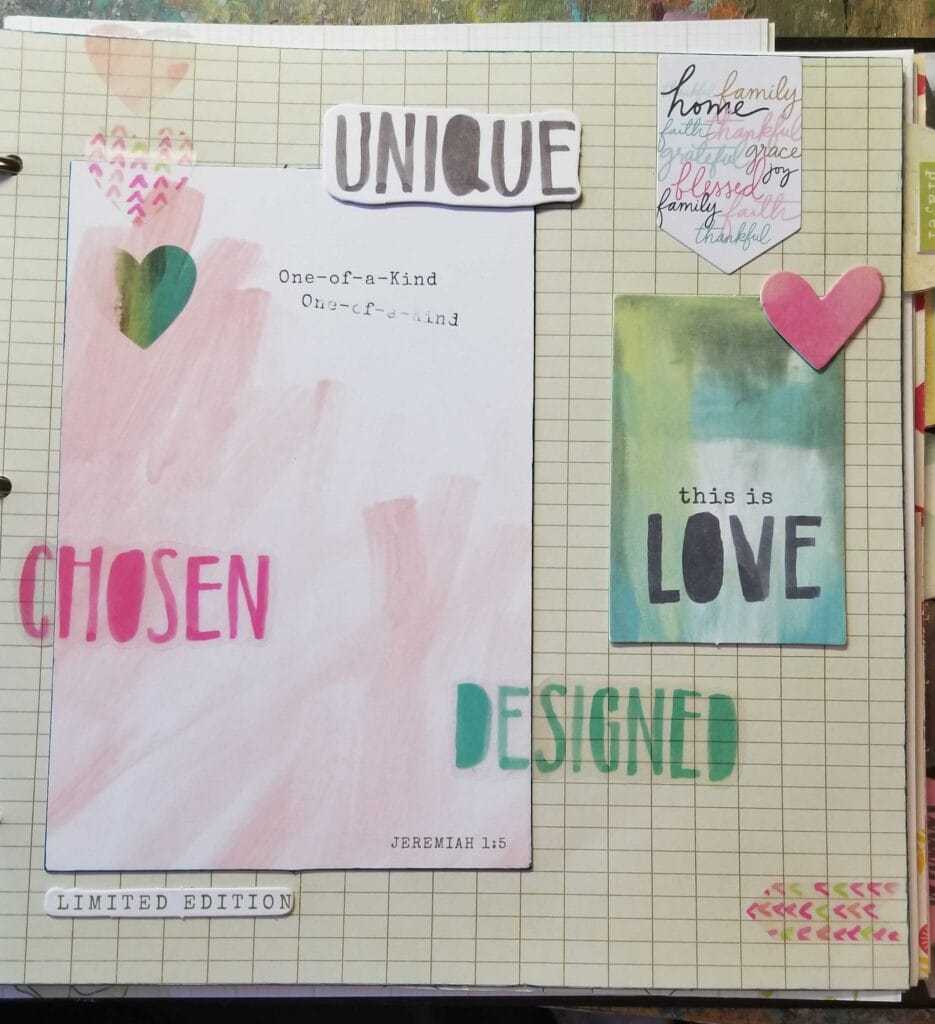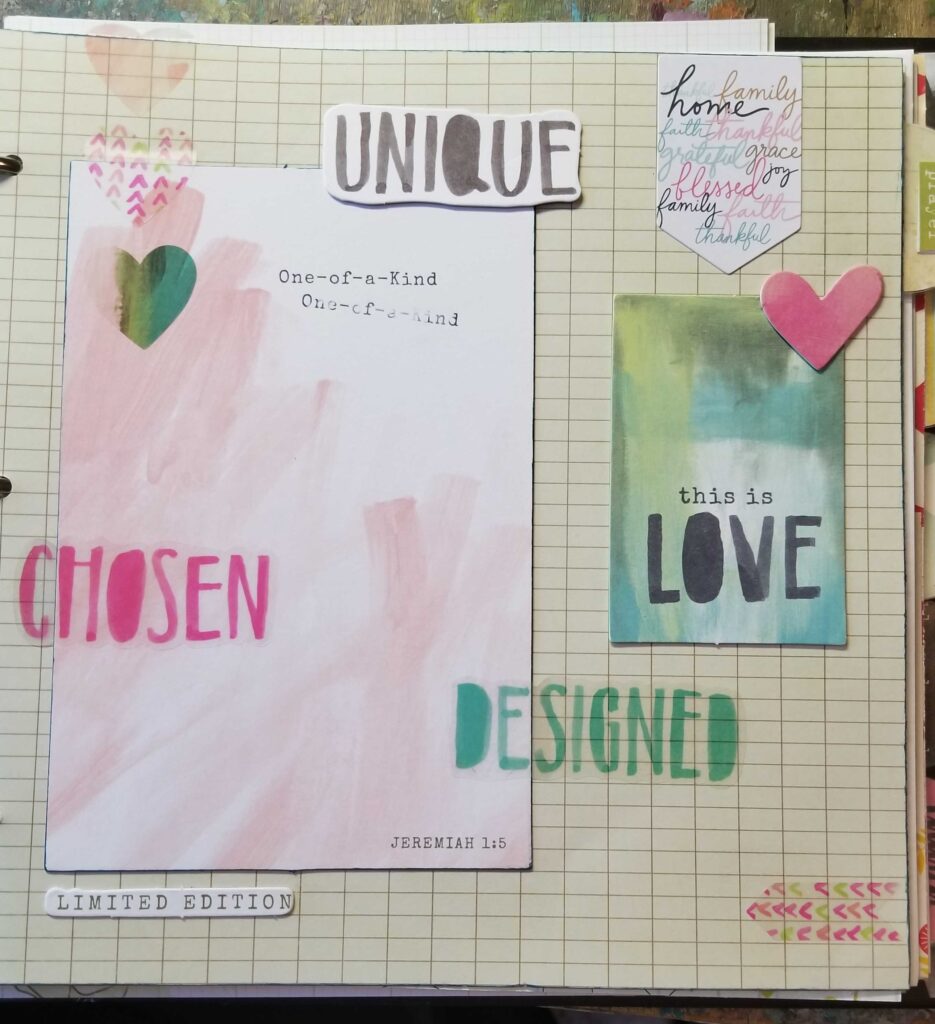 Some Tips for Creating Your Own War Binder:
Remember that this is YOUR personal war binder. It doesn't have to be perfect. It is for sharing praise, worship, prayer and gratitude. It is for YOUR personal walk with God.

It doesn't have to be expensive or even cost money. Use supplies you already have on hand. If you only have looseleaf paper or a composition notebook, guess what? That's perfect!

It doesn't even have to be "creative". I'm not thrilled with the design of mine or even all of the pages and dividers, but this book is dedicated to our Lord and Savior. It documents my walk with Him. I think that He would be pleased that I'm focusing on Him and not how it looks or what everyone else thinks.

Use the internet (Pinterest is great for this) to find ideas to inspire you.
Here's another version that I created, also with step-by-step instructions.
Would you be interested in workshops or courses on creating a war binder or Bible journaling? If so, let me know if the comments.
Because of Him,
Sue