This page/post may contain affiliate links. As an Amazon Associate, as well as an affiliate of other programs, this means if you purchase something using these links, I will receive a commission on qualifying purchases at no cost to you! For more detailed information, please visit our Affiliate Disclaimer page
Welcome the Holy Spirit! We always want to welcome the Holy Spirit in our lives, homes and workplace, but may not know quite how to do this. In this post, we'll explore a bit about the Holy Spirit and how we can welcome the Holy Spirit into our lives and end with a suggested daily prayer about welcoming the Holy Spirit.
Jesus told His disciples that He would send them a Helper, the Holy Spirit, to teach and remind everyone of everything they learned from Him.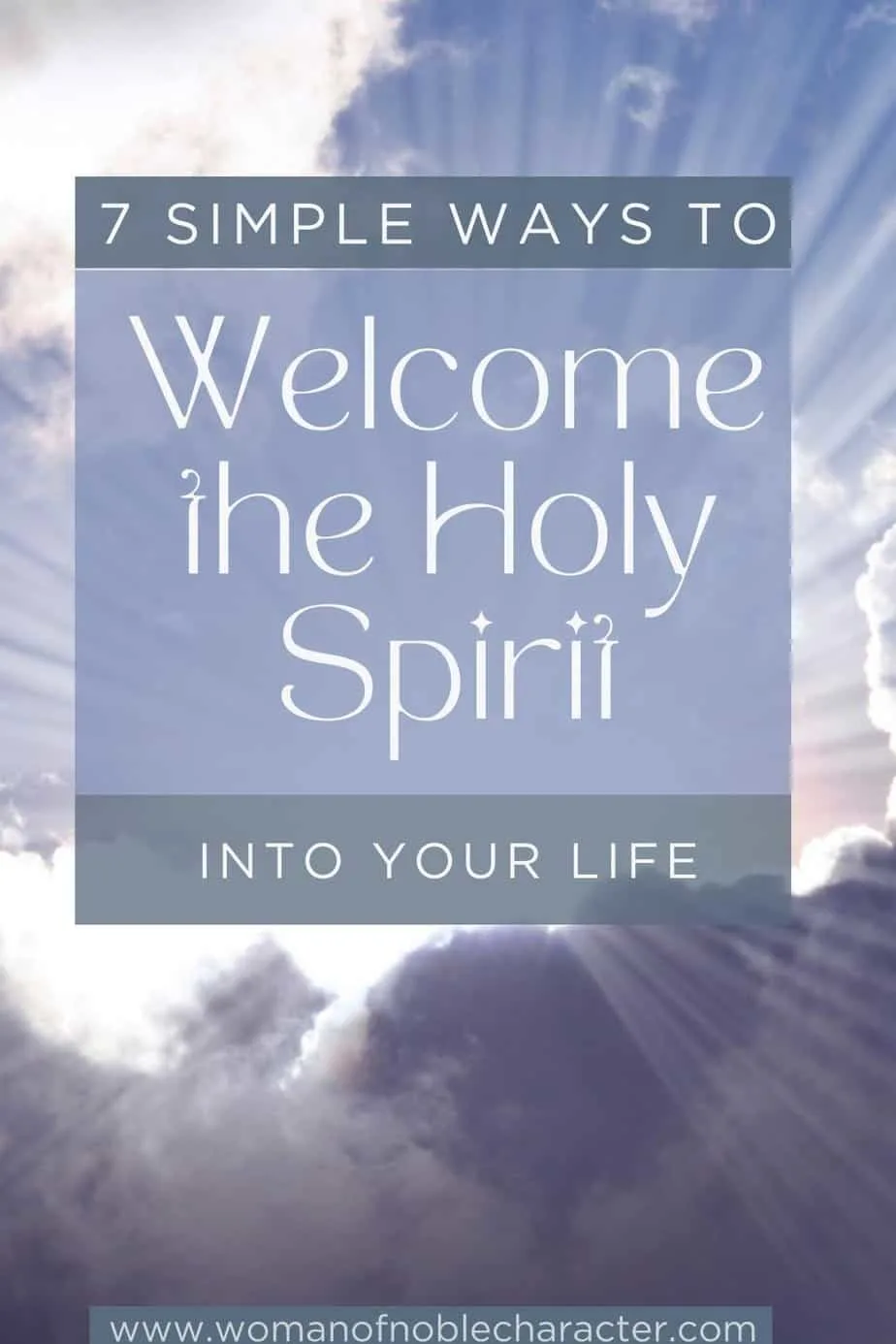 When the Holy Spirit is referred to as a Helper or Comforter, it reminds me of my need for comfort. He helps us through tough times and never leaves our side.
Paraclete (Greek: παράκλητος, Latin: paracletus) means 'advocate' or 'helper.' This word most commonly refers to the Holy Spirit in text.
Strong's Concordance includes these definitions for paraclete: intercessor, helper, one who pleads another's cause, advocate, advisor, and consoler.
Holy Spirit is always with us. The wonderful thing about Holy Spirit isn't just that he was sent to the disciples in Jesus' day- we can experience him too.
God is our strength when we need him most. He helps lead the way and gives gifts to those who follow along with their heart's desire, but more importantly, he guides in truth, so every step you take will be sure-footed.
The Holy Spirit has a special place in our lives; He wants to be present for us daily.
We are called to live vibrant lives and walk with Him so that we may be filled with the joy that only God can bring.
Jesus said:
The Holy Spirit gives us the power to live this life by providing the fruit of His Spirit.
We frequently talk about God. God is our Father. He created us and loved us enough to send his son, Jesus. Jesus is also well known to Christians. We know so much about him through stories that are told in the Bible about His ministry.
The Holy Spirit, however, is not as often discussed but is part of the trinity with God and Jesus.
In the Old Testament, we learn much about God. In the New Testament, we learn much about Jesus.
We tend to overlook the Scripture speaking about the Holy Spirit and fail to study His spiritual nature. As a result, we sometimes misunderstand how He fits into the Trinity as an equal partner with Father and Son.
We can't live as faithful disciples of Jesus unless we have a personal understanding of who the Holy Spirit is in our lives.
The Holy Spirit is not just God's spirit but also his voice and presence. As such, he has all of the qualities that make up who God truly is.
God is everywhere. He has the power to be anywhere and with you at all times, which means he's always present in our lives even when we're not conscious of His presence. The Holy Spirit is also with you at all times.
Paul wrote:
The Holy Spirit enables us to grow in understanding God's word as we walk with Him.
The Holy Spirit is just as omnipotent, sovereign, and all-powerful as God.
When we welcome the Holy Spirit into our life, we can be raised from our sin and begin a new journey. Through the power of the Holy Spirit, we can become more Christ-like and live a holy and sanctified life.
It is also through the power of the Holy Spirit that we look at others through the eyes of God.
Sin is like a virus that can infect our lives and make us spiritually dirty, but the Holy Spirit has the power to change us and make us spiritually clean. He wants you spiritually pure so you, too may have His holiness inside of you.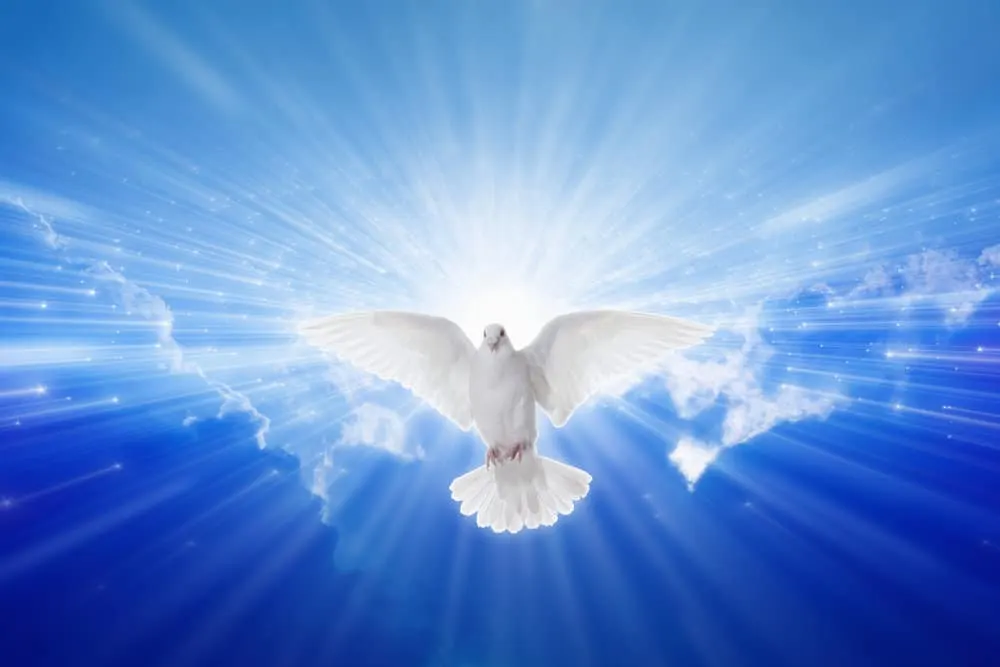 How to Welcome the Holy Spirit in Your Life and Your Home
1. Pray Every Day
Welcome the Holy Spirit into your day and give Him space to work in you. Say a simple prayer of invitation as you begin each morning with a thankful mindset, asking that He would make his presence known throughout today's adventures.
To welcome the Holy Spirit into our lives is not just for when things go wrong; it should be an active part of our everyday.
2. Worship Every Day
Praying daily is a beautiful way to worship God and welcome the Holy Spirit, but there are many other ways to do this.
When we come together to give thanks for what He has done – whether through song or silent prayer- it draws us closer not just physically but spiritually as well. With worship, we can experience God's presence in a way that few things else will.
Placing scripture cards or stickers around your house (and car!) to memorize and keep in your heart
Read the Bible for at least 15 minutes each day.
Keep your Bible open in a place where you'll see it and read a few paragraphs as you go through your day (If you work outside the home, you can read it on your phone during lunch hour or breaks)
Playing worship music as you clean, cook, and work, if possible
Try Bible journaling or verse mapping to get creatively in the Word
Keep a few spare dollars and maybe a small kit for the homeless in your car to give when you encounter someone in need
Talk about Jesus with your kids, your friends, and everyone that you can
Give thanks to God often – when finding lost keys, before meals, for a safe drive to the store, any time He blesses you in big or small ways
3. Welcome the Holy Spirit as you Read Scripture
We often pick up our Bible and start reading without stopping to think that we are holding in hand the most spiritual, most important book ever written. It needs more than human eyes; it demands spiritual vision if you want complete comprehension of its meaning.
Merely looking at any passage on paper will not give one an understanding of how powerful scripture is nor why God chose such specific words when He did.
When you read the Bible, it is helpful to have a constant reminder that God loves and cares for us. The Holy Spirit helps with this by reminding your heart of His presence as well as illuminating the truth found in His Word. Welcome the Holy Spirit before you read scripture, and He will help you to write His Word in your heart.
4. Relentlessly Remove Habits, Behaviors, and Attitudes that are Un-Christlike
Marriage is generally the first thing that comes to mind when we read this passage, but 2 Corinthians 6:14 applies to many other relationships and situations.
Sin is like weeds in our homes and hearts that crowd out the Holy Spirit. We need to make room for Him by letting go of sin, or else it will continue overpowering everything holy around us
God-honoring homes need to be rid of sin.
When you think of it, your attitude is the language that shapes how we speak and interact with each other. It is easy to fall into a routine of sinning without even realizing it. Our sinful attitudes can be powerful and even sneaky.
It's important to read your Bible regularly so you can spot un-Christlike attitudes that are common in the world.
5. Make Service a Part of Your Life
I've written in another post that changing my attitude from one of negativity to one of gratitude made a huge difference in my life. Instead of bemoaning, "Ugh, I have to mop the floors", I began playing worship music when I cleaned and began to tell myself, "I get to mop the floors. Thank you, Lord, for floors to mop"!
Having a heart of service made me aware of God more often and urged me to want to serve others more, as well.
This heart of service extends outside the home as well.
Where can you serve? At church?
Can you invite a widow to dinner?
Can you start a food drive or participate in one?
Can you create small bags with essentials to pass out when you encounter a homeless person?
What can you do to be the hands and feet of Jesus and serve others in your daily life?
Grab our Who is the Holy Spirit eBook for deeper study and to refer to while in His Word.
6. Talk to the Holy Spirit Throughout Your Day
One way you can welcome the Holy Spirit into your life is by talking to Him as you go about your day. Talk with God throughout each moment of wakefulness, sleep, and rest; He wants nothing more than for all believers in Yeshua (Jesus) to have a relationship with Him. How can you have a relationship with anyone if you don't talk with them, right?
God is always with, you, even in the most difficult moments of your life. He lives inside us and says that he will never leave or forsake who belongs to him.
Listening to the Holy Spirit is a crucial aspect of experiencing Him in our lives. We need to quiet distractions and listen with intent so that He can guide us on how we should live, love & serve others.
When we want the Holy Spirit in our lives, it's important that instead of thinking too much or trying hard to figure out what He wants from us–we just have a quiet mind and listen.
In Psalm 46:10, we read:
We are always on the go, and we have a lot of things to do. It can be hard sometimes just trying to listen to God's voice when there is so much noise around us.
Create time each day to release the cares of your life so you can spend time with God. This will welcome the Holy Spirit in your heart and soul.
If you don't have time to sit down and pray uninterrupted, just do short prayers all day long.
Imagine that God is right next to you as you do your daily chores and responsibilities. Simply talk with Him face-to-face like friends would do in person; speak freely without worrying what others might think or say.

I often narrate my life and include God in the conversation!
Think about the things that keep you busy during your day. What are some of those thoughts? Do not just talk to yourself—tell God!
7. Place Physical Reminders Around Your Home (and Even Car!)
Having physical reminders about God, the Holy Spirit and Jesus for you to see as you go about your day can be incredibly helpful to welcome the Holy Spirit and keep God at the forefront of your mind.
The Israelites in the Old Testament did this all of the time when they would build stone altars to commemorate how and why God had moved. And it still works well today!
Here are some suggestions for putting out physical reminders to welcome the Holy Spirit:
What physical reminders can you put out to help welcome the Holy Spirit in your home and your life?
A Prayer to Welcome the Holy Spirit
Come Holy Spirit, our guide and teacher. I know that without You we would be lost in a sea of confusion; Your gift to us gives life meaning as it guides each step along this journey with wisdom from You.
I give thanks for the gift of Your Holy Spirit, which brings me into a closer relationship with you.
I so graciously ask You to intercede for me before the Father, but also give comfort in Your peace that goes beyond all understanding. Please come Holy Spirit. Holy Spirit, I humbly ask for godly counsel and direction.
With a desire to follow the will and heart of our Father, I know that Your plans are best for me and glorify Your kingdom, too. Guide our lives with Your wisdom, discernment, and kindness.
I lift up my voice and say "Thank you Holy Spirit!" for the countless ways in which You've shown Your love to me. I long to feel the Holy Spirit's presence in my life.
Holy Spirit, I welcome You this very day. Your presence brings comfort and truth to all who desire it and I give thanks for Your presence this day. In the Name of Christ Jesus, Amen.
God works often from the inside out, not demanding new moral character overnight but rather gripping our hearts and changing our desires to reflect His.
For this reason, create ample space in your life to welcome the Holy Spirit and to change you in ways that you cannot change yourself.
You may also enjoy one of these recommended resources for further study:
Welcome, Holy Spirit: How You Can Experience The Dynamic Work Of The Holy Spirit In Your Life by Benny Hinn
The Promise of the Holy Spirit: You Were Meant for Something More by Paul Balius
Welcome Holy Spirit Bible Study Devotional: Forty Days with Every Fruit by M. Ted Forester
ESV – "Scripture quotations are from The ESV® Bible (The Holy Bible, English Standard Version®), copyright © 2001 by Crossway, a publishing ministry of Good News Publishers. Used by permission. All rights reserved."
NLT – Holy Bible: New Living Translation. 1994, 2004, 2007, 2013. Carol Stream, IL: Tyndale House Publishers