Why Our Children Are Leaving the Church
This page/post may contain affiliate links.  As an Amazon Associate, as well as an affiliate of other programs, this means if you purchase something using these links, I will receive a commission on qualifying purchases at no cost to you! For more detailed information, please visit our Affiliate Disclaimer page
Children are leaving the church in droves. In fact, the Southern Baptist Convention reports that four out of five children no longer attend church. It's not just the Southern Baptists that report this phenomenon. It's every denomination and even non-denominational churches. 70 percent of youth stop attending church when they graduate from high school. Nearly a decade later, about half return to church. It's such a big topic that even CNN reported on it.
Numerous studies have been done to examine the cause and the results are startling.
RatioChristi gives more stark reality: "75% of Christian teens leave their faith when they attend college. College students are bombarded with competing worldviews. Professors are challenging their faith."
The good news is that a study by Lifeway found that historically about two-thirds of dropouts return to services once they get older.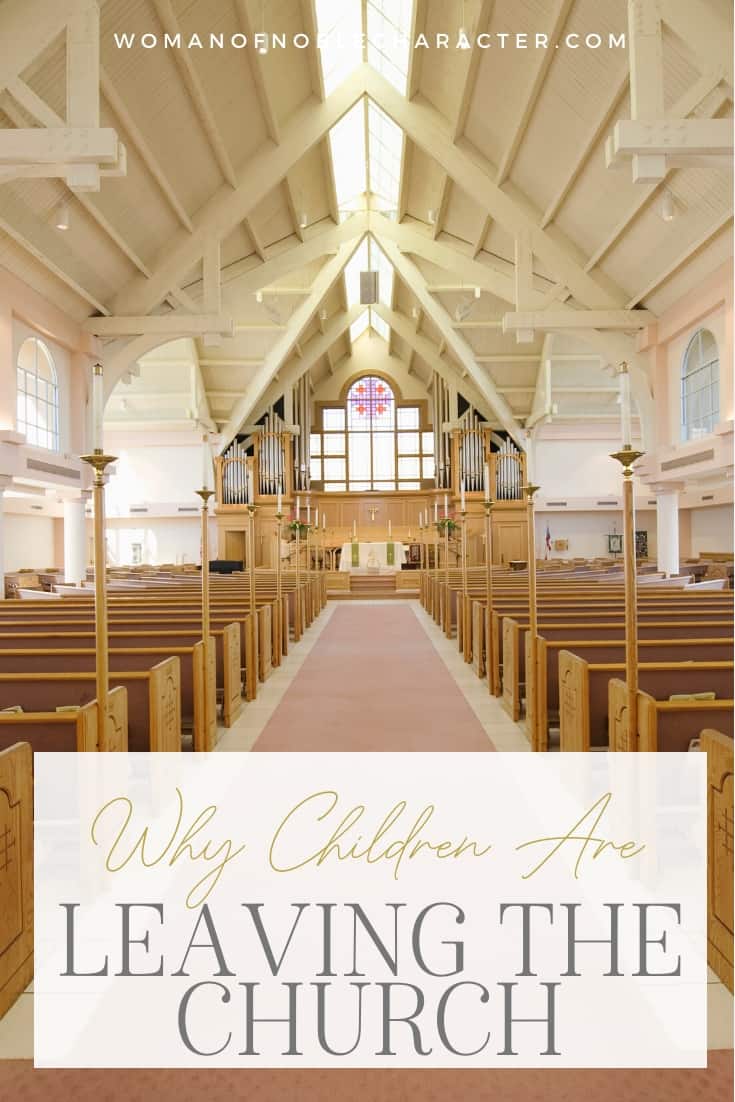 Why Our

Children

Are Leaving the Church
The children leaving the church are children of Christians who are involved in ministry, attend Bible studies and teach Sunday school but these same families do not maintain a Christian home. These are what the studies call "nominal Christians".
In essence, they are Sunday Christians only (and sometimes Wednesday night). They appear to do all the right things, but they do not, forgive the cliché, "practice what they preach".
These children are raised in homes where they wouldn't dream of missing football camp, but regularly miss Bible camp or youth group. They are children of parents who remind their kids to do their homework and brush their teeth, but don't remind their kids to read their Bibles OR the parents, themselves, are not reading their Bibles.
These children are leaving the church because mom sings in the choir at church but regularly curses and comes home drunk after a night with the girls. They are leaving the church because dad is choosing poker night over men's Bible study.
In addition, teens describe churches and their families as being overprotective. They shelter their children from the world instead of connecting the world to their faith. The Barna Group study, shares these findings:
"One-quarter of 18- to 29-year-olds said, "Christians demonize everything outside of the church" (23% indicated this "completely" or "mostly" describes their experience). Other perceptions in this category include "church ignoring the problems of the real world" (22%) and "my church is too concerned that movies, music, and video games are harmful" (18%)."
The Barna Group study also claimed that teenagers find church boring. Here's the results of the study:
"something is lacking in their experience of church. One-third said "church is boring" (31%). One-quarter of these young adults said that "faith is not relevant to my career or interests" (24%) or that "the Bible is not taught clearly or often enough" (23%). Sadly, one-fifth of these young adults who attended a church as a teenager said that "God seems missing from my experience of church" (20%)."
The students polled for this study also cited that the church is "antagonistic toward science"
"One of the reasons young adults feel disconnected from church or from faith is the tension they feel between Christianity and science. The most common of the perceptions in this arena is "Christians are too confident they know all the answers" (35%). Three out of ten young adults with a Christian background feel that "churches are out of step with the scientific world we live in" (29%). Another one-quarter embrace the perception that "Christianity is anti-science" (25%). And nearly the same proportion (23%) said they have "been turned off by the creation-versus-evolution debate." Furthermore, the research shows that many science-minded young Christians are struggling to find ways of staying faithful to their beliefs and to their professional calling in science-related industries."
They also feel judged regarding sexuality (Christian teens polled are just as sexually active as non-teens) and they feel that Christianity touts its exclusivity, yet:
"Today's youth and young adults also are the most eclectic generation in American history in terms of race, ethnicity, sexuality, religion, technological tools and sources of authority. Most young adults want to find areas of common ground with each other, sometimes even if that means glossing over real differences. Three out of ten young Christians (29%) said "churches are afraid of the beliefs of other faiths" and an identical proportion felt they are "forced to choose between my faith and my friends." One-fifth of young adults with a Christian background said, "church is like a country club, only for insiders" (22%)."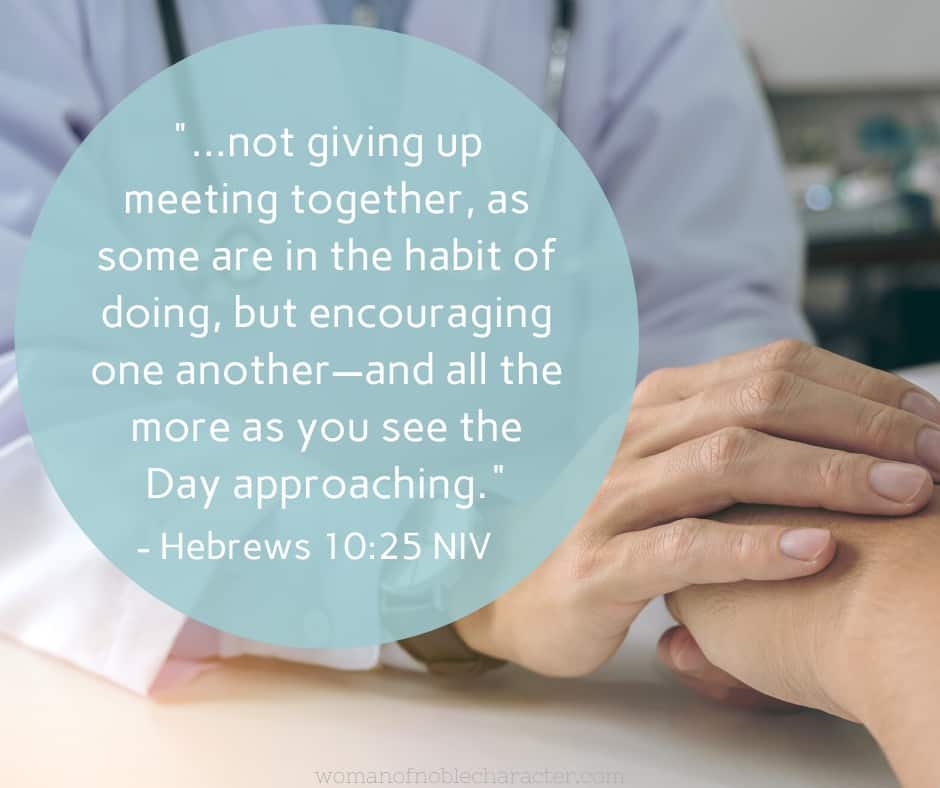 The Lifeway Study revealed similar results: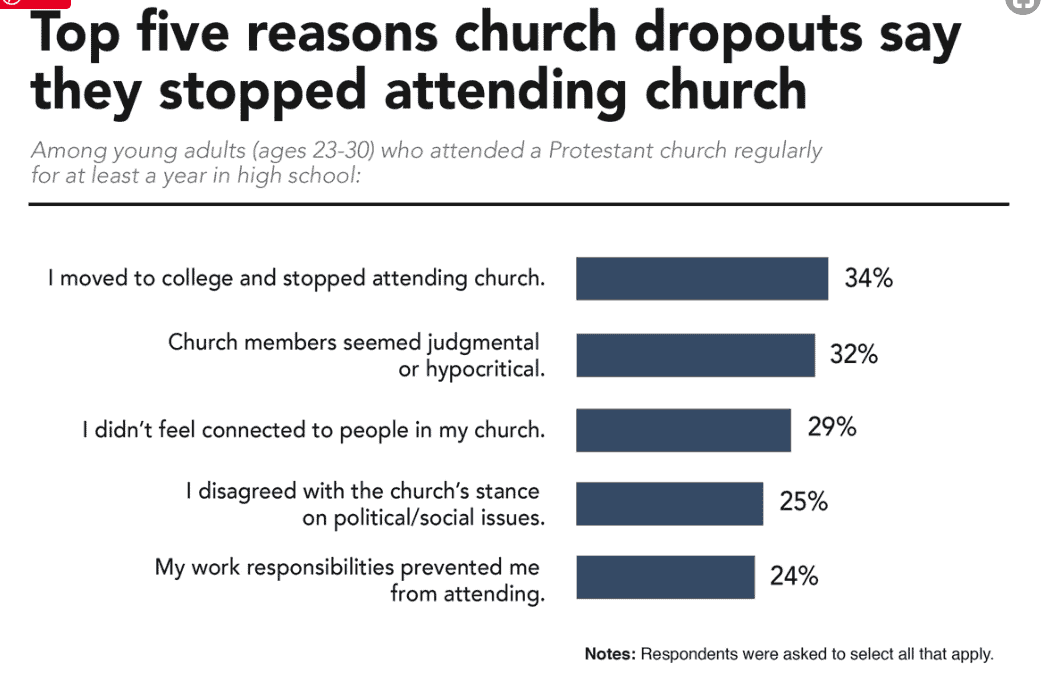 I'm going to include a direct quote from the Lifeway study, as reported by Christianity Today as I think it is quite revealing:

"In a time when many churches are "predictable clusters of the politically like-minded," as James K. A. Smith has said, it's harder for those who feel like ideological outliers to stick around. As CT reported last year, church attendance dipped among born-again and evangelical Christians across age groups after Trump's election, particularly among Hillary Clinton supporters, who may have not felt welcome in certain church contexts.

Young people—some temporarily and some permanently—are moving outside churches to find a cohort that shares their political and spiritual beliefs. After high school, many find that community on campus.

A quarter of 18- to 22-year-olds in 2007 and a third in 2017 said they stopped attending church regularly simply because they "moved to college." (Among young adults who had enrolled in college, that number is up to nearly half—47 percent.)

Still, only 14 percent said their school obligations actually kept them away from church, compared to 24 percent that said their work responsibilities prevented them from going.

Other studies have noted a clear correlation between college attendance and decreased religiosity but find the decline in faith isn't the fault of professors or classes themselves. Rather, it may be due to the "college experience" more broadly or the transition from one's family home to a new independence. There is also plain teenage amnesia.

"It's not that most rejected the church," wrote Ed Stetzer, former executive director of LifeWay Research and the current head of the Billy Graham Center at Wheaton College. "For the most part, they simply lose track of the church and stop seeing it as important to their life."

Of those who dropped out of church for at least a year during the college years (between ages 18 and 22), more of them—31 percent—now attend regularly than those who never returned—29 percent.

LifeWay reports that church attendance peaks at age 15, with more than three-quarters regularly attending then. But that percentage took a nosedive at 18, and by 19, only 4 in 10 former regular-attenders were still in the habit. By 21, one-third attended church services regularly—a percentage that remained constant through age 30.

The dynamics of churches themselves are increasingly a turnoff for dropouts. In 2007, half (55%) pointed to church- and pastor-related reasons as important in their decision to leave—mostly their impressions of their place in the congregation. But in 2017, 73 percent indicated such grievances were a factor in stepping away.

Just as earlier research by Fuller Youth Institute concluded that young people don't want hip pastors, matters of worship and preaching were not dominant factors inspiring young people to leave. LifeWay found that only 13 percent said they left because the worship style was "unappealing," and 1 in 10 said they left because "the sermons were not relevant to my life."

The percentage of those who said they wanted to keep attending church but dropped out because they were "too busy" actually decreased in the decade between surveys (22% in 2007 versus 20% in 2017).

It's worth noting that most who withdraw from regular attendance are not abandoning the faith outright. Still, a bigger portion of the dropouts cite major shifts in their views of Christianity. While only 10 percent said they left because they stopped believing in God, that's double as many as '07.

Of all young adults who used to attend Protestant churches but left temporarily or for good, just 7 percent say they are currently atheists (3%) or agnostic (4%). In contrast, most still consider themselves Protestant (49%) or non-denominational (21%), while 10 percent now identify as Roman Catholic.

There's more positive news for orthodox Christianity. While most of those who left the church did so for reasons related to personal life changes (like going to college) or frustrations with hypocrisy and politics in church, those who continued regularly attending did so primarily because, they said, "church was a vital part of my relationship with God" (56%) and "I wanted the church to help guide my decisions in everyday life" (54%).

Notably, young Protestants who kept up their church attendance claimed to experience fewer of the social frustrations than those who dropped out. While those who stayed did observe judgmentalism, cliquishness, and a lack of connection in some ministries, they perceived these problems at substantially lower rates than the students who ended up leaving.

And for young Christians who bailed on church but have since returned, the most common reasons were the encouragement of family (37%), the personal desire to go back to church (32%), and the feeling that God was calling them back (28%)."

And for young Christians who left the church but later returned, the most common reasons were the encouragement of family (37%), the personal desire to go back to church (32%), and the feeling that God was calling them back (28%).
As Dennis Rainey said "Christianity cannot be a spectator sport. You've got to be on the field. If you want to impact your children and have a hope, a realistic hope of your children getting their own faith, then they need to see you on the playing field engaged in the game. And we're not talking about just church attendance here. It's an infectious love for Jesus Christ, representing Him, living out the Scriptures, being obedient to the Scriptures, making decisions in light of how this furthers God's kingdom"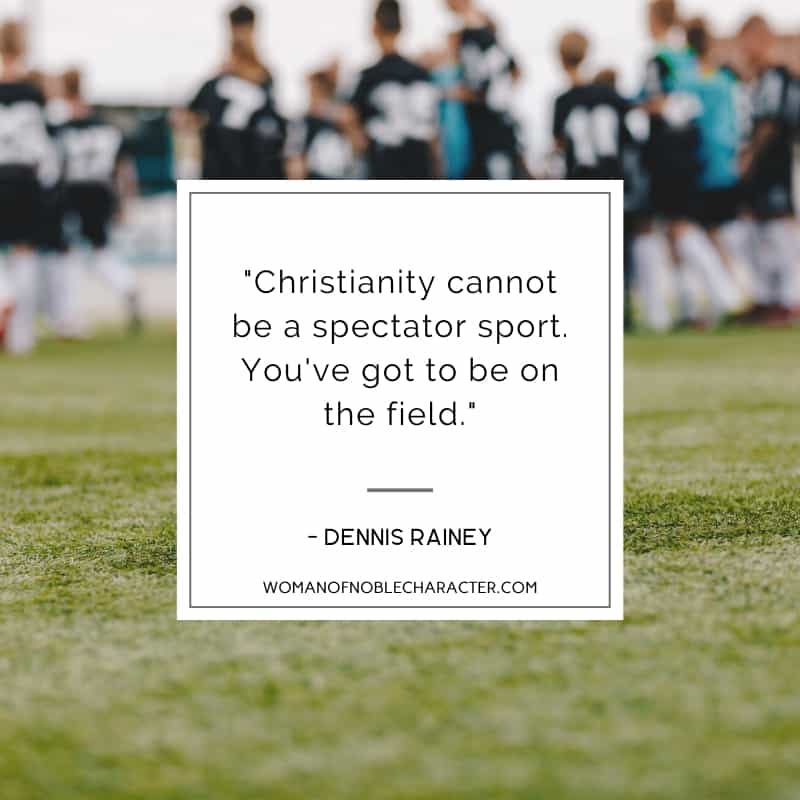 We cannot simply attend services on Sunday, without living a life above reproach, and expect our children to see the importance or have the passion, to stay in church upon leaving home.
Think about your own actions for a moment. Are you attending church as something to cross off your to-do list? Or, are you demonstrating your faith in your home?
Demonstrating your faith can encompass many things, but may include:
Saying a blessing before meals

Regularly reading your Bible

Praying with your spouse and children

Using words that are pleasing to God

Being submissive to your husband (more about what they really means HERE)

Consuming God-honoring entertainment (television, music, etc.)

Choosing God over worldly activities (shopping, sports, etc.)
I'm not saying that by not doing all the above you are a bad parent and therefore your child will leave the church. What I am saying is that your children are watching what you are doing, and they will learn life's priorities from you. Where you focus your time and energy, there goes your heart. Is your time and energy going toward our Heavenly Father? Or are you simply a filled seat on Sunday and live your life elsewhere (spiritually) during the rest of the week?
Take some time to pray about this during the upcoming week. Ask God to shine a light on where you can improve in this area and how you can best model a Christian life for your children. The church (and your child) is depending on you.
For more information on Raising Godly Children, see my recent post or this one on Modeling Godly Behavior.
For more on this topic, check out these highly recommended books:
In Him,
Sue