She Works With Willing Hands: A Closer Look at Proverbs 31:13
This page/post may contain affiliate links.  As an Amazon Associate, as well as an affiliate of other programs, this means if you purchase something using these links, I will receive a commission on qualifying purchases at no cost to you! For more detailed information, please visit our Affiliate Disclaimer page
She selects wool and flax and works with willing hands.
During our examination of Proverbs 31:10-31, we have already learned the basics of what a Proverbs 31 woman is and how her husband has full confidence in her. We've also discussed the ways that the Proverbs 31 woman brings her husband good, not harm. Today, we will explore Proverbs 31:13:
She selects wool and flax and works with eager hands.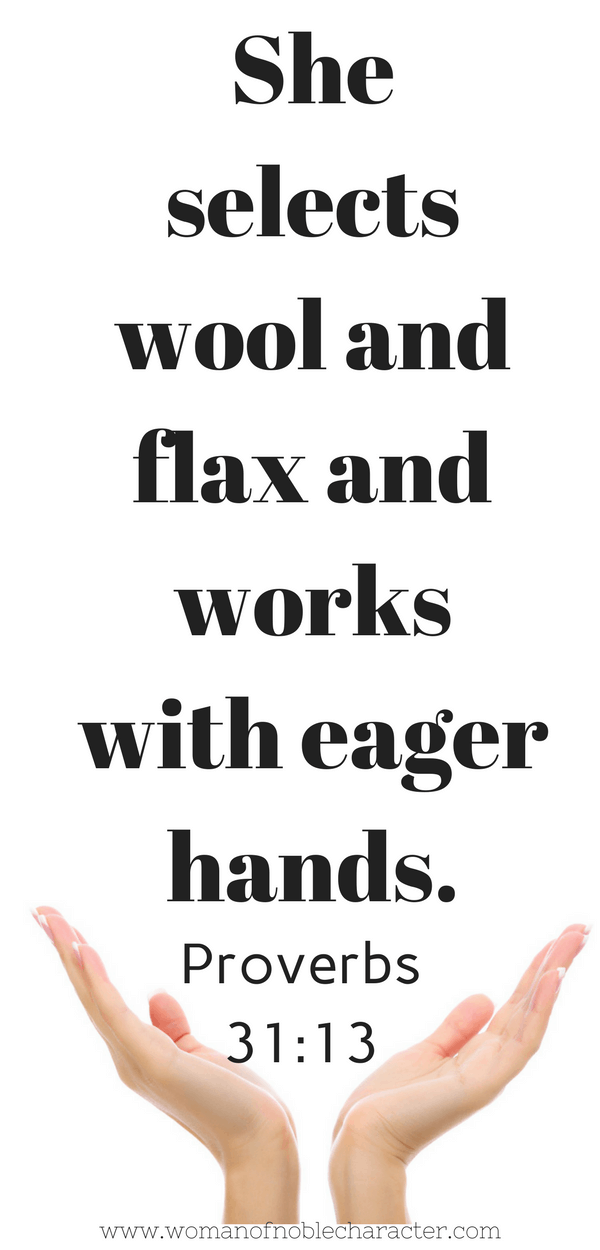 It's not difficult to be discouraged or even overwhelmed when you read that this wife of noble character selects wool and flax (yes, she obtains raw material to sew clothes and cook meals!). In fact, she most likely didn't buy the raw material, but rather, selected it from her own herd (wool) and fields (flax). In today's world, most of us don't have herds of sheep or fields of flax to obtain raw materials from. In fact, most of us, myself included, don't sew our own clothes or clothes for our families. To be honest, I'm not sure that I could sew a button on and have it stay secure for more than a few minutes. If you do sew your own clothes, I am duly impressed and you are amazing, but there is still a lesson for you to learn here – just bear with me a bit.
Times have changed and that's ok, but I think the key words to consider in the scripture above are "works with eager hands". Some translations read "willing hands", instead of eager hands. The word willing comes from the Hebrew word אָבָה chephets (pronounced kay-fets) and means pleasure, desire, delight, purpose, matter or simply willing.
As women, as wives, we have responsibilities every day. The responsibilities vary by home and marriage, but can include cooking meals, doing laundry, grocery shopping, keeping a neat and clean home, caring for children, working outside the home, time in ministry, tending to the garden, pets or livestock, etc. Think of your responsibilities or duties each day. Are you doing them with "willing hands"? Or are you grumbling, complaining or doing them reluctantly?
Very few women that I have worked with or talked to love to do laundry or clean, many are vocal about how much they dislike those things. We all have one or two (or more) household responsibilities that we dread. What we need to remember, though is that God has commanded us to do everything without complaining (Philippians 2:14 "Do everything without complaining and arguing,"). He also instructs us that in all we do, we are to do it for the glory of the Lord (1 Corinthians 10:31 ESV So, whether you eat or drink, or whatever you do, do all to the glory of God.)
If we are whining or resentful about our responsibilities (any of them!), are we glorifying God? Or, are we willfully disobeying Him?
I simply cannot stand to mop floors. I can't help it, I've never enjoyed that chore. It took me a long time to get to this point, but now, when I need to mop floors, I turn Pandora radio to Christian Contemporary music and get cracking. While I mop, I talk to God and thank him for the opportunity to clean for Him and my husband. It makes a chore that I dislike much more enjoyable. It is not the mopping that has changed, it is my heart. I now mop the floors with willing hands.
What is one chore that you find yourself complaining about doing? How can you change your heart to perform that chore with willing hands? If you aren't sure, spend some time in prayer asking God to reveal to you how you can have a change of heart.
How do you feel about the responsibilities you have in the home and family? Are you doing them with willing hands and an eager heart?
If you are struggling with getting it all done and looking for ways to get more hours in your day and week, you'll want to check out the Ultimate Productivity Bundle. It has more resources than you could ever use, but I particularly love including Driven Women Grace Based Productivity for Christians by Phylicia Masonheimer and Beyond Blessed Life Planner for Christian Women by Ana Willis. They, alone are "worth the price of admission!"
In the comments, let me know which chore that you struggle with doing with willing hands. I'd love to hear about it and pray for you!
If you want to dig deeper, check out my book, The Complete Proverbs 31 Wife: A Verse by Verse Exploration of What it Means to Be a Proverbs 31 Woman in Today's World.
In His Love and Mine,
Sue.