This page/post may contain affiliate links. As an Amazon Associate, as well as an affiliate of other programs, this means if you purchase something using these links, I will receive a commission on qualifying purchases at no cost to you! For more detailed information, please visit our Affiliate Disclaimer page
So many people these days are familiar with creative journaling in their Holy Bible. That is such a beautiful and expressive form of worship that brings a lot of fulfillment to many Christians today. I hope to peak your interest in some additional ways to be worship through creative means that you might not already know about.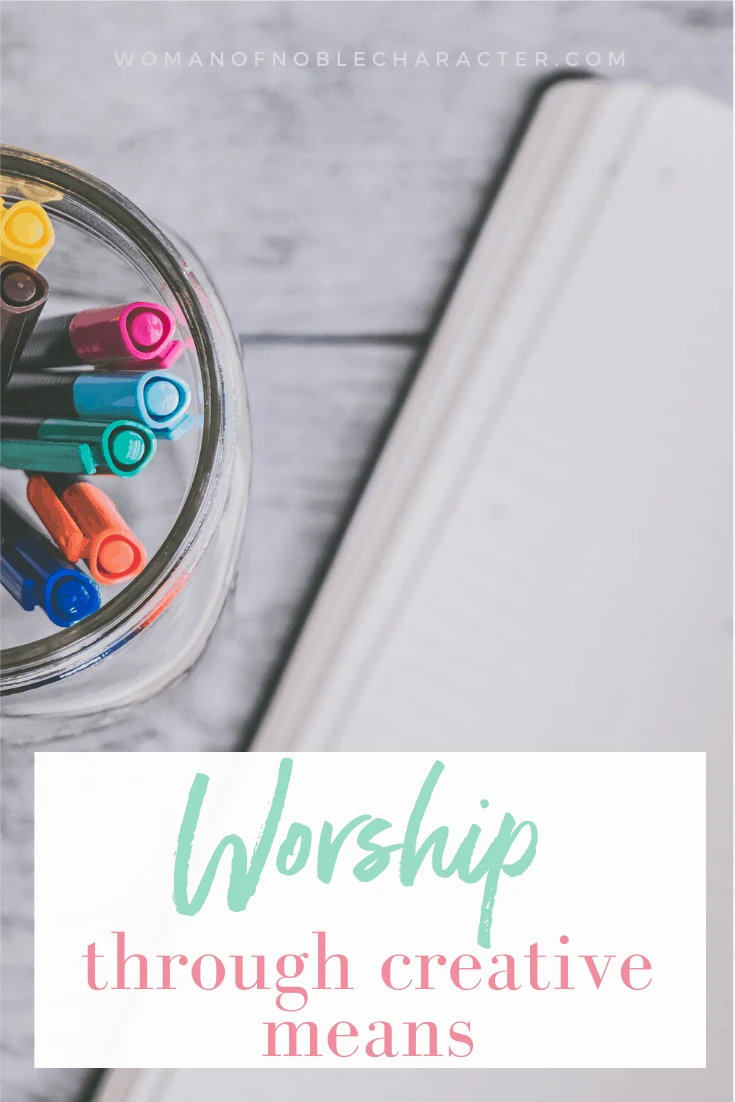 Worship Outside of My Comfort Zone
I come from a family that eats, drinks and sleeps gospel music in some form or another. Gospel music is a big part of worship for me.
I am used to being on the platform singing with my family, but one Easter things took a shift that I was not expecting.
You can find out more about our story by following the link below.
I was asked to do something, with a small group of other ladies, during a large Easter production.
On the very last song of the production, we were asked to put on beautiful white, flowing, "worship garments" and come down the aisles of the church while waving a long red streamer made from silk.
This was SO out of my comfort zone, but I agreed to it, so long as I wasn't alone in doing it.
As the first night of the production came, we entered the back of the sanctuary and waited for the song to begin. My heart felt like it was about to explode while we stood there anticipating our part during the song.
We had been praying about this moment for several weeks prior to the production and had fasted as well.
As the intensity of the music built, we made our way down the aisles, while whirling and twirling in our long white flowing garments and waving our long, red, silk streamers.
It literally felt like angels were twirling and dancing around me. The people in the seats were just a blur to me and my nerves washed away on the way to my spot at the front.
My husband was running sound in the balcony above us during the entire production and he told me that when we started down the aisles, he could feel the presence of the Lord double.
I knew what I felt, but it was incredible to me that he had tears in his eyes from what he experienced.
From this experience, I went on a quest to learn more. I am going to share a little of what I found out with you.
Flags, Banners, Streamers, Tabrets for Worship
I began to study, and came to realize, that the Old and New Testament believers were aggressive in praise and worship.
I found out that we can combine our faith with action and in doing so, we will usher in God's divine presence and purposes.
Just as a dove is a symbol of the Holy Spirit, as we worship creatively by using flags, streamers, or even other worship instruments, we can usher in God's holy presence through symbolic movements and with messages or colors applied to the instruments.
It begins to sound a little like Bible journaling, doesn't it? As you apply colors and pictures, have you sensed the presence of the Lord increase around you?
Let's look at scripture.
Psalm 150:3-6

Praise him with the sound of the trumpet; praise him with the psaltery and harp. Praise him with the timbrel and dance; praise him with stringed instruments and organs. Praise him upon the loud cymbals; praise him upon the high-sounding cymbals. Let everyone that hath breath praise the Lord. Praise ye the Lord.

John 12:12-13 NIV

The next day the great crowd that had come for the Feast heard that Jesus was on his way to Jerusalem. They took palm branches and went out to meet him, shouting, "Hosanna!" "Blessed is he who comes in the name of the Lord!" "Blessed is the King of Israel!"
Revelation 7:9 NKJV

After these things I looked, and behold, a great multitude which no one could number, of all nations, tribes, peoples, and tongues, standing before the throne and before the Lamb, clothed with white robes, with palm branches in their hands.
2 Samuel 6:14-15 NIV

David, wearing a linen ephod, danced before the Lord with all his might, while he and the entire house of Israel brought up the ark of the Lord with shouts and the sound of trumpets.
As we choose to move and worship in faith, in what I call fragrant or extravagant worship, it will bring joy to the Lord and cause the enemy to be scattered.
John 4:24 NKJV

God is Spirit, and those who worship Him must worship in spirit and truth.
When you begin to worship fragrantly, you will begin to be much more sensitive to the leading of the Holy Spirit, and you might not understand every movement that you do at that particular time.
This is a new type of worship for some, but as we study scripture, we find that it was normal for the children of Israel.
Each tribe of Israel had their own banner which served individual purposes.
Numbers 2:2

To claim rulership. Song of Songs 6:4, Jer. 50:2, Jer. 51:12

Song of Songs 2:4, Zec. 9:16, Isaiah 62:10
Miriam led the Israelite women in a dance that celebrated God's miraculous defeat of the Egyptians at the Red Sea. Exodus 15:20
They used tambourines or what some call a tabret.
Jeremiah 31:4

Again I will build thee, and thou shalt be built, O virgin of Israel: thou shalt again be adorned with thy tabrets, and shalt go forth in the dances of them that make merry.
There will be times during worship that your feet and hands just cannot stand still as you move and express your love for Jesus and all He has done for you, especially when you are waving a flag or banner that has proclamations on them such as, "Majesty", "King of Kings", "Jesus", "Freedom", "Hallelujah", etc.
Ephesians 2:1-2 NIV

As for you, you were dead in your transgressions and sins, in which you used to live when you followed the ways of this world and of the ruler of the kingdom of the air, the spirit who is now at work in those who are disobedient.
Since the above scripture shows that there is a ruler of the kingdom of the air, can you imagine holding up and waving a flag/banner that has high praises to the King of Kings on them in that air space?
Yes, I must tell you, it is powerful! Let me caution you at the same time. Do not go waving these instruments around during worship before you have set aside time, (consecrated yourself) to the Lord.
I would encourage you to spend time in prayer and fasting, along with reading the Holy Bible, before doing so and remember that you are not doing this because it is pretty, but because it is worship to the King of Kings.
If you do, you are likely to end up in a place where you do not want to be.
Acts 19:13-16

Some Jews who went around driving out evil spirits tried to invoke the name of the Lord Jesus over those who were demon-possessed. They would say, "In the name of Jesus, whom Paul preaches, I command you to come out." Seven sons of Sceva, a Jewish chief priest, were doing this. One day, the evil spirit answered them, "Jesus I know, and I know about Paul, but who are you?" Then the man who had the evil spirit jumped on them and overpowered them all. He gave them such a beating that they ran out of the house naked and bleeding.
I don't think you want to be naked and bleeding.
When you are a child of the King and have spent time with Him, this type of worship is some of the most incredible times to experience!
If you would like to see some examples of some flags, banners and other creative forms of worship, you can visit my facebook art page (Theresa Jackson's Art) at the link below where you can find a video of a banner I made with the word, "Healing" on there in large letters. What you can't see on the video, is the small letters written in gold that has scripture references of healing scriptures on there also.
Here are two collages of Theresa's work, for a glimpse.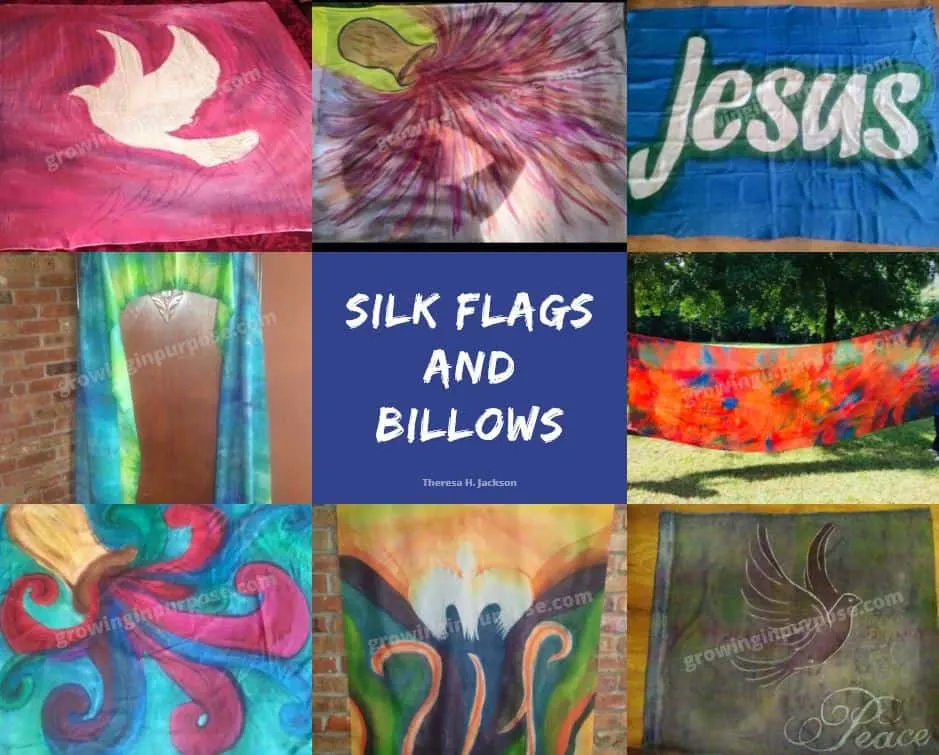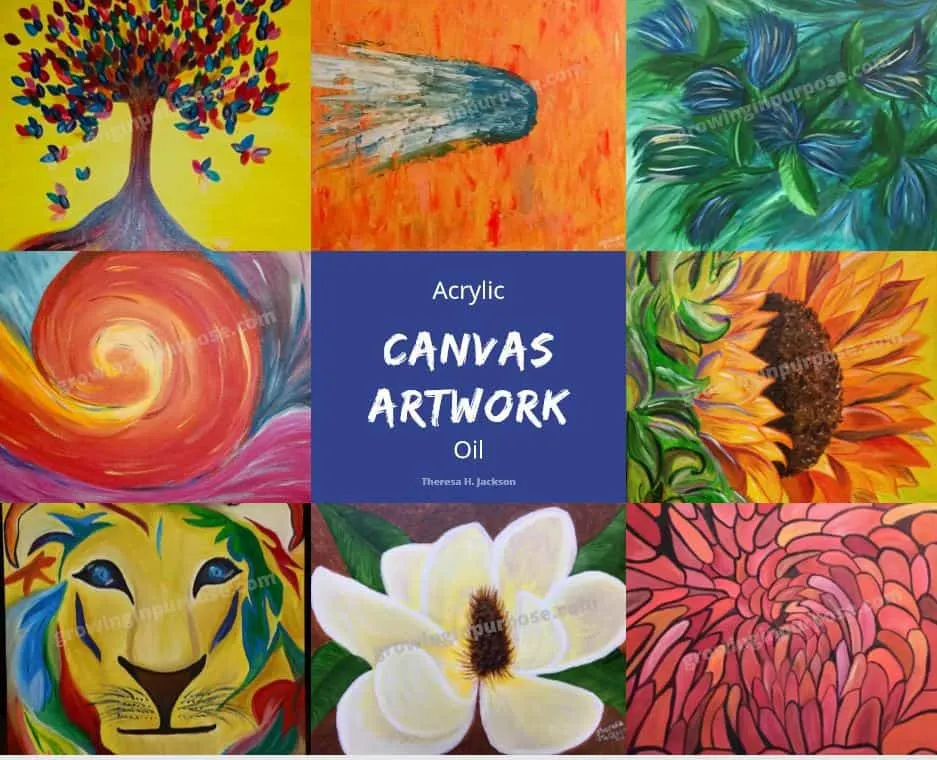 Social media link to Theresa Jackson's Art
Worship Through Creative Means Today
After studying about worship using flags, banners, etc., and knowing what I did about singing and playing instruments in worship, I began working at a long-term care facility and wanted to bring honor to Christ in everything I did.
I became the Memory Care Director for that facility and began to use music and art to calm the residents that had a diagnosis of Dementia or Alzheimer's.
I had already been creating flags, banners, etc., but was not creating art on canvas or anything other than silk.
As I stretched out of my comfort zone again, I decided to branch out and painted a mural on the double doors of the unit.
As I painted, like I do when I paint silk banners, flags, I pray and sing softly.
The entire atmosphere on the unit began to change! I can only tell you what I have experienced for myself.
After some time, I painted a mural down one side of the entire hall of the Memory Care Unit, and of course, prayed and sang as I painted.
I am a self-taught artist and had never attempted anything on this scale before, but I quickly saw the changes that took place.
Just as some do creative Bible journaling, Christian art, art inspiration, or prophetic art, each can be a great way to worship by creative means.
I fully believe that the Lord can use the things we enjoy or create to bring Him glory and honor.
You might be one that enjoys Bible Journaling, as so many do, or maybe you make jewelry, weave, or bake. That too, when done unto the Lord, can be a creative form of worship.
One day, a lady contacted me about a painting I did for her. There was a tornado that ripped through her town and tore up the house they had just purchased to move into.
She had taken the painting to the house to match her wall color with the painting.
She ended up putting the painting on the shelf of the closet, not knowing a tornado was going to come.
She was ecstatic to tell me about what happened.
There were 2×4's that had ripped through the walls and pine straw that even ended up stuck through the wood, but there was absolutely nothing different about the shelf that held the painting of the angel.
When we put ourselves in a place for the Lord to use us, He will definitely use us for His glory.
Let me encourage you today, to step out of your comfort zone and begin to worship by creative means, if you are not doing so already.
If you would be interested in joining me, I am hosting a challenge called, "Painting With Purpose".
You can find out more about Painting With Purpose on my website at growinginpurpose.com. or by following the link below.
This is not about teaching you how to paint, but it is about learning to grow in Christ and your creative expression in Him.
You will, however, create a piece of art each week during the challenge and you will journal your journey along the way.
You can read about a miracle that I waited 19 years for by following the link below to the blog post.
My Prayer For You
Father, I pray that each one that reads this post will be inspired to increase and stretch in their creativity with You. I pray Your presence engulfs them in such a fresh and powerful way to impact others for Your Kingdom. I decree and declare that they will begin to rise and shine to a new capacity that they never dreamed possible in You. As they spend time with You, Lord, may their hunger grow to carry more of Your presence, so that the people around them will sense You in them and in their expression of creative worship. In Jesus Name, Amen!
About Theresa H. Jackson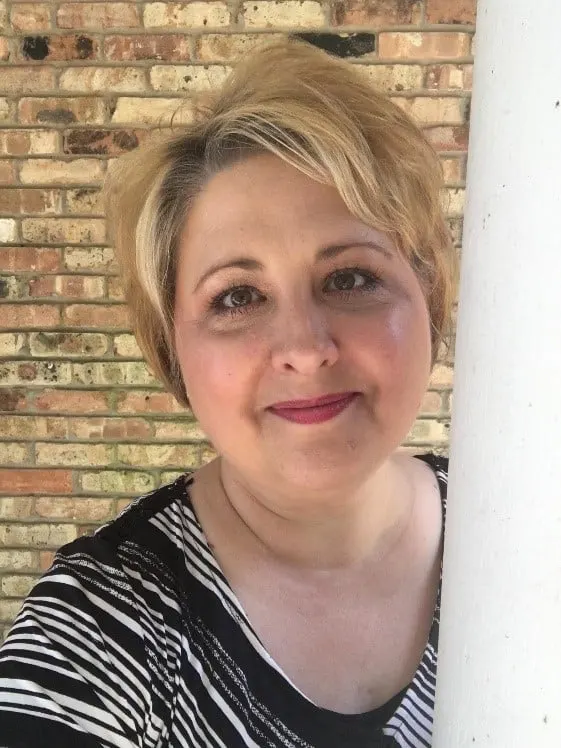 Theresa H. Jackson, is the author at growinginpurpose.com. She is passionate about encouraging and equipping women and families to put faith in action. She loves to share her testimonies of her miracle daughter and adopted son. She has been happily married to her husband, Mark, since 1989, and they enjoy singing gospel music and leading worship, as well as writing some of their own music. Theresa also is a creative that has witnessed countless ways of how her creativity in worship has impacted so many of the lives around her, including the Memory Care Unit that she used to direct. She has been told countless times that her faith and her smile are contagious to those she comes in contact with. Her days are filled with homeschooling her 2 children and sharing her faith through her blog and social media. She enjoys helping others grow in Christ and her latest project is Painting With Purpose, which is a 6 week challenge to help people learn to be more sensitive to Holy Spirit and creativity, while journaling the journey.
Be sure to join me on:
You may also enjoy these recommended books on creative worship: