This page/post may contain affiliate links. As an Amazon Associate, as well as an affiliate of other programs, this means if you purchase something using these links, I will receive a commission on qualifying purchases at no cost to you! For more detailed information, please visit our Affiliate Disclaimer page
I have a confession to make. I'm a Bible hoarder. Yep, I said it. I have tons of Bibles and Study Bibles in different translations. When offered the opportunity to receive the Holy Land Illustrated Bible, I was all in. And, I was not disappointed.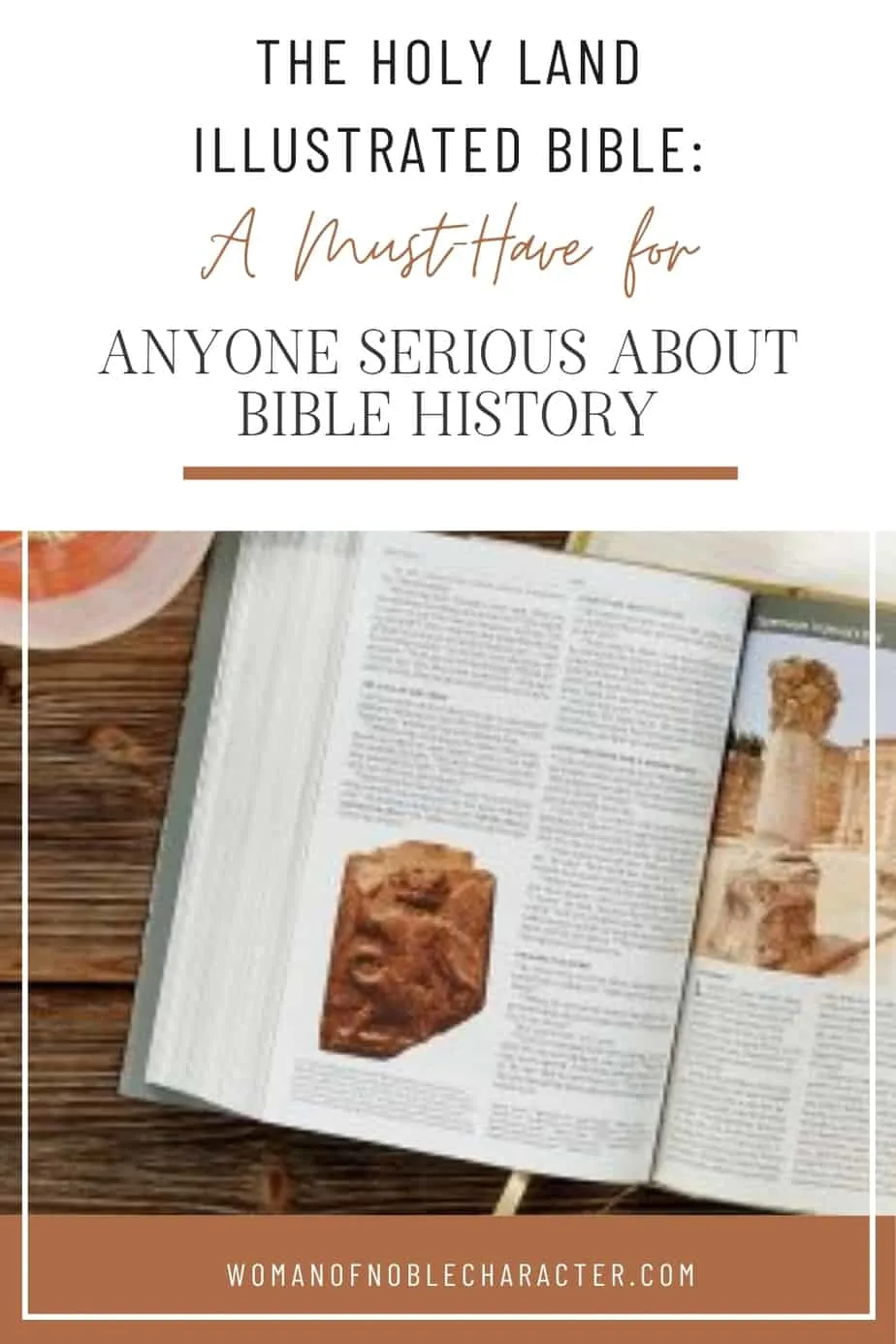 A Look at the Holy Land Illustrated Bible
While not labeled as a study Bible, there are so many features that enhance your Bible study time, including an introduction to each chapter of the Bible, including circumstances of writing, contribution to the Bible and structure, as well as a chart of weights and measures (what is a shekel, anyway?).
At the beginning of the Bible, you'll find not just a table of contents, but an explanation of the CSB translation, a list of articles included, as well as abbreviations used. I found it so helpful to find topics that I was interested in exploring.
At the back of the Bible, is the table of weights and measures, biblical maps, and a concordance.
The Holy Land Illustrated Bible includes several timelines, as well. This is so helpful to me to get a better understanding of when each biblical event occured in relation to other biblical events and overall history.
I particularly enjoyed the articles in the Holy Land Illustrated Bible on on topics which complemented the biblical text. The articles included a deeper look at Ur, Spies in the Land, The Arabah and David and the Philistines and so many more.
The Bible also includes features on breadmaking during biblical times, music in David's time, as well as prophets, priests and kings.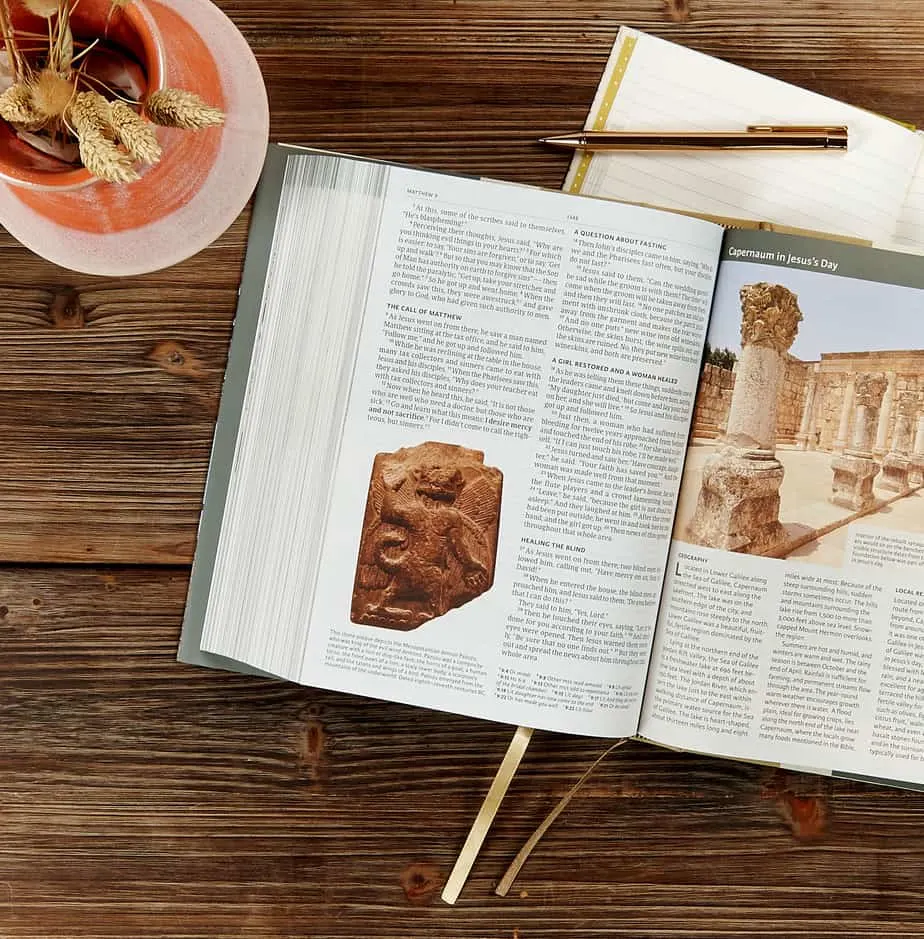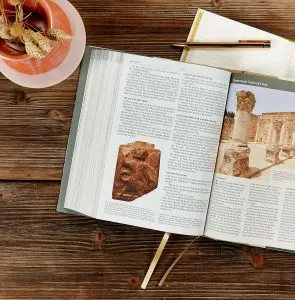 Full-color maps and images allow you to see and feel where each of the books and stories took place. Places and things that before we had to imagine. The Holy Land Illustrated Bible makes the Bible come to life in a new way.
The photos and images are from the collection of over 1,200 images in the Biblical Illustrator Magazine, allowing us to see what Bible stories really looked like—from the rugged landscapes to the details of everyday life.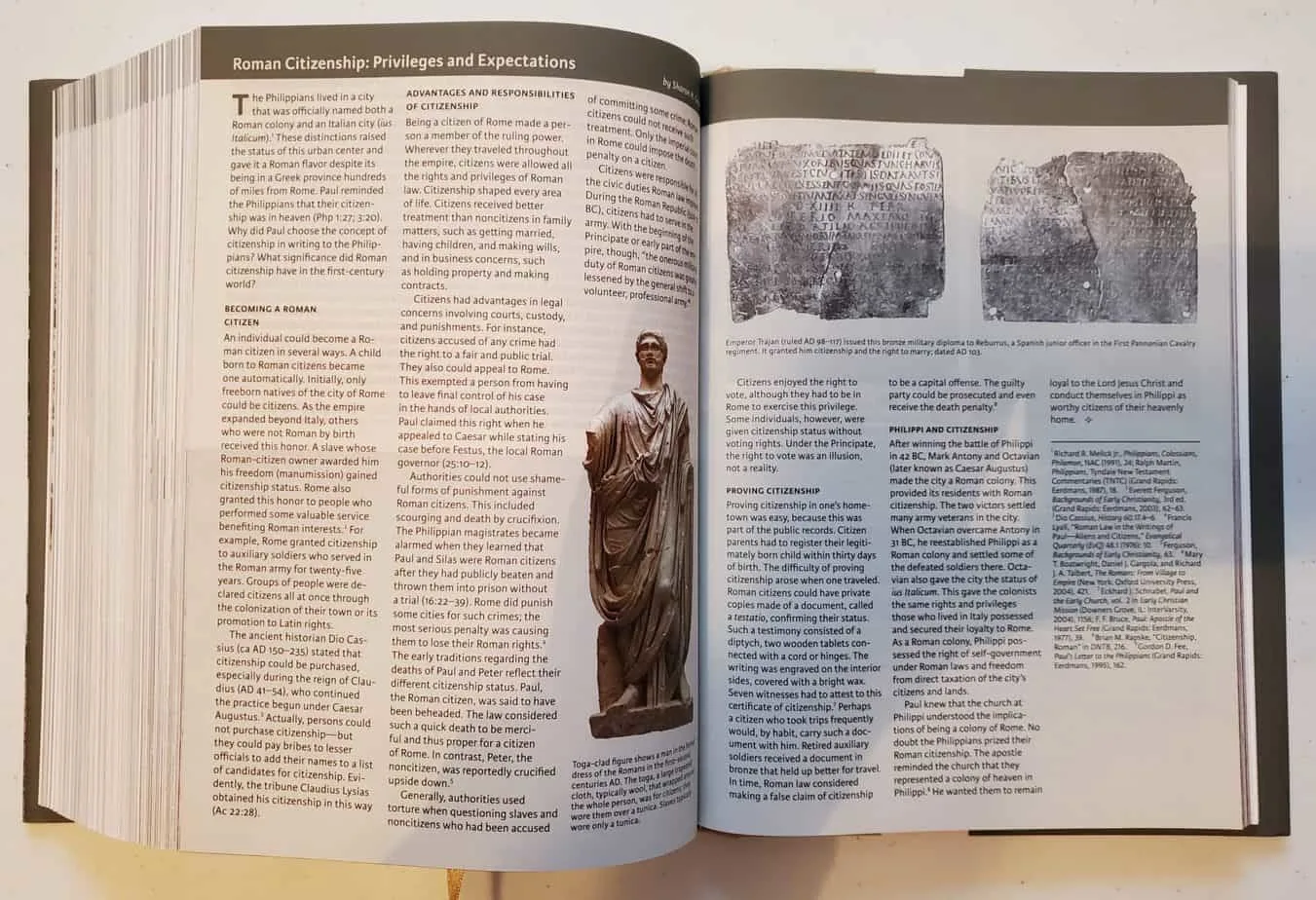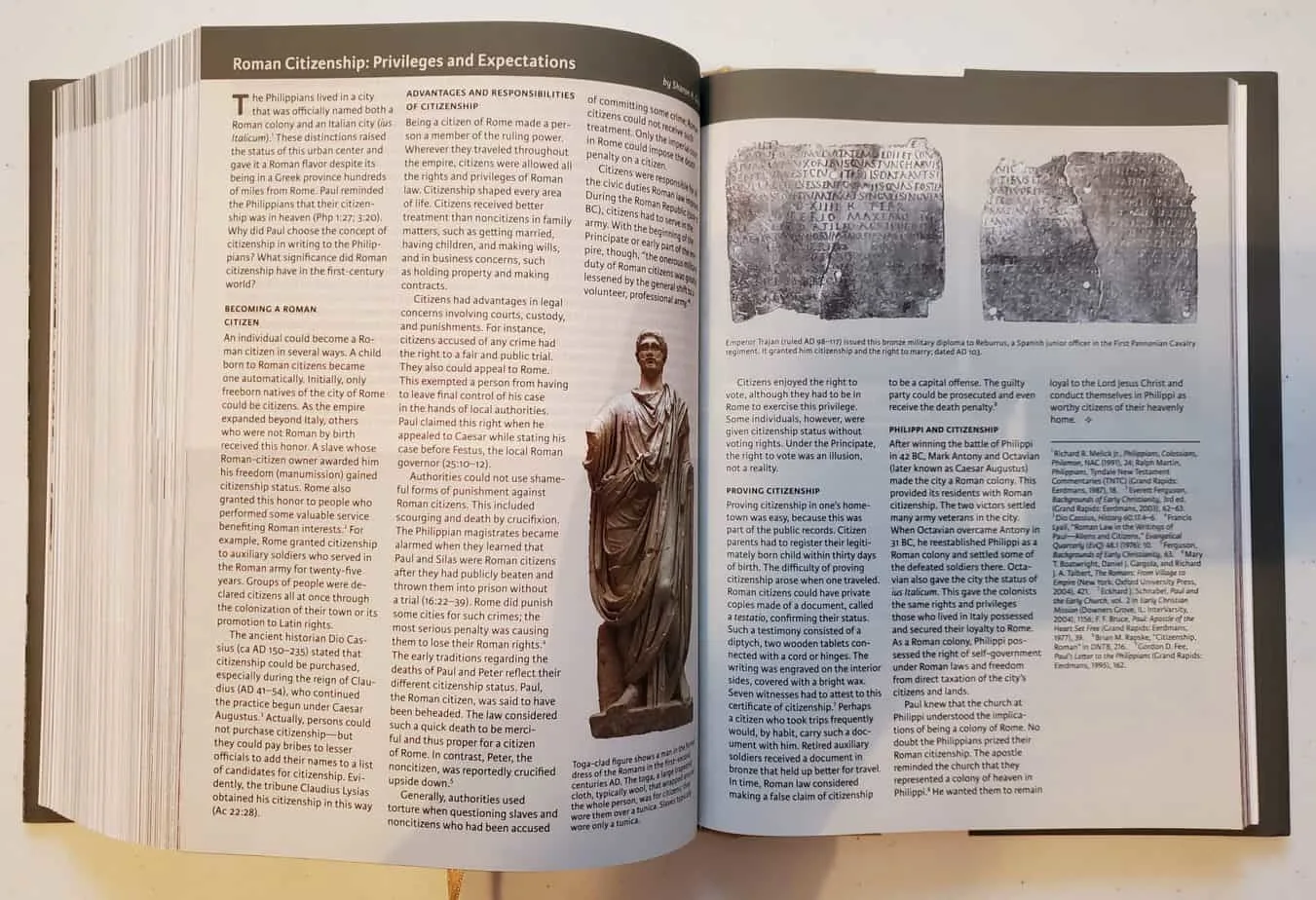 Features of the Holy Land Illustrated Bible
Bible and History Timelines

More than 1,200 images, maps, and illustrations with descriptive captions

More than 275 full-length articles provide greater insight and understanding

Two-column text, topical subheadings

Book introductions to introduce the setting and circumstances of writing

Intentionally designed pages to optimize the visual reading experience

Two ribbon markers for easy referencing between pages

Over 40 "Digging Deeper" call-outs strategically placed throughout the Bible

9.5-point type

Easy-to-read black-letter text

Footnotes and concordance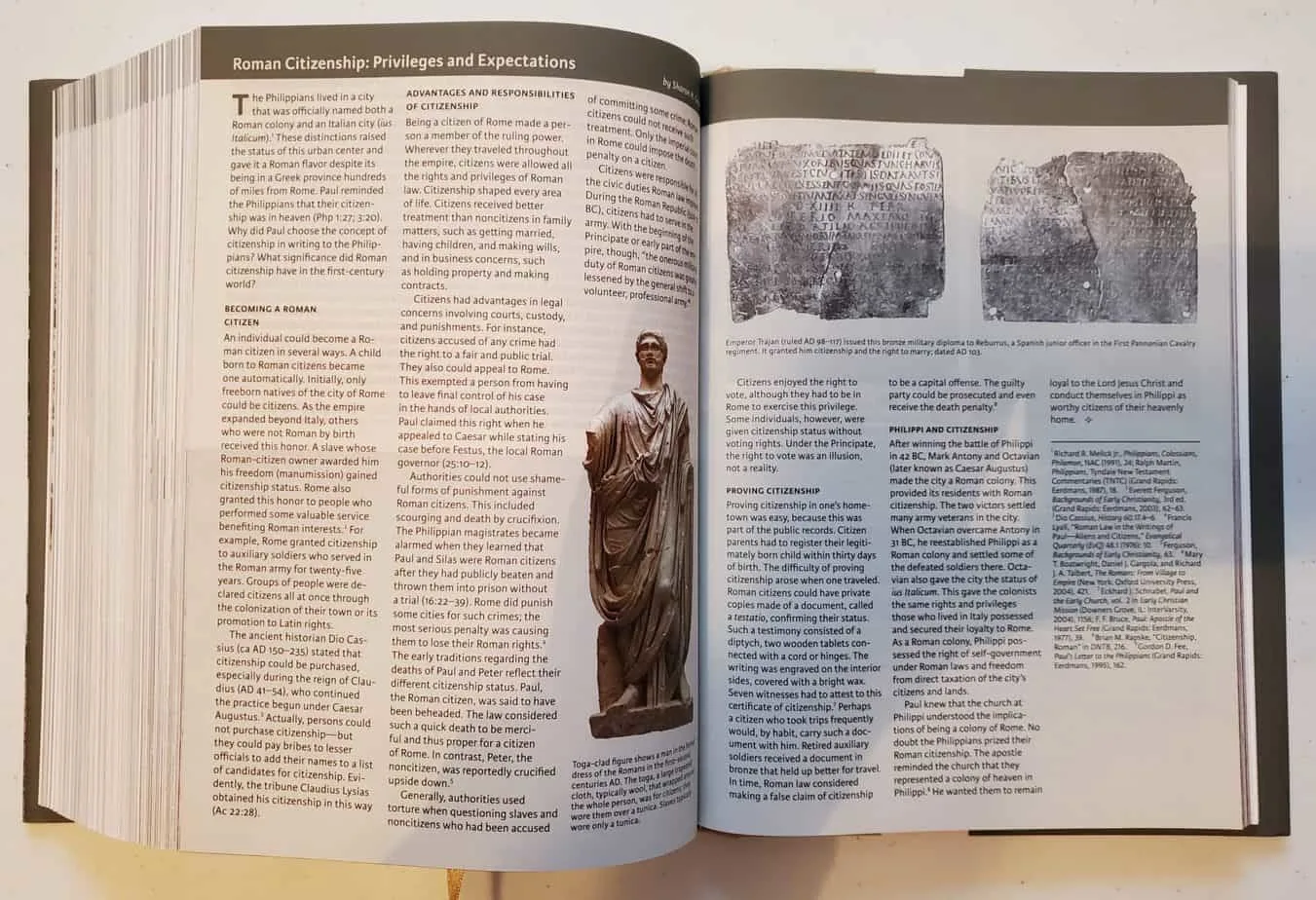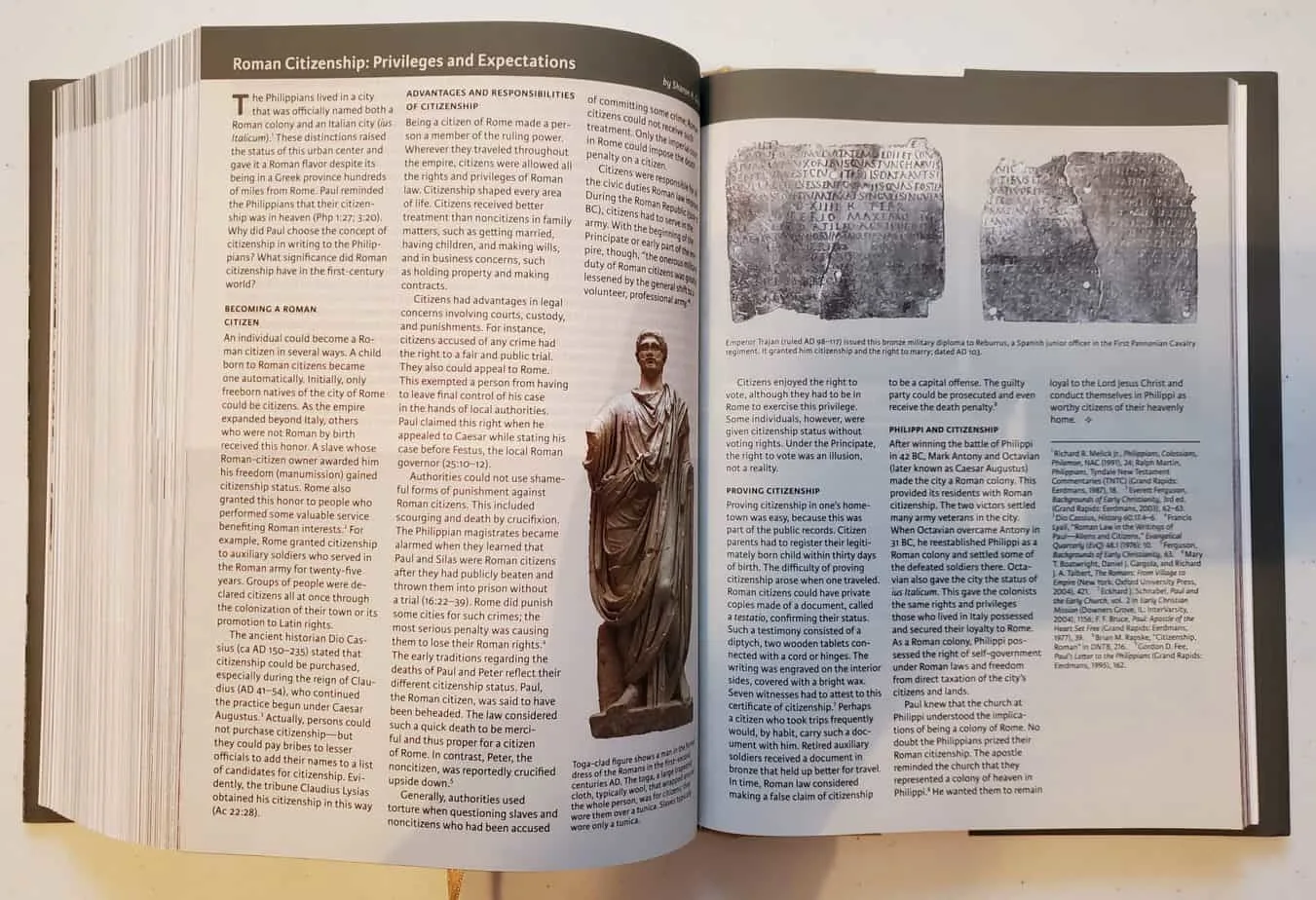 Here's a short video about the Holy Land Illustrated Bible that you may enjoy:
Although I own many Bibles, the Holy Land Illustrated Bible is quickly becoming one of my favorites for deeper study. I use it in conjunction with the Hebrew Greek Key Word Study Bible and compare the CSB translation to other translations, including NKJV, NIV, and ESV, for an expanded study of God's Word.
Want to buy a copy? (I'm planning on gifting one to several friends and family members this year), just click on the book cover below to learn more and grab your own copy.
Still not sure this Bible will be your new favorite? You can download a sample section of the Holy Land Illustrated Bible on this page.
And, on this page, you can see the first few pages of the Holy Land Illustrated Bible, plus the table of contents and more.
Now, if you'll excuse me, I'm off to dig deeper into the Holy Land Illustrated Bible.
Because He Lives,
Sue