This page/post may contain affiliate links. As an Amazon Associate, as well as an affiliate of other programs, this means if you purchase something using these links, I will receive a commission on qualifying purchases at no cost to you! For more detailed information, please visit our Affiliate Disclaimer page
As I've mentioned in previous posts, one great perk of being a Christian bloggers is the opportunity to review new books, both fiction and non-fiction. Recently, I was offered the chance to review Mysteries of the Messiah by Rabbi Jason Sobel. Rabbi Sobel co-authored the best-selling book The Rock, The Road and The Rabbi with Kathie Lee Gifford. In fact, she wrote the foreward for this, his newest book.
I was interested in reviewing the Mysteries of the Messiah because I've always had a fascination with our roots in Judiasm and even have begun to study Hebrew.
The book, described as " Highlighting the connections that have been hidden from non-Jewish eyes, Rabbi Jason Sobel pulls back the curtain to shed God's light on Holy Scriptures".
Once I read the cover of the book, I knew this was just what I've been looking for. Something to shed light on how scripture fits together. About seeing Jesus in the Old Testament. About connecting the dots to help me see what God intended.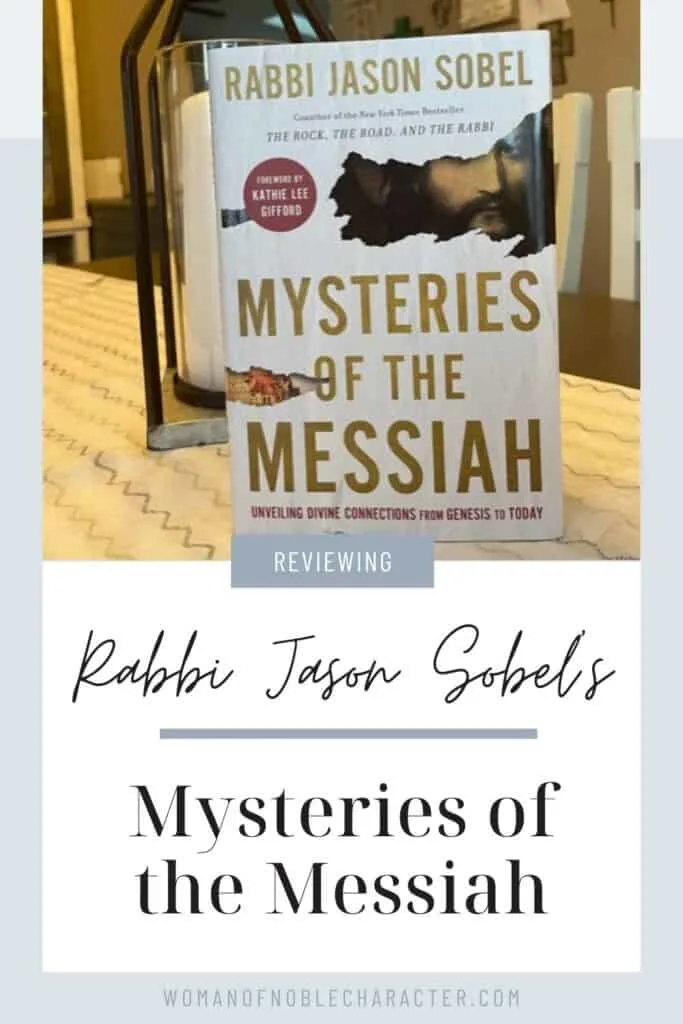 Here's the Amazon Description of Mysteries of the Messiah:
Most people do not understand how the Bible fits together—even people of faith. Too many Christians accept half an inheritance in that they are content to embrace merely the New Testament. On the flip side, Jews often experience this by embracing only the Old Testament. But God has an intricate plan and purpose for both.

In Mysteries of the Messiah, Rabbi Jason Sobel, raised in a Jewish home in New Jersey but now a follower of Yeshua, pulls back the curtain to show the many connections in Scripture hidden in plain sight. Known for his emphatic declaration "but there's more!" he guides readers from the story of creation through Revelation to see the passion and purpose of the Messiah, the Torah, and several of the patriarchs and prophets.

God's Word, written by many people over thousands of years, is not a random selection of people and stories, but they have intricate connections. Rabbi Jason connects the dots for readers, helping them see with clarity what God intended.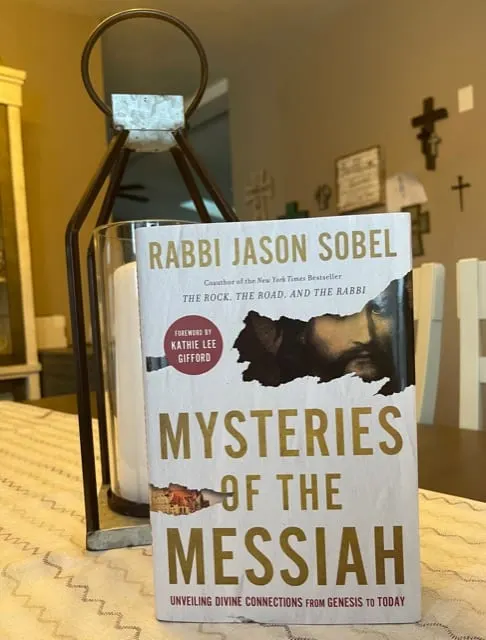 About Rabbi Jason Sobel
Raised in a Jewish home in New Jersey, Rabbi Jason Sobel dedicated much of his life to finding truth. After years of seeking and studying, he encountered the Lord and found his true destiny as a Jewish follower of Jesus (Yeshua). Suddenly, all the traditions Rabbi Jason grew up with took on new depth and meaning as God connected ancient wisdom with the teachings of the Messiah.
Rabbi Jason received his rabbinic ordination from the UMJC (Union of Messianic Jewish Congregations) in 2005. He has a B.A. in Jewish Studies (Moody) and an M.A. in Intercultural Studies (Southeastern Seminary). He is a sought-after speaker and has made multiple appearances on national television, including the Trinity Broadcasting Network, the Daystar Network, and the Dr. Oz Show. Rabbi Jason is the author of Breakthrough: Living a Life That Overflows, Aligning with God's Appointed Times, in addition to co-authoring the New York Times bestseller The Rock, the Road, and the Rabbi with Kathie Lee Gifford.
You can learn more about Rabbi Jason Sobel on his website or his ministry page, Fusion Global.
My Review of Mysteries of the Messiah
From the first chapter, I was enthralled by the content. The book is deep, richly written and explains numerous Hebrew words and phrases and how they help us to see what God intended.
We read of the incredible experience that Rabbi Sobel encountered when Yeshua (Jesus) spoke to him and told him that "Many are called, but few are chosen". It was then, that he began to seek Jesus and gave his life to Christ. He remained Jewish, but now a Messianic Jew (a Jewish person who is a believer in Jesus).
The book, connects Jesus, the Messiah, with creation, the Patriarchs (Abraham, Isaac and Jacob), Moses, Passover and more.
From a Gentile view, one who doesn't know Hebrew (although I'm slowly learning), it is a riveting narrative about how Jesus has been a part of God's plan for redemption since creation.
Diving into scripture, gleaning meaning from the Hebrew (there's even a Hebrew glossary and Hebrew Alphanumeric chart for reference), I have a deeper understanding of Jesus throughout the Old Testament.
I even understand more about why Jesus felt festivals and traditions as well as Old Testament teachings were so important and why we need to practice them as Christians.

The verses in Mysteries of the Messiah are taken from the Tree of Life translation of the Bible. One that I had not been familiar with. It is described as speaking "with a decidedly Jewish-friendly voice".
I find myself re-reading many of the chapters in the book as I read through the One Year Bible. It is helping me to gain comprehension of God's Word in a whole new way.
I highly recommend this book for everyone who is seeking to learn more about scripture. Rabbi Jason Sobel has done an incredible job of fulfilling his promise to shed light on God's Holy Scriptures.
This book will be part of my Bible study tool collection permanently.
You can find Mysteries of the Messiah by Rabbi Jason Sobel on Amazon or a local bookseller.
You can also enter to win a copy of Mysteries of the Messiah at Blessed Freebies.
If you purchase (or win!) Mysteries of the Messiah, please tell me what you thought. I'd love to hear if you had the same, terrific, experience as I did.
Because He Lives,

Sue