16 Things You Need to do to Prepare for Stress-Free Vacation
This page/post may contain affiliate links.  As an Amazon Associate, as well as an affiliate of other programs, this means if you purchase something using these links, I will receive a commission on qualifying purchases at no cost to you! For more detailed information, please visit our Affiliate Disclaimer page
Prepare for Vacation and Have the Time of Your Life!
Prepare for vacation! Ahhhh, vacation! Whether you are camping in the great outdoors, sipping mimosas by the pool or taking in the sites at a museum, there are some things you should do before you leave so you can have a stress-free time away. With Spring Break time almost upon us, let's take a look at my top tips for a stress-free vacation.
(For how to pack and a master packing printable, see this post).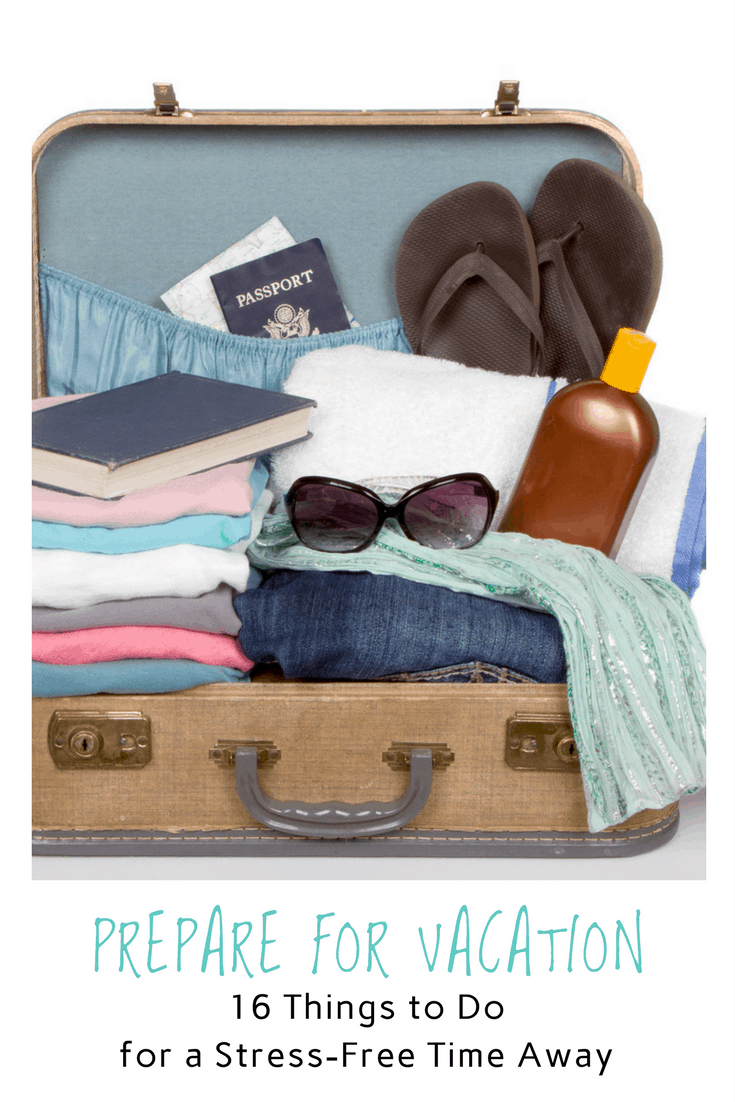 Here are my top 16 things to do to prepare for vacation:
Stop your mail and newspaper delivery (if you still receive a paper copy!)

Put email on "out of the office" mode

Don't be a slave to your phone – it's ok to check email once a day or so while away, but a vacation should be just that. In this electronic age, it is harder to "unplug", but letting your co-workers and boss know the dates you will be away and that you will not be available will help you set boundaries and allow you to have a stress-free time

Make a packing list and pack the right way with the right items (see post here)

Ask a family member or neighbor to check on your house (as well as water your plants, feed the pets, etc.)

Provide this person (people) with your itinerary and contact info as well as your Emergency Contact List in case something goes wrong (link here)

Set your alarm system if you have one and/or leave a couple of lights on in your home with timers (such as this one from Amazon) and a car in your driveway to make it appear as if someone is home.

If you will be away for an extended period of time, arrange to have your yard mowed and trash put out. Nothing says "no one is home and this house is ripe for a break in" than an unkempt yard.

Pay any bills that will come due while you are away (you don't want to come home to late fees!)

Clean out your refrigerator. Toss out leftovers and anything that will expire before you return

Look for coupons or deals for the area you are visiting (try Groupon, the local chamber of commerce for the area, travel sites, etc.) Why not let your money go further!

Contact your bank and credit card companies and let them know when you will be traveling and where you will be going. There are few things more frustrating than having your bank card shut off after hours while traveling as a fraud prevention measure and you are stuck without funds for dinner!

Set your thermostat so that your air conditioner or heater won't be wasting energy while you are away. Unplug unnecessary appliances to save energy, as well.

Turn off water valves to the dishwasher, washing machine and all sinks. If a pipe freezes, bursts or leaks while you are away, you won't come home to flood in your home causing hundreds, if not thousands, of dollars of damage (this has happened to me and it was awful!)

Make sure your smoke/firm detectors are working properly and have fresh batteries

Take out the trash in every room. Ewww! You don't want to come home to something "festering" in your garbage and smelling up your home!
Doing all of the above to prepare for vacation will take some time (maybe up to an hour or two), but completing the list will give you peace of mind while you are off getting some R & R.
How do you prepare for vacation? Post in the comments below!
Because of Him,
Sue
Need to get your closet in tip-top shape? Check out this post on Closet Organization.