This page/post may contain affiliate links. As an Amazon Associate, as well as an affiliate of other programs, this means if you purchase something using these links, I will receive a commission on qualifying purchases at no cost to you! For more detailed information, please visit our Affiliate Disclaimer page
As a daily user of the Hopefuel Planner, I was recently blessed with a package of Scripture Stickers by the company. It's a new product with a beautiful beginning.
So what are Scripture Stickers? The package of Scripture Stickers includes 20 5″ x 3″ self-adhesive stickers outlined with a beautiful gold foil edge. Each sticker features a different Bible verse from the NIV translation. The verses focus on hope, faith, fear, and anxiety.
They are beautifully designed and printed on high-quality paper with adhesive backs.
So what do you do with Bible verse stickers? Give them as gifts or stick them around your own home for encouragement. Consider putting one on your mirror, by the toilet paper roll, on the kitchen sink, or your wallet, or even stick one to the back of your phone to be reminded that God is with you. Place them where you will regularly see them and be encouraged by God's Word.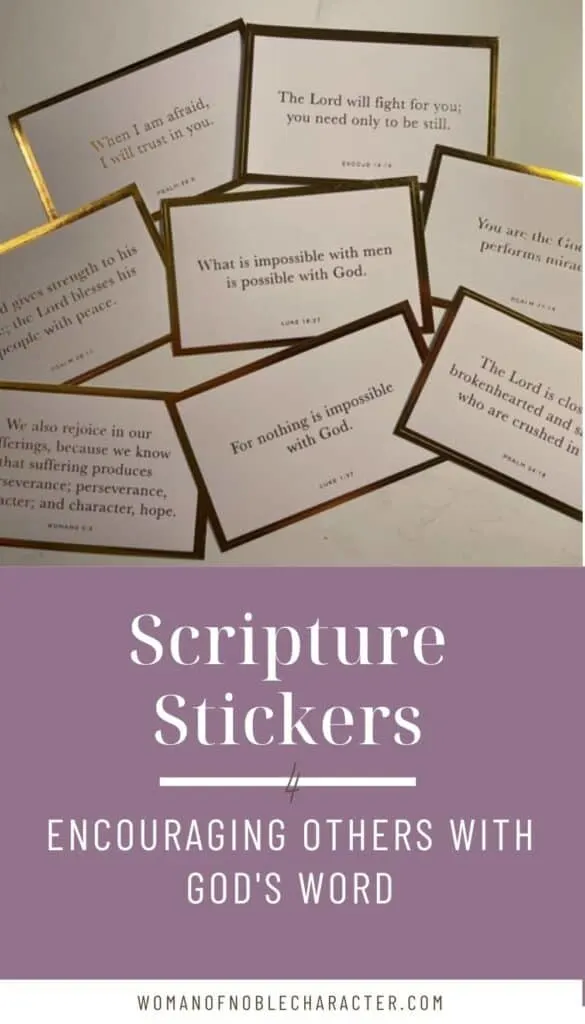 You can also gift these beautiful Bible verse stickers to a friend with an illness, someone going through a difficult time, caregivers, or someone that has lost a loved one. Actually, they really are the perfect gift for nearly anyone.


I've chosen a few of my favorite Scripture Stickers from the package and added them to my War Binder so that I can pray over them during my daily time with God.
In a fallen world, Satan is always on the prowl. With unrest in cities, illness, financial difficulty, grief, and even a pandemic, we need God's Word to encourage us.
As Christians we can protect our hearts and minds with spiritual armour. These Scripture Stickers are a beautiful reminder in the most unexpected places that God is for us. They make great "just because" gifts for any believer.

A few of my favorites are:
Romans 8:28
And we know that in all things God works for the good of those who love him, who have been called according to his purpose.
1 Peter 5:7
Cast all your anxiety of him because he cares for you
Proverbs 3:5
Trust in the Lord with all your heart and lean not on your own understanding.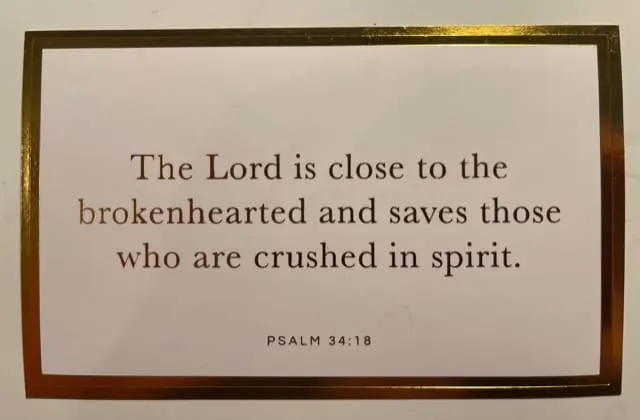 Where Did the Idea for Scripture Stickers Come From?
Here's what the Hopefuel website says about the inception of Scripture Stickers:
THE SCRIPTURE STICKER STORY
On July 5, 2018 my father was diagnosed with terminal cancer and given 8 months to live at the age of 62. That diagnosis left him feeling defeated, forgotten and placing so much of his trust in what man said, while letting fear and anxiety replace his hope. So that #cancer and the doctors afraid of giving "false hope" would never make him or my mom forget that God is in everything and he can do anything, I decorated my parents house with Bible verses around every corner to remind him.

I firmly believe how our bodies react to suffering psychologically greatly affects how our bodies handle it physically. I didn't want him to lose the battle in his mind first so I brought Jesus to him at every glance – at the kitchen sink, above the toilet paper roll, under the thermostat, at the back door, and even in his underwear drawer. Everywhere he looked he was reminded that "What is impossible with man, is possible with God" or that "You are the God who performs miracles" or "The Lord will save you, you need only to be still."

My father is still with us today and his pink sticky notes still remind him everyday who his healer is. He says he's never taking them down.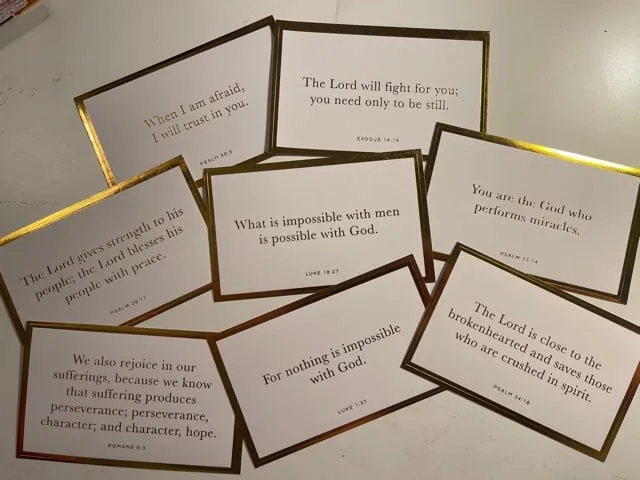 Who can you think of that would be blessed by the gift of Scripture Stickers? If you kept them for yourself, where would you stick Bible verse stickers?
Because He Lives,

Sue