This page/post may contain affiliate links. As an Amazon Associate, as well as an affiliate of other programs, this means if you purchase something using these links, I will receive a commission on qualifying purchases at no cost to you! For more detailed information, please visit our Affiliate Disclaimer page
When it comes to spending time with God, many of us have good intentions. But somehow our good intentions often get drowned out by life.
Busy schedules. Sick children. Social media distractions. Stuff.
It's no wonder I've spent years (literally) on a Bible reading plan that was meant to be one year. Yes, you read that right. What was supposed to be a 12-month read through the Bible turned into a saga of sorts.
It's not that I've regretted my prolonged look at the Word, because in fact, part of the reason it took so long was a desire to dig deeper and go slower.
(Grab your free Bible verse bookmarks here)
But if I'm being completely honest and open, I'll tell you that a lot of it was just plain old good intentions gone bad.
I had good intentions to wake up before the kids. But I chose my warm bed instead.
I had good intentions to spend the few quiet minutes reading the Bible. But I answered social media's call instead.
I had good intentions to focus on the Bible passage before me. But I got called away by the worries of my day.
Can you relate, my friend?
If we're not careful, spending time with God can be just another item on our to-do lists that gets shuffled from one day to the next.
So, what's a girl to do?
Well, I have some ideas to get you back on track that will help you make good on your good intentions in spite of your busy schedule.
First, let's start with the mindset behind spending time with God.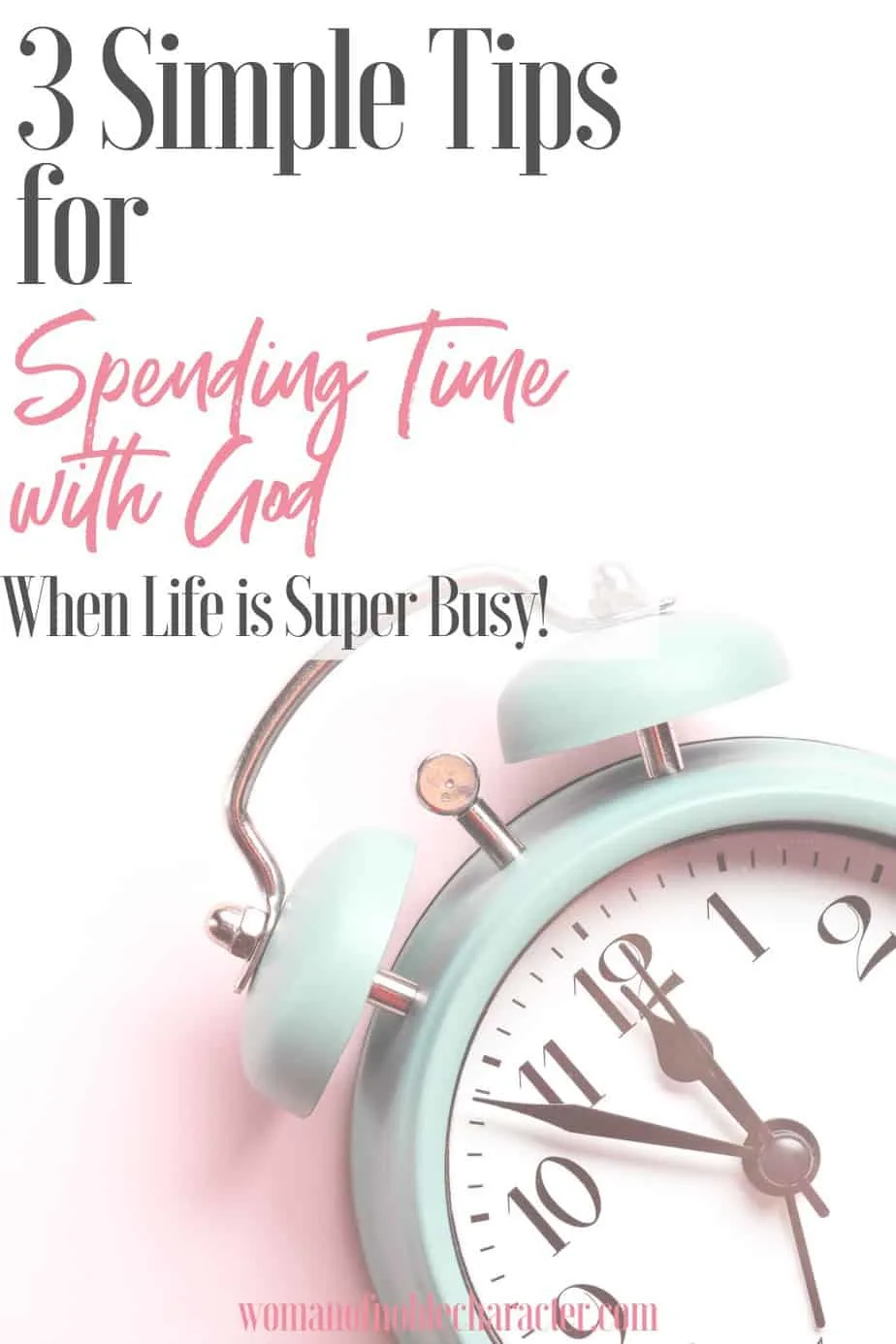 Why Spending Time with God is so Needed
When we draw close to God, God draws close to us
God longs for us to walk closely with Him, so it's no wonder that when we draw close to Him, He reciprocates. This is a beautiful benefit of seeking God more diligently.
By spending time with God, we are invited into a whole new understanding of His character and His love for us.
"Draw near to God, and he will draw near to you."

James 4:8 ESV
You'll find you're more in tune with the Spirit when you commit to searching the Scriptures and soaking up God's goodness. Your conscience becomes more sensitive and your ears attuned to the things that move God's heart.
When we draw close to God, the enemy runs and hides

It may not seem like it at first but spending time with God sends the enemy into hiding. The devil wants nothing to do with Light, and when we spend time with God, Satan hides in the shadows.
"Be alert and of sober mind. Your enemy the devil prowls around like a roaring lion looking for someone to devour."

1 Peter 5:8 NIV
Clearly, he doesn't lurk in the shadows for long. In fact, I'm sure you've noticed that when you draw close to God, the enemy works even harder to distract, discourage and defeat you. Temptations you thought were long forgotten will rear their ugly heads again. You'll find yourself struggling to make that time with God happen.
But take heart.
The Scripture continues in 1 Peter 5:9 with this encouragement:
"Resist him, standing firm in the faith, because you know that the family of believers throughout the world is undergoing the same kind of sufferings."

1 Peter 5:9 NIV
We are called to resist the temptations that come our way, knowing that we're not alone. There's a whole family of believers who struggle like you do. We're in this together and we can encourage each other to stand firm and follow through on our good intentions.
And there's even more good news.
The battle has already been won! The victor has been chosen.
"I have told you these things, so that in me you may have peace. In this world you will have trouble. But take heart! I have overcome the world."

John 16:33 NIV
You can confidently overcome the temptation of choosing busyness over time with God, knowing that this battle has long been won. The enemy might try to deceive you but he's fighting a losing battle. So, take heart and choose the Word over the world.
You can confidently overcome the temptation of choosing busyness over time with God, knowing that this battle has long been won. The enemy might try to deceive you but he's fighting a losing battle. So, take heart and choose the Word over the world.
When we spend time with God, it encourages someone else
Another beautiful benefit is that when we choose to spend time with God, others notice. Someone is depending on you – on your example of perseverance – to help them run their race. They draw encouragement from the way you keep going after your time with God.
They are watching. And because of you, they won't give up either.
You may not even know it, but your faith is spurring someone else on, so lean in close to God.
It might be your family members, your co-workers, your Bible fellowship sister, the grocery store clerk – who knows who's noticing the difference your time with God is making.
Sure, it will get the enemy's attention and probably send some resistance your way. But it also draws you into the heart of God, and inspires others in the process.
Now, let's consider how we can spend time with God in spite of all the busyness and distractions.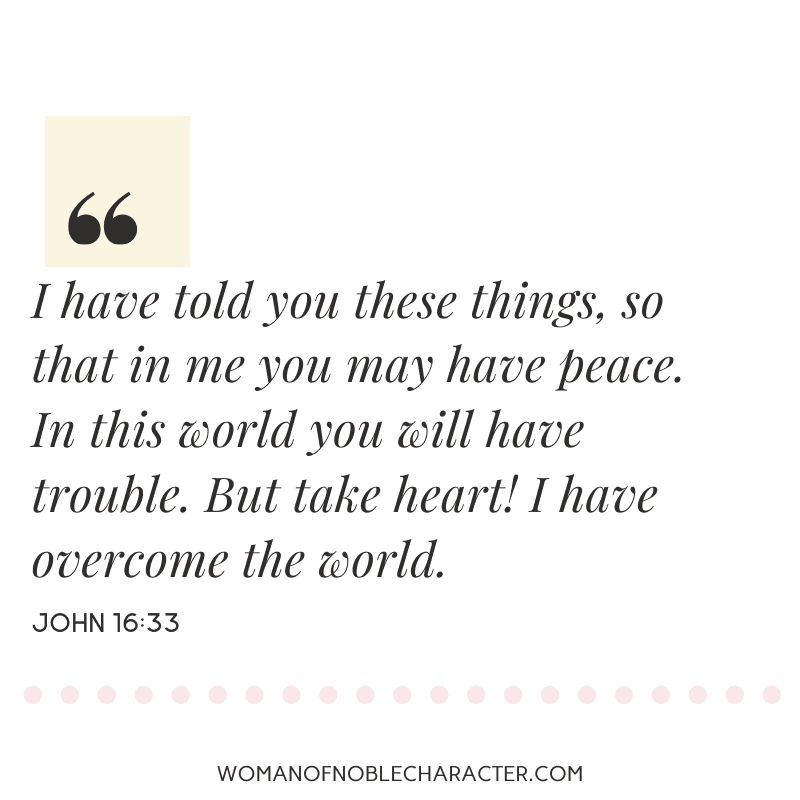 How to Spend Time with God without Getting Overwhelmed
Now that we've established some reasons why we should spend time with God, you might be wondering how to make it happen. Here are three practical ways to draw closer to God by spending time with Him.
1. Spend time with God by talking to Him
I like to think of our relationship with God as a two-way street where we communicate with God and He with us. When we pray that's the part of the conversation where we talk to God.
For some, prayer can feel overwhelming, but I suggest you imagine talking to a friend who wants to hear about your day. Start by sharing with God the things that are on your heart and He will show you the next step.
I love to set aside time to pray in the mornings as part of my devotional time. But I believe it's also important to take God with you throughout the day.
To overcome busyness and distractions, have some prayer prompts handy. Take them along with you in your purse, tuck them in your Bible or post them near your computer or some visible spot in your house. These simple tricks will help you keep the conversation with God going.
2. Spend time with God by listening to Him
In these modern times we are fortunate to have God's love letter to us in the form of the Bible. When we read the Bible, we're continuing the conversation with God by listening to Him
Devotional Apps
When I'm short on time, I enjoy reading a devotional app that points me to the Word of God. That takes out the guess work of what to read, saving me time and allowing me to tune in with God right away.
Bible in a Year
If you have a goal of reading through the Bible in a year you can use a plan like this one or you might even opt for a One Year Bible which has the daily verses arranged for you.
Scripture plans
Another favorite way to spend time in God's Word is writing out Scriptures. This is a fantastic way to hide God's word in your heart and commit Scriptures to memory. You'll find this especially handy on those busy days.
I use simple Scripture plans focused on a specific theme, so that I can deepen my understanding of a topic without taking a lot of time to do so.Woman of Noble Character also offers monthly scripture plans.
3. Spend time with God by sharing Him
Soon you'll see that spending time with God is like being in love with someone and you just can't stop talking about them. As we grow in our relationship with God our love for Him will naturally spill over into other areas of our lives as well.
So, talk about Him with your children, friends, business associates, and even with absolute strangers.
Sharing God with others is another way to spend time with Him as we share what we're learning about His character and His work in our lives. As we open up about God, we gain more insight from our discussions as well. So, don't be shy, let God be known.
How about you?
I hope you've been encouraged to spend time with God in spite of your busy schedule and all the things that are coming at you. I also pray that these practical tips will help you get into God's Word and enjoy your time with Him.
We'd love to hear from you in the comments about which of these tips you're going to try. If they've helped, please let us know. And if you have another tip that wasn't included here, we'd love to hear about it too.
Wishing you abundant blessings,
Marva
---
About Marva Smith
Marva is a management consultant, leadership trainer, work and life strategist, and writer. Yet, she finds most joy in her roles as wife to her husband of 16 years, and mom to a teen and tween. She is passionate about equipping, inspiring and empowering women to thrive in every area of life, and does this through her courses, coaching and online community Free to Thrive.
Her ideal day starts while it's still dark with her Bible in one hand and coffee in the other.
Connect with Marva on her website MarvaSmith.com and on Facebook, Instagram and Pinterest.