Strength In The Bible – He Is Strong When We Are Weak
This page/post may contain affiliate links.  As an Amazon Associate, as well as an affiliate of other programs, this means if you purchase something using these links, I will receive a commission on qualifying purchases at no cost to you! For more detailed information, please visit our Affiliate Disclaimer page
When you think of the word "strength", what do you picture? Physical strength? Spiritual strength?
A muscle-laden man lifting weights? Steel? American Ninja Warriors?
Or do you picture the mom who buried her child, yet places her hope in God? The man who lost everything when he was laid off from his job but continued to have a smile on his face? The child who faced multiple cancer surgeries but encouraged the other children?
The first three listings for the definition of "strength", according to Merriam-Webster are:
1. the quality or state of being strong : capacity for exertion or endurance
3
: power of resisting attack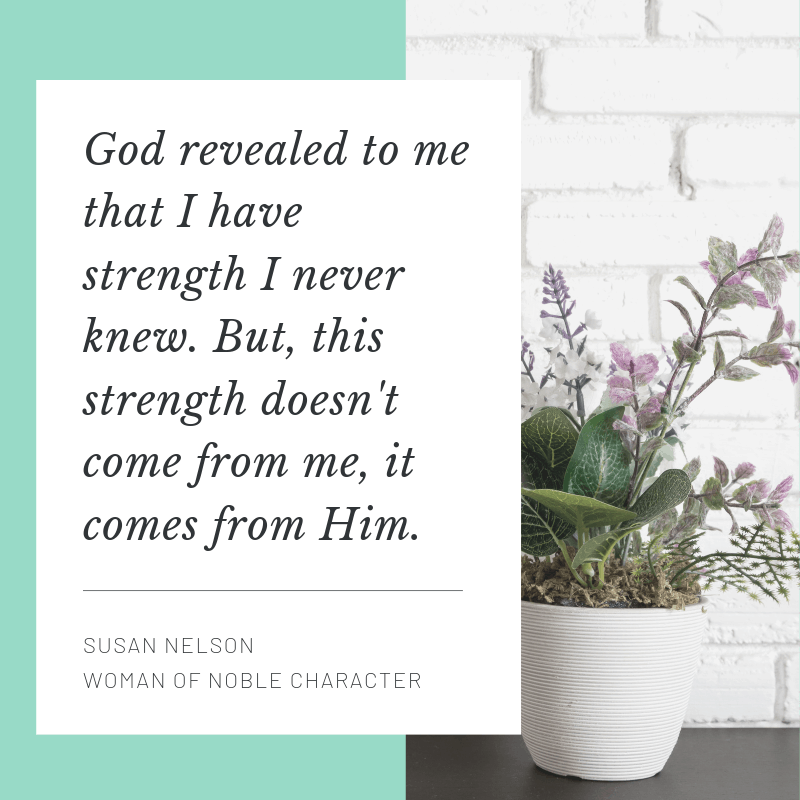 Until recently, I never really thought that I was strong. I'm still not strong physically (I'm done when my husband tries to tickle me – I am too weak physically to fight back 🙂 ) I am, however, a beast, spiritually!
Not long ago, I attended a life changing intensive spiritual retreat, called Quest and hosted by Fellowship of the Sword. Soon, I'll share about my experience and why I feel attendance should be mandatory for all Christians, but God talked to me about strength in two ways on this retreat.
First, our friends and loved ones wrote letters to us for us to read during a special time in the week. Several of my friends and both of my sons, wrote about my strength, my oldest son sharing that I am "the strongest woman they know".
As I prayed and reflected on these letters from those I love, God revealed to me that I have strength I never knew. But, this strength doesn't come from me, it comes from Him.
I used to have a tendency to take it all on – the to-do list, the hurts, even my kid's hurts – everything.
During my Quest, I was able to do what God had intended for us, all along: Give it all to Him.
Strength in the Bible
God's plan was not for us to simply deal with what life gives us. His plan is for us to find our strength in Him.
When we are faced with a challenge or difficult circumstance, many of us will pray for God to help us, but then we try to fix the problem on our own, anyway.
We are missing something very important when we do this: Trusting God.
God has already promised us His strength!
We can find strength in the Bible displayed in many books and stories of God's chosen.
It's right there in Isaiah, 1 Chronicles and Exodus (and many more places in the Bible)
Isaiah 41:10 fear not, for I am with you; be not dismayed, for I am your God; I will strengthen you, I will help you, I will uphold you with my righteous right hand.

1 Chronicles 16:11 Seek the LORD and his strength; seek his presence continually!

Exodus 15:2 The LORD is my strength and my song, and he has become my salvation; this is my God, and I will praise him, my father's God, and I will exalt him.

Nehemiah 8:10 Do not grieve, for the joy of the Lord is your strength
So let's go back to the three definitions of strength listed above.
1. the quality or state of being strong : capacity for exertion or endurance
3
: power of resisting attack
Is God strong and does He have endurance? Can He be our stronghold to endure the earthly challenges we face? YES!
Does God have the power to resist the force of the devil? Can He be our power to resist temptation? YES!
Does God have the strength to resist an attack in our lives from Satan? Will He? YES!
When many of us face a difficult life situation, we pray and that's it. Instead remind yourself of His strength and the strength you have in Him. Trust Him and then act. Don't just pray and forget.
The Word says that we are to walk and live by faith. What does that look like when we are feeling defeated, lonely, broken or hurt? When you are dealing with any issue on this side of heaven, remind yourself of the promises that God has made to all believers, then pray, and give the issues to the One Who has the strength to battle them. Don't stop there – BELIEVE that He is Who He says He is and that He will give you His strength to face them.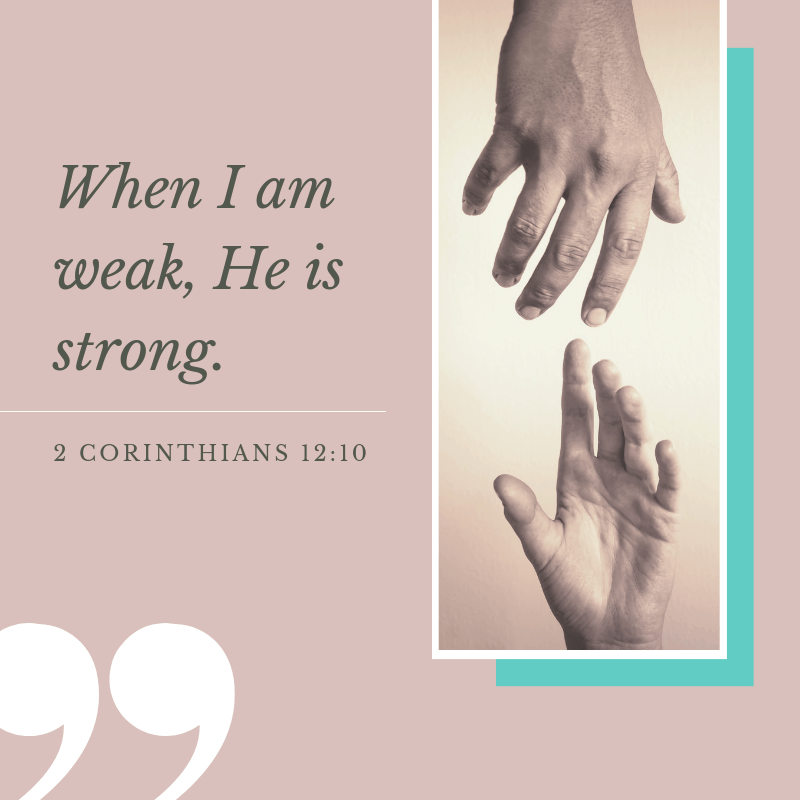 Stories About Strength in the Bible
We have so many illustrations of God's strength in the Bible, you can be encouraged by simply reading His Word.
If you need some more encouragement, I want to remind you of just three (of the many) stories in the Bible about strength.
The Story of Gideon
Judges 6:12-16 (NIV)

When the angel of the Lord appeared to Gideon, he said, "The Lord is with you, mighty warrior."

"Pardon me, my lord," Gideon replied, "but if the Lord is with us, why has all this happened to us?

Where are all his wonders that our ancestors told us about when they said, 'Did not the Lord bring us up out of Egypt?' But now the Lord has abandoned us and given us into the hand of Midian."

The Lord turned to him and said, "Go in the strength you have and save Israel out of Midian's hand. Am I not sending you?"

"Pardon me, my lord," Gideon replied, "but how can I save Israel? My clan is the weakest in Manasseh, and I am the least in my family."

The Lord answered, "I will be with you, and you will strike down all the Midianites, leaving none alive."
Gideon knew that he didn't possess the strength to defeat the Midianties on his own. God assured him that He would protect Gideon and that he would win the battle before him.
Because God is always with us and has promised to help us and be our strength, we can have peace and not fear. When our strength comes from God, we can do things we never imagined possible.
Are you facing a hard situation? A broken marriage? A lost job? A financial hardship? Your strength to endure and win the battle comes from a God who loves you and is always with you.
The Story of Shadrach, Meshach and Abednago
Daniel 3:14-26 (NIV)

and Nebuchadnezzar said to them, "Is it true, Shadrach, Meshach and Abednego, that you do not serve my gods or worship the image of gold I have set up? Now when you hear the sound of the horn, flute, zither, lyre, harp, pipe and all kinds of music, if you are ready to fall down and worship the image I made, very good. But if you do not worship it, you will be thrown immediately into a blazing furnace. Then what god will be able to rescue you from my hand?"

Shadrach, Meshach and Abednego replied to him, "King Nebuchadnezzar, we do not need to defend ourselves before you in this matter. If we are thrown into the blazing furnace, the God we serve is able to deliver us from it, and he will deliver us from Your Majesty's hand. But even if he does not, we want you to know, Your Majesty, that we will not serve your gods or worship the image of gold you have set up."

Then Nebuchadnezzar was furious with Shadrach, Meshach and Abednego, and his attitude toward them changed. He ordered the furnace heated seven times hotter than usual and commanded some of the strongest soldiers in his army to tie up Shadrach, Meshach and Abednego and throw them into the blazing furnace. So these men, wearing their robes, trousers, turbans and other clothes, were bound and thrown into the blazing furnace. The king's command was so urgent and the furnace so hot that the flames of the fire killed the soldiers who took up Shadrach, Meshach and Abednego, and these three men, firmly tied, fell into the blazing furnace.

Then King Nebuchadnezzar leaped to his feet in amazement and asked his advisers, "Weren't there three men that we tied up and threw into the fire?"

They replied, "Certainly, Your Majesty."

He said, "Look! I see four men walking around in the fire, unbound and unharmed, and the fourth looks like a son of the gods."

Nebuchadnezzar then approached the opening of the blazing furnace and shouted, "Shadrach, Meshach and Abednego, servants of the Most High God, come out! Come here!"

So Shadrach, Meshach and Abednego came out of the fire,
Have you ever been faced with a hard decision? Maybe whether to stand up for what you believe in? When you do, know that God gives you the strength to make the right choice – no matter how hard it may be.
Shadrach, Meshach and Abednego knew what the king was asking was wrong and that God would be their strength and deliver them from that situation. When faced with this choice, they did not hesitate to stand up for God.
The King didn't win that battle and neither will Satan.
In the end, Shadrach, Meshach and Abednego were safe and God received the glory due Him.
When you face a tough decision or the opportunity to stand up for something you believe in, God will give you the strength you need to choose what is most pleasing to Him.
The Story of Esther
Esther 4:11-16 (NIV)

"All the king's officials and the people of the royal provinces know that for any man or woman who approaches the king in the inner court without being summoned the king has but one law: that they be put to death unless the king extends the gold scepter to them and spares their lives. But thirty days have passed since I was called to go to the king."

When Esther's words were reported to Mordecai, he sent back this answer: "Do not think that because you are in the king's house you alone of all the Jews will escape. For if you remain silent at this time, relief and deliverance for the Jews will arise from another place, but you and your father's family will perish. And who knows but that you have come to your royal position for such a time as this?"

Then Esther sent this reply to Mordecai: "Go, gather together all the Jews who are in Susa, and fast for me. Do not eat or drink for three days, night or day. I and my attendants will fast as you do. When this is done, I will go to the king, even though it is against the law. And if I perish, I perish."
Every now and then, God presents us with opportunities and supernatural spiritual strength to impact the lives of others.
Esther's people, the Israelites, were in trouble. Despite being married to King Xerxes (Ahasuerus), the King didn't know that she was a Jew.
King Xerxes had been coerced into killing all of the Jewish people.
Esther, quiet and unassuming, was afraid to do or say anything about it to the King. Until her cousin, Mordecai reminded Esther that she was given her royal position "for such a time as this." He reminded her that God would give her the strength and courage to use her position to help the Jewish people.
Sometimes God gives us opportunities so we can make a difference in other's lives.
If God puts you in a position to do something good, He will give you the strength and the courage to complete the task.
(You can learn more about the story of Esther in the Bible and the lessons we can learn from her, in this post.)
When You Feel Weak
I am not God. Only He is God.
Few of us willingly admit our weaknesses. We tend to highlight our strengths, instead. People aren't able to see who we really are, our emotions, our spirit. If they did, they would see that we all have struggles, flaws, and insecurities. If they saw these things, it might change the way they view us. Our weaknesses may be hidden from other people, but not from God. He knows and He doesn't not look at our outward appearance, He looks at our hearts.
"But the Lord said to Samuel, "Do not consider his appearance or his height, for I have rejected him. The Lord does not look at the things people look at. People look at the outward appearance, but the Lord looks at the heart." – 1 Samuel 16:7
When we are weak, it is an opportunity for God to work mightily in our lives. When our bodies or heart fail us, He is the strength of our heart.
"My flesh and my heart may fail,
but God is the strength of my heart
and my portion forever." – Psalm 73:26
When we look at and truly reflect the areas of our lives where we know we are weak, I pray that we look to Jesus and marvel at how He works through our weaknesses for His glory.
When we look at and truly reflect the areas of our lives where we know we are weak, I pray that we look to Jesus and marvel at how He works through our weaknesses for His glory.
Throughout the world, there are Christians, at this very moment, who are experiencing torture, imprisonment and even death for their faith in Jesus.
It is often in these circumstances that others are able to see Jesus. They see the tortured hold on to faith and know Jesus in a very real way. Whatever you are facing, internally or in life's circumstances, the Holy Spirit "helps us in our weakness".
"In the same way, the Spirit helps us in our weakness. We do not know what we ought to pray for, but the Spirit himself intercedes for us through wordless groans." – Romans 8:26
The grace of God is sufficient and made perfect in our weakness and we can receive grace upon grace from Him in our time of need.
"But he said to me, "My grace is sufficient for you, for my power is made perfect in weakness." Therefore I will boast all the more gladly about my weaknesses, so that Christ's power may rest on me." – 2 Corinthians 12:9
"Out of his fullness we have all received grace in place of grace already given." – John 1:16
God Doesn't Abandon Us in Our Weakness
One of the most comforting promises that Jesus shared is that He will be with us always until the end of the age.
"and teaching them to obey everything I have commanded you. And surely I am with you always, to the very end of the age." – Matthew 28:20
We know this with confidence because He is the truth and can empower us, with the help of the Spirit, to turn to Him in our weakest moments.
"Jesus answered, "I am the way and the truth and the life. No one comes to the Father except through me.'" – John 14:6
He will not leave us nor forsake us By turning to Him when we are weary, feeling weak or alone we can experience the strength that comes from Him because His yoke is easy and His burden is light.
In Hebrews 4:15-16 we read: "For we do not have a high priest who is unable to empathize with our weaknesses, but we have one who has been tempted in every way, just as we are—yet he did not sin. 16 Let us then approach God's throne of grace with confidence, so that we may receive mercy and find grace to help us in our time of need."
Jesus empathizes with us in our weakness, advocates on our behalf to the Father and He gives us the mercy and grace to help us when we are in need.
"My dear children, I write this to you so that you will not sin. But if anybody does sin, we have an advocate with the Father—Jesus Christ, the Righteous One." – 1 John 2:1
When you are feeling weak and need the powerful strength of our Father, read and pray what His Word promises to us, as believers. Bathe yourself in the Bible and it's promises and reflect on Bible verses about strength.
You may also wish to put this song on high volume. (You Are My Strength, by Hillsong Worship)
Remember who you are and WHOSE you are and that your strength comes from the Lord!