This page/post may contain affiliate links. As an Amazon Associate, as well as an affiliate of other programs, this means if you purchase something using these links, I will receive a commission on qualifying purchases at no cost to you! For more detailed information, please visit our Affiliate Disclaimer page
With so few print magazines for Christian women, it is refreshing to see the Joyful Life Magazine on the market.
Founded by Sandi Warner, now editor, creative director and designer for the publication and company, this beautiful, full-color, quality magazine is emerging as a leader in this niche.
The mission of The Joyful Life is:
The Joyful Life inspires women

to pursue joy and discover beauty in their daily lives

by grounding their hearts in Christ,

leading them to live and love well

—for the purpose of glorifying God.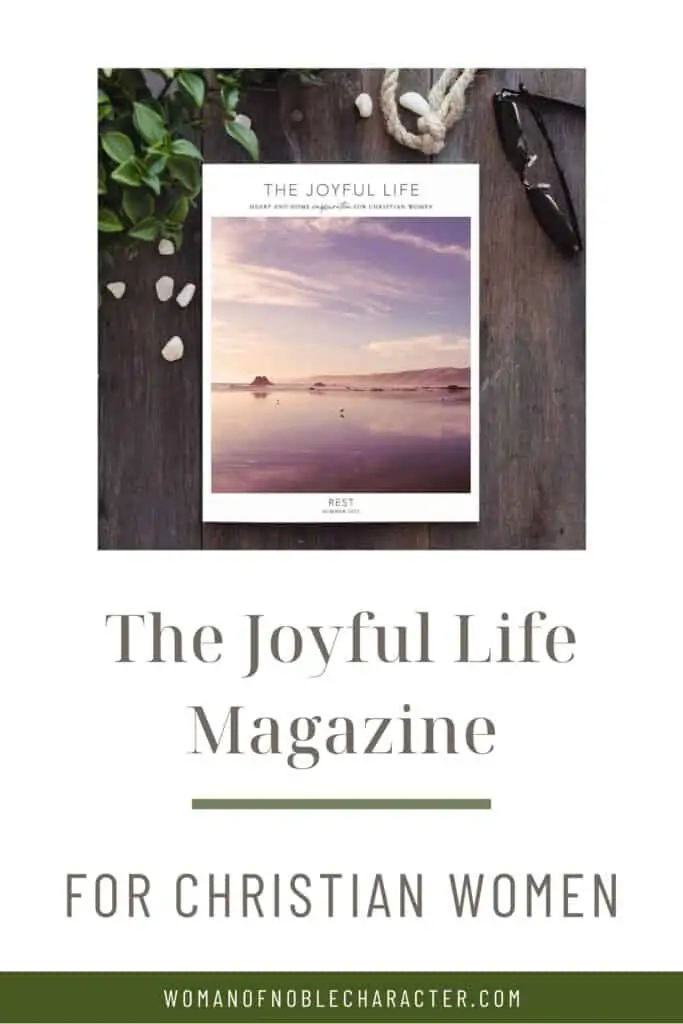 I recently had the opportunity to chat with the staff of the Joyful Life Magazine and wanted to share their responses. Their heart, their mission, is easy to get excited about and encouraged me to subscribe.
Tell us a bit about the Joyful Life Magazine and what readers can expect from it?

The Joyful Life Magazine is a faith-based, luxury print publication full of heart and home inspiration. The idea of the Joyful Life was born out of a deep longing to be used by God to encourage women to turn their hearts back. Back to Jesus. Back to home. Back to family. Back to a genuine and authentic faith that permeates every area of our lives.


Our first issue launched in November 2018 and we just released our 11th issue, REST, at the beginning of March. Our mission is to inspire women to pursue joy and discover beauty in their daily lives by grounding their hearts in Christ, leading them to live and love well—for the purpose of glorifying God. We seek to do this by intentionally sharing soul-enriching content through our print magazine, our blog, our devotions, and our Joyful Life communities.


Readers can expect 128 pages of content, all intentionally crafted and curated to bring encouragement, joy, and gospel-centered hope. The magazine is laid out in a minimalistic design that highlights the written word as well as beautiful artwork and photography. Each issue overflows with stories from women just like the reader, who share encouragement from their faith and experience. Each issue has a 'Heart-Strong Christian Women' interview series, featuring women who have built a business or ministry with a firmly rooted foundation in Christ, as well as a'History of the Hymn,' which offers deep insight into the rich meaning of some beloved hymns. Every magazine is also filled to the brim with seasonal DIYs and recipes to bring some practical inspiration to your home!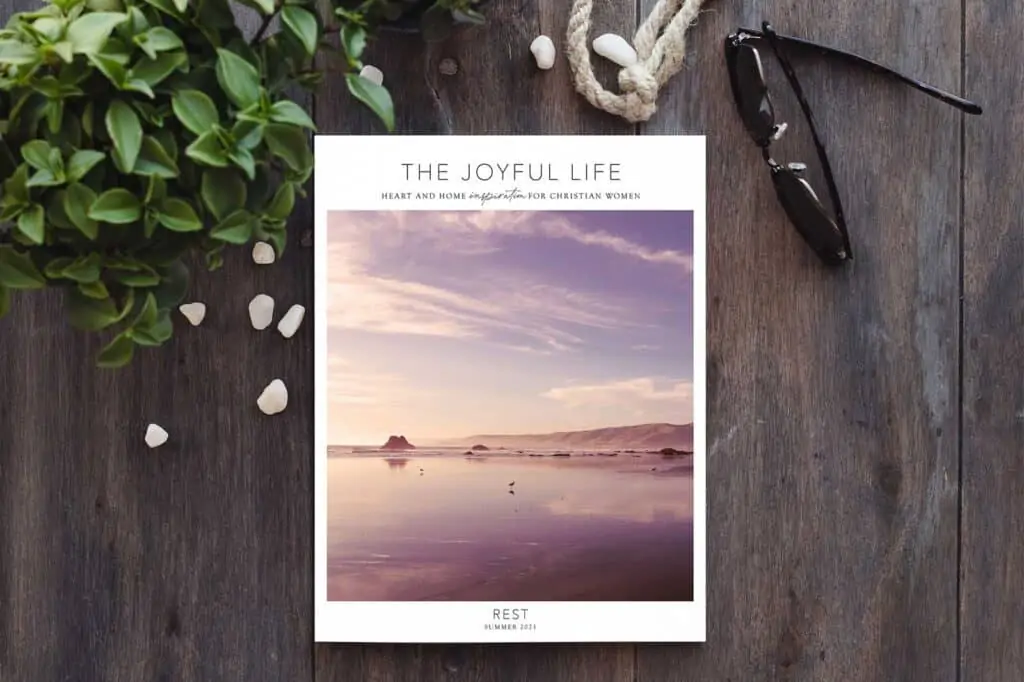 2) With so many print magazines going out of print, what prompted you to create a print magazine?

There's something special about holding a magazine and taking the time out of your day to flip through the pages and read the words inside. The act in itself forces you to stop what you're doing and rest, allowing you to really intake what you're consuming. We hope that each issue provides just that – a breath of fresh air and a moment of rest, both physically and spiritually – to each and every reader.



3) What would you say is the primary mission of the magazine?

Our primary mission is to truly encourage and inspire women. Whether that's through prompting them toward gratitude in their daily lives or encouraging them through a relatable blog post or challenging them through a blog post that reorients their gaze back to Christ, we want to bring joy and life into the hearts and homes of women everywhere.


4) What is your vision for the Joyful Life Magazine?

When I started this magazine 3 years ago, I had a vision of what I hoped it would become and faith-filled dreams for how I believed it would be received by Christian women. I felt there was a great void in the print magazine industry and my sincerest desire was to partner with God and other women to fill that void.
I knew, both personally and through what I was witnessing in the lives of so many women I loved, that our hearts needed to be reminded of who we are in Christ and challenged anew to embrace the joy found only in Him. I pray every day that the Lord would use this publication to awaken women's hearts and draw them back into a closer relationship with Him.


5) I see that you also have a blog. How does the content differ from the blog to the magazine?

We have a team of writers who contribute regularly to our blog, and some of these writers also write for our print magazine. We love to share encouragement and resources on our blog! Each print issue, however, contains articles, resources, DIYs, and recipes that are not included anywhere on our website or blog, so there is always unique and intentional content in the print magazines that you can't find anywhere else!


6) What is one message you would love for your readers to takeaway when reading the magazine?

That there is beauty and joy everywhere, and that by grounding your heart in Christ and living with faith-forward intentionality you can live and love well, for the purpose of glorifying God.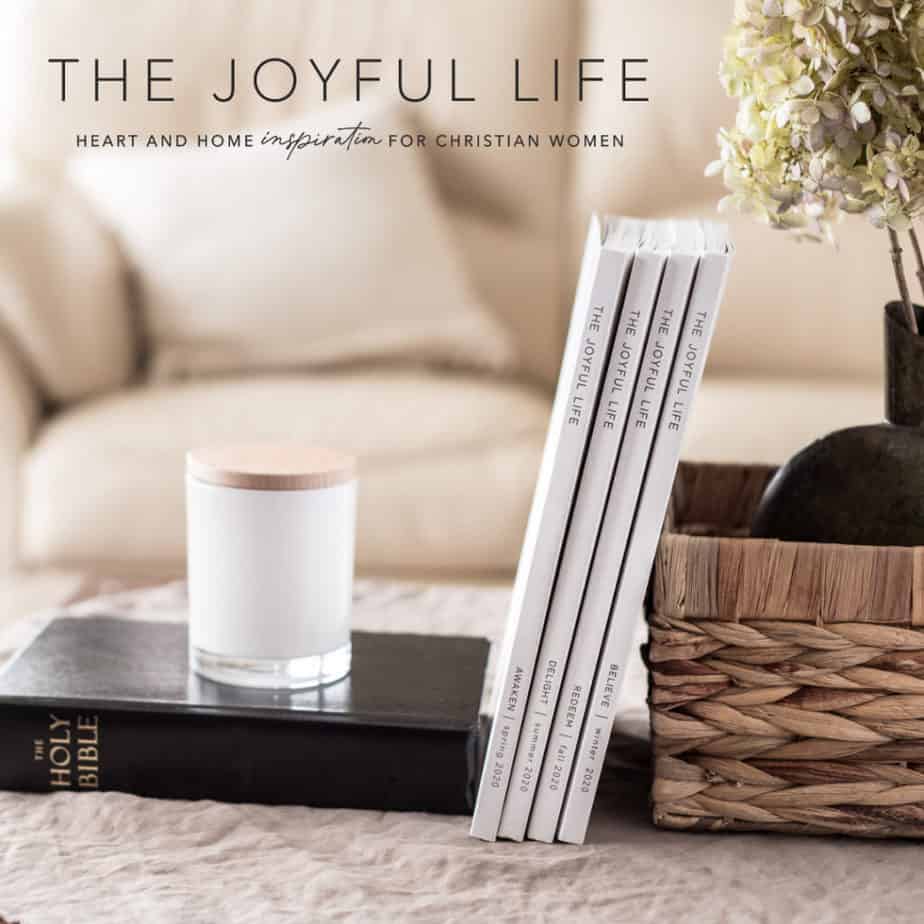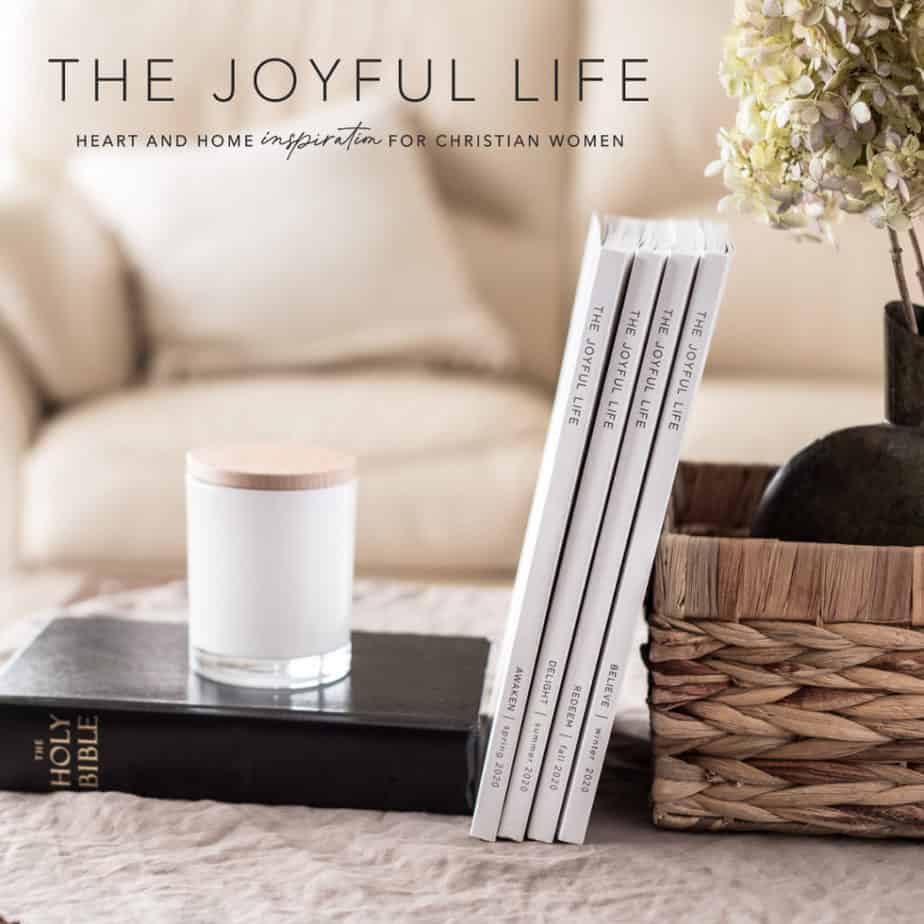 More About The Joyful Life Magazine
The newest issue, Issue 11 Summer 2021 REST is one of the best yet, in my opinion. Let's take a look at this issue:
The summer print publication of The Joyful Life Magazine will invite our souls into genuine rest as we quiet our hearts and homes before the Lord, content in His sovereignty. We'll be challenged to reexamine present circumstances and redefine the rhythms of our days in light of unseen goodness even when what is before us may appear anything but good. We'll be encouraged to trust the Almighty in all things—resting wholeheartedly in His perfect character and loving plan.
Their hope is that The Summer Issue, REST, will meet you right where you are, exhort and encourage you to bring all your burdens to the feet of a loving Savior and entrust your cares fully to Him. They pray your hearts and homes will be rejuvenated as you fix your gaze upon Jesus and joyfully accept His invitation to behold and to become, setting aside any striving to be and do more.
SOME FEATURES INSIDE THE REST ISSUE:
Rest Doesn't Have to Be Productive
Learning to Be Content in the Story God is Writing for You
Popularity Contests and the Social Media Approval Game
Learning How to Fight: Rules of Engagement in Marital Conflict
Decluttering Don'ts
The Art of Restorative Eating
Bringing Order to Our Hearts and Homes
DIY Succulent Planter
From Our Kitchen | 5 Summer Bruschetta Recipes
In Every Issue | Heart-Strong Christian Women Interview Series
Featuring Hannah Weidmann of Everyday Heirloom
In Every Issue | History of the Hymn
*NEW In Every Issue | Creating Family Memories Series
& Much More!
In addition to the Joyful Life Magazine publication, they offer additional, complimentary products that are just as beautiful.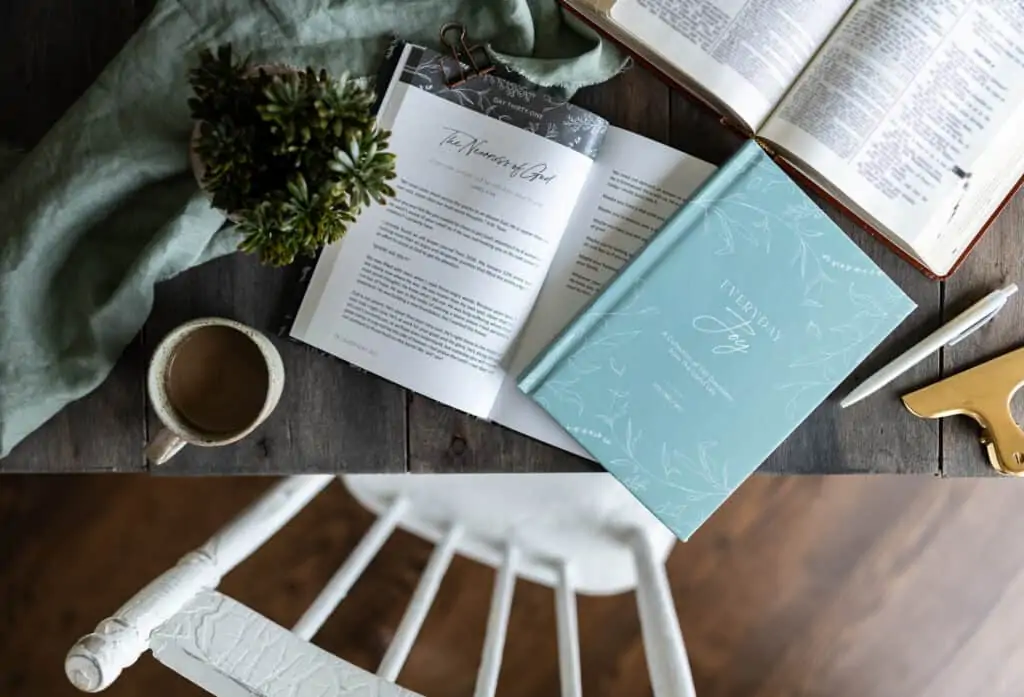 The Joyful Life Devotions:
JOY. Sometimes in the busyness and brokenness of life, it can feel like an elusive dream—something that despite our earnest attempts, seems just out of our reach.
But the true eternal joy our souls crave isn't manufactured, nor does it exist merely when circumstances feel pleasant. Joy is the state of a heart convinced of Truth and captivated by its grace and comes by the work and power of the Holy Spirit. We are invited in. It is waiting to be discovered—to be grown and cultivated even—in the soil of our everyday lives.
Inside these beautiful devotional books you'll find thoughtfully crafted devotions to help you discover and pursue the authentic, lasting joy of Jesus—every day.
Features of the Joyful Life Devotions include:
5.8 x 8.3 Casebound Hardcover and 220 interior pages adorned with beautiful hand-drawn flourishes.
100 of their favorite devotions written by their incredible devotion writer team, with an intentional focus on areas of Marriage, Motherhood, Relationships (friendships, community, church), Identity (purpose, calling, work), and Faith & Spiritual Growth.
Scripture thoughtfully paired with each devotional reflection to ground your heart in Christ.
A practical Call to Action following each devotional, encouraging you to bring to life the truths unpacked.
Topic Tags, Author Index, and Topical Index to easily discover thoughts by category or author.
Perfect personal devotion companion or would be great to go through with a friend or women's group!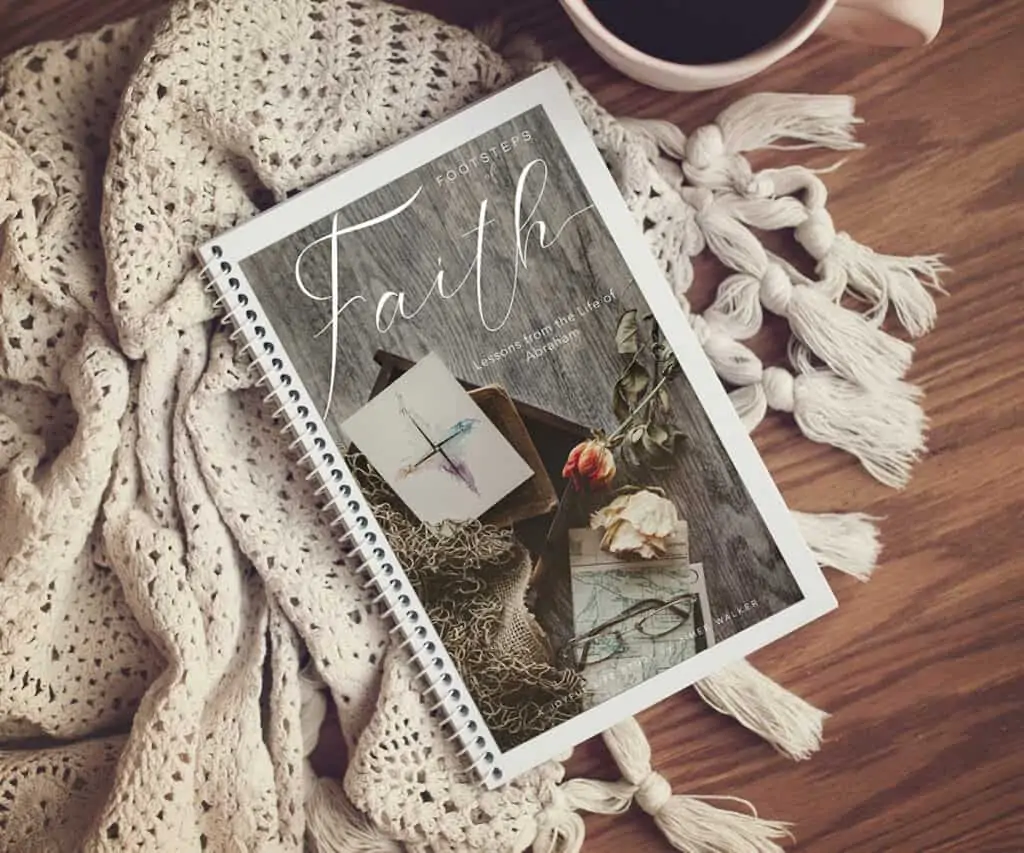 The Joyful Life Bible Study Guides
Two-week thematic studies delivered in your choice of print or digital versions.
These study guides are perfect for personal study as well as within a group setting. Each day guides you through Scripture reading, in-depth teaching on the daily passage, a time of reflection, and then leads you toward personal application of the teaching through response questions.
Bible study guide topics include: Hope, The Good Shepherd and Footsteps of Faith.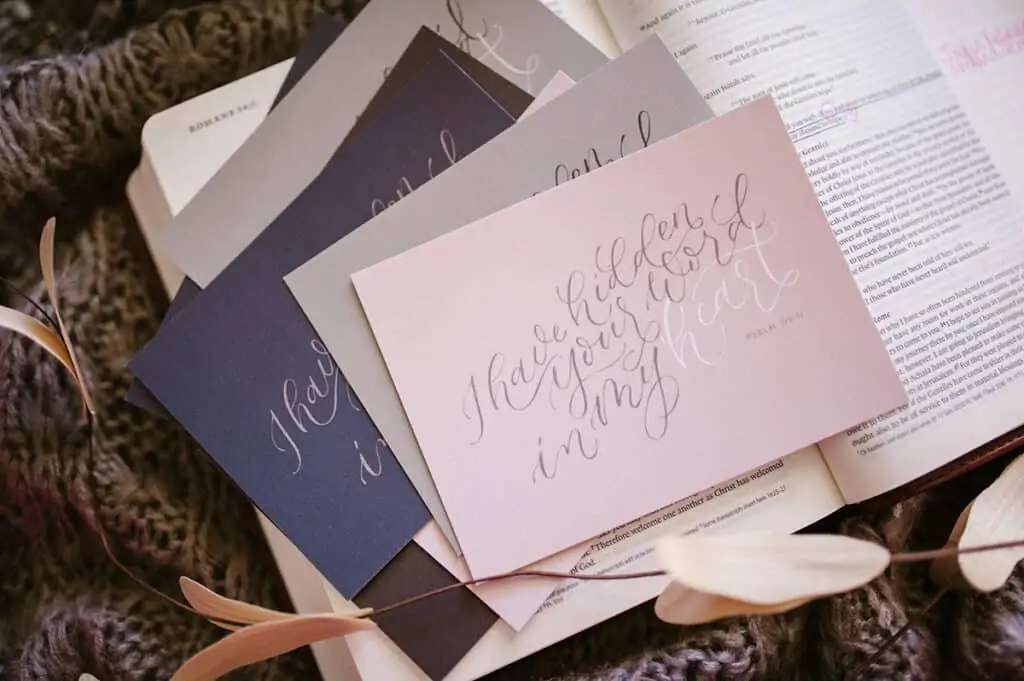 The Joyful Life Scripture Memory Cards


Studies show that we retain 5 times more by writing than by simply reading. God's instruction to believers to hide the Word in our hearts is for the purpose of storing up truth and wisdom to be used for comfort, encouragement, instruction, and for battling temptation. Our beautiful scripture cards will inspire you to make scripture memory a priority.
I like to take the verse from scripture memory cards and write them in my own war binder or prayer journal.
Their 4×5.5 scripture memory card sets are printed on 100% recycled, biodegradable, 130# card stock…the perfect size and weight for tucking inside your Bible.
The cards come in a multi-color set of 20 (5 of each color). Navy, Espresso, Light Olive, and Blush.
The card front reads 'I have hidden your word in my heart'…the back of the cards is lightly lined. These make perfect gifts for someone special or even to use for your own Bible verse memorization.
The Joyful Life Magazine, Products and Fellowship
I believe that The Joyful Life Magazine and accompanying products are a perfect vehicle for fellowship.
Grab some girlfriends to subscribe to the magazine then meet monthly to try new recipes, discuss articles and share prayer requests.
The Bible studies are also perfect for a group setting, as well. You can incorporate the Bible verse memory cards and, as a group, memorize them and practice together.
God created us for fellowship with one another. The Joyful Life Magazine and products are wonderful for doing this in His name.
Where you can learn more about The Joyful Life Magazine and where to find them online:
The Joyful Life Magazine Website:
https://joyfullifemagazine.com/