The Rank Game: New Family-Friendly Game That's Easy and FUN to Play!
This page/post may contain affiliate links.  As an Amazon Associate, as well as an affiliate of other programs, this means if you purchase something using these links, I will receive a commission on qualifying purchases at no cost to you! For more detailed information, please visit our Affiliate Disclaimer page
If you are looking for a fun game or activity to enjoy with your family or small group, you will want to check out The Rank Game! Recently, my husband, Mike and I, played the game. We were blessed to recieve it to review from the creators, Storytastic.
Read below for our experience playing it and how to win the game for you or a friend PLUS a 20% discount when you purchase it!
About the Rank Game
You've probably seen statistics or news stories about how technology, screen time, advertising and social media are eroding our ability to simply be together face to face. You've probably even experienced this first hand in your own life. Even when we want to quit tech and spend more having real experiences in authentic relationships, it's kind of hard to do. It's awkward. The truth is, all of us need at least a little bit of help to succeed at this. That's why we made THE RANK GAME.
THE RANK GAME is easy to play at home, on long car trips, on the beach, at a restaurant or bar…ANYWHERE! The game quickly gets us off our phones and TALKING with one another in eye-to-eye, real world gameplay. So, we get to know each other better.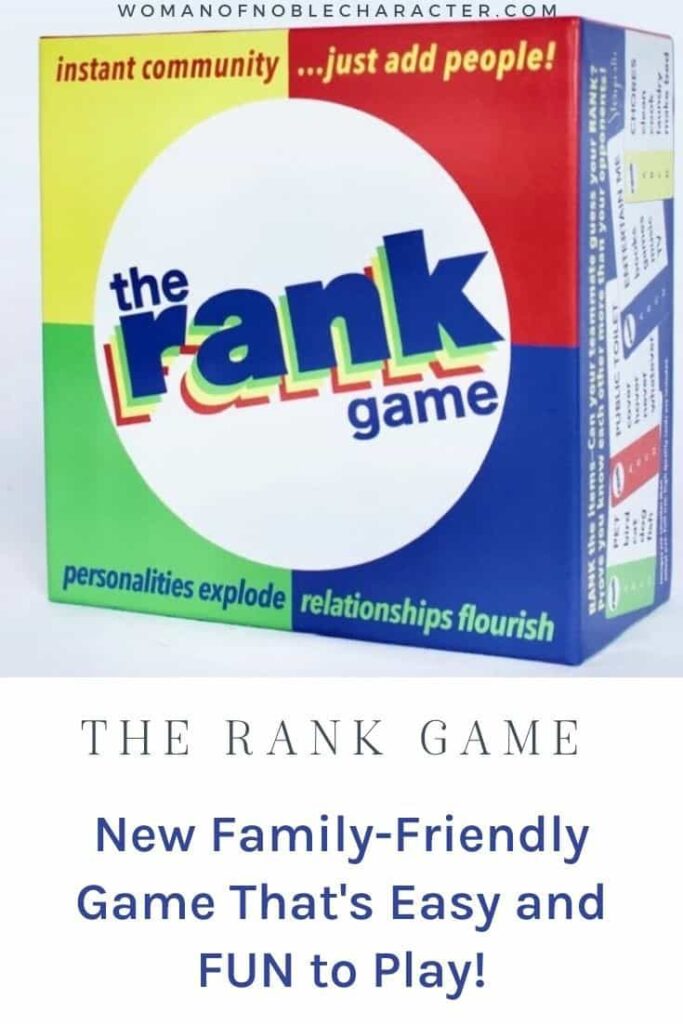 THE RANK GAME is a really fun way to learn more about the people we feel we know already (friends and family) and also is outstanding as a way to make for great conversation and "break the ice" at social gatherings and even work. Oh, and also, it's competitive, fun and really funny!
The game is so much fun so it isn't a surprise that it earned "Favorite Pick" from the 2020 New York Toy Fair and an endorsement from Focus on the Family President Jim Daly!
There's almost no set up time and you can play an entire round in just 10 minutes or so with 2 people. Of course, with three or more people, it's not only more fun, but takes a bit more time.
You can play The Rank Game nearly anywhere – long car rides, camping trips (we took ours camping this past weekend to play again!), hotel rooms, small groups, etc.
The Rank Game comes with:
a game card holder
2 scoring pads
3 category packs (Everyday Life, Adulting and Leisure Time)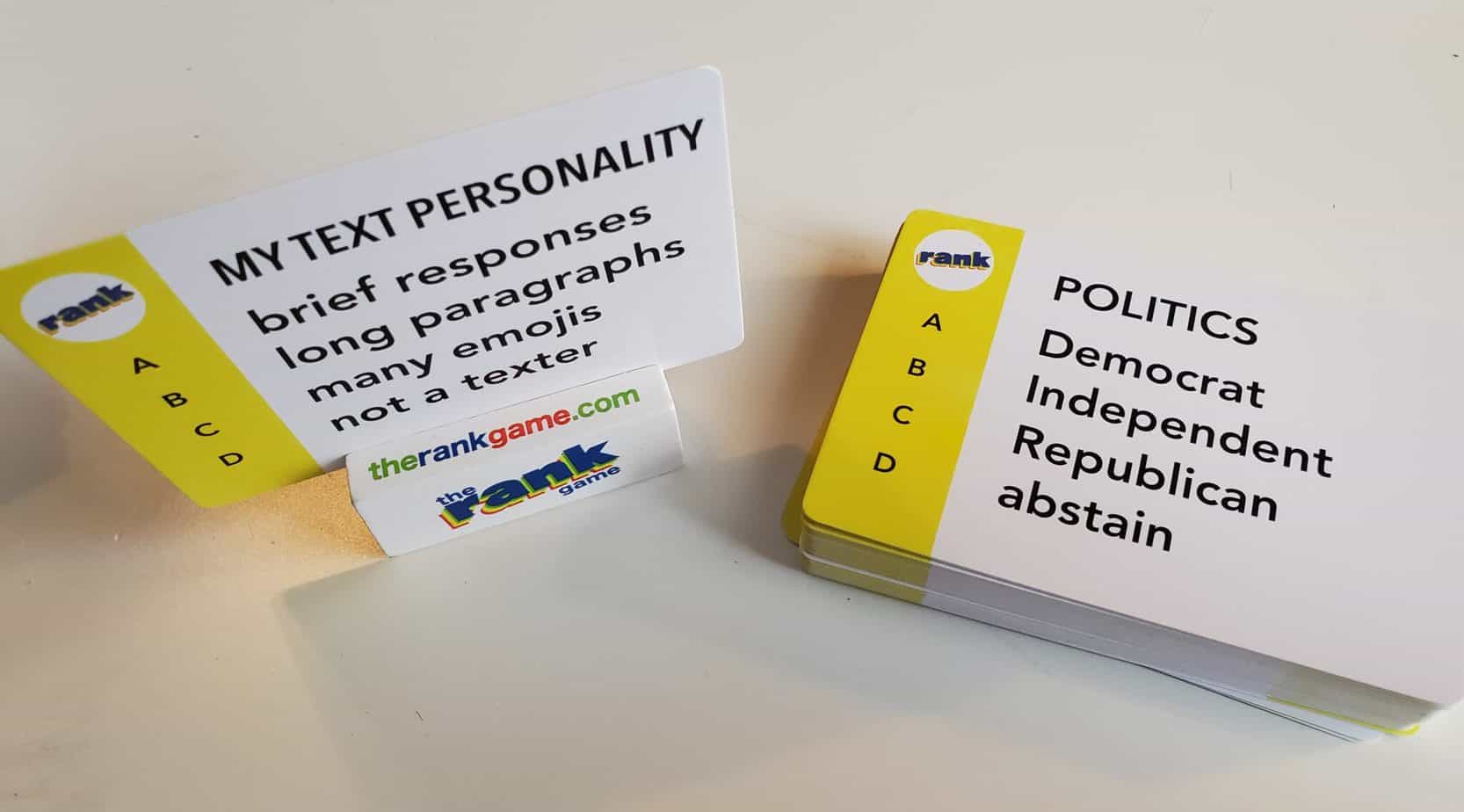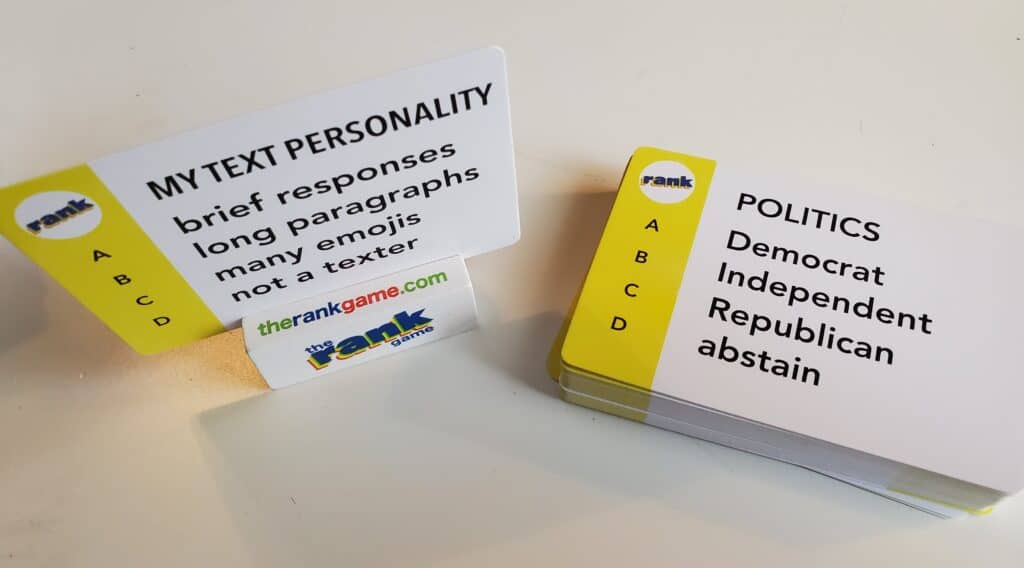 It's so easy to play, too – no complicated instructions, just good, clean fun!
Here's how to play:
For two people: Draw a card. Everyone shares thir rank. No scoring – everyone wins. Although, my husband and I did try to guess each other's ranks. It was fun to see what he ranked! I was spot on for some and learned more about him on others. After 5 years of marriage, we are still getting to know each other!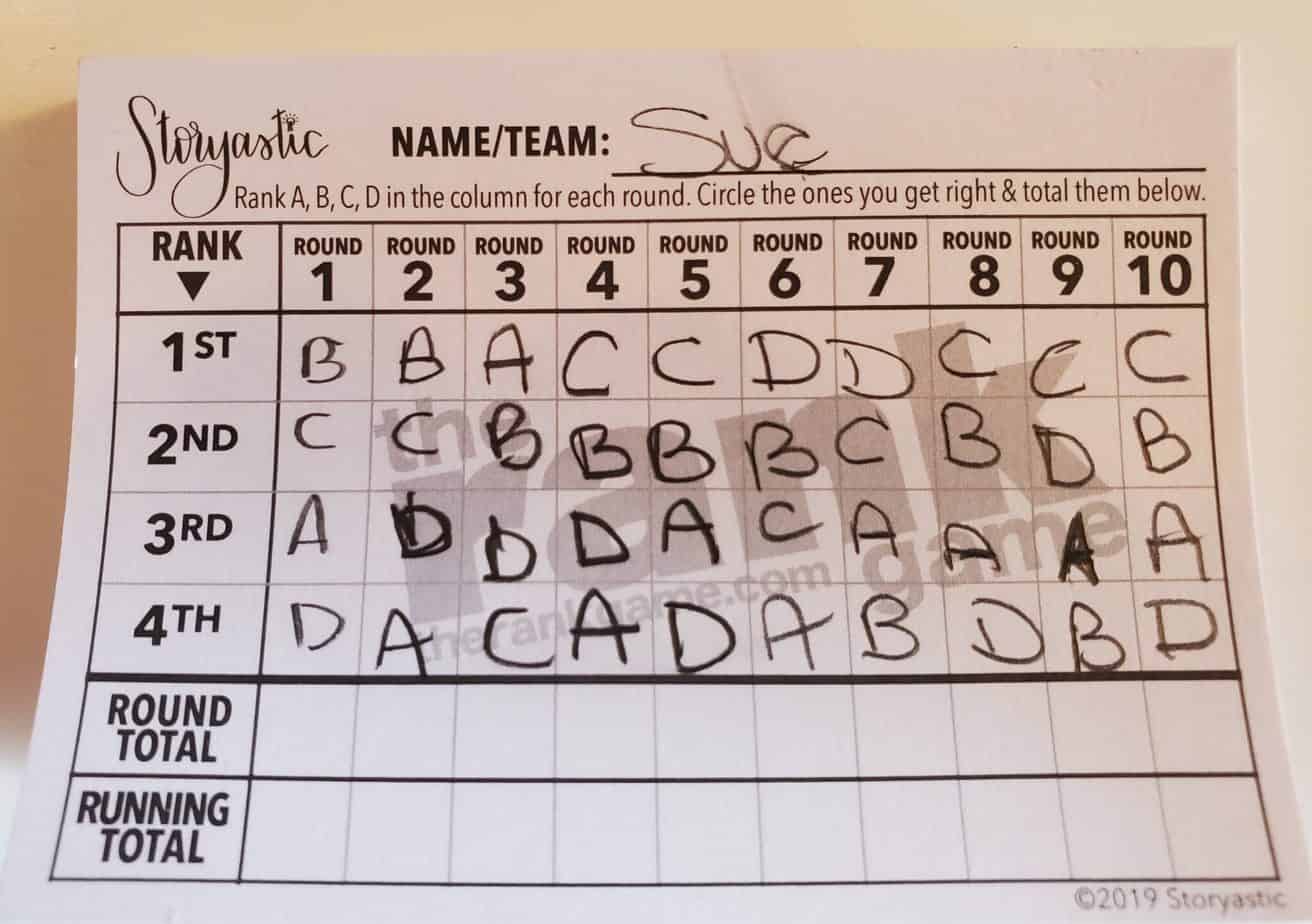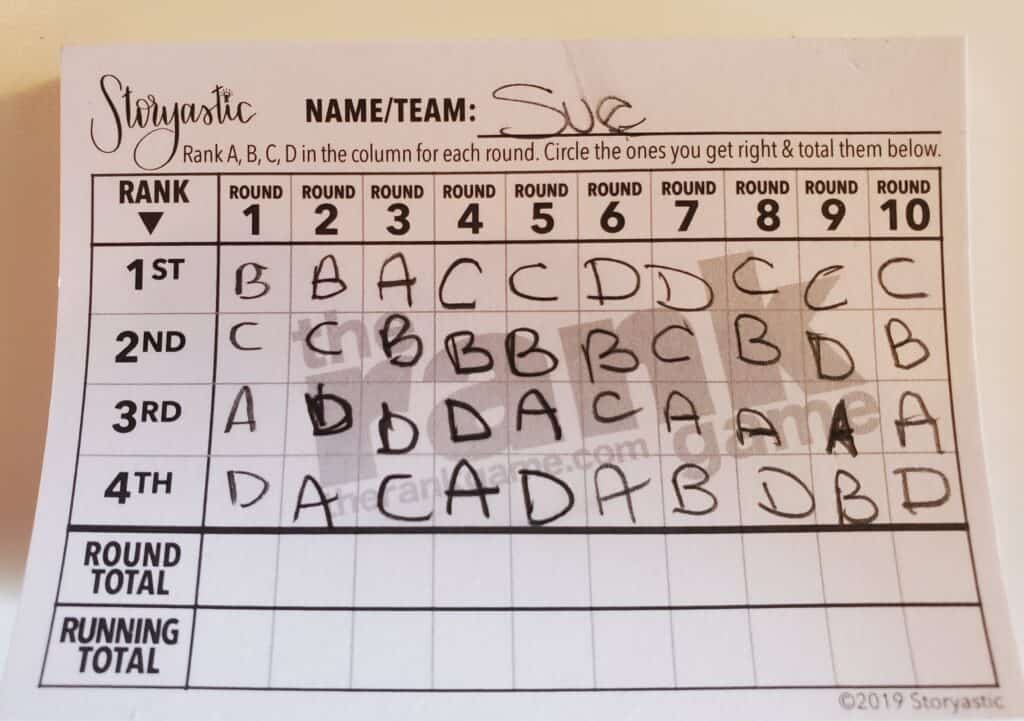 You can also play with three or more people and have multiple, simple ways to play, for example, taking turns as the Ranker or pairing up into teams. It's like playing a new game everytime you play.
We just loved this game and will be buying it for each of our adult kids.
And one of the coolest things about the game – you'll never run out of cards to play!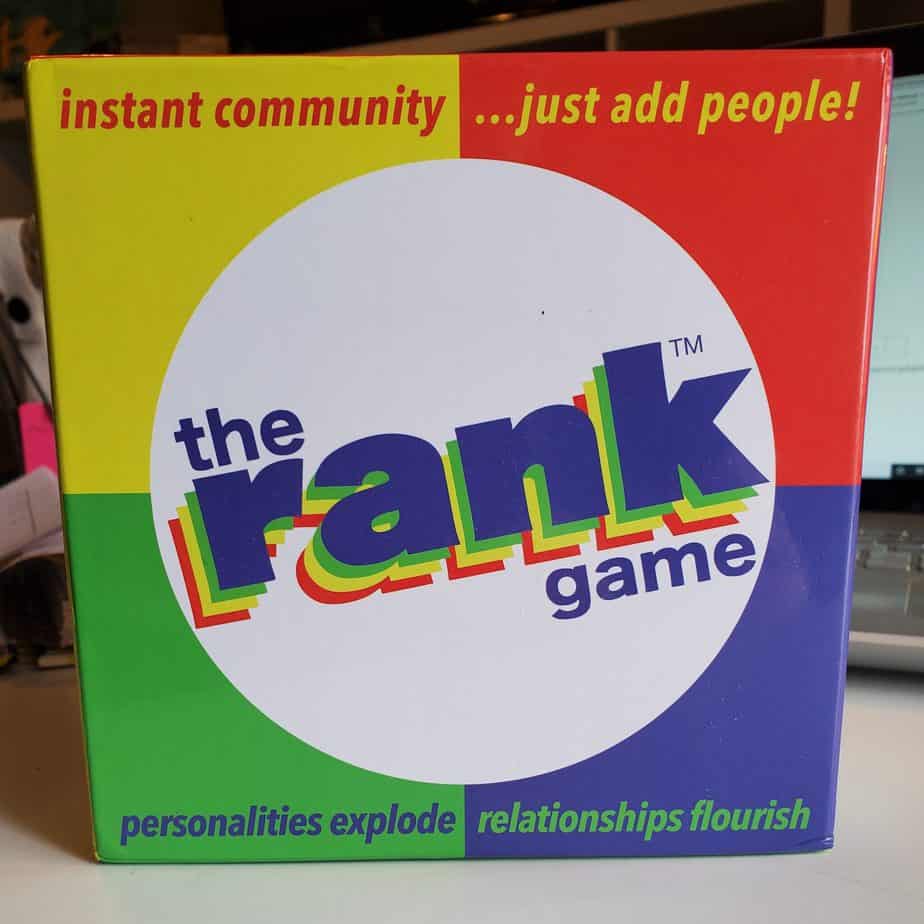 Expansion packs are available in so many categories including:
Risky Business
Sports & Outdoors
MORE Adulting
MORE Everyday Life
MORE Leisure Time
Culture Vulture
Faith Pack
Girl's Night
Relationship Goals
Guys Night
or Make Your Own!
You can even score a free downloadable pack for Thanksgiving or Politics!
Want your chance at winning The Rank Game? Comment below with what you like most about what you've read about the Rank Game and who you are most excited to play it with!
Want to grab the The Rank Game for you or a gift? You can order it HERE and grab a 20% discount using the coupon code: WONC WOOHOO! Who doesn't love a discount?
I can't wait to hear your thought on this fun, family-friendly, new game.
Be sure to follow The Rank Game on Instagram and Facebook to stay up-to-date on news and new expansion packs!
For more great Christian board games, see this post!

Because He Lives,
Sue