Kneel before the Throne: Exploring Ephesians with Verse Mapping and Bible Study
My soul, my heart, longs for Jesus. I want to know Him.
I want to bathe in His Word and feel His love through the pages of the Holy Bible.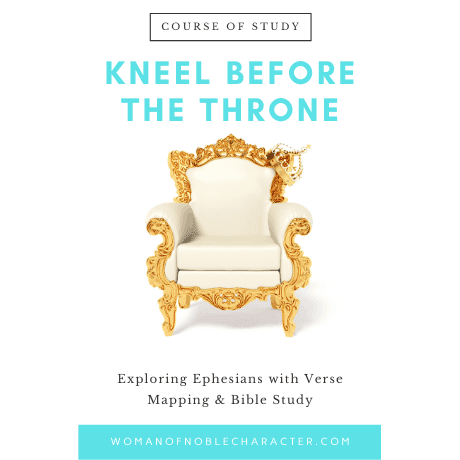 The best way to know Him is through the Word of God.
Many Christians struggle to read the Bible. Either they don't or can't make time or they don't understand what they read or the context for it.
I find that sad because there is so much richness and goodness in the Bible. There's so much nourishment for your mind, body and spirit..
If you attend church on Sunday you'll get some takeaways – some small snippets. Sometimes a message will connect deeply with you. Other times, it may miss the mark.
If you're like many other Christians, you have no idea what to do with the Bible other than to look up key verses that are meaningful to you.
Why Immerse Yourself in Scripture?
Immersing yourself in Scripture is different from reading fragments in a devotional.
Devotionals are wonderful. They give inspiration and offer enthusiasm about certain verses.
Immersing yourself, however, means wrapping yourself up in the chapter or verse and experiencing it in such a way that it becomes a part of you. And, because it becomes a part of you, it changes you.
I read Bible studies and spend time in The Word, but I yearn to dig deeper. To truly immerse myself in His Word.
Be diligent in these matters; give yourself wholly to them, so that everyone may see your progress.. – 1 Timothy 4:15
Ephesians Bible Study
When my kids were young and we homeschooled, I studied learning modalities to help them understand what we were studying. We all learn differently. My one son could absorb information just by reading. My other son needed something more tactile to allow the material to sink in.
Digging into the Bible is much the same way for adults. When you combine ways to learn and study, you get more from what you are learning. I kept those principles in mind when I created Kneel Before the Throne.
In this six-week course, we will excavate Ephesians. We will dig in deep and study this book with the appetite of a voracious learner.
While there are PDFs and worksheets to help us on our journey, we will be using mainly the Holy Bible to do all of our studies for this course. There's no better way to read and understand scripture than by actually reading the Bible.
Kneel before the Throne: Exploring Ephesians with Verse Mapping and Bible Study
We'll wrap ourselves in the three main themes of Ephesians: (1) Christ has reconciled all creation to himself and to God; (2) Christ has united people from all nations to himself and to one another in his church; and (3) Christians must live as new people.
Each week, we'll cover a chapter and examine it, thoroughly.
We'll explore the major themes, places and figures through:
Bible Reading Focus

Weekly devotion/short Bible study

Printable Verse Cards

Worksheets and other printables

Character studies

Maps

Verse mapping

Questions to dig deeper/Practical Application

Inductive studies

Fill-in-the-blank scripture to help us remember what we read

Music playlist

A fun activity, puzzle or coloring sheet based on the chapter that week

and much more
While you will receive all of the above material each week, you can pick and choose what you do or do some now and save some for later in future study.
The material will be split into Foundations, Exploration and Excavation – start with the most important and add layers or activities to submerse yourself into the chapter and setting based on the time you have.
In Foundations, we begin with prayer and reading the chapter for the week. We'll focus on three key verses for the week and have a short devotional based on the week's chapter or theme.
In Exploration, we'll dig a bit deeper as we work our way through questions designed to help us understand this week's reading and apply it to our lives. We'll also work to memorize several verses including in the week's chapter.
Kneel before the Throne: Exploring Ephesians with Verse Mapping and Bible Study
In Excavation, we will deeply examine the text by verse mapping several verses in the week's chapter and highlight and mark key terms, people and places in the text. Some week's Excavation will also include a deeper character study on the important figures we "met" that week.
Bonus materials are included each week and will vary but may include playlists featuring songs about the theme(s) of the week, puzzles and other printables.
This course is more than verse mapping and Bible study. It is a map to guide you through His Word and connect the Word of God to your life today.
Won't you join me today as we immerse ourselves in the book of Ephesians with verse mapping and Bible study and nourish our hearts and souls with the Word of God?
Kneel before the Throne: Exploring Ephesians with Verse Mapping and Bible Study
Important note: As this is a digital course, no refunds will be issued after 24 hours of purchase.
Looking for more courses from Woman of Noble Character? Visit this page of my website.