This page/post may contain affiliate links. As an Amazon Associate, as well as an affiliate of other programs, this means if you purchase something using these links, I will receive a commission on qualifying purchases at no cost to you! For more detailed information, please visit our Affiliate Disclaimer page
Chances are, if you enjoy Bible journaling (or are interested in giving Bible journaling a try), you are going to need adhesive. Adhesives for Bible journaling have so many uses depending on your style and what technique you are using.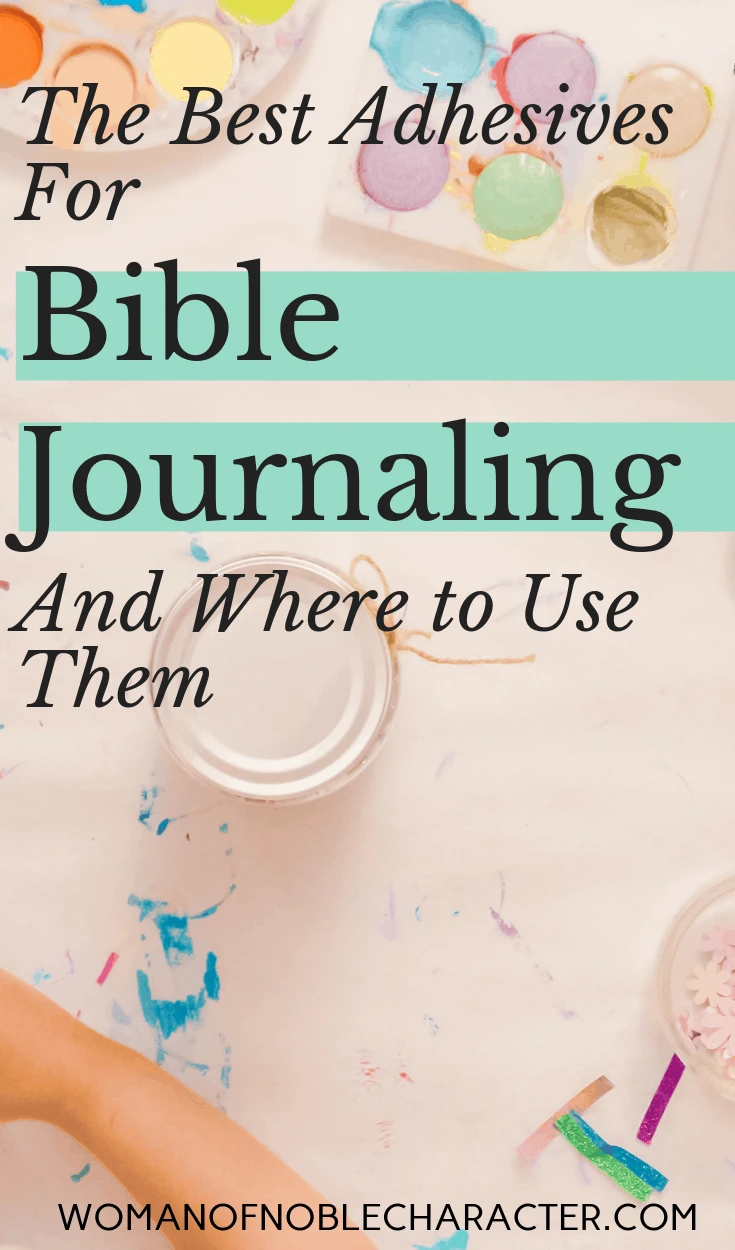 You can use adhesives in Bible journaling:
to glue down tags or die cuts
add additional pages or tipins
help washi tape stick for the longhaul
But what kind of adhesive do you need?
We're going to take a look at several types of adhesives for Bible journaling that I use and recommend. I'll share which work best and when you should use them.
To make your life easier when looking for these adhesives for Bible journaling, the links within the text will take you to my favorite Bible journaling shopping resource, Scrapbooks.com. The image of the glue will take you to the Amazon listing.
Adhesives for Bible Journaling
Liquid Glue
Liquid glue was is the matriarch of the glue family. Remember in grade school using those brand new bottles of Elmer's for craft projects? I loved to smear them on my hand let dry and peel off, but I digress!
Liquid glue has come a long way and is a must-have to have on hand for Bible journaling.
When choosing a liquid glue for your journaling Bible, make sure that it is acid free. Glues that contain acid will cause your pages to decompose down the road and we don't want that.
I prefer liquid glue that has both a tip applicator and broader applicator to make gluing items down much easier. Use the fine tip side for small embellishments. Use the broad tip for tags, die cuts and larger items.
You can also use liquid glue for adhering tipins in place adding flowers or other embellishments to your Bible journaling page and more. Be sure to use sparingly or your paper will buckle or tear.
You can even use liquid glue to layout your page before committing to it by using it like a post it note adhesive. Simply apply the glue, let dry adn then attach to your page. This will allow you to reposition the item and move it around to see where you think it looks best.
My all-time favorite liquid glue for Bible journaling is Tombow Mono Multi Liquid Glue. I've been using it for years for Bible journaling, in my War Binder, scrapbooking, card making and mixed media art.
Honorable mentions for liquid glue for Bible journaling are:
Zip Dry Paper Glue (has medium sized tip but not fine tip or broad, but will stick extremely well and is my second choice)
Tacky Glue (this one has a finer tip, but no broad tip, it dries clear and can be used on most surfaces)
Glue Sticks
Glue sticks are not just for kids! I use a glue stick as my go-to adhesive for Bible journaling. There's no mess. It's easy to use and doesn't take up a lot of room if you are Bible journaling on the go or on vacation.
Use them on tags, die cuts and other paper elements. I don't recommend using them on small embellishments (such as buttons, flowers, beads, etc.) or tipins, but most other paper uses, glue sticks work amazingly well.
My top choice for glue sticks for Bible journaling is the Ranger Ink Dylusions Creative Dyary Mini Glue Stick. Don't let the word "mini" fool you. These are full-sized glue sticks and come in a pack of three for a very low price. The glue holds strong and dries clear. Plus, they are a slight triangle shape which makes them easier to hold and they won't roll off of your work surface. I highly recommend these!
Runners up to the Dyary Glue Sticks are:
Pioneer Embellishment Glue Stick
UHU Color Glue Stick (purple color allows you to see where you have applied it, then it dries clear)
Tape Runners
Although I use tape runners more in other craft practices (art journaling, card making, etc.), there are times when a tape runner is the way to go. I use tape runners for adhering paper to paper but not paper to Bible pages as the pages will tear if you need to adjust to reposition. Also, tape runners are a sturdy adhesive and are usually more power than you need. But, still, your arsenal for Bible journaling adhesives should include a tape runner.
If, however, you find yourself needing a tape runner my all-time favorites are the Scotch ATG (this is the crown jewel of tape runners!) as it is easy to use, holds the bond tight and lasts incredibly long (the adhesive rolls are larger than the average tape runner, as is the tape runner, itself).
For a normal-sized tape runner, I like the Therm O Web – Memory Tape Runner XL.
Glue Dots and Strips
I love to add embellishments to all of my paper craft project and Bible journaling is no different. My favorite in the category of glue dots in adhesives for Bible journaling is hands-down Therm O Web Zots. They come in tiny, small, medium, and large dots as well as strips and thick ones for pop-ups which "pop" your element off the page for a 3D look. They are clear and stay clear and have a strong bond. This glue will stay strong!
My second favorite is the original Glue Dots brand. Very similar, I prefer Zots, though, because they are a bit easier to come off of the backing tape.
Gesso
Yes, you can use gesso or even decoupage for adhering paper elements in your journaling Bible!
If you decide to use gesso for gluing, you'll certainly want to use clear gesso for this.
Simply "paint" a bit of gesso or decoupage on the item you wish to glue and a bit on your page and press the element down. Use your finger, an gift card or popsicle stick to smooth out any bubbles or wrinkles and voila'! Done. Be sure to let it dry completely before closing your Bible.
Other Types of Adhesives
While there are a few other types of adhesives, including glue guns, I do not recommend using a glue gun for your Bible journaling as the glue dries bulky and the heat can damage your work.
Which are your favorite Bible journaling adhesives? Did I miss your favorite? Tell me in the comments below.
Because of Him,
Sue