This page/post may contain affiliate links. As an Amazon Associate, as well as an affiliate of other programs, this means if you purchase something using these links, I will receive a commission on qualifying purchases at no cost to you! For more detailed information, please visit our Affiliate Disclaimer page
Christians, rejoice! The Spiral Bible™ is now available! Let the Word of God accompany you everywhere through this easy-to-carry spiral-bound notebook. The 8.5 x 11 pages with double-wide margins and large font make for comfortable reading, studying, and note-taking, plus you can even add your own personal touch by coloring or drawing in the margins! And, you never have to worry about the spiral binding breaking, because they guarantee it—or your money back. Let the Spiral Bible™ empower your faith journey today!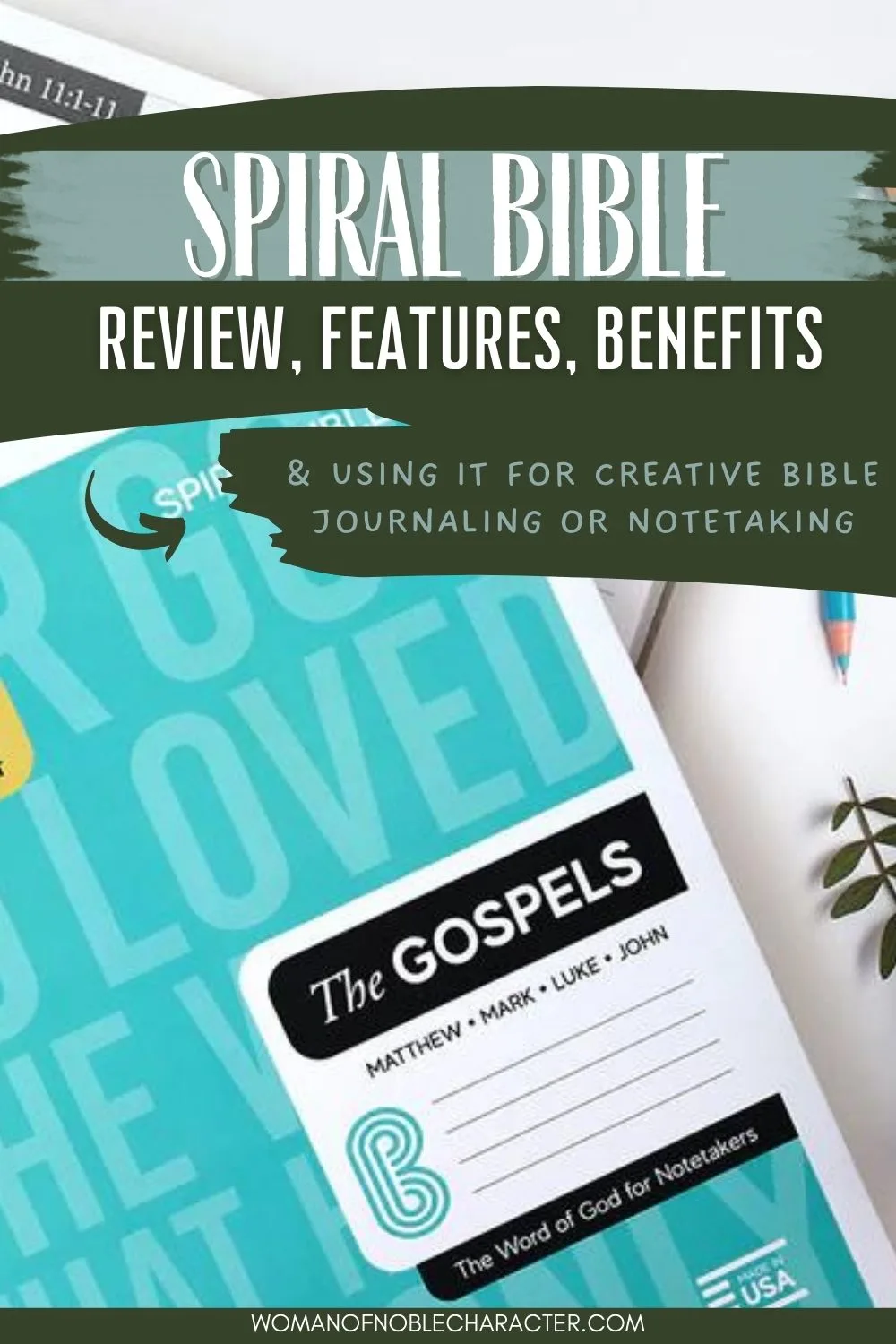 Available in KJV and American Standard Versions, plus a Kids version, you can choose from the New Testament, History, Genesis through Deuteronomy, Joshua to Esther, Job to Song of Solomon, Isaiah to Malachi and there is even a Men's version!
I was offered the opportunity to review this unique Bible. I chose KJV New Testament. Here are some photos of my new Spiral Bible. (see further down for a quick Bible journaling page that I created using this amazing, flat-laying Bible with room or hand or creative Bible journaling!
Benefits of the Spiral Bible
As you become familiar with your Spiral Bible, here are a few benefits of the Spiral Bible to keep in mind:
Explore and discover Scripture in a whole new way with the Spiral Bible! The perfect combination of a notebook and Bible, the Spiral Bible offers an engaging way to study and immerse yourself in God's Word. From lay-flat pages and spiral binding to underlining, writing, highlighting, doodling, drawing, and journaling, the Spiral Bible gives you the opportunity to connect with the scriptures and retain more of what you read. Concentrate and focus as you read, and take notes to gain a deeper understanding and organize your thoughts. As you engage with the Bible, it will keep engaging you back, giving you a stronger understanding of Scripture and its impact on your life.
How the Spiral Bible Was Born
Starting with a hint of the divine, It All Began with the Four Gospels. Looking to make an impactful difference, the creators had a bold idea: a Bible unlike any other. Using Matthew, Mark, Luke, and John, they crafted the first-ever Spiral Bible™ – a unique notebook-style Bible that offered Christian women a refreshingly new way to delve into the Word.
The Spiral Bible was designed with Christian women in mind! As you use a pen and marker to read and study the Bible, your concentration and focus will improve, and you'll be able to more easily organize your thoughts as you delve into the Word of God. With the Spiral Bible, you can make a spiritual transformation while rediscovering the power of Scripture.
The form you have selected does not exist.
Highlights of the Spiral Bible
Explore God's Word like never before with this flexible spiral-bound Bible! Its easy-to-open design is perfect for Christian women who want to read, study, and understand God's Word conveniently. With its flat-lying layout and comprehensive markers, this Bible is the ideal tool for gaining unique and meaningful insights.
Spiral binding provides a host of benefits for Christian women, from convenience to comfort. Unlike glued bindings, spiral-bound books have no spine tension, nor a "gutter," allowing them to open flat and fold completely back on themselves. So whether you're studying the Bible at your desk or curling up on the couch to immerse yourself in a devotional, the freedom of a spiral binding allows you to do it all with ease.
Does your busy life leave you struggling to remember all the important details? We can all use a little help, and one time-tested solution is note-taking. As Christian women, it's important to reflect on what we've read, heard, and experienced, and notebooks can be a powerful tool for doing just that. Studies have shown that note-taking helps you recall what you've learned and better understand the material. In other words, notebooks are an excellent way to stay informed and nurture your faith journey.
Kid's Spiral Bible
Bring the stories of the Bible to life for your children with these durable notebooks! Featuring a simple translation that is easily understood by your little ones, these notebooks are the perfect way to encourage creativity as they read, write, color, and draw. An engaging way to guide your children as they explore stories of faith, these notebooks create an environment where their imaginations can take flight.
Grow your children's faith with the Bible in Basic English (BBE) version of Genesis! This notebook encourages kids to engage their minds and hearts as they read, write, draw, and color their way through this foundational book of the Bible. By reading, writing, and reflecting on the stories of Genesis, children will gain an understanding of God's word that will last a lifetime.
Help your children explore their creativity and delve deeper into God's Word with fun and inspiring activities. From vibrant illustrations to large fonts, your kids will be excited to read, write and reflect on the Bible. With engaging activities, they can explore their faith in a stimulating and creative way.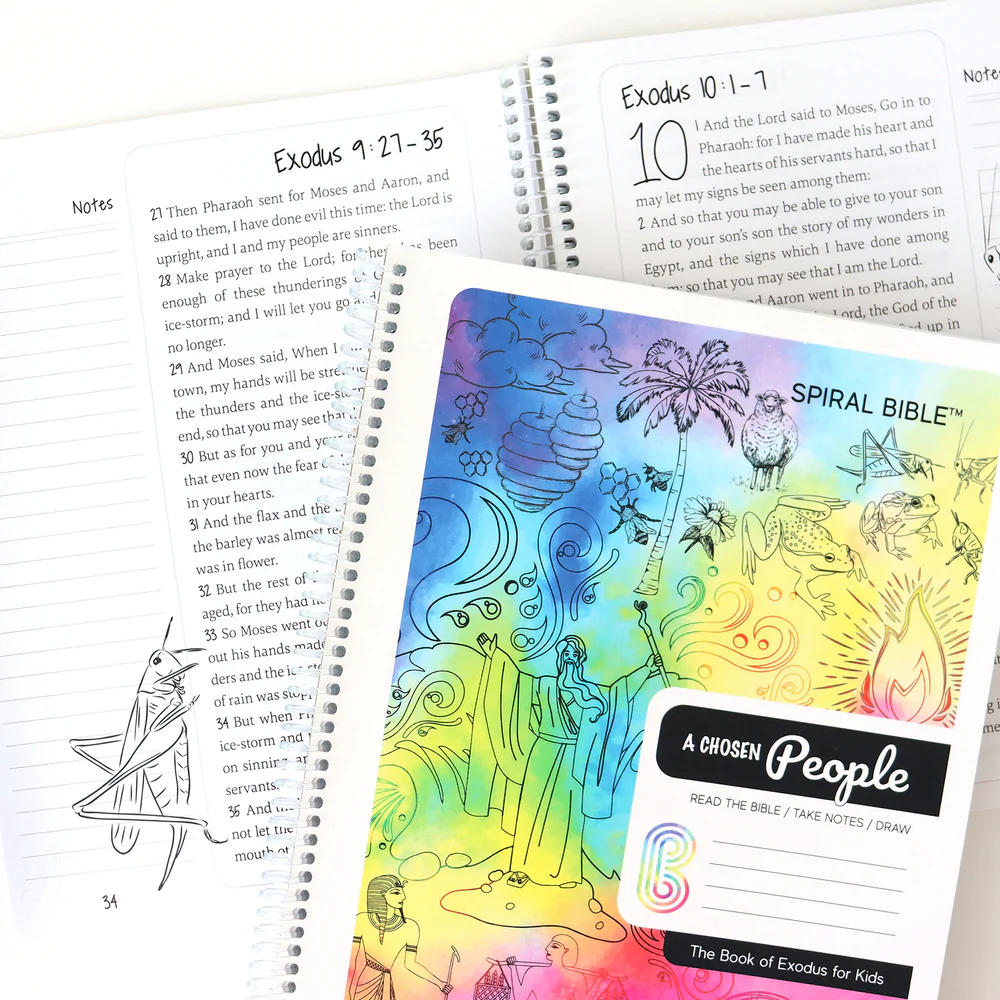 Shipping
Christian women, get your Bible-inspired gear with free shipping on all US orders! They don't ship outside of the US, but they'll process and ship your order within 2-3 business days. Your package will be delivered via USPS unless you specify a different delivery company. Have questions? Email them at [email protected] – they'd love to help you out.
Money-Back Guarantee
With Christ at the center of all they do, Spiral Bible offers a 30-day no-questions-asked money-back guarantee. Simply return your purchase within 30 days of receipt, and they'll process your full refund in 7-10 business days. Please note that they can only process refunds to the same payment method used to place your order, and any original shipping fees are non-refundable. If you purchased Spiral Bible products from another retailer, please contact them directly for return information. Bulk orders are not eligible for return/refund. To learn more, please email us at [email protected].
Need Prayer?
Are you in need of prayer today? Join their Christian Women's Facebook Prayer Group for round-the-clock support! Simply text 'PRAYER' to 833-579-1833 to be added to their community of believers for heartfelt intercession. No journey of faith is ever taken alone – come be part of a powerful source of encouragement!
My Spiral Bible Quick Bible Journaling Page
Using just the contents of a Creative Retreat Kit (minus the stamps!) I created this quick Bible journaling page.
I love the Creative Retreat Kits as they include stickers, alphabet stickers, a devotional, washi tape, and a set of stamps each month – all with a different Bible focus. Great value, and they make it so easy to create a Bible journaling page. A perfect combo with the Spiral Bible!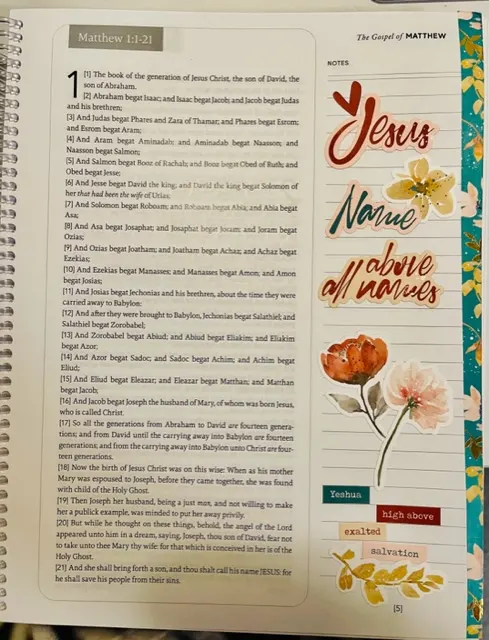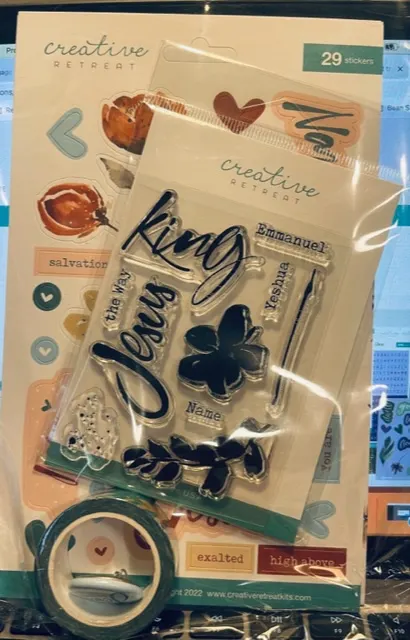 The form you have selected does not exist.
To wrap up, the Spiral Bible is an innovative and much-need format for the bible that keeps scripture and study notes organized in one convenient place. This unique layout makes it a great resource for churches and families looking for the perfect bible to meet their needs. It also caters to readers of all levels, from those just starting out in their faith to experienced theologians. Now, with the ease of the Spiral Bible, you can find the substance of scripture and the peace of knowing you can save the study you have done along the way. As the Bible puts it, "Your word is a lamp for my feet, a light on my path" (Psalm 119:105). The Spiral Bible can help you light up your journey of faith and keep you on track every step of the way.