This page/post may contain affiliate links. As an Amazon Associate, as well as an affiliate of other programs, this means if you purchase something using these links, I will receive a commission on qualifying purchases at no cost to you! For more detailed information, please visit our Affiliate Disclaimer page
Bibles for new believers? Aren't all Bibles the same?
Accepting Christ into your life is the best decision that you will ever make- this time of transition exciting but confusing – if we're being completely honest… even lifelong Christians haven't figured everything out yet! To help with understanding their new lives, reading/studying scripture, specifically, one of the Bibles for new believers, is the most helpful thing you can do to learn more about God and His promises.
If you've ever shopped around or looked online at Bibles for new Christians before, there are so many options that it can get overwhelming. There are so many more options than you'd ever guess. Dozens of translations, viewpoints, demographics and additional features make picking the right one of the Bibles for believers much harder.
Consider, first, what you are looking for in a Bible. Ask friends what translations they use and what recommendations they have for Bibles for new believers. What features do they enjoy?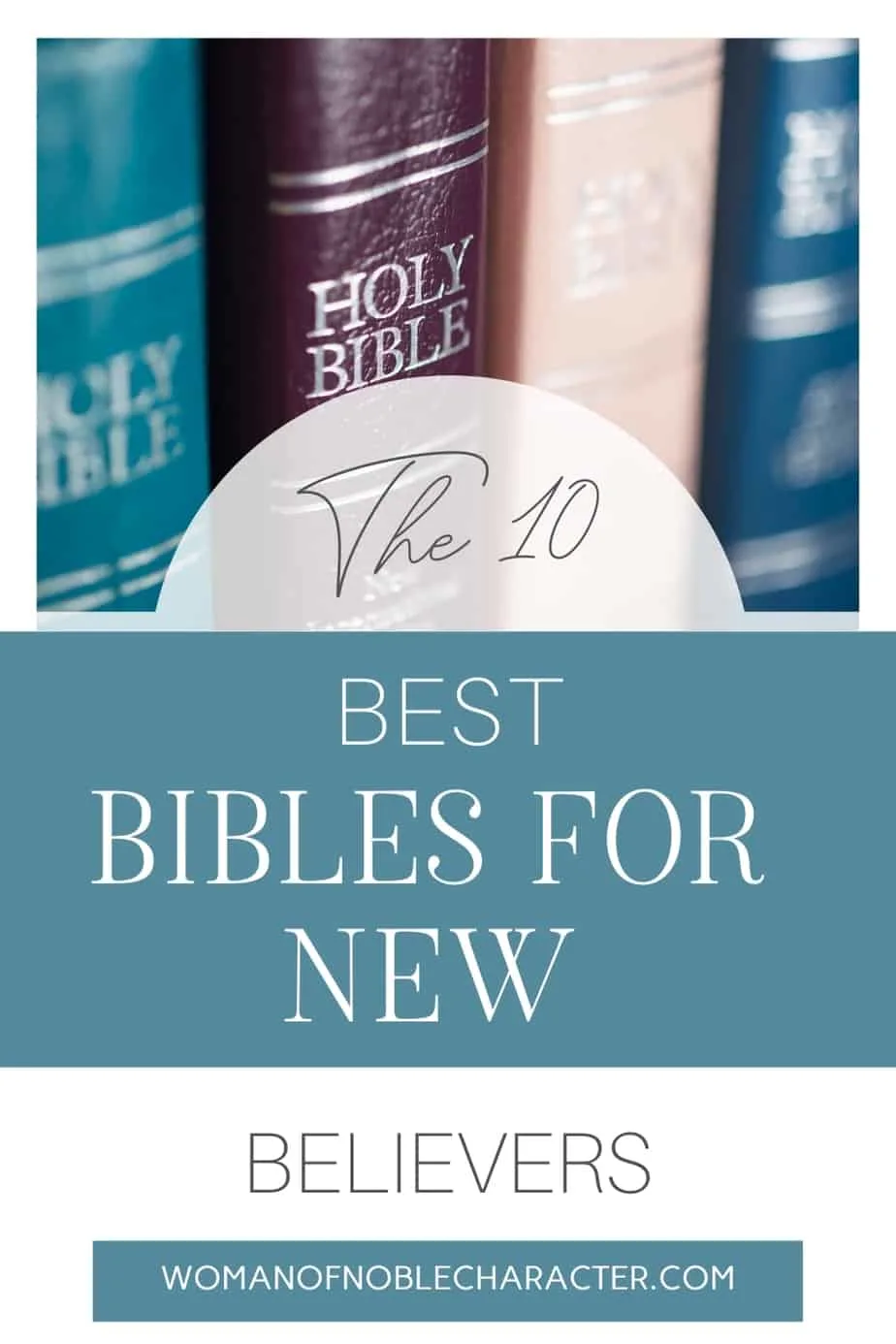 Which Bible Translation Should I Choose?
If you are new to reading the Bible, one of the first things you may notice is that there are a lot of different translations to choose from. Does it matter which version (or translation) of the Bible read?
Most definitely! Being familiar with biblical language itself can be hard enough for many people; even those who have been studying and teaching Christianity all their lives encounter passages they simply cannot understand because some words or phrases no longer mean what we think they do.
It's easy to miss something crucial in translation if certain concepts don't exist anymore: this could lead someone down an incorrect path spiritually without any warning signs ahead until a later date when he realizes his mistake as well as how big it was . While traditional versions like KJV certainly are closest to the language and era that it was written in, this version may be difficult as a choice for Bibles for new believers as they are not always easy to understand.
Thankfully, there are some translations in language that is easier to understand today, making them a better choice for Bibles for new Christians.
Your word is a lamp to my feet
and a light to my path.

Psalm 119:105 (ESV)
NLT (New Living Translation) and ESV (English Standard Version) are closer to modern English. These are great translation choices for many new Christians.
The 10 Best Bibles for New Believers
New believers are more like new born babies, only they need the milk of God's word to grow. However not every Bible is easy for them to understand and digest as some present this 'milk' in ways that makes it difficult for a beginner who does not have enough knowledge about religion yet. This where best study bibles come into play because they were designed with these beginners in mind.
These are the kinds of Bibles that help new believers navigate through Scripture, understand God's story and plan for them. We'll walk you through some popular study bibles designed with those goals in mind!
The Bibles here have been organized with study notes and articles specifically selected to help new believers begin their journey of navigating God's Word. In a variety of helpful formats and study types. Whether you're starting to form your faith through the Scriptures or you're looking to give a helpful resource to a friend or family member, find the right Bible here!
The 10 Best Bibles for New Believers to Grow in Faith
Choosing from all of the options for Bibles for new believers can be tough! With so many options, translations and features. Below, you will find the ten best Bibles for new Christians to help you make the right choice for you!
How to Get Started Reading the Bible – Our Journey as New Believers by Ronnie and Mel