What You Should Know About Fasting in the Bible
This page/post may contain affiliate links.  As an Amazon Associate, as well as an affiliate of other programs, this means if you purchase something using these links, I will receive a commission on qualifying purchases at no cost to you! For more detailed information, please visit our Affiliate Disclaimer page
Have you ever wondered what the Bible says about fasting? Or even the types of fasting in the Bible?
Perhaps you've considered fasting and were curious what the rewards and benefits of a biblical fast were.
We're going to cover all that and more in this post so that you can learn more about fasting in the Bible and how to fast for a spiritual breakthrough.
You can find everything that you are looking for about fasting in the Bible, but you may also wish to purchase the ebook for your convenience. No ads, no pop ups and you'll have it forever to refer to when fasting. Best part – it's only $5! Your choice, read it here or have it forever.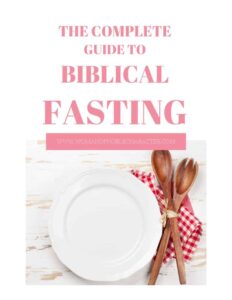 What is Fasting?
The word fasting means to abstain from something. Most commonly, fasting refers to abstaining from food, but it can include abstaining from other things, as well.
Biblical fasting can be defined as abstaining from food or something else for a period of time in order to focus your thoughts on God. Going without food (or whatever you are fasting from) for medical reasons or lack is not biblical fasting.
What the Bible Says About Fasting
Fasting is mentioned over fifty times throughout the Bible! Throughout this post, I'll share some of the Bible verses about fasting, but, for deeper study, you can download and print this PDF on Bible verses about fasting.
(Note: the PDF includes most of the verses about fasting, but I have omitted some that were very similar or, where the reference to fasting was vague.)
You may wish to use the verses about fasting for your own study, use for Bible journaling references or to write the scripture in your prayer journal as you go through your own fast.
Click on the image below to download and print this THIRTEEN page PDF with Bible verses about fasting.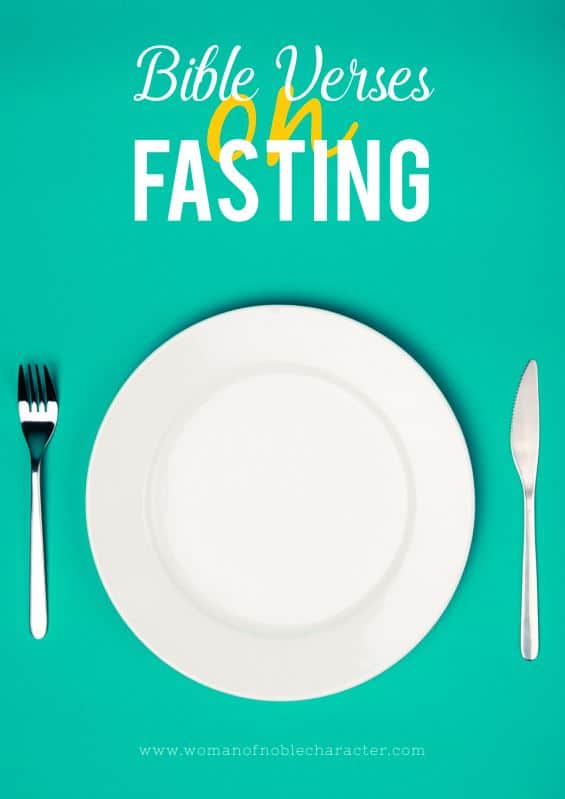 The first time fasting is mentioned in the Bible is in Exodus 34:
Moses was there with the Lord forty days and forty nights without eating bread or drinking water. And he wrote on the tablets the words of the covenant—the Ten Commandments. – Exodus 34:28
The last time fasting is referred to in the Bible is in 2 Corinthians 11:27
I have labored and toiled and have often gone without sleep; I have known hunger and thirst and have often gone without food; I have been cold and naked. – 2 Corinthians 11:27
(This one is not listed on the PDF as it is not clear that it is truly about fasting or lack)
Clearly, fasting is an important biblical concept.
Let's dive into some biblical examples of fasting and why we fast.
10 Biblical Examples of Fasting
One of the most memorable accounts of fasting in the Bible was when Jesus fasted for 40 days to prepare for His battle with Satan and to gain spiritual strength from His Heavenly Father. (Luke 4:1-3 and Matthew 4:1-11)
2. Jesus expected His disciples to fast, but cautioned them not to do it for the wrong reasons. (Matthew 6:16).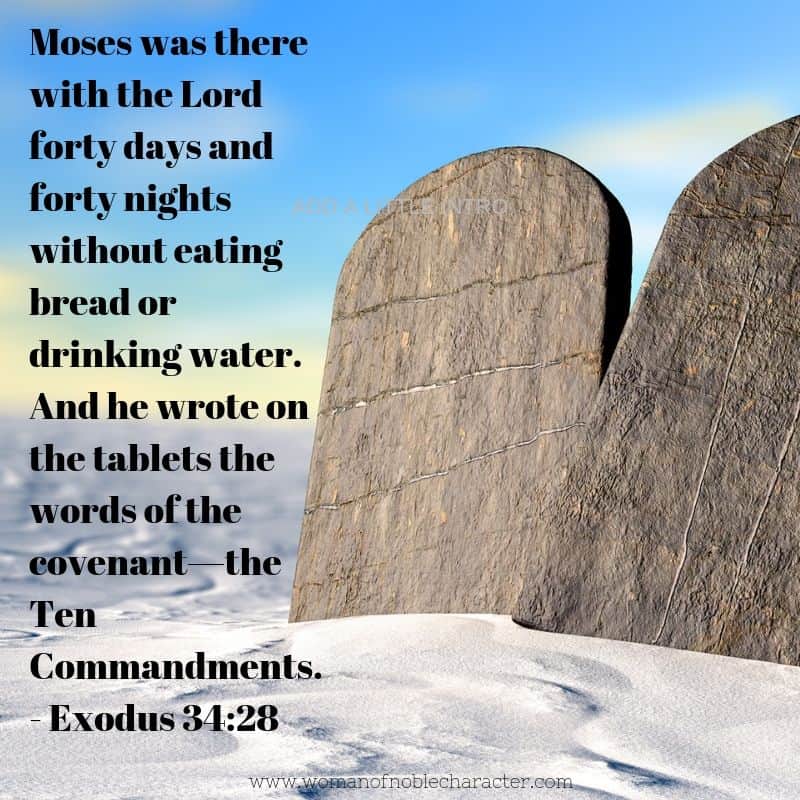 3. In Luke 2:36-37, we learn of Anna, described as "a righteous woman" who "She never left the temple but worshiped night and day, fasting and praying."
4. Nehemiah fasted for several reasons including confession, repentance, and favor of the king so that he might get permission to rebuild the walls of Jerusalem. "When I heard these things, I sat down and wept. For some days I mourned and fasted and prayed before the God of heaven." (Nehemiah 1:4).
5. We read of David fasting several times, each for different reasons. In Psalm 35:13, he "humbled" with fasting and asked God to intervene in the injustice he was experiencing. In 2 Samuel 12:17,23, he fasted during prayer asking God to heal his sick son.
6. When Jonah preached in the city of Nineveh, the whole city came together and fasted as an act of repentance (Jonah 3:7-10). God rewarded their prayer and fasting by saving the city from destruction.
7. There are quite a few mentions of Paul fasting and he lists it as one of the ways he "suffered for the gospel" (2 Corinthians 11:27, but note, as above that we are not clear here if Paul was fasting as an act of worship and prayer or for lack of food). Paul also discusses fasting as part of his instruction for Christian living (1 Corinthians 7:5) as a time to come together in prayer and resist temptation.
8. Mordecai and the Jews fasted after hearing the news of the King's edict, that all the Jews were to die. (Esther 4:3).
9. In Acts, alone, there are at least six references to fasting. The early church fasted for worship, guidance and the appointment of elders, for example. (Acts 9:9; 13:2; 14:23; 27:9,33).
10. In Acts, we also learn of Cornelius, who worshiped God with fasting. His fasting is known for being a catalyst for Peter to begin preaching to the Gentiles which was an important beginning to the spreading of the gospel around the world.
Why Fast and the Benefits of Biblical Fasting
There are many reasons why you might want to practice fasting. All have a focus on creating intimacy with God through recognizing our dependence on Him.
Admitting our sin and asking God for forgiveness.
2. Spiritual strength against a spiritual attack by the enemy.
3. To break free from the bondage of sin or demonic activity. (Matthew 17:21 NKJV – not found in NIV).
4. To help us hear the voice of God
5. To focus on prayer and help us pray with the right heart and motivation.
6. To awaken a spiritual hunger for God.
7. To allow God to reveal what desires and temptations we have allowed to control us.
8. To temporarily give up good things to make room for things are even better.
9. To reveal sin that we might not be actively aware of.
10. To demonstrate to God that our love and desire for Him is greater than any earthly thing.
11. To increase our intimacy with Him.
12. To intervene in prayer on behalf of others.
13. To ask God for healing for ourselves or others.
Why You Shouldn't Fast and The Wrong Motivations for Fasting
To gain recognition by others. Fasting so that others will say "Look at her. She fasts. She's such a wonderful Christian!" is wrong. If others notice that you are fasting, that's fine, but fasting for such recognition is a sin.
"so that it will not be obvious to others that you are fasting, but only to your Father, who is unseen; and your Father, who sees what is done in secret, will reward you." – Matthew 6:18
To gain recognition from God. Fasting isn't an act that you do for God. It acknowledging His power and grace and that you are completely dependent on Him.
To "up the ante" in hopes that God will answer your prayers. Here's the thing about this: it's fine to fast and pray for something (healing, etc.) but it is the FAITH, not the fasting, that is in play here. You may choose to fast as part of your focused prayer time, but, fasting, in and of itself is not a fast track to God answering your prayers.
Let's take a look at the four main types of fasting in the Bible, as well as fasts that fall under each main type: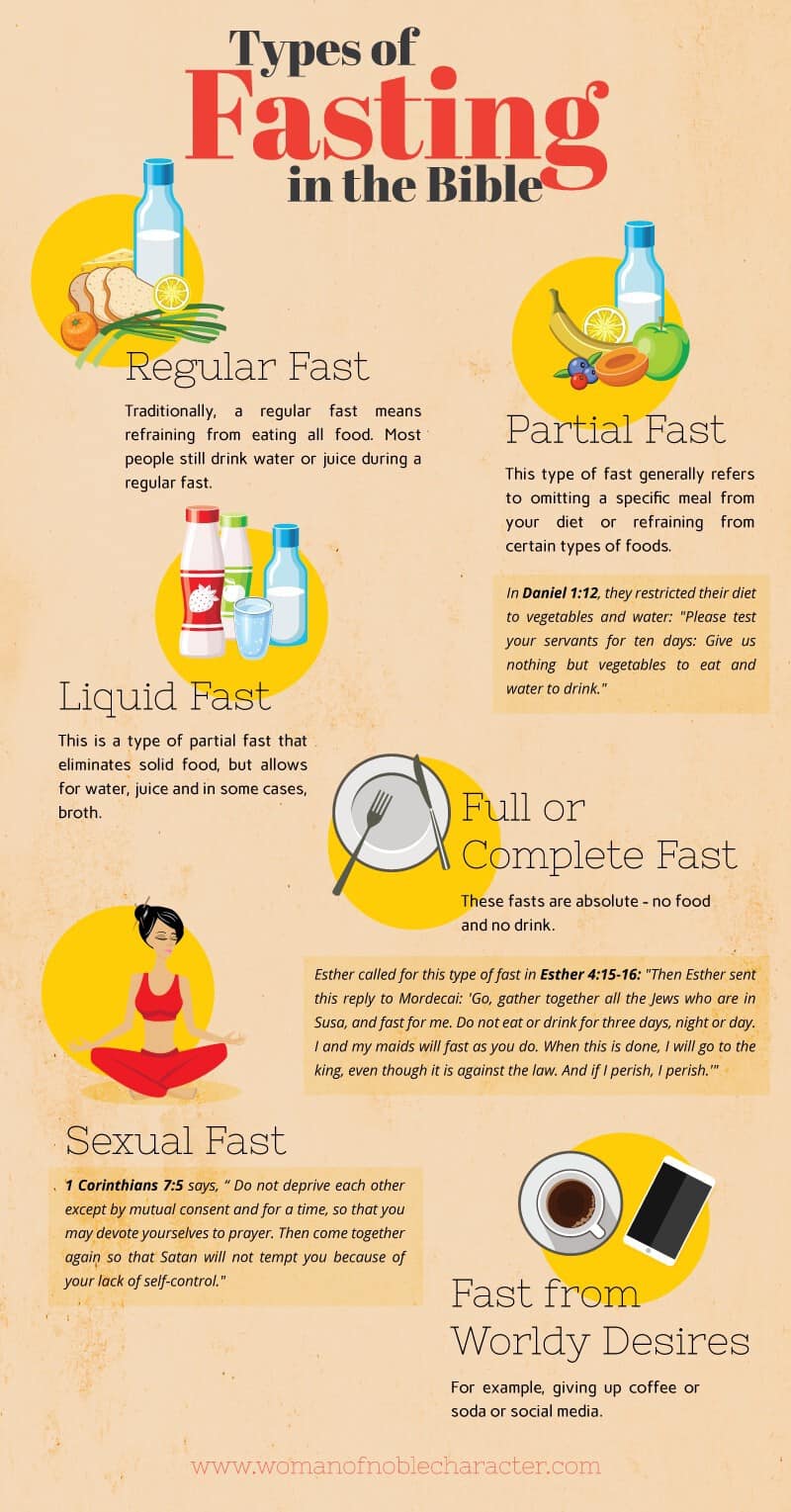 Types of Fasting in the Bible
Regular Fast – Traditionally, a regular fast means refraining from eating all food. Most people still drink water or juice during a regular fast. When Jesus fasted in the desert, the Bible says, "After fasting forty days and forty nights, he was hungry." This verse does not mention Jesus being thirsty, but we do not have clear instructions on this.
Partial Fast – This type of fast generally refers to omitting a specific meal from your diet or refraining from certain types of foods. Daniel 10:2-3 says, "At that time I, Daniel, mourned for three weeks. I ate no choice food; no meat or wine touched my lips; and I used no lotions at all until the three weeks were over." In Daniel 1:12, they restricted their diet to vegetables and water: "Please test your servants for ten days: Give us nothing but vegetables to eat and water to drink."
A Daniel fast is a popular fast for new and experienced believers who fast.
Paul and Barnabas appointed elders for them in each church and, with prayer and fasting, committed them to the Lord, in whom they had put their trust. – Acts 14:23 (NIV)
Liquid Fast – this is a type of partial fast that eliminates solid food, but allows for water, juice and in some cases, broth.
Full or Complete Fast – These fasts are absolute – no food and no drink. Acts 9:9 describes when Paul went on a full fast for three days following his encounter with Jesus on the road to Damascus:
"For three days he was blind, and did not eat or drink anything." Esther also called for this type of fast in Esther 4:15-16: "Then Esther sent this reply to Mordecai: 'Go, gather together all the Jews who are in Susa, and fast for me. Do not eat or drink for three days, night or day. I and my maids will fast as you do. When this is done, I will go to the king, even though it is against the law. And if I perish, I perish.'"
It is recommended that this type of fast be done with extreme caution and not for extended periods of time (more than 3-5 days, at most).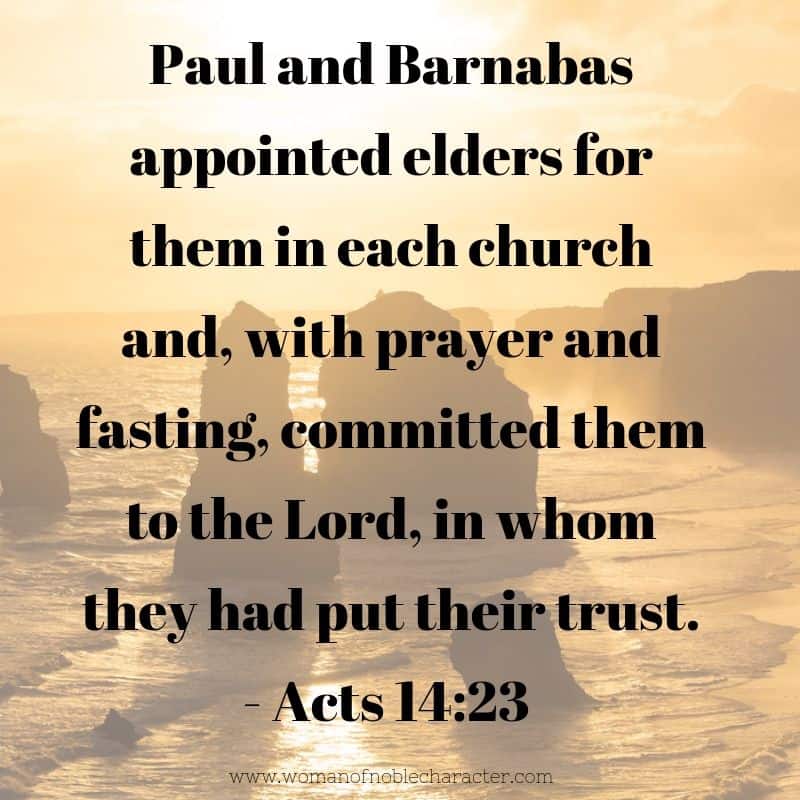 Sexual Fast – 1 Corinthians 7:3-6 says, "The husband should fulfill his marital duty to his wife, and likewise the wife to her husband. The wife's body does not belong to her alone but also to her husband. In the same way, the husband's body does not belong to him alone but also to his wife. Do not deprive each other except by mutual consent and for a time, so that you may devote yourselves to prayer. Then come together again so that Satan will not tempt you because of your lack of self-control."
Christians today commit to fasting from other activities as well. Some give up entertainment such as TV, Facebook, games, etc. to concentrate on prayer or as a commitment to God. You can fast certain foods (such as chocolate or coffee), but the key is to abstain from something you would miss. Fasting from soda, if you don't drink it, like me, wouldn't be an act of faith.
"Go, gather together all the Jews who are in Susa, and fast for me. Do not eat or drink for three days, night or day. I and my attendants will fast as you do. When this is done, I will go to the king, even though it is against the law. And if I perish, I perish." – Esther 4:16 (NIV)
How Long Should You Fast
How long you fast is entirely up to you and by how you feel led by God. All throughout the Old and New Testament, we find examples of fasting in the Bible that last for hours and days or longer.
Random Short Fasts
You may choose to do one of the above types of fasts (food, social media, etc.) for a half day or full twenty-four hours. A short fast is a great first step if you have never fasted before.
A random short fast is a one-time fast for a specific purpose.
Then all the Israelites, the whole army, went up to Bethel, and there they sat weeping before the Lord. They fasted that day until evening and presented burnt offerings and fellowship offerings to the Lord. – Judges 20:26
Intermittent or Scheduled Fasts
An intermittent fast is usually a regular fast, often integrated into one's spiritual discipline. For example, fasting every Thursday or once a month.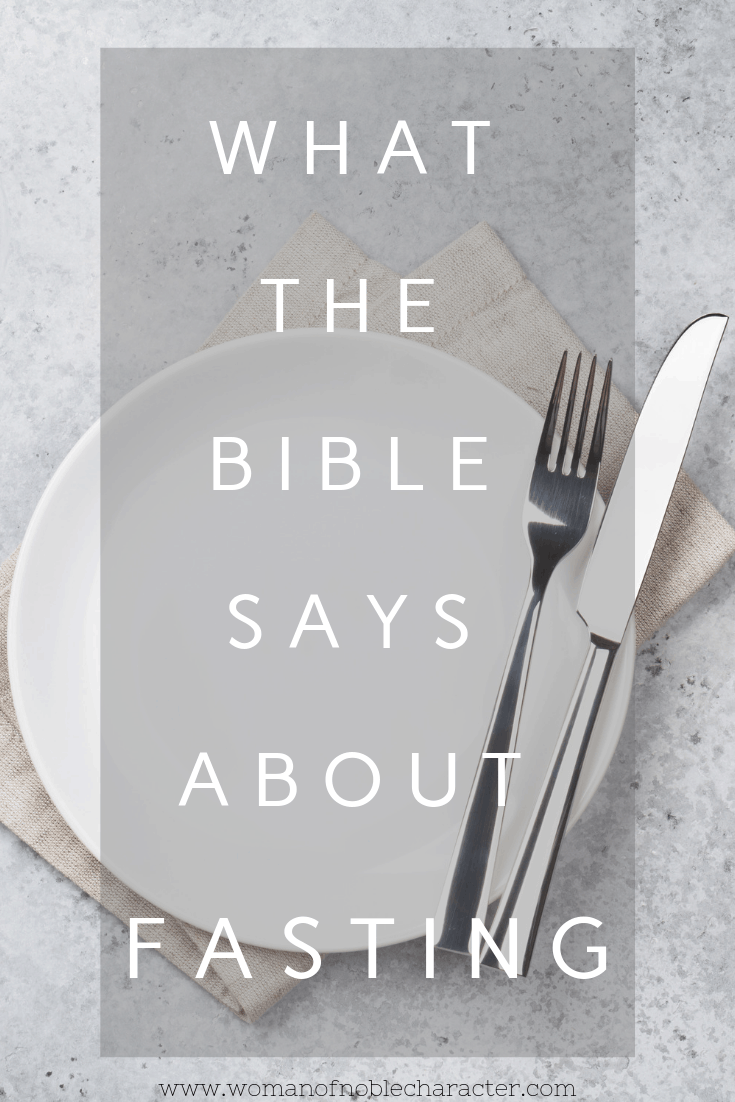 Several Days or Longer Fasts
Longer fasts, can include fasts from food, but are also often practiced for abstaining from other worldly desires (such as television, social media, coffee or soda).
You may choose to do a three or seven day fast in this case.
"Go, gather together all the Jews who are in Susa, and fast for me. Do not eat or drink for three days, night or day. I and my attendants will fast as you do. When this is done, I will go to the king, even though it is against the law. And if I perish, I perish." – Esther 4:16
Fasts for Extended Periods of Time
An extended fast is a fast where you abstain from something for a longer period of time.
Catholics, for example, often practice fasting from one or more things for the Lenten season of 40 days.
Note of caution: Abstaining from food and drink for more than a few days has health risks which increase for people with certain medical conditions. Do not undertake an extended fast from food and drink without medical supervision.
When I went up on the mountain to receive the tablets of stone, the tablets of the covenant that the Lord had made with you, I stayed on the mountain forty days and forty nights; I ate no bread and drank no water. – Deuteronomy 9:9
Goal-Oriented Fasts
Some fasts are chosen not for their length of time, but to recognize a commitment to a goal. You may wish to practice an open-ended fast which would end when your set goal has been accomplished.
For example, avoiding social media or television until you have achieved your goal.
Mark Batterson addresses prayer and fasting to achieve spiritual goals in his book, The 40 Day Prayer Challenge. He also shares some his own spiritual goals that have been achieved incorporating fasting into prayer.
Group Fasts
Group fasts can be practiced by small groups, such as families or church Life Groups. They can be practiced by larger groups, such as one entire congregation or, even by a nation during a time of crisis.
Group members can fast at the same time or take turns for a period of continuous fasting.
Group fasts and prayer can be incredibly powerful with unimaginable results and spiritual breakthroughs.
Before Biblical Fasting/How to Prepare
Before you undertake a fast, there are several things to consider and a few you should do to prepare.
Decide what type of fast you will do and for how long. Prayerfully make this decision upon God's leading.
Prepare your Heart
Fasting should always be grounded in prayer and thanksgiving.
Ask God to reveal any hidden sins and confess every sin that is revealed, petitioning God for forgiveness.
Seek forgiveness from anyone you have hurt or sinned against and forgive those who have "trespassed against you".
Pray that you would be filled with the Holy Spirit and fully yield your life to God.
Begin your time of fasting and prayer with an expectant heart that you will experience a spiritual breakthrough.
Be prepared for a spiritual attack. As I wrote in my post on my experience during the 40 day prayer challenge, Satan will not be happy about your commitment to God during this time.
Prepare Your Body
If you have any medical conditions or take any daily medications, consult with your doctor before going through a fast of longer than 24 hours.
If you plan on an extended fast, begin to cut down on food about a week before you begin the fast or consider following a vegetarian diet to prepare your body and be sure to increase your water intake, as well.
After Fasting and Ending Your Fast
If you have been doing a fast from food, when you break your fast, you will want to introduce small amounts of food gradually.
Avoid eating a large meal to break your fast. Doing so can have negative physical effects on your body.
Start with fruit or salad and gradually add in more solid food.
9 Tips for Fasting
Start small. Don't go from never having fasted before right to a seven day fast. Start with fasting from a worldly desire first or fasting from sunup to sundown.
2. Try different types of fasting. Instead of going without food, consider giving up coffee or soda, for a time or going without television for a week.
3. Drink plenty of water (if the fast you have chosen includes water or liquids).
4. Use a prayer guide for focus and direction.
5. Make a plan for what to do when you are not eating. You may choose to replace breakfast, lunch and dinner time with focused Bible study and prayer.
6. Review your schedule, in advance. For example, you may not wish to fast during a business trip or during a time of extreme stress.
7. Keep in mind that you may not be able to focus, as well, without food and your thoughts (and prayers) may be all over the place. Be open to prayer "squirrels", as I call them, scurrying about everywhere.
8. Consider your interaction with others. If you normally eat lunch with a colleague, let them know that you will be fasting and choose to attend without eating or join them but abstain.
If you are married and your fast includes sexual abstaining, discuss this, in advance with your spouse.
9. Each time you feel your stomach growl, use that as a prompt to pray.
10. Get plenty of rest.
Powerful Prayer During Fasting
Dear Father,
You are righteous, compassionate, merciful and loving and all glory and honor are Yours. You are the source of all wisdom and knowledge and bring light into darkness. You have created us to be curious and to seek wisdom and understanding.
We praise you and thank you for hearing our prayers and for Your Son, in whom all treasures of wisdom and knowledge are hidden. We thank you for giving us Your Word to guide us.
Father, please guide me to seek Your wisdom each day. Lord, help us to be obedient to you and your ways. Help us to seek your face each day, in all we do.
Jehovah, keep us free from temptation and evil. Help us to turn to you as our stronghold and refuge. Thank you, Lord, for the temptations that we face as they reveal to us our dependence on you.
I am a sinner, Father and I ask forgiveness for my sins. Although I deserve punishment, you are merciful and forgive my fleshly transgressions. I am so sorry for my weakness and rejoice in your mercy.
God, I desire to relentlessly pursue You. Please walk with me and stir in me a passion for you that is unbending.
Biblical fasting is a deeply personal, yet incredibly powerful way to draw closer to God and commit yourself to prayer. If you have never fasted before and are considering adding fasting to your faith tools, take a look at one or all of these recommended resources which will help you understand more about fasting, including why you should fast and how to fast derived from what we learn of fasting in the Bible.
You may also enjoy this short video on what is the Purpose of Fasting // Ask Pastor John:
.
Books:
Fasting for Spiritual Breakthrough: A Practical Guide to Nine Biblical Fasts by Elmer L. Towns
The Power of Prayer and Fasting by Ronnie Floyd
God's Chosen Fast by Arthur Wallis
Or listen to them on Audible Plus with a free trial!
Have you ever fasted as an act of faith? If so, tell me about it in the comments below. I'd love to hear about your experience with fasting in the Bible.
Along with fasting, making prayer a habit can transform your faith. Read about my experience with the 40 Day Prayer Challenge.
Have you ever wondered about the difference between priests and prophets? You can learn more about this with scriptural references in this post.
In His Love and Mine,
Sue