This page/post may contain affiliate links. As an Amazon Associate, as well as an affiliate of other programs, this means if you purchase something using these links, I will receive a commission on qualifying purchases at no cost to you! For more detailed information, please visit our Affiliate Disclaimer page
Ouch! I'm going to be honest here with you friends. God is convicting me with this verse. When I pray, I ask Him to shine a light on any areas of sin in my life or any area that He wants me to work on. Well, my friends, he didn't just shine a light. He has a million-watt spotlight pointing right at this one.
Now, don't get me wrong. I'm careful not to curse and try to speak kindly to my husband and children, but there is so much more to speaking with wisdom and faithful instruction than not using curse words.
The words we speak have the power to build up or tear down those around us. Even when we aren't talking directly to someone, God hears us. Take for example, recently, after church, as we were walking to the car, I said something to my husband about a fellow congregant. Something along the lines of "Can you believe what a jerk he is?". As it was coming out of my mouth, I realized that, although I didn't say it to the man's face, I was not speaking with "wisdom and faithful" instruction. I felt God convict me nearly instantly.
My words were spoken to my husband (about someone else), but the words I speak can have a lasting impact on those around me. My husband heard me tear down, not build up another. Does he wonder if I talk badly about him to others when he is not around? Are my words showing that I have Christ in my heart? In this case, clearly, they didn't. Ouch.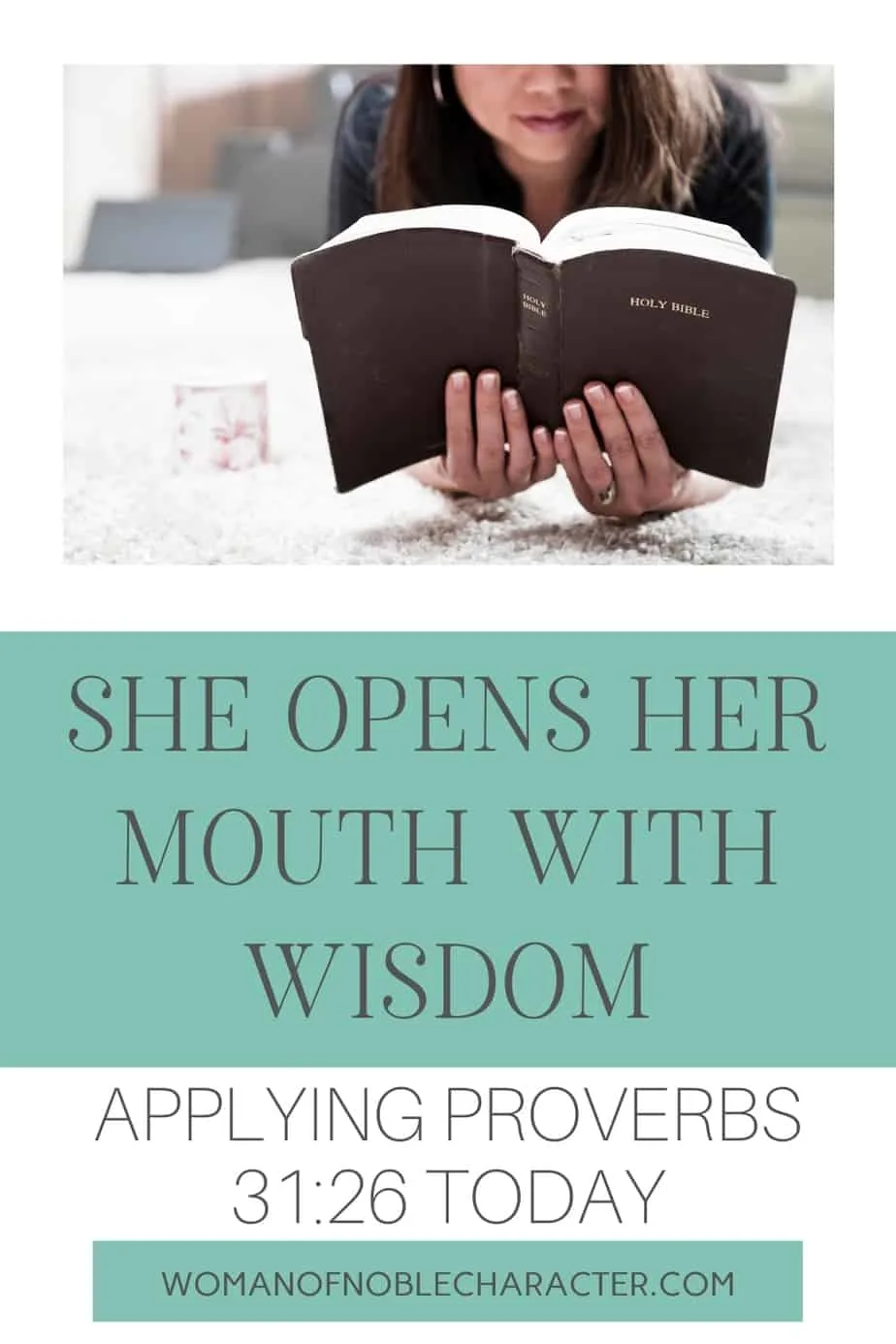 To dive deeper into Ephesians on a level you haven't before with Kneel Before the Throne, Exploring Ephesians.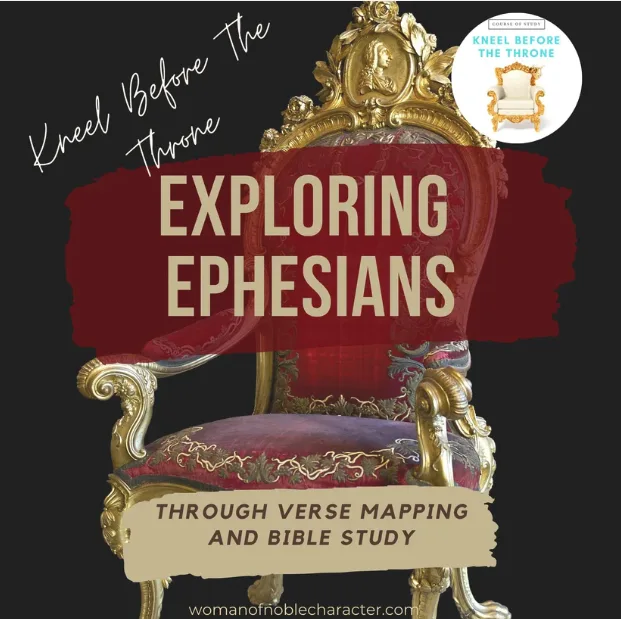 Let's break down each part of this verse and the meaning of opening "her mouth with wisdom" and "teaching of kindness on her tongue".
She Opens Her Mouth With Wisdom
Let's talk for a moment about wisdom and where we can find it. The Webster's Unabridged Dictionary defines wisdom as "knowledge, and the capacity to make due use of it."
And where do we find wisdom? In God's Holy Word, the Bible.
As we just look at Proverbs 31:26, it should give us pause and reflection as we consider our own roles as wives and mothers
As a Christian woman who desires to speak words of wisdom, I thought about what types of words would come out of the Proverbs 31:26 woman's mouth.
I believe she would carefully choose her words. They are in line with God's Word and useful for others to hear; they build up, encourage, and correct while speaking about the goodness of our Savior Jesus Christ as well as grace on your soul!
When she opens her mouth with wisdom, she would not be using foul language, slander or any other "corrupting talk".
But now you must put them all away: anger, wrath, malice, slander, and obscene talk from your mouth.

Colossians 3:8 (ESV)
The Proverbs 31:26 woman speaks with wisdom and kindness. She is gracious in word and deed, and she is praised and honored.
Her children rise up and call her blessed; her husband also, and he praises her:Proverbs 31:28 (ESV)
A repugnant or odious woman is one that is known by foolish or critical speech.
Her husband is embarrassed by her speech and may experience shame because of it.
A continual dripping on a rainy day
and a quarrelsome wife are alike;
to restrain her is to restrain the wind
or to grasp oil in one's right hand.

Proverbs 27:15-16 (ESV)
"She opens her mouth with wisdom, and the teaching of kindness is on her tongue" is a reminder to women on how they can improve their reputations and contributions to the community by their gracious words.
Of course, it is also a virtue that men should seek in a wife.
What is the difference between a virtuous woman and a quarrelsome one? Often, simply how they talk.
A virtuous woman, a Proverbs 31:26 woman, is always careful, kind, and helpful with what she says. She is not harsh, negative, or sarcastic; she is gracious in her words and deeds.
Men tend to be attracted to women by their looks, but King Lemuel's mother taught him how to find a great wife by listening to her, instead.
As Proverbs 31:30 says:
She always seems to know just what to say and when to say it.
She would never "sing songs to a heavy heart".
Whoever sings songs to a heavy heart
is like one who takes off a garment on a cold day,
and like vinegar on soda.

Proverbs 25:20 (ESV)
She admonishes (gently, of course), the idle, encourages the fainthearted, helps the weak and has patience for everyone (Ouch, again).
The virtuous woman who opens her mouth with wisdom, uses criticism only when necessary, and then only with grace.
The teaching of kindness is on her tongue. Her words direct others by compassion and point them to Jesus.
She uses caution when speaking and only replies after careful consideration for a question or situation.
The heart of the righteous ponders how to answer,
but the mouth of the wicked pours out evil things.

Proverbs 15:28 (ESV)
She doesn't vent just to hear herself talk. She knows when to keep silent.
Her words are appreciated, and others what to hear what she has to say as she brings value to each conversation.
Like Abigail, she understands how to defuse the temper of an angry man with wise counsel (1 Samuel 25:20-35).
Like Priscilla, she can help lead others to the truth (Acts 18:24-26).
Proverbs 31:26 is a reminder that harsh words, critical tone of voice, impatience, sarcasm, gossip, complaining, grumbling, yelling… there are so many ways we can hurt others with our words.
Be mindful of the words we are speaking to and around others.
The Teaching of Kindness is on Her Tongue
Whether we are speaking to members of our own household or anyone outside the home, our true hearts are revealed by the way we speak to them.
In Proverbs 31:26, we see that the woman of noble character opens her mouth with wisdom, and the teaching of kindness is on her tongue.
The "teaching of kindness" can occur as much as by what this woman doesn't say as by what she does say.
We know that what comes out of our mouths flows from what is in our hearts.
But what comes out of the mouth proceeds from the heart, and this defiles a person.

Matthew 15:18 (ESV)
When the virtuous woman speaks, she considers if the words lift other up or tear them down and if they point to God.
This is something that God is working on me with. I have to remind myself that sometimes I need to just hush. I often pray for a gentle and quiet spirit.
I want to intentionally, always, speak in ways that honor God. I don't just mean "inviting" him into my life and words – though those are important too! Instead of boasting about myself or seeking attention as a means for validation, I desire to put others first in my words.
I pray that I make teaching kindness on every syllable from my tongue and that wisdom flows effortlessly from my lips.
I want my words to be Christ-centered. I want to breathe words of life and words of grace.
In this verse, the translation of wisdom, in Hebrew, is "Torah" and means: "direction, instruction, law." Not a bunch of rules, but the law of mercy, kindness, and grace.
The Proverbs 31:26 woman is teaching her family about God's loyalty, faithfulness, and the most beautiful of all: loving-kindness. The word used is the Hebrew word, "hesed". (or "chesed"). She is teaching her family and demonstrating God's loving kindness with her words. Do I always do that? Ouch, again.
This Proverbs 31 woman probably talked about what was for dinner or what needed to be done in the home, but her most important words were those speaking in God's love and demonstrating His loving kindness. (hesed).
Proverbs 31:26 says that "the teaching of kindness is on her tongue."
In fact, the laws set up by God to protect the rights of people are shown throughout the Torah (wisdom) where time and time again, we are shown instances of kindness toward others and demonstrated wisdom.
It all begins (and ends) here:
King Lemuel's mother, the one giving her son advice on what to look for in a wife, has summed up that God's most important command is to "love your neighbor as yourself"
Truly, this is the command for kindness!
The virtuous woman instructs and demonstrates to her children how to love others.
Of course, she her children from morning to night by her words and actions.
She may have verses on the walls of her home, or sticky notes on her mirror with scripture. She not only has her Bible in plain view, but her children see her reading it. They also see and hear her pray or write in her prayer journal.
Before you open your mouth, think of what is about to come out and that God is listening, too. Does it build others up? Does it demonstrate God's loving kindness? If not, think about how you can rephrase your word or perhaps, not say them at all.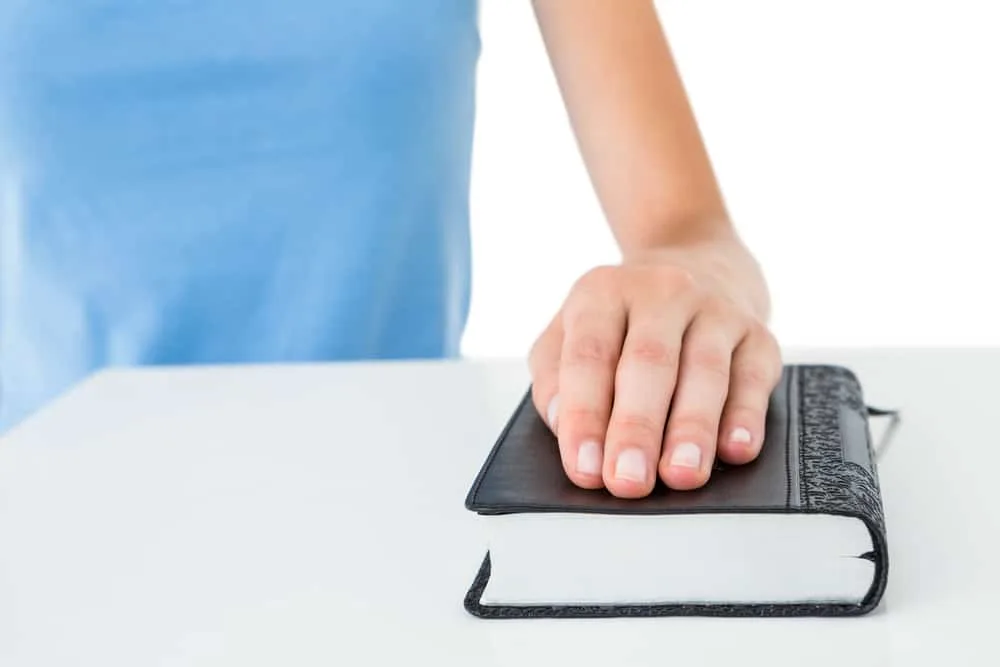 Is God shining a light on this for you, too? What can you do to ensure that you are speaking with wisdom and faithful instruction?
Let us submit our speech to the Holy Spirit; let's fill ourselves with God's word so that we can be blessing for Him, as well as those around us. Let kindness be part of your standard operating procedure.
Let us submit our mouths and our tongues to the Holy Spirit; let our minds and hearts be filled with the Word of God; so that we can be a blessing to the Lord and to those around us. Let us build up with our mouths and not tear down. Let us leave people in a better way that we found them. Let the Law of kindness be on our lips!
Prayer for Wisdom and Kindness
Heavenly Father, please check my spirit before I say anything unkind about someone and grant me courage to always say show kindness in my words. Draw me into Your Word and fill me with the wisdom and love that you desire for me. In Jesus' Name, Amen!
My favorite Proverbs 31 resources are listed below:
Becoming the Woman God Wants Me to Be: A 90-Day Guide to Living the Proverbs 31 Life by Donna Partow
My So-Called Life as a Proverbs 31 Wife: A One-Year Experiment…and Its Surprising Results by Sara Horn
Or my book, The Complete Proverbs 31 Wife: A Verse-by-Verse Exploration of What it Means to Be a Proverbs 31 Woman in Today's World.
Because of Him,
Sue
Take a look at this post to learn how to bring your husband good, harm. It might not be what you think!
ESV – "Scripture quotations are from The ESV® Bible (The Holy Bible, English Standard Version®), copyright © 2001 by Crossway, a publishing ministry of Good News Publishers. Used by permission. All rights reserved."