This page/post may contain affiliate links. As an Amazon Associate, as well as an affiliate of other programs, this means if you purchase something using these links, I will receive a commission on qualifying purchases at no cost to you! For more detailed information, please visit our Affiliate Disclaimer page
The best Bibles for women? Aren't all Bibles the same? The Word of God doesn't change, so why should the choice of Bible matter?
Well, of course, there are different translations to consider (NIV, NKJV, NSB, etc.) but the version of the Bible can matter greatly. Bibles aimed at women offer commentary that is specific to women. They also tend to be prettier than a standard version or a men's version.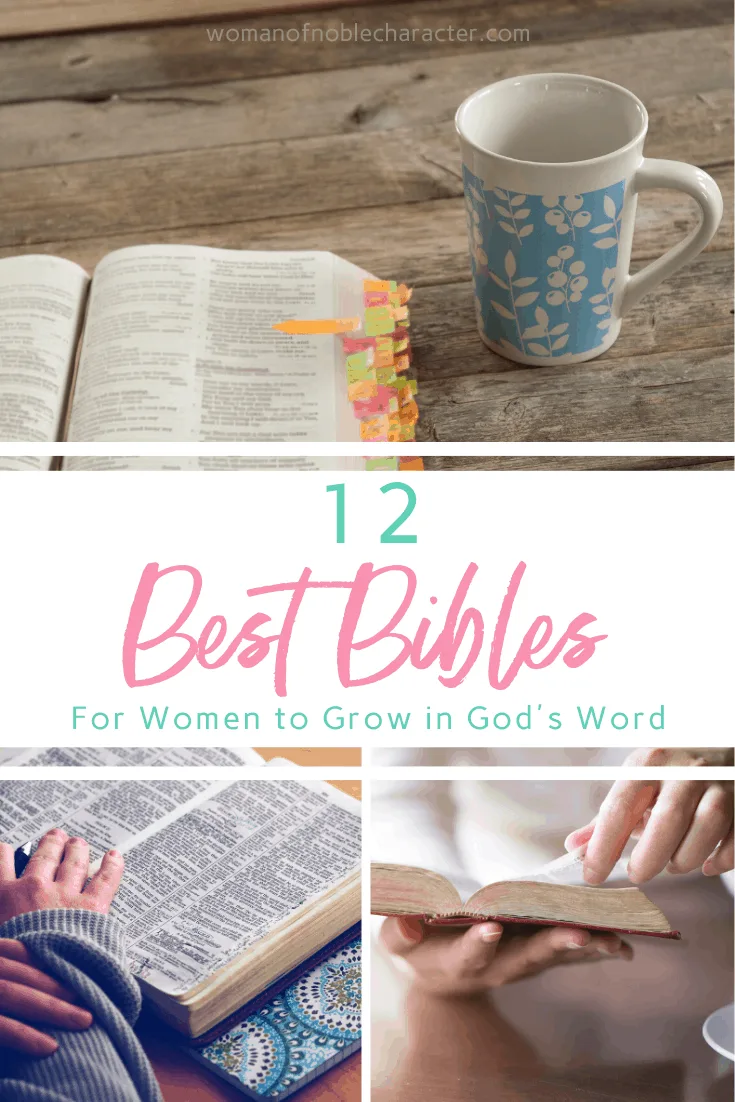 The Top-Selling Bibles For Women
In today's post, I'm going to share the top-selling women's Bibles and what makes them special. The list was compiled from the best-selling Bibles for women on Amazon, Christianbook, and other retailers as well as input from other Christian women.
In this curated list, you'll find something for everyone: from artisan Bibles to Bibles with prompts for journaling and Bibles with devotions and commentaries. Each would be a great addition to your Bible collection (mine is always growing!) or as a gift for someone special.
Life is busy. We have so many priorities as wives and mothers. We have errands and ministries. We have appointments and work. Finding time to fit in Bible study can be a challenge. With our busy schedules, it is particularly important that we set aside time to read and reflect on God's Word
The life of a woman in our day and age (really at any time in history) is not easy. When we face life's difficulties, we need to reach for His Word. When life is humming along beautifully, we need to read and rejoice in His truths.
No matter your season in life or what you may be facing, good or bad, you'll find the perfect Bible for women in this list.
(If you are looking for a journaling Bible, see this post.)
Beautiful Bibles, expressly for women to study the Word of God and connect the Word with your everyday life.
She Reads Truth Bible - The CSB She Reads Truth Bible aims to live at the intersection of beauty, goodness, and Truth. Featuring She Reads Truth devotionals and Scripture reading plans that include supplemental passages for deeper understanding, this Bible invites every woman to count themselves among the She Reads Truth community of "Women in the Word of God every day." The CSB She Reads Truth Bible also features 66 key verses, artfully lettered to aid in Scripture memorization.
CSB Study Bible for Women - The most comprehensive study Bible ever prepared for women and by women, the CSB Study Bible for Women invites you to explore the riches of God's Word. Follow God's grand story across this Bible for women, guided by threads of specialized study that explain essential doctrines, answer hard questions, discuss biblical womanhood, and apply truth to our hearts and lives.
NIV, The Women's Study Bible - The Woman's Study Bible poignantly reveals the Word of God to women, inviting them to receive God's truth for balance, hope, and transformation. Special features designed to speak to a woman's heart appear throughout the Bible text, revealing Scripture-based insights about how godly womanhood grows from a woman's identity as a Christ-follower and a child of the Kingdom. Now with a beautiful full-color redesign, The Woman's Study Bible reflects the contributions of over 80 women from a wide variety of ethnic, denominational, educational, and occupational backgrounds.
NIV, Real-Life Devotional Bible for Women, Compact, Leathersoft, Teal: Insights for Everyday Life - You spilled coffee on your shirt before walking out the door. Ran late to your appointment. Snapped at your children, then regretted it all day. And spent an hour at the grocery store with no dinner on the table to show for your efforts. A typical day has come and gone. Life is full of obligations, emotions, and relationships. Some are life-giving, yet sometimes the weight and responsibility of everyday life is heavy to bear. As wives, mothers, friends, and daughters, we need to know we're not alone. We long for someone who understands―someone to help us find perspective. When our days are long, and our nights are restless, it's easy to think we should be able to handle things on our own. Or that no one struggles like we do. And that's when we need a friend … to encourage us, to understand us, and help us become the woman God wants us to be. You'll find that friend on the pages of the NIV Real-Life Devotional Bible for Women. Filled with insightful daily devotions written by Lysa TerKeurst and the women at Proverbs 31 Ministries, the devotions in this Bible will meet you right where you are, in the good days and in the hard days, in the car pool line or the doctor's office. With God's truth as the foundation, this Bible will help you maintain a peace-filled place of balance in spite of your life's hectic pace. Features: The beauty and clarity of the New International Version (NIV) Bible, 366 daily devotions from the women at Proverbs 31 Ministries inspire you to live authentically as a woman of God, Author biographies, and a helpful subject Index. Lysa TerKeurst is a New York Times bestselling author and national speaker who helps everyday women live an adventure of faith. She is the president of Proverbs 31 Ministries, author of 15 books, and encourages over half a million women worldwide through the ministry's daily online devotional. Her remarkable life story has captured audiences across America, including appearances on Oprah and Good Morning America. She lives in North Carolina with her husband and five children.
Everyday Matters Bible for Women: New Living Translation - Enjoy having 300 overviews and articles on 24 key spiritual practices that renew meaning in everyday life, including prayer, forgiveness, worship, and more!
You have devos. You have Bible studies. But you don t always have time. Imagine having study tools, devotions, reflections, and even Q&A's for women in one Bible, helping you find practical encouragement daily! (also available in NLT)
THRIVE (Hardcover Fabric, Blue/Cream Shabby Chic): A Journaling Devotional Bible for Women - The Thrive journaling devotional Bible is for every woman who wants to know God more deeply and follow Him more closely. God's design for His children is that they live flourishing, fulfilling, joy-filled lives in Christ. Bestselling author and beloved conference speaker Sheri Rose Shepherd has devoted over 30 years of her ministry to helping women learn how to thrive in Christ, reflect God's glory, and gain an eternal perspective. Sheri Rose invites women to join her on a year-long journey through the Bible in the Thrive. The daily devotionals capture the very heart of her ministry by helping women discover their identity in Christ, God's purpose and plan for their lives, and how to flourish in a faith that is pure, genuine, and life-giving. Each day's devotional reading contains a key Scripture, a love letter from God, a reflection from Sheri Rose, a treasure of truth, and a special prayer for the reader. Sheri Rose encourages women to leave all of their concerns and struggles at the foot of the cross so they can truly thrive as the women God created them to be.This beautiful women's journaling devotional Bible features a natural shabby chic fabric with decorative blue stitching, a Thrive tag stitched to the front, round corners, cream page edges, and a matching ribbon marker
NIV, Bible for Women, Hardcover: Fresh Insights for Thriving in Today's World - What is on your heart today? Struggles at home or with a friend? The miracle and joy of a new birth? A misunderstanding with a boyfriend or spouse? Are you grieving a loss? Are you celebrating a new job? Or anticipating a move? Whatever you face, good or bad, the NIV Bible for Women is relevant to your joys and sorrows, worries, fears, pain and happiness. God loves you and gave you his Word, the Bible, so you could know him more.
The NIV Bible for Women contains an inspiring foreword by Shauna Niequist and writings by women who want to share their experiences—their joys and their struggles—with you. Authors such as Naomi Zacharias, Alyssa Joy Bethke, Caryn Rivadeneria, Rachel Held Evans, Katie Davis, Enuma Okoro, Kathy Khang, Laura Ortberg Turner, Kristen Howerton (Rage Against the Minivan), Margaret Feinberg, Tsh Oxenreider (The Art of Simple), and Annie Downs share their thoughts on topics ranging from cultural issues like social justice, economic inequality, and social media addiction to personal needs like prayer, decision-making, relationships, infertility, career, and calling. These thought-provoking topics are easy to share on social networks to strengthen and inspire your circle of friends while creating meaningful conversation.
The NIV Bible for Women will help your time spent with God grow deeper and richer as you dig into his Word, bask in his love, learn his ways and then in turn share your journey with others in all the situations you face.
Tyndale NLT Inspire Bible - "Strengthen your connection with God with the 2017 Christian Retailing's BEST Award Winner (Bible: Journaling category) and 2017 ECPA Christian Book Award Finalist (Bibles category)! The best-selling Inspire Bible is a beautiful single-column, wide-margin New Living Translation Bible for coloring and creative journaling that has become a treasured legacy Bible for many.
NIV, Journal the Word Bible for Women - Do you seek stillness and inspiration in your quiet time? The NIV Journal the Word™ Bible for Women guides you through God's precious Word with reflections and thought-provoking questions placed beside Scripture. Explore God's Word for you and express your heart in the wide margins of this journaling Bible with room for responses, journaling, and artistic expression.
Expertly designed specifically to be used for the New International Version (NIV) text, Zondervan's exclusive Comfort Print® typeface offers an easier reading experience that complements the most widely read modern-English Bible translation.
NIV, Artisan Collection Bible - Exquisite from the inside out, the NIV Artisan Collection Bible stuns with its printed cover design showcasing hand-painted flair. When the Bible is opened, beautiful art appears on the page edges as you read through Scripture. When you close the Bible, the image vanishes into shimmery foil gilding. In addition to the attractive typesetting, each page of this Bible has lightly ruled, wide margins, inviting you to journal, reflect, take notes, and create art. As you start reading, let your eyes relax as you take in more of God's Word with the exclusive Zondervan NIV Comfort Print® typeface, carefully designed with custom fonts to be enjoyable and easy to read.
NKJV, Beautiful Word Bible - Crafted on high-quality paper and balanced with inspiring full-color art and blank space for your own drawings and journaling, the NKJV Beautiful WordTM Bible will encourage a deeper and more authentic quiet time. With 500 verses illustrated to help you see the rich diversity of stories, characters, prophecies, rewards, and hope contained within Scripture, you will discover wisdom to sustain you in every season, drawing you deeper into God's life-changing Word. This cloth over board edition of the popular journaling Bible will encourage and inspire your own creative explorations of the ways each verse speaks to you.
How many Bibles do you own? Do you have any women's Bibles?