This page/post may contain affiliate links. As an Amazon Associate, as well as an affiliate of other programs, this means if you purchase something using these links, I will receive a commission on qualifying purchases at no cost to you! For more detailed information, please visit our Affiliate Disclaimer page
Gifts for Bible Study
We all have a friend (or two!) that are difficult to buy gifts for. You know who I'm referring to, right? The one that is so picky that you just know she'll exchange whatever you buy her or the one that has everything, already and just buys what he wants when he wants it. If those friends are Christian, I've compiled an amazing list of unique gift ideas to help them in their study of the Bible and their walks with God. Most of these are on my own Christmas wish list!
Bible Background Commentary
A Bible commentary is a series of notes explaining the meaning of passages of Scripture. A commentary may explain the language used in a section of text. Or it may discuss the historical background. Almost all commentaries attempt to explain the passage in terms of some system of theology. In other words, the commentary is an explanation of how the Bible fits together and what it means. Since a Bible commentary is written by human authors, it will reflect the beliefs and perspective of those writers.
There are several great ones and you can find them in all price ranges, but here are some that come recommended by Bible scholars and a few pastors:
2) Bible Dictionary
BibleStudyTools.org decribes a Bible Dictionary as: Formatted like an encyclopedia with short articles arranged in alphabetical order, a Bible dictionary is good for researching historical background and cultural context.
Use it to learn about people, places, and what a word or phrase meant at the time of the author. If you aren't able to find a particular word, identify the general category to which it belongs. For example, in the parable Jesus tells in Luke 19:11-27, a nobleman gives each of ten slaves a pound. The word pound is not listed in my Bible dictionary, but it can be found in the article on "money."
Here are some top choices:
3) Concordance
A concordance is good for finding cross-references, determining where else the author used a particular word, and for looking up the meaning of the original Hebrew or Greek. "Exhaustive" concordances list every occurrence of every word in the Bible and are arranged alphabetically. I have the Life Application Study Bible which includes a concordance, but if your Bible doesn't have one, a concordance is a must-have.
4) Dictionary of Biblical Imagery
Whereas a Bible dictionary is indispensable for filling out historical and cultural context, the Dictionary of Biblical Imagery provides understanding of the connotations of biblical images. The Dictionary of Biblical Imagery is used to shed light on biblical images, symbols, metaphors, motifs and figures of speech.
For example, the article on "water" describes both the significance of physical water in ancient Israel but also covers the various ways water is used metaphorically in both the Old and New Testaments. The resource is also an excellent tool for identifying cross-references. Arranged like an encyclopedia, it is a good companion to a Bible dictionary.
5) Interlinear Bible
An interlinear Bible can help you determine which Hebrew or Greek word is used in a passage. It shows the original Hebrew or Greek text with the literal English translation typed below each word.
6) Maps
While maps of the world and even US are cool gifts, a book of maps from the Bible is a wonderful resources for anyone looking for deeper context in their Bible studies.
7) Prayer or Gratitude Journals
Oh how I love my prayer journals! I use mine everyday to write Scripture, pour out my heart to God and write all of the things that I am thankful for. What a beautiful and thoughtful gifts for Bible Study for you or a friend!
My absolute FAVORITE prayer journal is from Paper Sunday. Each page has scripture personalized to you. It makes a perfect companion to this list below of prayer journal prompts. (Plus there are dozens of gorgeous covers to choose from)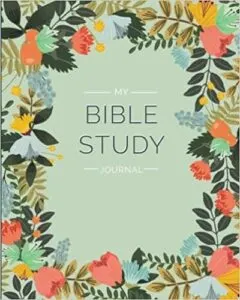 8) Book Marks
Book marks are great for stocking stuffers or small gifts of appreciation. There are tons to choose from – from ribbon-style to illustrated and from leather to cloth. Here are a few of my favorites:
9) Highlighters
For those who like to highlight passages, consider a set of Bible-safe highlighters. This set won't bleed through and includes six great colors. An inexpensive item on any list of gifts for Bible study!
10) Scripture Cards/Memory Cards
I just love Scripture cards! I used to keep one set in my kitchen window and another on my desk for daily reminders of His Word. Seeing them throughout my day helped me to memorize verse and apply them to my life. They are a great, low-cost gift option for any friend. A great idea for gifts for Bible study and friendship!
I love these personalized Bible verse cards from Paper Sunday. Each verse is personalized with the recipient's name! For example, "And I tell you, Sue, ask, and it will be given to you; seek, and you will find; knock, and it will be opened to you." – Luke 11:9-10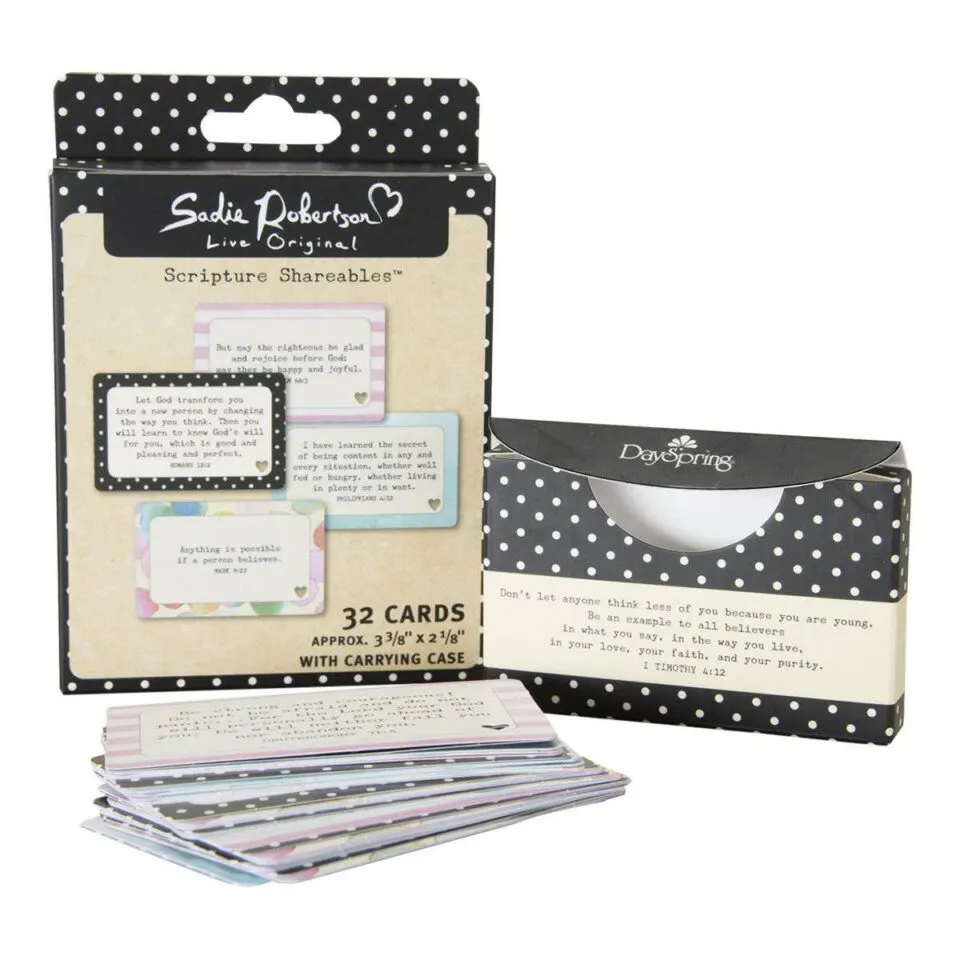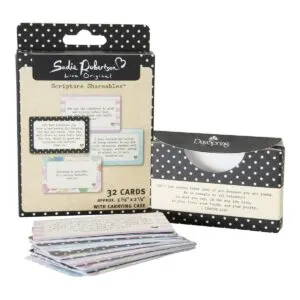 If you are like me, you added several of these to your own Christmas wish list! Did you find anything for that special friend or family member?
Looking for a gift for a Bible journaling friend, instead? See this post!
I'd love to hear your ideas, as well. Comment below and tell me your ideas for great gifts for Bible Study.
Because of Him,
Sue