This page/post may contain affiliate links. As an Amazon Associate, as well as an affiliate of other programs, this means if you purchase something using these links, I will receive a commission on qualifying purchases at no cost to you! For more detailed information, please visit our Affiliate Disclaimer page
Finally, be strong in the Lord and in his mighty power. Put on the full armor of God, so that you can take your stand against the devil's schemes. For our struggle is not against flesh and blood, but against the rulers, against the authorities, against the powers of this dark world and against the spiritual forces of evil in the heavenly realms. Therefore put on the full armor of God, so that when the day of evil comes, you may be able to stand your ground, and after you have done everything, to stand.
Stand firm then, with the belt of truth buckled around your waist, with the breastplate of righteousness in place, and with your feet fitted with the readiness that comes from the gospel of peace. In addition to all this, take up the shield of faith, with which you can extinguish all the flaming arrows of the evil one. Take the helmet of salvation and the sword of the Spirit, which is the word of God.
And pray in the Spirit on all occasions with all kinds of prayers and requests. With this in mind, be alert and always keep on praying for all the Lord's people. –
Ephesians 6:10-18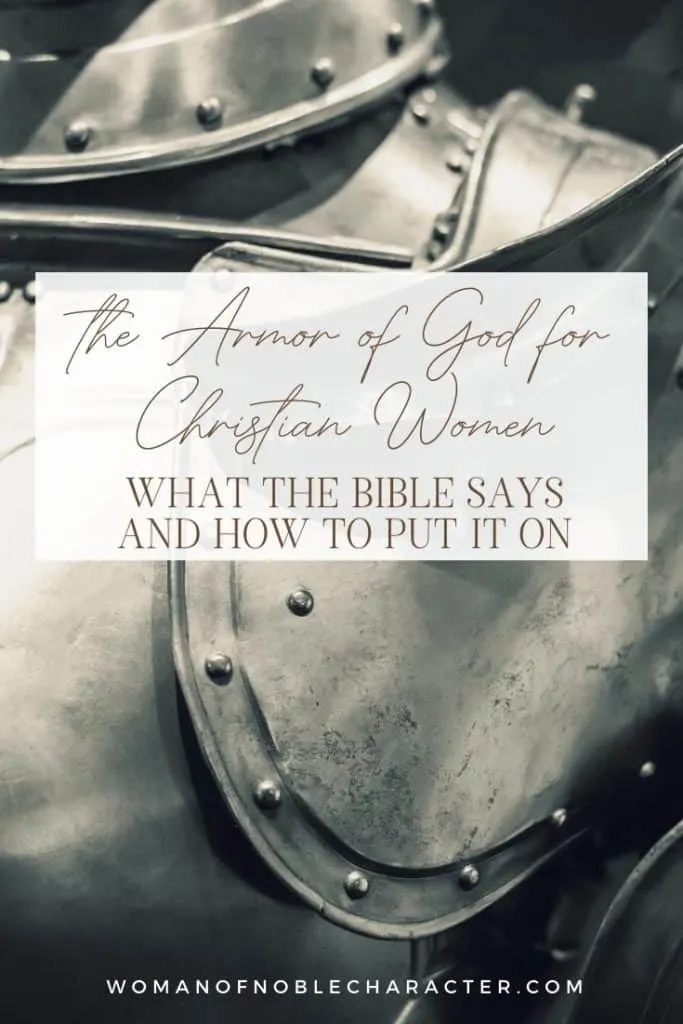 If you have been a Christian for nearly any length of time, you have undoubtedly heard of or read in the Bible about "putting on the full armor of God' While I've posted the scripture, Ephesians 6:10-18), let's unpack it and explore each facet of the armor and what it means to us as Christian women.
The Belt of Truth

The Breastplate of Righteousness

The Gospel (Shoes) of Peace

The Shield of Faith

The Helmet of Salvation

And the Sword of the Spirit
One of the most important discoveries I've made about being a Christian is that sometimes life is warfare. The Bible reveals that we have spiritual enemies determined to steal our joy, and our witness, and deceive us with lies. We may not have encountered terrorists, but we all have war stories:
The recent pandemic and resulting economic downturn may have forced you to fight financial battles like never before.

Perhaps you struggle with emotional battles such as anxiety or depression.

Maybe you are in the midst of a physical battle: your health isn't good, you are in constant pain, or you have had a bad diagnosis.

Many of us face relationship battles: your kids are rebelling, your husband isn't a believer, or your friends aren't acting like friends.

It could be you are one who endures persecution battles because of your faith – your co-workers treat you like you're from another planet. Your parents have never understood this whole religion thing.
The older I get, the more I come to understand that part of the Master's plan for believers is to be on the battlefield. Paul the apostle understood this, too.
If you are a living, breathing human, (and I can be pretty certain that you are if you are reading this post!), you are going to experience spiritual warfare and face the evil one at times during your life. Satan makes it his business to try to thwart us from living our lives for God. He wants nothing more than to hinder us from fulfilling God's plan for our lives.
We may face financial struggles or health crises. We may lose our jobs (or our spouse's job). We may face relationship battles – a child who has turned their back on their faith or marriage difficulties. The list is endless, really. BUT…
Our battles may seem earthly, but they are actually supernatural. We often look at our circumstances (finances, our health) or people (co-workers, children, our husband) like they're the enemy. They're not the enemy. Paul told us our enemy is Satan, and he's waging an unseen war against us. He commands the army of principalities, powers, the rulers of the darkness of this age, and the spiritual hosts of wickedness in the heavenly places.
John MacArthur said, Paul here reminds his readers that the Christian's struggle is not only against Satan himself but also against a host of his demon subordinates, a vast array of adversaries who, like the devil, are not flesh and blood. Our greatest enemy is not the world we see, corrupt and wicked as it is, but the world we cannot see.
Since our battles are not earthly, we can't possibly fight the devil and his minions in our own strength.
Here's the great thing about that, not only has God outlined a plan for our lives, but He has given us the tools to achieve them and to stop Satan in his nasty tracks.
So, what are those tools? The tools are found in the armor of God as described in Ephesians 6.
The form you have selected does not exist.
When we put on the full armor of God, we are ready for battle and can stand against any foe that tries to stand in our way from achieving God's will for us.
Let's look at each of these battle garments and see how we are to put them on each day.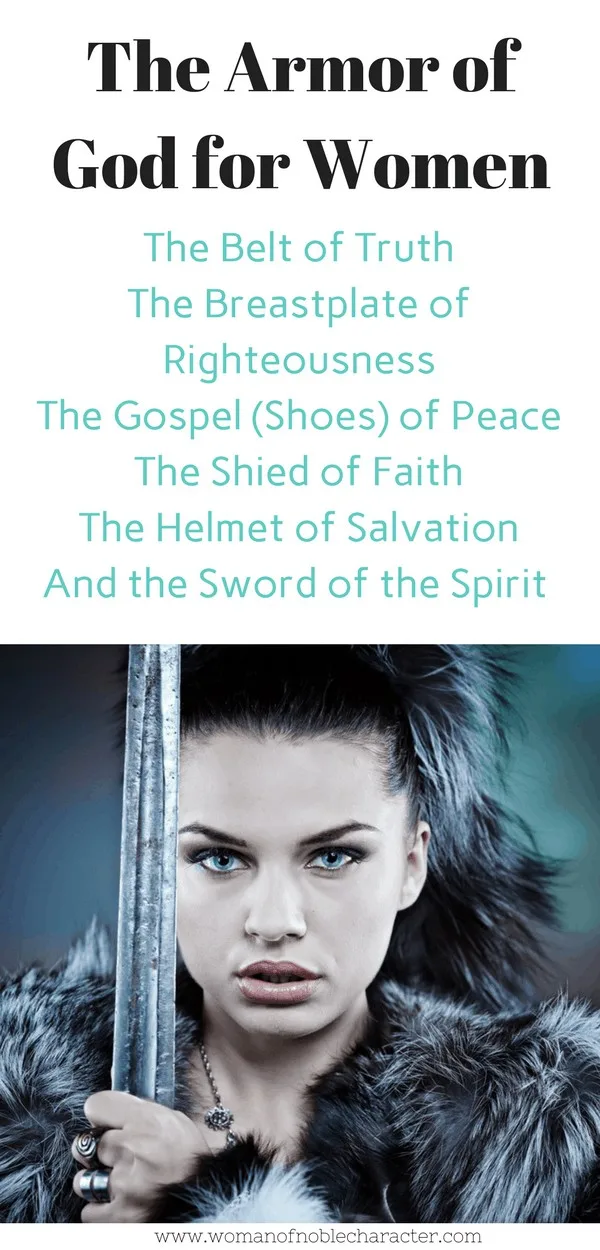 Armor of God – Put on the Belt of Truth
This is the integrity of the believer. In biblical times, a soldier wore a leather girdle or belt (ouch!) He wore it around his waist to protect his, ahem, "personal gear" and to carry his weapons, including his sword. The belt was also used to hold his tunic in place. In Christian armor, it is our integrity that holds us, our faith, and everything else together. Without integrity in all you do (the big things AND the little things), you will lose your battle against evil.
If you go to church every time the door opens, but don't treat others with love and respect, are you living a life of integrity? If you extend your hands to the needy but lie when you open your mouth, is that living with integrity? Speak in truth and use the Bible as your compass.
Armor of God – Put on the Breastplate of Righteousness
This is the purity and righteousness of the Christian. The breastplate of a solder was used to cover his heart and other vital organs. For the Christian soldier, the breastplate of righteousness is used to protect our purity and our righteousness.
Satan wants you to be impure. He delights in tempting you with the immorality of the word – inappropriate magazines, movies, and websites. Songs with filthy lyrics. Daydreams and fantasies of things and people that are distasteful to God. The evil one is looking for chinks in your armor. He is trying to find a way through your breastplate to your heart and mind. He wants to tempt you away from God through unclean thoughts and deeds. Be alert! Do not let the enemy in!
Furthermore, He wants you to boast and be prideful. So you go to church three times a week, work on a dozen ministries and donate to the poor. Guess what? The glory is God's, not yours. Boast about God, not about how wonderful you are. God created you. He knows how wonderful His work is.
Putting on this piece of God's armor guards your heart against pride and any other arrow of sin. When you put on the breastplate of righteousness, you are sending a message to the devil "My God is bigger and mightier than you or anything that you put before me!".
Armor of God – Put on the Gospel of Peace (Shoes of Peace)
This is the peace in the believer's heart and mind. A soldier in Paul's time would wear shoes with hobnails (much like the metal spikes on football cleats). The hobnails would prevent them from slipping and would give them sure footing when marching or fighting.
God gives us peace through Him and in Him. Satan wants to upend your peace and trample your tranquility. He does this by putting doubts in your mind or discouraging you. He also tries to throw obstacles in your way. If you find stones or boulders in your way, causing you to lose footing in your walk with God, you know they were thrown by the devil to cause you to stumble. Kick those stones out of your way with confidence, knowing that you have "the peace of God, which surpasses all understanding, will guard your hearts and your minds in Christ Jesus"
Armor of God – Put on the Shield of Faith
This is self-explanatory. This is our Faith in our Creator. The shield of the Roman soldier was rather large, approximately two feet by four feet, and was made with wood and then covered with leather. During the battle, soldiers dipped arrows in oil, lit them on fire, and shot them at the enemy troops. These large shields were what kept them from being burned by the lighted arrows or having their hearts pierced.
You can guarantee that Satan is going to fire arrows of flame at you. Those arrows may be a temptation, hurdles, feelings of doubt or discouragement, hurt, betrayal, etc. Putting on your shield of faith, and being ready for what he throws at you will protect you from any flaming arrows.
Raise up your shield to protect your heart. Faith is knowing that God is with you in every battle or war, and having faith can move mountains.
Matthew 17:20
20 He replied, "Because you have so little faith. Truly I tell you, if you have faith as small as a mustard seed, you can say to this mountain, 'Move from here to there,' and it will move. Nothing will be impossible for you."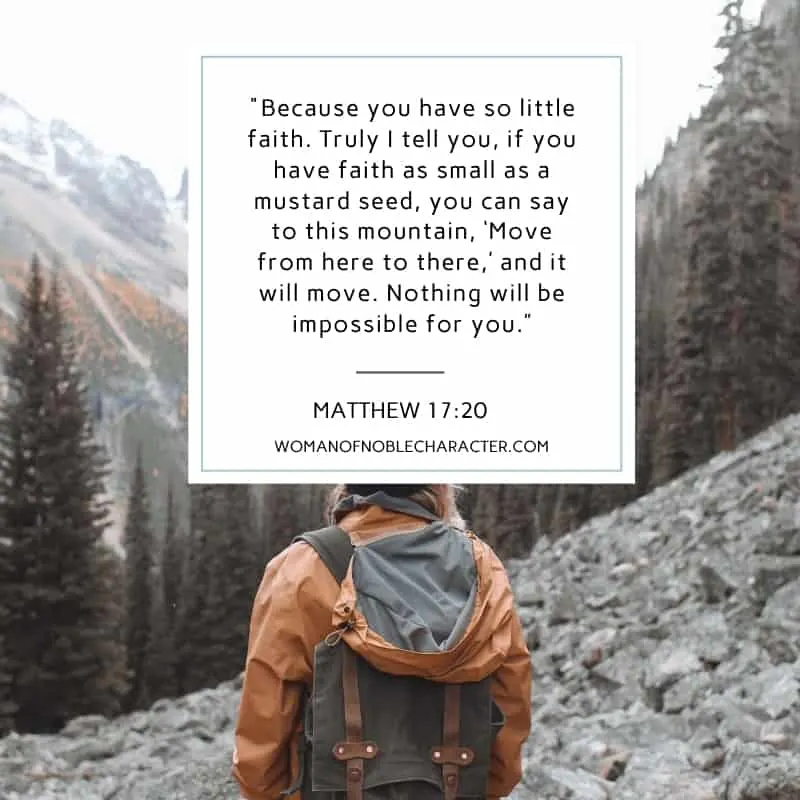 Your shield of faith shows that you trust God no matter what the enemy throws your way. Ephesians 6:16 says, "In every battle, you will need faith as your shield to stop the fiery arrows aimed at you by Satan."
Armor of God – Put on the Helmet of Salvation
The helmet of salvation is to guard your mind. The Roman soldier wore a sturdy helmet to protect his head. He knows that if his head became wounded, he wouldn't be able to think or strategize or, worse, yet, to live, if it were a mortal wound. As Christian women, we are to guard our minds and have the minds of Christ.
As mentioned above, the enemy is going to try to do all he can to put unclean thoughts in your head, doubts, fears, and other attacks on the mind. Surround yourself with words and pictures that are pleasing to God (worship music, Christian friends, your Bible). As soon as a thought that is unholy comes to mind, stop! Recognize that it is Satan and put on your helmet of Salvation.
You were saved by Christ's blood. Declare that to Satan and tell him to get out of your head! In Proverbs 15:14, we read, "A wise person is hungry for truth, while the fool feeds on trash."
Armor of God – Pull Out the Sword of the Spirit
The Sword of the Spirit is the Word of God! When we are hurting, doubting, afraid, or tempted, the most effective weapon in our toolbox is the Word of God. He gave us the Holy Bible to use as an instruction manual for life, but also to use to fight sin and to find encouragement.
When life has thrown you a curveball (physically, financially, emotionally), read God's Word. Memorize it, Write it in a journal, and pray over it. Use the Word of God to fight off any lies or attacks from the devil.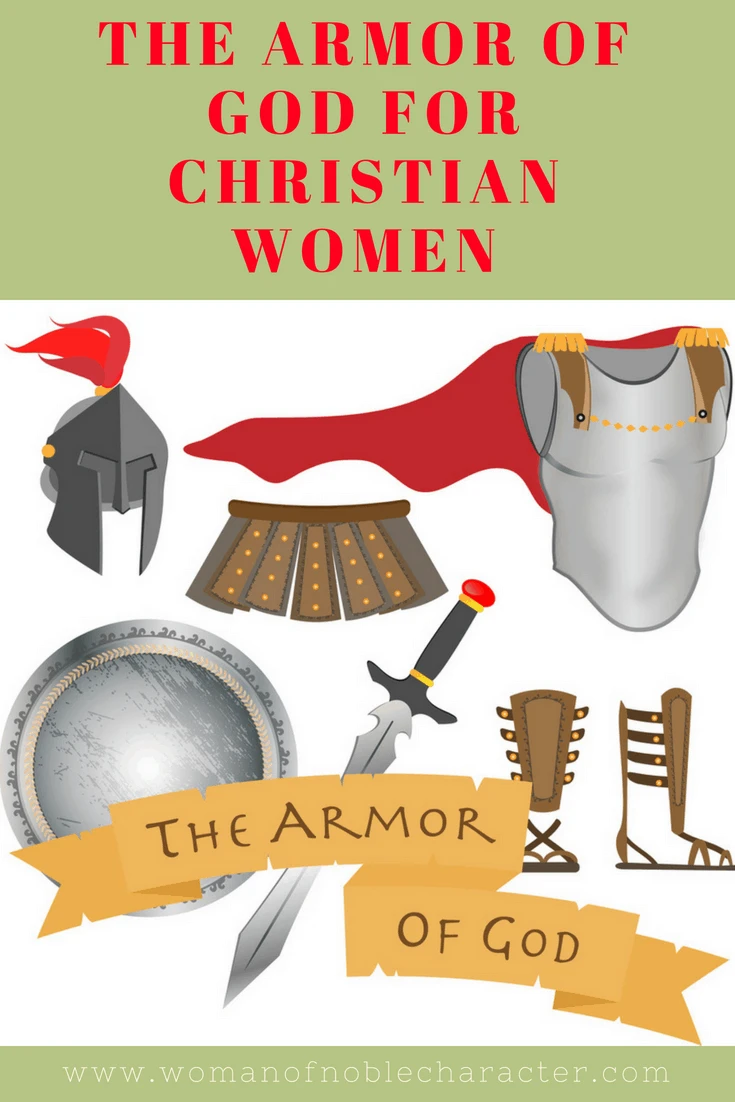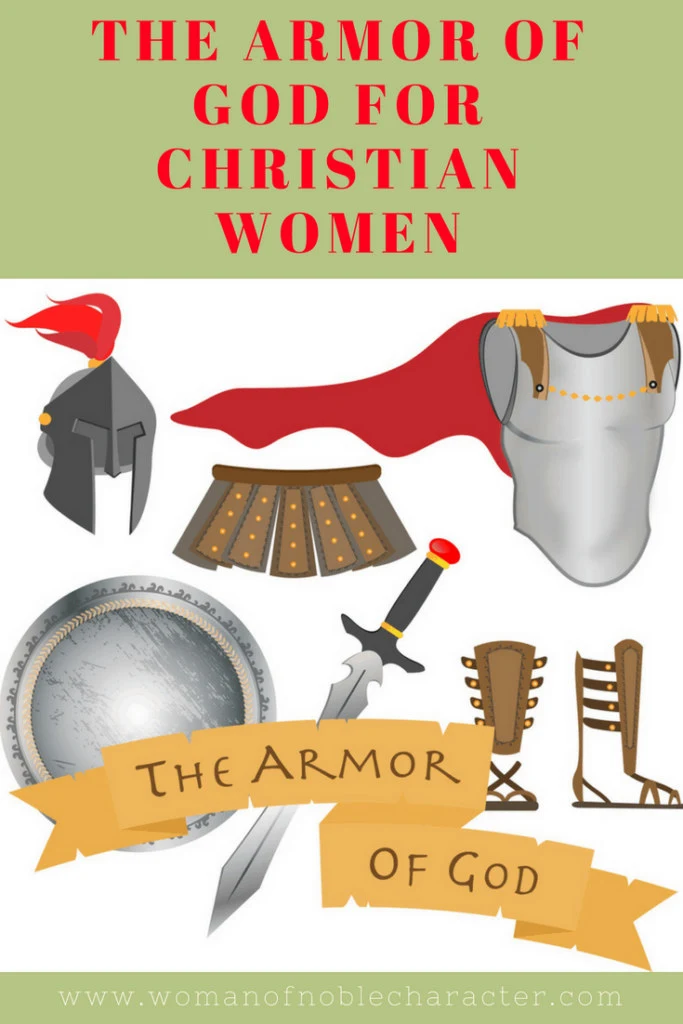 For the word of God is alive and active. Sharper than any double-edged sword, it penetrates even to dividing soul and spirit, joints and marrow; it judges the thoughts and attitudes of the heart.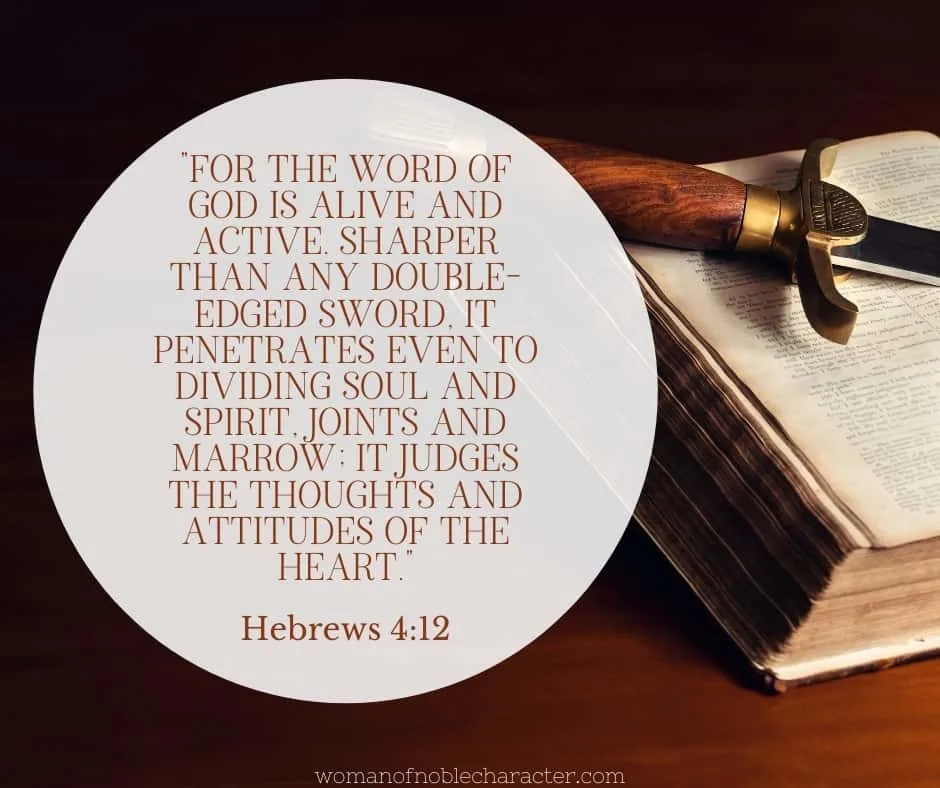 We have the full armor of God already hanging in our closet if we are a believer. Each morning, when you dress, visualize putting on each of the pieces of the armor of God. It will set your day off right and remind you that God has given you the weapons to fight off any attacks from the enemy!
We're in the army now! Thankfully, we have a wonderful Commander-in-Chief who has provided us with His heavenly weapons of war so that we can have spiritual strength to stand and fight back against Satan's attacks!
The form you have selected does not exist.
I loved the Bible study on the Armor of God by Priscilla Schirer. If you've done it, I'd love to hear about your experience. I've also included some other great resources on the full armor of God that you may enjoy as well as visual reminders to remember to put on the full armor of God each day!
Or listen to them on Audible Plus with a free trial!
I'm praying for you, my friends!
Because of Him,
Sue
For three ways to stay faithful no matter what, see this previous post.