Elizabeth in the Bible: 8 Life Lessons We Can Learn from Her Story
This page/post may contain affiliate links.  As an Amazon Associate, as well as an affiliate of other programs, this means if you purchase something using these links, I will receive a commission on qualifying purchases at no cost to you! For more detailed information, please visit our Affiliate Disclaimer page
The story of Elizabeth in the Bible is often overlooked as it occurs parallel with Mary's as she learns she is pregnant with the Lord and Savior, but there's so much richness to this story. In addition, there are quite a few lessons that we can learn from Elizabeth.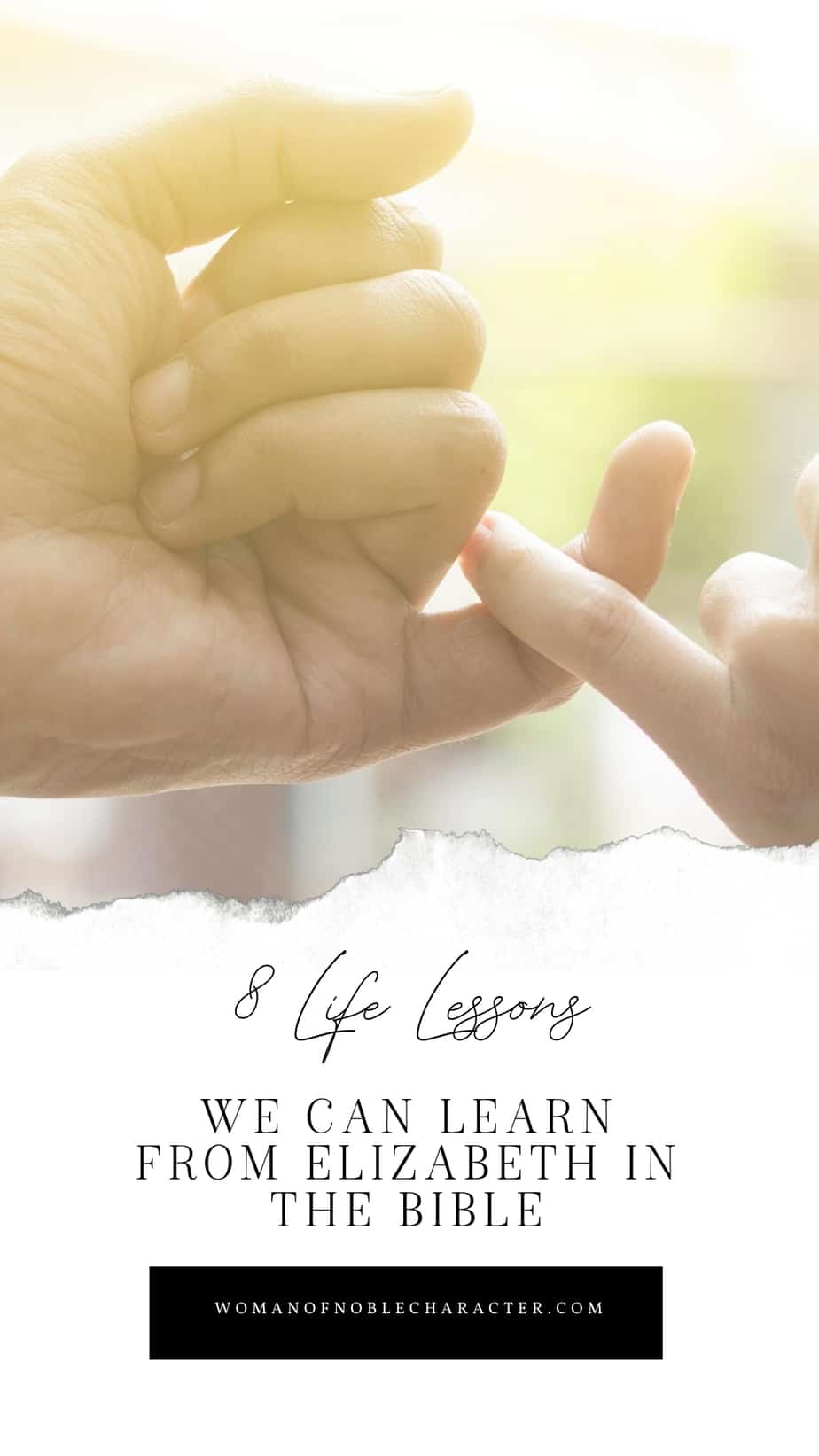 Before we look at the lessons from the life of Elizabeth in the Bible, let's review her story found in the book of Luke:
The Story of Elizabeth in the Bible
Elizabeth in the Bible was married to Zechariah, a priest. She was also a cousin to Mary, the mother of Jesus. The New Testament describes Elizabeth and her husband, Zechariah as "righteous and blameless" people who observed "all the Lord's commands and decrees blamelessly". (Luke 1:6).
Elizabeth was described as barren; unable to have children.
In the first mention of Elizabeth in the Bible, she is said to be an old woman. As lifespans were drastically different in biblical times, this could put her anywhere between late middle-age to old age. Regardless of how old she actually was, she was certainly past what anyone would consider child-bearing age.
When Zechariah was in the temple giving an offering to the Lord, Gabriel, the angel, appeared to him, and said that he and Elizabeth would soon be parents and that they were to name the baby John. John would grow up to be "great in the sight of the Lord" and bring joy and gladness to them and many will rejoice because of him.
Zechariah found this a bit hard to believe since both he and his wife were "old", but Gabriel (he was the same angel who later appeared to Mary) told Zechariah that he wouldn't be able to speak until the prophecy was fulfilled in the birth of John.
Soon, Elizabeth learns that she is pregnant and secludes herself for five months. She said, "The Lord has done this for me. . . . In these days he has shown his favor and taken away my disgrace among the people".
Not long after Elizabeth conceives, Mary also learns that she is pregnant.
The angel, Gabriel, visits Elizabeth to tell her of Elizabeth's pregnancy and Mary set out to visit her cousin.
As soon as Mary arrived at Elizabeth's home and Elizabeth heard Mary's greeting, "the baby leaped in her womb, and Elizabeth was filled with the Holy Spirit. In a loud voice she exclaimed: 'Blessed are you among women, and blessed is the child you will bear! But why am I so favored, that the mother of my Lord should come to me? As soon as the sound of your greeting reached my ears, the baby in my womb leaped for joy. Blessed is she who has believed that the Lord would fulfill his promises to her!'" The Holy Spirit told Elizabeth of Mary's pregnancy even before Mary could utter a word!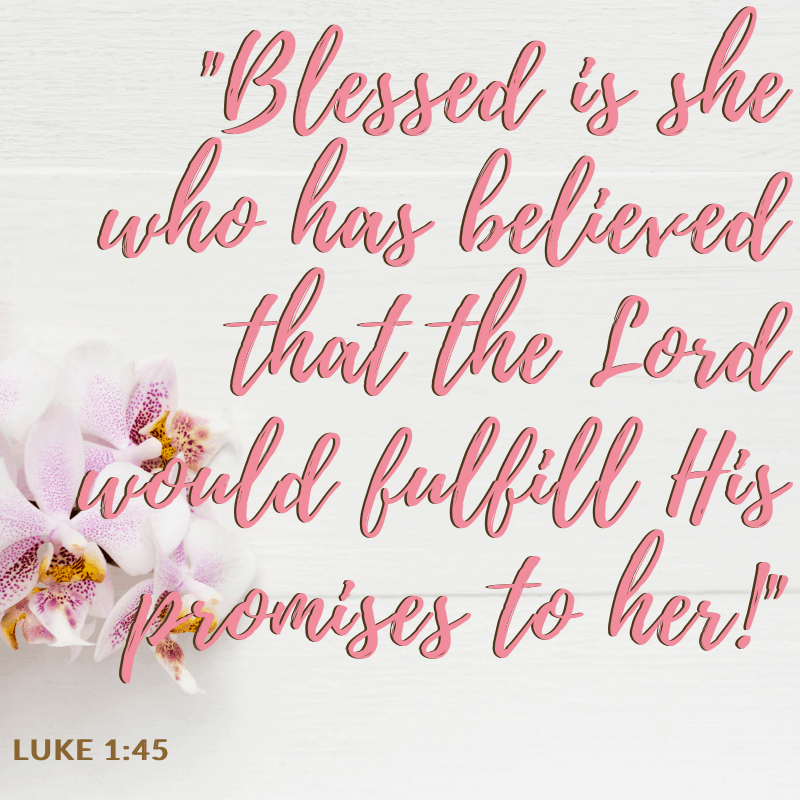 Mary and Elizabeth were able to comfort and encourage each other during their pregnancies.
Eight days after Elizabeth's child was born, the neighbors and relatives were gathered for the ceremony of circumcision. In the Hebrew tradition, it is at this time that babies were officially given their names, and Elizabeth declared her baby's name to be John. Zechariah, however, was still unable to talk. The neighbors asked Elizabeth about the name. It was an unusual name, at the time and none of her relatives had ever been called John. Why not name him Zechariah, after his father? But Zechariah grabbed a tablet and wrote on it the name of John. In this he showed his faith in the angel's prophecy, and, with that, Zechariah was able to speak again.
Of course, we know now that Elizabeth's son grew up to be John the Baptist, who ministered "before the Lord, in the spirit and power of Elijah" and was the prophet who prepared the way of the Lord, fulfilling Malachi's prophecy (Malachi 3:1)
You can find everything that you are looking for about Women of the Bible: Unintentional Mentors, in this post as well as in-depth studies on each of the 8 women we cover (Deborah, Elizabeth, Miriam, Rahab, Sarah and more) but you may also wish to purchase the ebook for your convenience. No ads, no pop ups and you'll have it forever to refer to when fasting. It includes tons of videos and additional downloads. The best part – it's only $7 for 137 pages! Your choice, read it here or have it forever.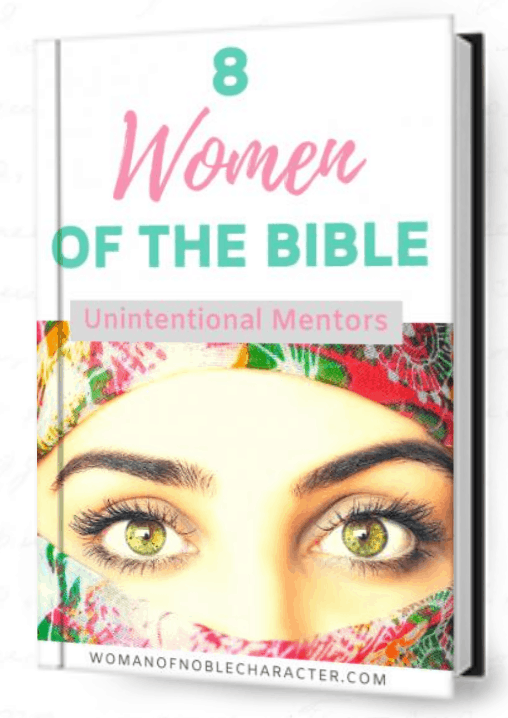 Lessons from the Life of Elizabeth in The Bible
1. God is Jehovah Jireh and He Always Provides
Can you imagine the thoughts going to Mary's head when the angel told her that not only is she pregnant as an engaged woman (the shame!), but this baby is to be the Messiah?
Soon after Gabriel visited Mary, she sought a friend in her cousin, Elizabeth.
God provided for Mary as only God can. He gave her someone who would empathize with her. Someone also with child. Someone who would "get" the swollen ankles, morning sickness and, even being visited by an angel. They provided comfort for each other as part of God's plan.
We've all heard the story of Elizabeth and Mary but I think many of us overlook how God provided to Mary and Elizabeth. We should never forget that our God provides and that even today, He is at work in our lives providing as only He can.
(Click the image below for a three page PDF download with Bible verses about Elizabeth. Use them for personal study or for prompting to verse map or Bible journal)
2. Avoid the comparison trap
Both Elizabeth and Mary were graciously favored by God. Each was given a calling to Mother men written about in prophecy.
When Mary came to Elizabeth to share her news, Elizabeth's reaction surprised me. Elizabeth, considered barren and now in her old age, was about to have a baby AND she was visited by the angel of the Lord! I mean, that's news! But, instead of being jealous over Mary's own news – pregnant with the Son of God – Elizabeth rejoiced for her cousin and that each were a part of God's plan.
How many times have you heard of a friend or family member receiving blessings and wondering why it couldn't have been you? What about looking over the fence at your neighbor's home and seeing their new car lamenting over the fact that your car is old, barely running and needs to be replaced.
Perhaps it's feeling jealous over a friend's job, vacation, fill-in-the-blank. I get it. We tend to look at others and compare them to ourselves and our lack, but what if, we changed our way of thinking and, instead, rejoiced with them?
What if we were genuinely happy for how God has blessed others? What if we rested in the fact that we are just the way God wants us? That we have exactly what our Lord says we need?
I'm pretty sure we'd actually feel a weight lifted that we don't have to be or look a certain way. God created us just the way He wants. I love this post from Worth Beyond Rubies about comparing yourself to other. In it, the writer, Diane Ferreira, says "Stop comparing yourself to others – you are chosen for this place." I just love that. What a beautiful reminder that God predestined our "lot in life" and who are we to compare what others have or look like to ourselves? God's got this, we don't have to.
Elizabeth didn't have to be reminded of this. She didn't fall into the comparison trap. She rejoiced with her cousin over her news.
"Blessed are you among women, and blessed is the child you will bear! But why am I so favored, that the mother of my Lord should come to me? As soon as the sound of your greeting reached my ears, the baby in my womb leaped for joy. Blessed is she who has believed that the Lord would fulfill his promises to her!" – Luke 1:42-45
3. God puts people in our lives at just the right time
For three months, during Elizabeth and Mary's pregnancy, the two women spent their time together. We don't know what they talked about or what they did together, but we do know that they were there for us.
God has a way of putting people in our lives at just the time we need them.
God has a way of putting people in our lives at just the time we need them.
At a time in my life when the door was shutting on a very long-term friendship, God placed a woman in my life who was just who I needed at the time as a friend. She pours into me and strengthens my faith. She and I are walking a similar path, my like Elizabeth and Mary and she is just who I need as a friend in this stage of life. God knew that and He placed her in my life at just the right time.
4. God always keeps His promises
The name Elizabeth means "God keeps his oaths" (more on that below under interesting facts about Elizabeth in the Bible). When Elizabeth went years without conceiving, she had no idea that in her twilight years, God would keep His promises to her.
His kept promise to Elizabeth brought a prophecy to life and the one that would go before Jesus to make a nation of Israel.
You may be struggling right now. You may not feel like you are making a difference in the kingdom of God, but God has a plan for you, my friend.
You may not see it now, but He is at work and will always keep His promises!
You may not see it now, but He is at work and will always keep His promises!
5. We Should Bless Others Whenever We Have the Opportunity (and not be selfish)
Let's set the stage: Elizabeth learns that she is with child. She is so excited she can hardly contain it. Mary pops by to share her own news and, instead of Elizabeth blurting out her own exciting news, she, instead, blessed Mary with her words.
"You are the most blessed of women, and your child will be blessed."
I don't know about you, but I am guilty of dulling the shine of others, at times. I get so excited to tell my husband about something good that happened in my day, that I don't stop and think to ask him how his day was.
Occasionally, I'll go on about my own "stuff" and miss the opportunity to bless others. I can be selfish. God is working on me and has convicted me about this.
Can you relate?
Each time you see a friend or family member, think for a moment how your words can bless (or tear down) someone.
Be a blessing to others through your words.
I'm sure that Elizabeth was bursting at sharing her news, but, yet, she blessed Mary before saying anything about herself.
6. We Should Look for Opportunities To Give Others a Reason to Praise God
Elizabeth's blessing to Mary caused Mary to praise God.
And Mary said:

"My soul glorifies the Lord
and my spirit rejoices in God my Savior,
for he has been mindful
of the humble state of his servant.
From now on all generations will call me blessed,
for the Mighty One has done great things for me—
holy is his name.
His mercy extends to those who fear him,
from generation to generation.
He has performed mighty deeds with his arm;
he has scattered those who are proud in their inmost thoughts.
He has brought down rulers from their thrones
but has lifted up the humble.
He has filled the hungry with good things
but has sent the rich away empty.
He has helped his servant Israel,
remembering to be merciful
to Abraham and his descendants forever,
just as he promised our ancestors."

Luke 1:46-55
Mary was so overcome by Elizabeth's words of blessing, that she broke out in praise.
When people are around you, are you a source of encouragement? Or are you a sourpuss? Do your words cause people to praise God? Do you bolster their faith?
Think before you speak and, whenever possible, let your words and behaviors prompt them to praise our Heavenly Father!
7. Remember That God Still Performs Miracles
Elizabeth's conceiving in her old age was certainly a miracle. God was clearly at work.
Each week, I hear from readers who share miracles that God has performed in their life. Marriages restored. Illnesses healed. Financial needs met. God is at work among us and continues to perform miracles.
Our God is a God of miracles and He delights in performing them for His dearly beloved children.
Take a moment to think of any miracles that God has performed in your life. Write them down. Thank Him for each one. He still performs miracles and I just know that He has something big planned for you.
Click the image below for a downloadable/printable of lessons we can learn from Elizabeth in the Bible.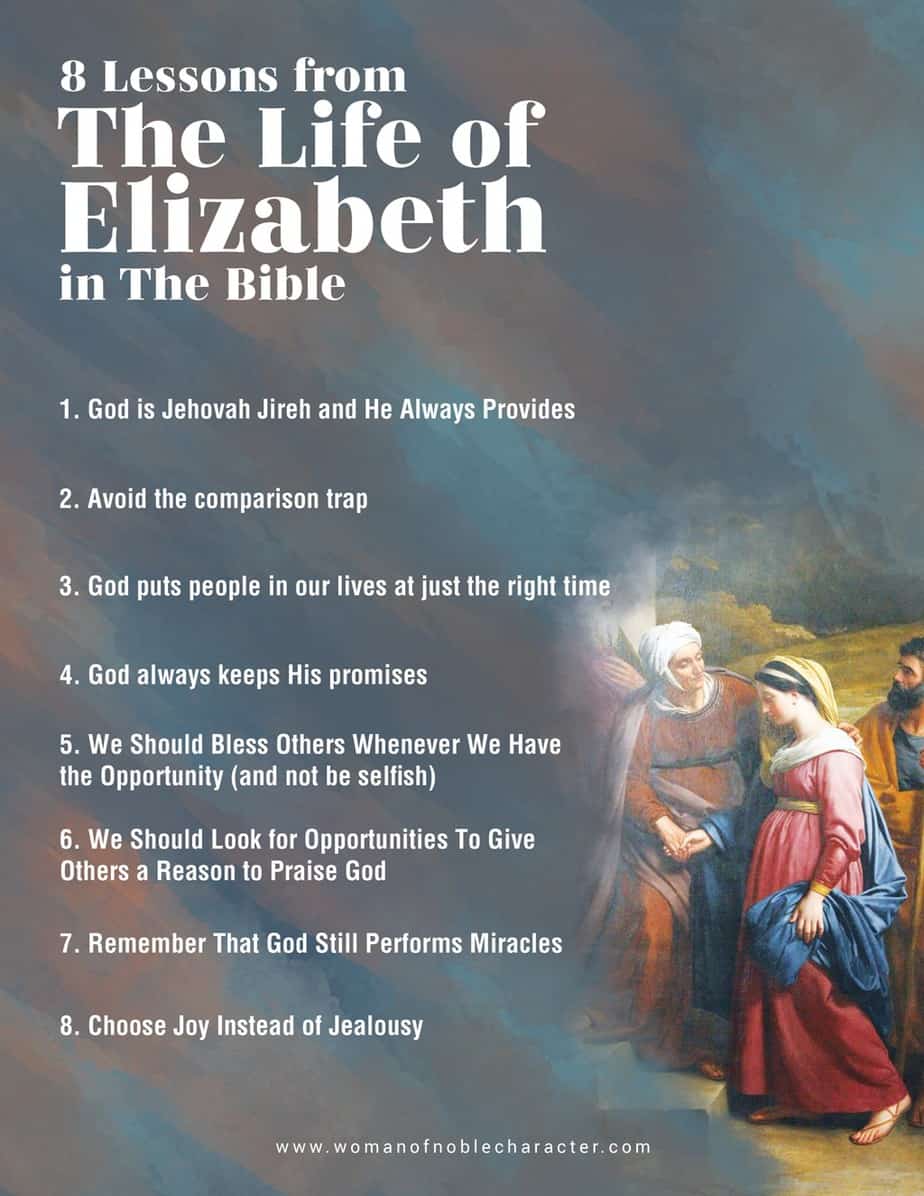 8. Choose Joy Instead of Jealousy
So, we've covered that Elizabeth chose to bless Mary and was thrilled for her news. Instead of being jealous, she was humble and overjoyed for her cousin.
Of course, Elizabeth felt honored by God with her own pregnancy, but instead of feeling jealous that Mary had an even greater blessing (I mean, she was pregnant with the Messiah!), she, instead, was truly happy for her.
Jealously can cause emotional and spiritual degeneration. It ruins friendships. It causes families to break apart.It causes strife in the workplace.
When we focus on God and build our faith in Him, we can rest in knowing that He is doing what is best for us. We can know that He is working in our lives and that He has His own timing that we can't begin to understand. We then, don't feel jealously. We know that He is working all things for His good.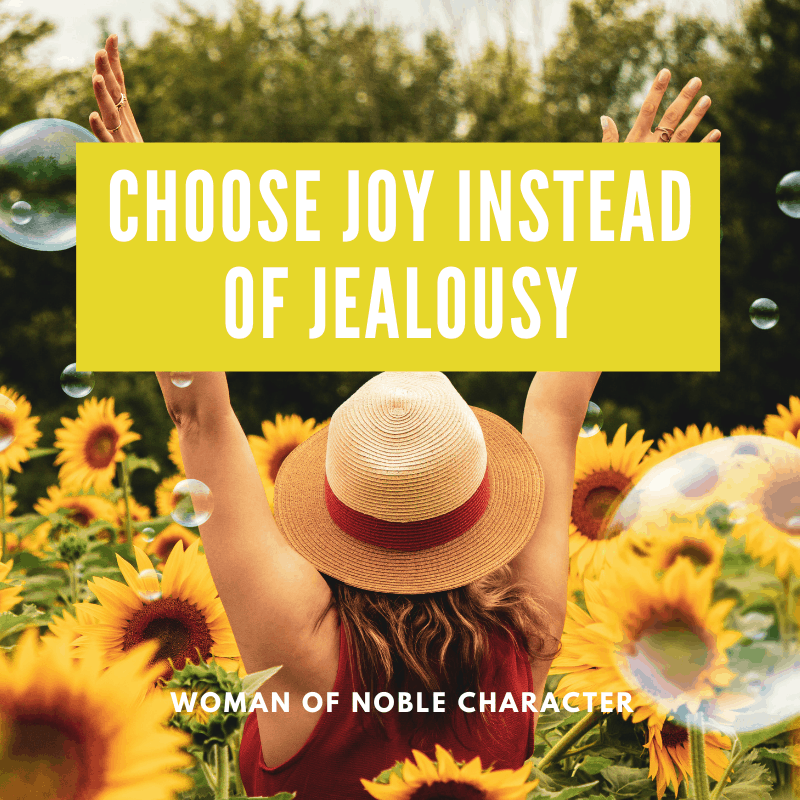 Eight lessons we can learn from Elizabeth in the Bible. I'm sure there are many more. What would you add?
Interesting Facts About Elizabeth in the Bible:
She is revered and honored by Muslims as wise and pious and like Mary, was exalted by God to a high station.
She is believed to be a descendant of the Aaron, the prophet and priest.
While, Elizabeth is mentioned in the New Testament only in the Gospel of Luke, she is also mentioned in several books of the New Testament Apocrypha, most prominently in the Infancy Gospel of James.
Elizabeth is revered as a saint in the Catholic Church and her feast day is September 23. In the the Orthodox and Anglican traditions, her life is celebrated on September 5, on the same day as her husband Zechariah's day.
The name Elizabeth is the feminine derivative from the Hebrew name Elisheva (אֱלִישֶׁבַע), meaning "My God is an oath" or "My God is abundance", as mentioned in the Septuagint.
If you'd like to learn more about Elizabeth's story in the Bible, I recommend the following resource: