This page/post may contain affiliate links. As an Amazon Associate, as well as an affiliate of other programs, this means if you purchase something using these links, I will receive a commission on qualifying purchases at no cost to you! For more detailed information, please visit our Affiliate Disclaimer page
17 Must Read Books on Christian Marriage to Bless Your Union
Whether you are engaged to be married or have been married for decades, reading books on Christian marriage can help you to have a growing, healthy biblical marriage.
To understanding God's design for marriage to learning your spouse's love language and from improving communication to remembering what it felt like when you were first together, these books can help you to deepen your love and put God at the center.
Here are my top recommended books on Christian marriage. (Click on the book cover to take you to the Amazon listing for these books on Christian marriage)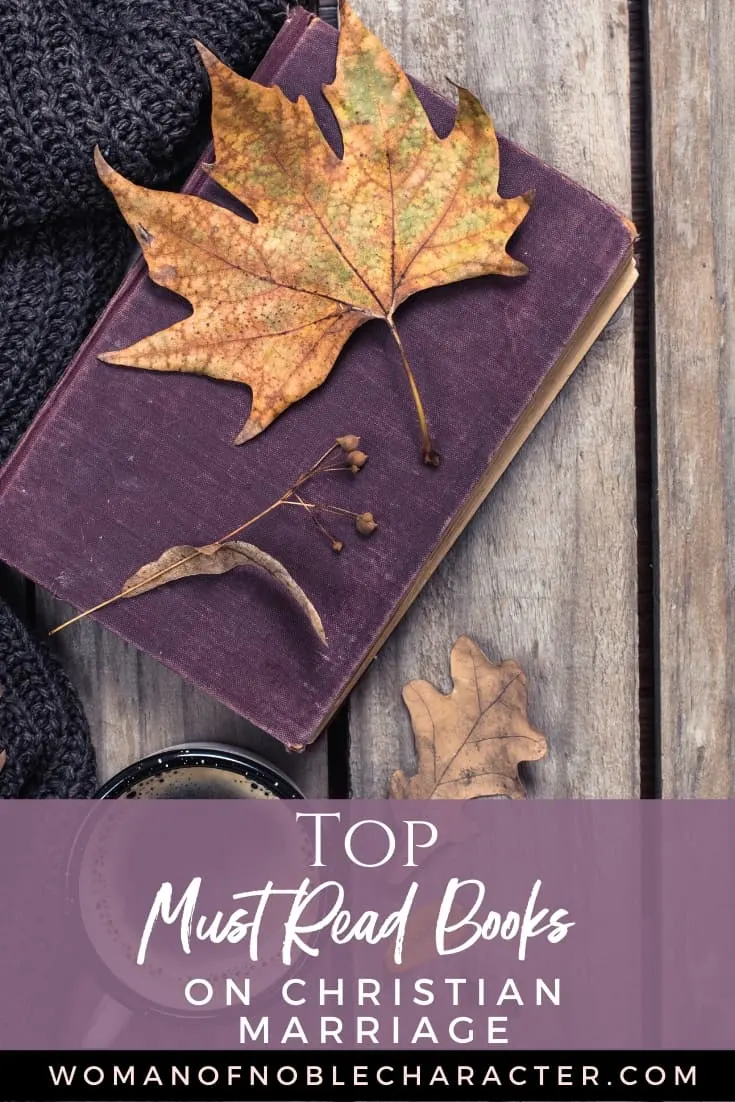 NOTE: You can try the Amazon Kindle Unlimited Plan and get access to over 1 million books (including many of these). Read on any device including your phone, tablet and computer or Kindle. Prefer to listen to the books? This plan includes audible books, too! Or just try audible and get 2 free audiobooks as a bonus!
The Five Love Languages
By Gary Chapman. This classic book helps couples discover how each person shows and receives love. One of the most widely read of the books on Christian marriage.
This book will help you experience deeper and richer levels of intimacy with your partner.
The 5 Love Languages is as practical as it is insightful. Updated to reflect the complexities of relationships today, this new edition reveals intrinsic truths and applies relevant, actionable wisdom in ways that work.
Includes the Couple's Personal Profile assessment so you can discover your love language and that of your loved one.
Celebrating its 25th anniversary, this book continues to top the charts on books for Christian marriage.
The Meaning of Marriage: Facing the Complexities of Commitment with the Wisdom of God
Based on the acclaimed sermon series by New York Times bestselling author Timothy Keller, this book shows everyone—Christians, skeptics, singles, longtime married couples, and those about to be engaged—the vision of what marriage should be according to the Bible.
Modern culture would have you believe that everyone has a soul mate; that romance is the most important part of a successful marriage; that your spouse is there to help you realize your potential; that marriage does not mean forever, but merely for now; and that starting over after a divorce is the best solution to seemingly intractable marriage issues. But these modern-day assumptions are wrong.
Timothy Keller, with insights from Kathy, his wife of thirty-seven years, shows marriage to be a glorious relationship that is also misunderstood and mysterious. The Meaning of Marriage offers instruction on how to have a successful marriage, and is essential reading for anyone who wants to know God and love more deeply in this life.
The Love Dare
Unconditional love is eagerly promised at weddings, but rarely practiced in real life. As a result, romantic hopes are often replaced with disappointment in the home. But it doesn't have to stay that way.
The Love Dare, the New York Times No. 1 best seller that has sold five million copies and was major plot device in the popular movie Fireproof, is a 40-day challenge for husbands and wives to understand and practice unconditional love. Whether your marriage is hanging by a thread or healthy and strong, The Love Dare is a journey you need to take. It's time to learn the keys to finding true intimacy and developing a dynamic marriage.
The God Centered Marriage: Honoring Him Through Your Marriage
Of course, I recommend my own book, The God Centered Marriage on the list of best books for Christian marriage. The God Centered Marriage is more than an eloquently written overview on putting God at the center of your marriage. It is a how-to manual with action steps, journal questions, Scripture references, prayers for specific areas of your marriage and resources for deeper study.
In it, we cover what it means to have a God-centered marriage and explore the many areas of your marriage that many overlook when it comes to putting God at the center.These areas include: Money, Intimacy, Friendship, Submission, Communication, Family and other Relationships
The Mingling of Souls: God's Design for Love, Marriage, Sex, and Redemption
The Song of Solomon offers strikingly candid—and timeless—insights on romance, dating, marriage, and sex. We need it. Because emotions rise and fall with a single glance, touch, kiss, or word. And we are inundated with songs, movies, and advice that contradicts God's design for love and intimacy.
Matt Chandler helps navigate these issues for both singles and marrieds by revealing the process Solomon himself followed: Attraction, Courtship, Marriage … even Arguing. The Mingling of Souls will forever change how you view and approach love.
Thirty One Prayers for My Husband: Seeing God Move in His Heart
By Jennifer Smith. Marriage is one of the most beautiful things God ever created & prayer for your marriage is one of the most essential parts of sustaining a healthy Christian marriage.Prayer is the way in which we communicate with God. Thirty-One Prayers For My Husband Was written to help wives pray specifically for different areas of life for their husband. I chose 31-prayers to make sure that every day of the month is covered!


Some of the prayers include:
* Leader Of The Home
* Pursuing Gentleness
* Freedom From Lust
* Knowing His Purpose
* Integrity
* Extraordinary Marriage
Love and Respect Workbook: The Love She Most Desires; The Respect He Desperately Needs
Based upon Ephesians 5:33 and extensive biblical and psychological research, Dr. Emerson Eggerichs reveals the power of unconditional love and unconditional respect and how husbands and wives can reap the benefits of marriage that God intended.
52 Uncommon Dates: A Couple's Adventure Guide for Praying, Playing, and Staying Together
By Randy Southern.
Have you ever tried a photography date? A water date? What about a second first date?
52 Uncommon Dates is more than a book. . . it's an experience! Each date will set the scene for you and walk you through making it happen. Learn how to practically speak each other's love language, incorporate prayer in ways that are natural and relevant to real life, and finish strong with questions that help keep conversation alive. You can even dig deeper to discover Bible passages that fit the theme of each date.
Ignite prayerful and playful connections in ways that deepen the relational, physical, emotional, and spiritual aspects of your relationship, one date at a time.
Wife in Pursuit: 31 Daily Challenges for Loving Your Husband Well
By Selena Frederick.
Every marriage begins with purpose, passion, and intentional pursuit, but few marriages stay that way. Wife in Pursuit aims to help change that.
Over the course of 31 days, your marriage will be transformed as you dig into God's Word, rediscover how Christ has pursued you, and take real action to intentionally pursue your husband. In this book, you will:
Gain a deeper understanding of your identity in Christ

Apply the gospel to how and why you pursue your husband

Complete 31 "Pursuit Challenges" that turn gospel truths into real action

Have honest conversations, initiate intimacy, plan memorable dates, devise elaborate escapes, and explore small ways to show genuine affection

Wife in Pursuit offers a gospel-centered, practical path toward loving your husband well. Will you take the challenge? And if you do, dare you complete it?
Sacred Marriage: What If God Designed Marriage to Make Us Holy More Than to Make Us Happy?
Also by Gary Chapman.
Happy is good. But holy is better. Your marriage is more than a sacred covenant with another person. It is a spiritual discipline designed to help you know God better, trust him more fully, and love him more deeply. What if God's primary intent for your marriage isn't to make you happy . . . but holy?
Sacred Marriage doesn't just offer techniques to make a marriage happier. It does contain practical tools, but what married Christians most need is help in becoming holier husbands and wives. Sacred Marriage offers that help with insights from Scripture, church history, time tested wisdom from Christian classics, and examples from today's marriages.
Sacred Marriage reveals how marriage trains us to love God and others well, how it exposes sin and makes us more aware of God's presence, how good marriages foster good prayer, how married sex feeds the spiritual life, and more.
The revised edition of Sacred Marriage takes into account the ways men's and women's roles have expanded since the book was first written. It has been streamlined to be a faster read without losing the depth that so many readers have valued.
Boundaries in Marriage
Learn when to say yes and when to say no to your spouse to make the most of your marriage.
Only when you and your mate know and respect each other's needs, choices, and freedom can you give yourselves freely and lovingly to one another.
Boundaries are the "property lines" that define and protect husbands and wives as individuals. Once they are in place, a good marriage can become better, and a less-than-satisfying one can even be saved.
Drs. Henry Cloud and John Townsend, counselors and authors of the award-winning bestseller Boundaries, show couples how to apply the 10 laws of boundaries that can make a real difference in relationships. They help husbands and wives understand the friction points or serious hurts and betrayals in their marriage – and move beyond them to the mutual care, respect, affirmation, and intimacy they both long for.
Boundaries in Marriage will help you:
Set and maintain personal boundaries and respect those of their spouse

Establish values that form a godly structure and architecture for their marriage

Protect their marriage from different kinds of "intruders"

Work with a spouse who understands and values boundaries – or work with one who doesn't

You don't have to let your marriage head toward separation or divorce. Discover how boundaries make life better today!
Things I Wish I'd Known Before We Got Married
"Most people spend far more time in preparation for their vocation than they do in preparation for marriage," No wonder the divorce rate hovers around fifty percent.
Bestselling author and marriage counselor, Gary Chapman, hopes to change that with his newest book. Gary, with more than 35 years of counseling couples, believes that divorce is the lack of preparation for marriage and the failure to learn the skills of working together as intimate teammates.
So he put together this practical little book, packed with wisdom and tips that will help many develop the loving, supportive and mutually beneficial marriage men and women long for. It's the type of information Gary himself wished he had before he got married.
This is not a book simply to be read. It is a book to be experienced. The material lends itself to heart-felt discussions by dating or engaged couples. To jump-start the exchanges, each short chapter includes insightful "Talking it Over" questions and suggestions. And, the book includes information on interactive websites as well as books that will enhance the couples experience.
Dr. Chapman even includes a thought-provoking appendix. By understanding and balancing the five key aspects of life, dating couples can experience a healthy dating relationship. A revealing learning exercise for dating couples is included at the end.
How We Love, Expanded Edition: Discover Your Love Style, Enhance Your Marriage
Are you tired of falling into frustrating relational patterns in your marriage? Do you and your spouse fight about the same things again and again?


Relationship experts Milan and Kay Yerkovich explain why the ways you and your spouse relate to each other go back to before you even met. Drawing on the powerful tool of attachment theory, Milan and Kay explore how your childhood created an "intimacy imprint" that affects your marriage today. Their stories and practical ideas help you:
* identify your personal love style
* understand how your early life impacts you and your spouse
* break free from painful patterns that keep you stuck
* find healing for the source of conflict, not just the symptoms
* create the close, nourishing relationship you dream about
Revised throughout with all-new material and additional visual diagrams, this expanded edition of How We Love will bring vibrant life to your marriage. Are you ready for a new journey of love?
The Four Laws of Love: Guaranteed Success for Every Married Couple
From the bestselling author of Marriage on the Rock, Four Laws of Love represents the culmination of Jimmy Evans' influential career. In this deeply personal book, Jimmy Evans outlines the foundational pillars upon which God designed marriage. Without holding back, he tells the story of his own marriage, which was hurtling toward divorce until this self-proclaimed "bad husband" came to recognize and put into practice these four laws.
This book sounds a wake-up call for every kind of marriage, including those that are barely surviving and those that seem to operate on autopilot. Couples who follow these simple guidelines ― recognizing the original intent and purpose of marriage―will inject new life into their unions. They'll see hurting marriages find healing and watch good marriages become great. Each revitalized relationship will play a part in restoring marriage to its sacred role at the center of human civilization.
Questions for Couples: 469 Thought-Provoking Conversation Starters for Connecting, Building Trust, and Rekindling Intimacy
Do you find it difficult coming up with thought-provoking conversation starters or topics to discuss with your partner?
Do you want to discover insightful questions that can lead to having deeper, exciting, and more meaningful conversations as a couple?
Don't have much to talk about except the day-to-day life activities?
If you answered yes to any of these questions, you're not alone.
We all want to have better, more substantial and engaging conversations everyday with our significant other.
However, knowing where to start or the right questions to ask can be a challenge when things become routine. That's why we wrote Questions for Couples.
We have used these open-ended questions to get to know each other more deeply, have better conversations, and improve our relationship. We believe these questions will do the same for your relationship too.
In Questions for Couples, you will discover:
1. 469 Thought-provoking conversation starters for connecting, building trust, and rekindling intimacy in your relationship.
2. Fun, engaging, and open-ended questions that will lead to some of the best conversations you have had in a while with your partner, bring you closer, and really get you learning about each other.
3. Creative conversation starters for communicating and expressing your feelings, needs, and desires.
4. Refreshing questions you can discuss with each other on a daily or weekly basis to help you grow your relationship, as well as personal development. Simply select 365 questions that you love, and use them for a 365 Days of Questions Challenge with your partner.
5. Thought-provoking questions that will help you talk about things you might never think of on your own, which is especially helpful if you are looking for something new to talk about.
6. Inspiring conversation starters for setting yearly goals as a couple, so you can grow together while achieving them.
7. Exciting sex questions that will get you talking and sharing your sexual desires, so you can have better and more satisfying sex.
And much more.
You can have great conversations when you know what questions to ask.
You just need the right questions.
Open-ended questions that will spark deeper conversations, so you can discover and learn more about yourself, and your partner.
Whether you are dating, in a committed relationship, engaged, married, or in a long-distance relationship, this book is for you.
Questions for Couples will get you talking for hours, even if you have very little to talk about. Plus because it's pocket-sized, it's easy to take everywhere; for road trips, coffee dates, to date nights dinner or events, the beach, vacation trips, etc.
Keep Your Love On: Connection Communication And Boundaries
Keeping your love on. It's a hard thing to do. Sometimes it's the hardest thing to do. But if you want to build healthy relationships with God and others, learning to keep your love on is non–negotiable. Adults and children alike thrive in healthy relationships where it is safe to love and be loved, to know and be known. Yet for many, relationships are anything but safe, loving, or intimate. They are defined by anxiety, manipulation, control, and conflict. The reason is that most people have never been trained to be powerful enough to keep their love on in the face of mistakes, pain, and fear.
Keep Your Love On reveals the higher, Jesus–focused standard defined by mature love―love that stays 'on' no matter what. Danny Silk's practical examples and poignant stories will leave you with the power to draw healthy boundaries, communicate in love, and ultimately protect your connections so you can love against all odds. As a result, your relationships will be radically transformed for eternity. When you learn to keep your love on, you become like Jesus.
NOTE: You can try the Amazon Kindle Unlimited Plan and get access to over 1 million books (including many of these). Read on any device including your phone, tablet and computer or Kindle. Prefer to listen to the books? This plan includes audible books, too! Or just try audible and get 2 free audiobooks as a bonus!
You and Me Forever: Marriage in Light of Eternity
By Francis Chan and Lisa Chan
Marriage is great, but it's not forever. It's until death do us part. Then come eternal rewards or regrets depending on how we spent our lives.
In his latest book, Francis Chan joins together with his wife Lisa to address the question many couples wonder at the altar: "How do I have a healthy marriage?" Setting aside typical topics on marriage, Francis and Lisa dive into Scripture to understand what it means to have a relationship that satisfies the deepest parts of our souls.
In the same way Crazy Love changed the way we saw our personal relationship with God, You and Me Forever: Marriage in Light of Eternity will radically shift the way we see one of the most important relationships in our life.
Jesus was right. We have it all backwards. The way to have a great marriage is by not focusing on marriage. Whether you are single, dating or married, You and Me Forever will help you discover the adventure that you were made for and learn how to thrive in it.
Which books on Christian marriage on your must-read list? Which books on Christian marriage do you recommend?
Some of these books are available for free on Amazon Kindle (you can read from a Kindle device, your computer or even your phone).
Prefer to listen to the book on audio? Consider Amazon Audible to listen on the go.
Looking for great advice on how to have a thriving Christian marriage? Check out this post from 13 Christian marriage bloggers and experts.
Because of Him,
Sue