This page/post may contain affiliate links. As an Amazon Associate, as well as an affiliate of other programs, this means if you purchase something using these links, I will receive a commission on qualifying purchases at no cost to you! For more detailed information, please visit our Affiliate Disclaimer page
What is a Christ Centered Marriage?
When you think of a Christ centered marriage, or a biblical or Christian marriage, what comes to mind? Perhaps attending worship services together, maybe praying and doing devotions together?
What if I told you that it is much more than that?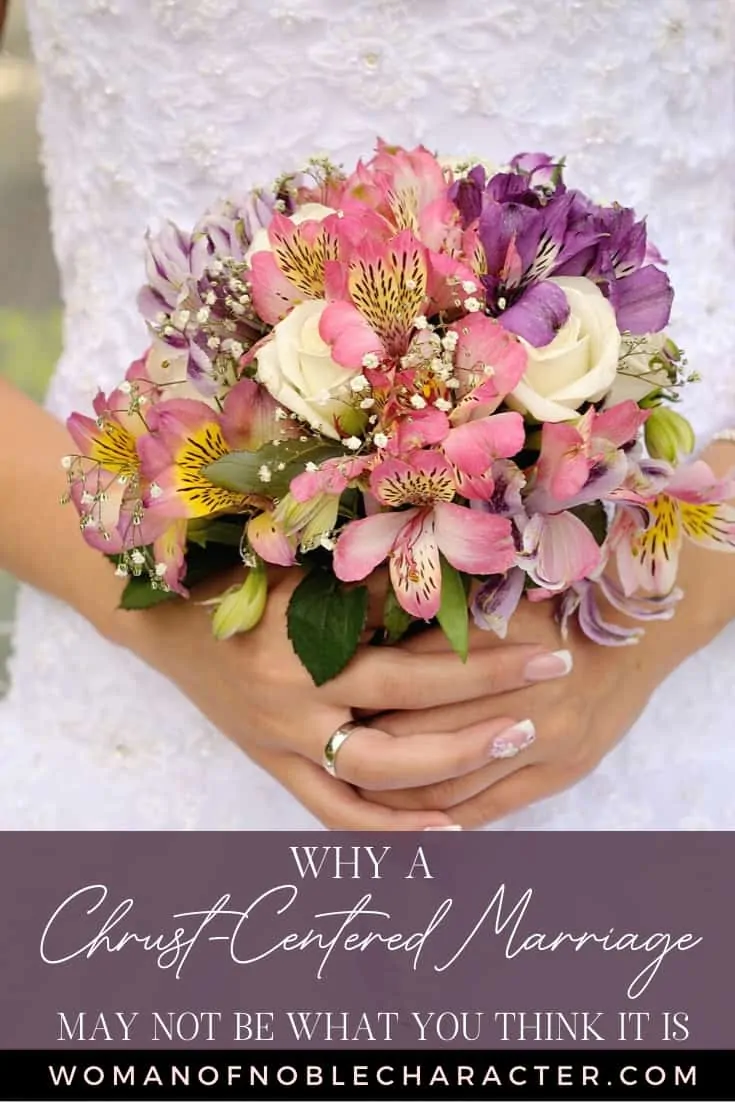 Placing God at the center of your Christian marriage or having a three-cord strand marriage is so much more than attending church, praying and doing devotions.
Don't misunderstand me here. Those things are all important, but it goes much deeper than that.
Having a Jesus centered marriage is conducting yourself in a way, through marriage, that is pleasing to God. It is following His commandments and teachings in the Bible in all you do as it relates to your marriage.
It is managing your money responsibly

It is setting boundaries around your marital union when it comes to family or friends

It is demonstrating intimacy and sexual relations

It is speaking kindly and building one another up through words and actions

It is learning to disagree and fight fairly

It is submitting to your husband in all things (not just the easy things)

It is learning how your spouse feels love and demonstrating that love in big and small ways

It is placing your husband over everything (yes, everything, even your children)

It is recognizing the differences in how God created men and women and how these differences impact marriage
Some examples of a Christ centered marriage from my life (what I'm still working on)
Let me give you an example. My husband and I have a wonderful marriage, but, recently God was convicting me and prompted me to examine where I might not be putting Him at the center of my marriage. He was whispering in my ear that maybe I'm not giving ALL of my marriage to Him.
My husband's needs always come first. I have his homemade sweet tea always made (and poured for him when he comes in from work), fresh baked goods every week and he never has to worry about clean clothes for work. I serve him first at dinner and we pray together and do couple's devotionals. We attend worship services together and we are regularly intimate, however….when God convicted me, He shined a light on several areas that I need to improve.
I am a typical Type A personality – I have lists for my lists and am always working and striving in the house, for my ministry and at work. I rarely slow down.
My husband on the other hand, is very laid back. He knows how to relax and is always in a good mood. I, however, let my busyness get in the way of relationships and find that I can be short tempered and curt in my responses to him. I am not good at being still and struggle with patience. (God is working on me with this!)
When I respond impatiently, I am not demonstrating God's love nor treating my husband in a way that is pleasing to God. I am to speak kindly and with "wisdom and faithful instruction", not flippant answers because I need to check off things on my to do list.
Here's another example: This morning, we were discussing our plans for a date night. I needed to know where we were going, when we were going and what we would do – even though, it was just before 8 am. He, just rolls with the punches of the day and didn't feel the need to worry about it until it was time to consider dinner.
God has wired us differently and I need to, as a submissive wife, let go of my desire to control every moment and let him make the decision when he was ready. THAT is putting God at the center of my marriage – not planning out every second or demanding an answer. I need to let him drive the situation and be at peace with his decision – even if that decision isn't made until we are ready to walk out the door.
Is yours a Christ centered marriage?
Perhaps your marriage is hurting and you are desperately seeking help to restore what God has joined.
Or, maybe your marriage is good, but God put this blog post in front of you so that you could examine each area of your marriage and ensure that you are putting God at the center of it.
You might even fall somewhere in between. Regardless of what brought you here, I am grateful for a God that loves us so much that He wants us to be happy. I pray that the God shines a light on any area or areas of your marriage that you need to give completely to Him.
For another great perspective, check out this post by Money Wise Steward.
If God is nudging you to take a closer look at your marriage, the God Centered Marriage course may be a blessing to you.
Another way to bless your marriage is by serving together. For more on that and the benefits of serving with your spouse, see this post.
Maybe your husband prefers to relate things to sports. I get that. In this post, Baseball, love and marriage, we talk about your marriage as a team.
Here are some book resources that I recommend on a Christ centered marriage or Christian marriage:
MY BOOK!
Look for focused workshops on The Christ Centered Marriage on the Workshops page of this site.
Because of Him,
Sue