This page/post may contain affiliate links. As an Amazon Associate, as well as an affiliate of other programs, this means if you purchase something using these links, I will receive a commission on qualifying purchases at no cost to you! For more detailed information, please visit our Affiliate Disclaimer page
Devotionals for Couples
Do you and your spouse do devotionals for couples? Keeping a marriage fresh and connected can be challenging. With work, house responsibilities, ministry, kids, and all the rest that comes with life today, staying connected takes work. You know, all of the pressure of everyday life.
Whether you are newly married or have been married for decades, setting aside time to talk, pray and connect is one of the best ways there is to stoke the flames of a God-centered marriage.
NOTE: You can try the Amazon Kindle Unlimited Plan and get access to over 1 million books (including many of these). Read on any device including your phone, tablet, and computer, or Kindle. Prefer to listen to the books? This plan includes audible books, too! Or just try Audible and get 2 free audiobooks as a bonus!
Before I share my top ten best devotionals for couples, I want to share some do's and don'ts about doing couple's devotions.
FOR THE BEST WOMEN'S DEVOTIONS, SEE THIS POST
Do's and Dont's For Couple's Devotions
DO:
Set aside daily or weekly devotional time – whichever works best for you and your spouse. Just because my husband and I do them daily doesn't mean that is right for you and your husband.
Make sure you are able to complete the devotions without interruption. Wait until the kids are in bed or do them in the morning before the kids get up.
Try a variety of couples' devotions. We liked some more than others, but each gives us a unique perspective on a Christ-centered marriage and encourages us to talk about things that wouldn't normally come up in everyday conversation.
Make devotion time a priority (no matter if you choose daily, weekly, every other day, or, say Tuesdays and Fridays). Setting aside time for just the two of you gives you a chance to pause and spend quality time with each other – connecting at the end of a busy and possibly, stressful day
DON'T:
Don't put pressure on yourself to complete the devotional book in a given time (ie: finishing a 31-day devotion in 31 days). We took nights off if we were out at night for bowling or small group.
Don't feel guilty or feel pressed to do devotions every day. What's important is that you are actively, consciously making your marriage a priority – in the midst of a busy life.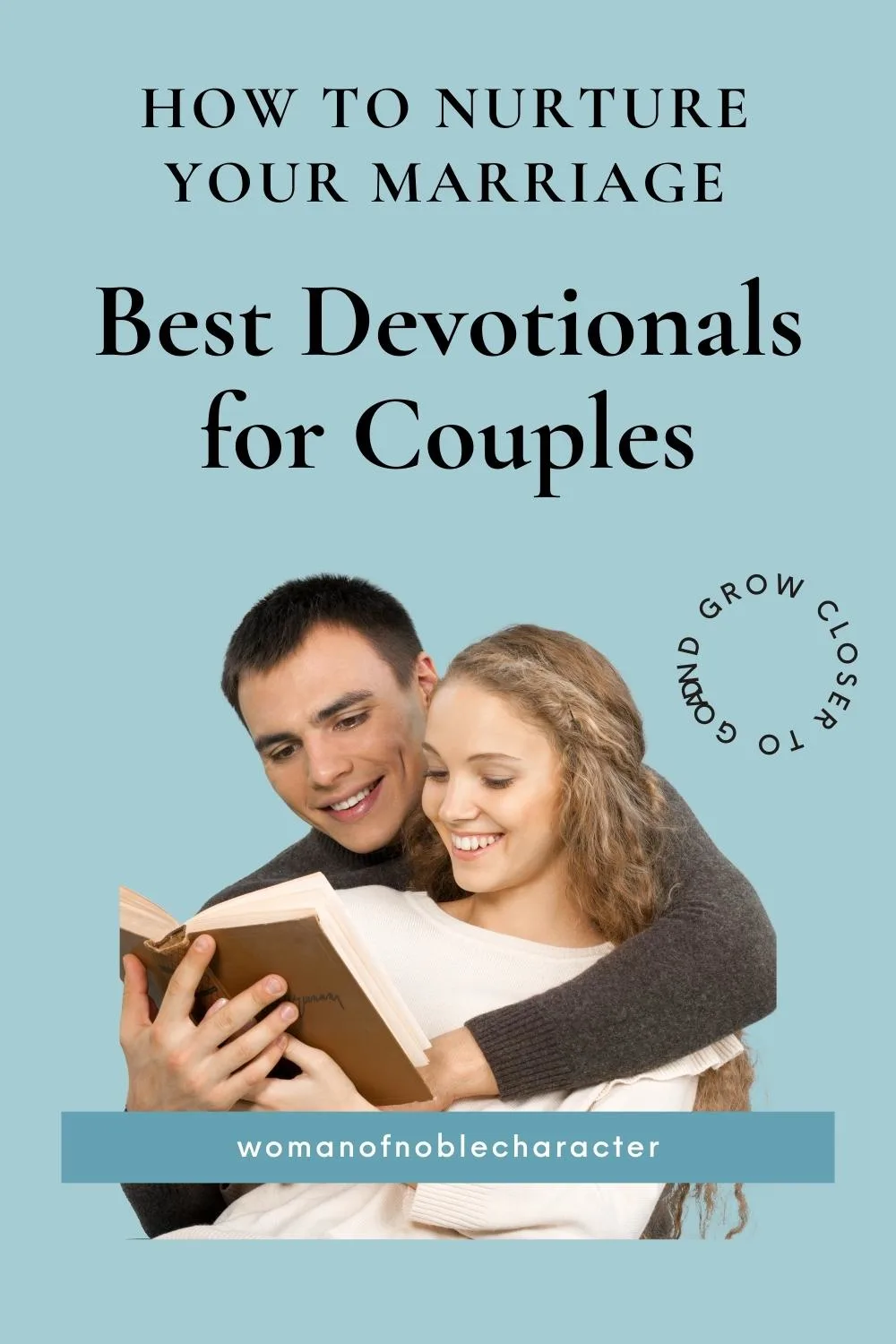 10 Best Devotionals for Couples
Click on the book cover to find the book on Amazon.
Moments Together for Couples: 365 Daily Devotions for Drawing Near to God & One Another*
by Dennis and Barbara Rainey
This easy-to-use devotional for Christian couples helps you set aside anywhere from 5 to 30 minutes every day with your spouse to grow closer to God and closer to each other. We liked the variety of topics that the devotional covered and enjoyed the questions at the end of each devotional.
Night Light: A Devotional for Couples*
by Dr. James Dobson and his wife and Shirley Dobson
This daily devotional offers personal, practical, and biblical insights to center your marriage on God. This was the first couples devotional that we went through together as a married couple. We enjoyed the variety of devotions on love, intimacy, family, and communication and building a strong relationship. Our only critique is that many of the devotions focus on raising kids (ours are grown), but overall, we really liked this devotional for couples.
The Duck Commander Devotional for Couples*
by Alan and Lisa Robertson
An inspiring devotional that peels back the layers of a failing marriage and how Alan and Lisa, with Christ at the center, brought their marriage back to healthy and thriving and reaching spiritual growth. Whether or not you are a fan of Duck Dynasty, or if your marriage is strong or needs some work, this one ranks high on our list of best devotions for couples. We loved their realness, transparency, and daily prayers for both husbands and wives.
When Couples Walk Together: 31 Days to a Closer Connection*
by Cindi and Hugh McMenamin
This innovative devotional is focused on meaningful ways that husbands and wives can draw closer together and build a strong marriage. Each daily devotion (spans 31 days) offers simple, helpful (and fun!) steps a husband and wife can take to nourish closeness and intimacy. We really enjoyed this one as connection and communication are so important to help a marriage thrive.
The Uncommon Marriage Adventure: A Devotional Journey to Draw You Closer to God and Each Other*
by Tony and Lauren Dungy
We really enjoyed this one. Both my husband and I are huge sports fans and related to or remembered many of the stories related to the couple's devotions. Even if you are not a fan of sports (or you want to encourage your husband to do devotions with you), you will enjoy this devotional.
Tony and Lauren share their hurts, heartaches, struggles, and joys with the reader and provide insightful questions to discuss the devotion and related situations that married couples face. One of their focuses is on connection – such an important topic that many couples begin to lose as kids grow up.
Family Life Bible Study for Couples*
by Dennis and Barbara Rainey
Although listed as a seven-week Bible study, this one took us months to complete. Each "week" has ten devotions. There's a devotion and questions to discuss with each other and your small group. We did this study on our own, so we discussed the small group questions as well as the couple's questions.
We liked the firm biblical foundation of this book but found that some of the situations were a bit outdated and much of the book focused on couples with young children. Ours are all grown so much didn't apply to us.
Overall, the questions were thought-provoking and offered us a great opportunity to talk about deep heart issues and how to encourage each other to grow in faith. It remains one of my favorite Bible studies for Mr. & Mrs.
Two as One: Connecting Daily with Christ and Your Spouse*
by Ryan and Selena Frederick
Learn how the gospel relates to every aspect of your marriage by tracing core issues to their source and seeking Jesus as the answer to every question. Includes a short devotion, daily Bible verse, two questions to discuss, and a blank area for his and her prayers. We prayed together and answer our questions aloud, so we didn't use this section, but it was very helpful as a springboard for discussion and prayer and God's Word.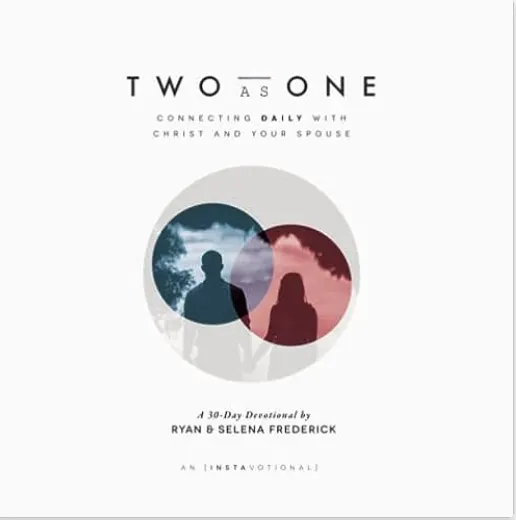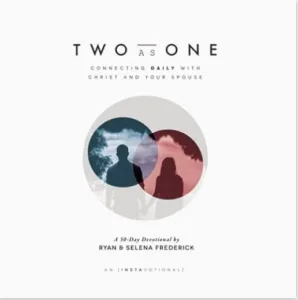 The Love Dare Day by Day: A Year of Devotions for Couples
by Stephen and Alex Kendrick
From the writers of the No. 1 New York Times best-seller, The Love Dare. According to the authors, love is a choice. A daily choice. The Love Dare Day by Day is a daily reminder of how it's done — and done well — taking the source material's original experience to the next level. With 52 weekly dares, this one-year devotional invites you to go deeper into the scriptural principles of The Love Dare and is meant to enrich your relationship with God and your spouse through a daily time of reading, prayer, and action. It remains one of the top-selling marriage devotionals.
A Little God Time for Couples: 365 Daily Devotions
by BroadStreet Publishing Group LLC
This devotional offers fresh insight into relationships, encouraging Scriptures, thought-provoking questions, and inspirational prayers to help you intentionally engage with God and each other. While we have not done this couple's devotion, I have heard good things about it and it has a 4.5-star rating on Amazon. It's definitely on our list!
Devotions for a Sacred Marriage: A Year of Weekly Devotions for Couples
by Gary Thomas
A classic devotional for couples! What if God designed marriage to make us holy more than to make us happy? By popular demand, the author of Sacred Marriage returns to the topic of how God uses marriage to expand our souls and make us holy.
Devotions for a Sacred Marriage explores how God can reveal Himself to you through your marriage and help you grow closer to Him as well as to your spouse. Fifty-two weekly devotions encourage couples to build a marriage around God's priorities. This one is high on our list of next devotions for couples, but we would do one each day, rather than week. The scripture verses gave us additional conversation starters.
*denotes couple's devotions that I have completed and enjoyed with my husband
Did you and your husband do a great couple's devotional not on this list? Share below! I'm always looking for our next devotions for couples.
NOTE: You can try the Amazon Kindle Unlimited Plan and get access to over 1 million books (including many of these). Read on any device including your phone, tablet, computer, or Kindle. Prefer to listen to the books? This plan includes audible books, too! Or just try Audible and get 2 free audiobooks as a bonus!
Prefer to listen to the book on audio? Consider Amazon Audible to listen on the go.
For a great round-up of the best advice for Christian marriage by thirteen experts, see this post.
If having a God-centered marriage is important to you, check out my course The God-Centered Marriage.
Praying blessings over you and your husband!
Because of Him,
Sue