This page/post may contain affiliate links.  As an Amazon Associate, as well as an affiliate of other programs, this means if you purchase something using these links, I will receive a commission on qualifying purchases at no cost to you! For more detailed information, please visit our Affiliate Disclaimer page
Bible Journaling 101
When you listen to a sermon, do a Bible study or read the Bible during your quiet time with God, how many of the important things that God is saying to you do you actually remember?
Bible journaling allows us to slow down and use our creativity as an expression of faith and worship.
BIBLE JOURNALING IS:
A creative way to express and document what you are learning from Bible study and how God is working in your life

A unique way to take sermon notes, learn more about scripture by using different translations, and creatively document your spiritual journey

An inspiring way to connect with God and study the Bible in new ways

An individual way to express how God is revealing Himself to you

A creative way to journal, illustrate, and document what you are learning in Bible study, at church, and from your own reading of His Word
Not about religion, but your relationship with Jesus. Bible journaling can lead to a life-changing habit of illustrating, documenting, praying, and reading God's Word. Every person has their own personal way of expressing their faith and creativity


It is important not to compare your Bible journaling with others. Bible journaling is YOUR creative and spiritual journey! Terrible at hand lettering (like I am)? Can barely draw stick figures? Don't feel like you have a creative bone in your body? THAT'S OK! Simply write, draw and pray as God is leading you. This is about your relationship with Our Heavenly Creator, not an art contest.
Bible journaling is simply the process of spending devotional time with God and recording the scriptural insights you receive from Him in your Bible.
There are two main ways to do Bible Journaling (and even more variations of these two):
With a pen or highlighter in hand. Writing notes on what God is revealing to you on the pages of your Bible and highlighting verses that speak to you.

With paint, markers or other art supplies to add doodles, drawings and other representations of your interpretation of His Word.
Both provide an opportunity to faithfully hear, meditate upon, and apply God's Word to our lives.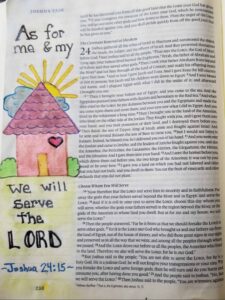 Even though the term is relatively new, the concept of Bible journaling is not. You can learn more about the history of Bible Journaling in this article on Scrapbook.com.
In a previous post, I shared the benefits of writing scripture and Bible journaling has many of the same benefits (and more!).
In fact, Scripture, itself, commands us to write God's Word:
"Write in a book all the words I have spoken to you." – Jeremiah 30:3

"Write the vision and make it plain on tablets, that he may run who reads it." – Habakkuk 2:2
Want a free Fruits of the Spirit Journaling Printables? Sign up below!
Bible journaling helps us to listen to what God is telling us and record that insight in a place close to our heart – our Bibles.
Bible journaling can be a solo activity – part of your quiet time with God, a generational activity – helping your children connect the Word of God creatively or a social activity – gathering with other Christian women for fellowship, inspiration and Bible study.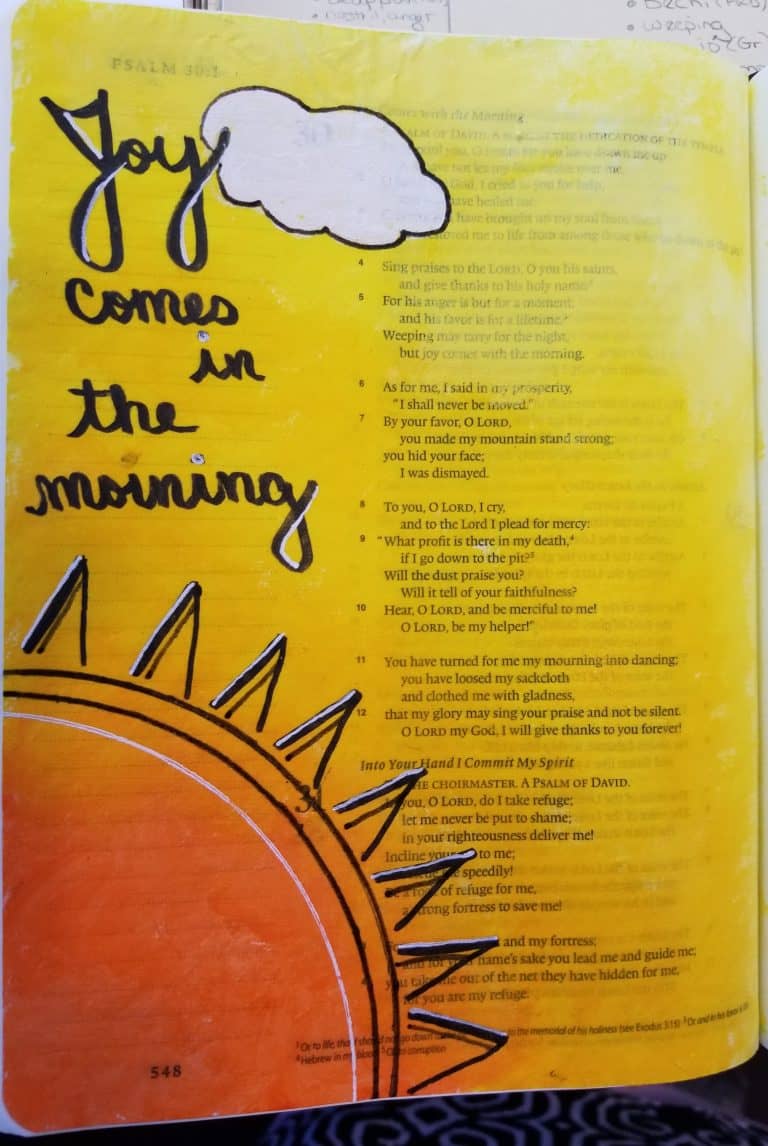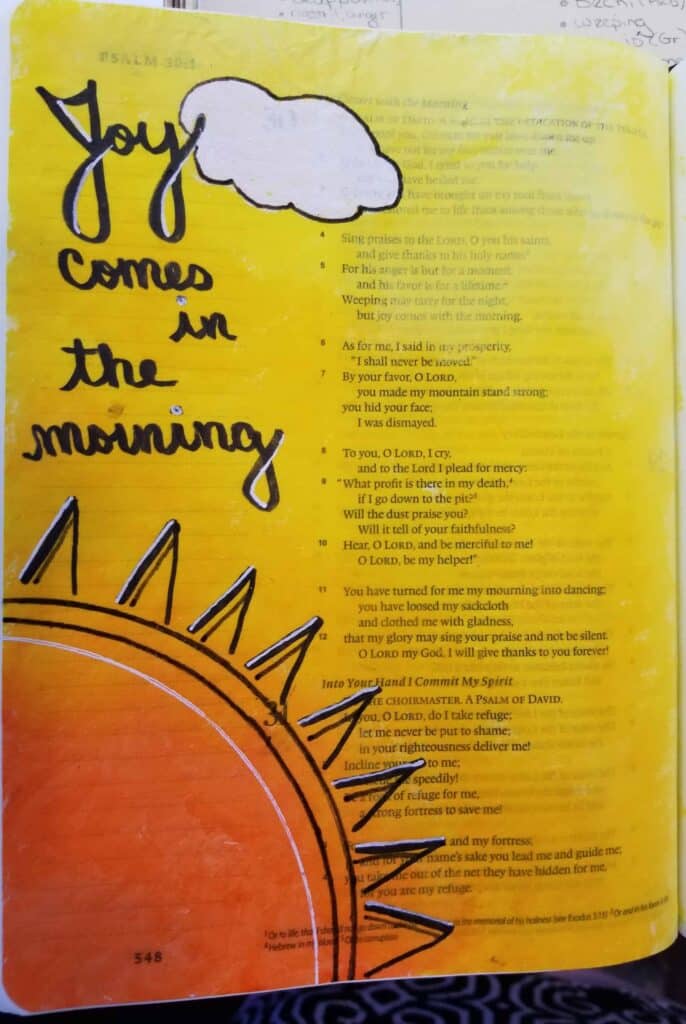 How to Get Started With Bible Journaling
If you are interested in Bible journaling, but aren't sure where to start, I've gathered a few tips to help you on your way:
Choose Your Bible Journaling Bible
Most Bible journalers recommend that you start with a wide-margin Bible that gives you plenty of room to draw, write or decorate as you feel led. Choose a translation that you are comfortable with. I chose to use a different translation (ESV) from my "everyday" Bible (NIV) to allow me to compare translations. This is the Bible journaling Bible that I use.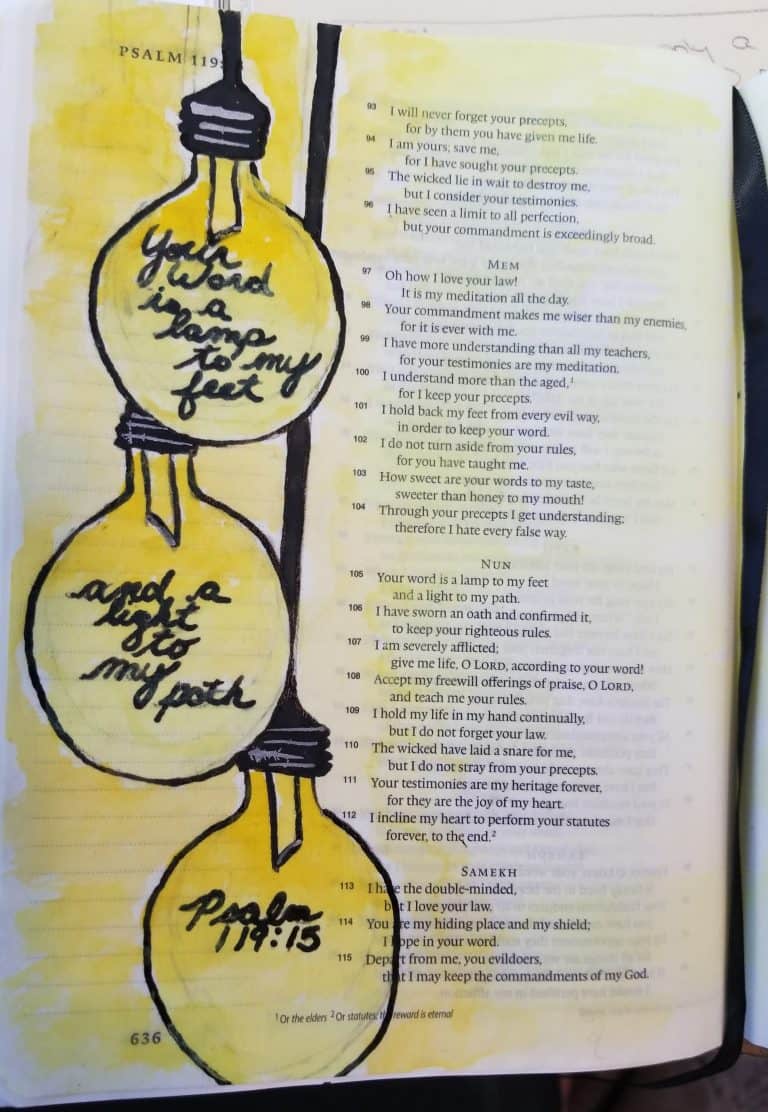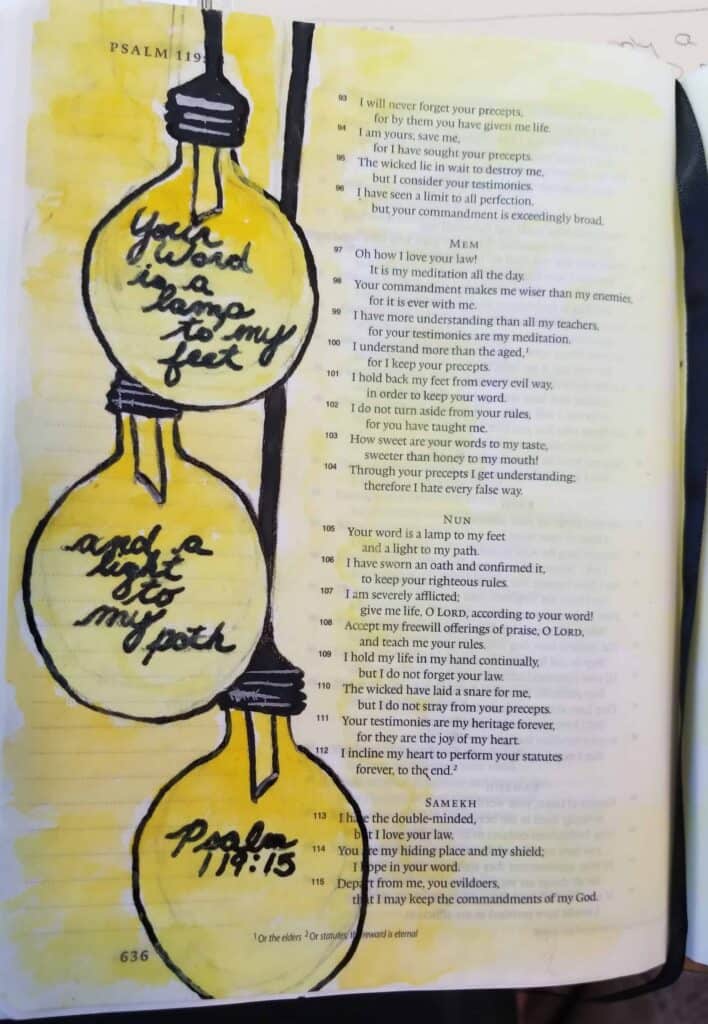 Gather your creative supplies
Bible journaling does not have to cost a lot of money. Start with what you have at home and add supplies as you go, IF you want and your budget allows. (see this post on Bible journaling for free or cheap).
In addition to the obvious, your journaling Bible, I recommend a good set of pens or markers that won't bleed through to the back of the page. My favorite pens and markers for Bible journaling are a Fude ball pen or the journaling pens by Stampin' Up and a gel pen set. I also loooove double tipped markers (one side has a thin nib and the other a brush nib for lettering, like these. (If you are concerned whether or not a pen or marker will bleed, test them on a non-conspicuous page in your Bible – perhaps the concordance or other page in the back that you are less likely to journal on) .
Want a free Fruits of the Spirit Journaling Printables? Sign up below!
Other supplies you may wish to consider are:
Other fun supplies to consider include alphabet stickers or, for a more economical choice, an alphabet stamp set (use over and over again!) or Christian decorative stickers, washi tape, stamps and ink pads, acrylic paint(I'm a big fan of Liquitex), watercolor paint or a Bible journaling pack from Illustrated Faith.
TIP: If you plan on using any wet medium (paint, markers, etc.) I strongly encourage you to prep your page beforehand by "painting" 2-3 coats of clear gesso on your Bible page.


Choose a verse to focus on
As simply or as creatively as you like use highlighting and color-coding, written words, or other artistic techniques. Don't get too hung up on the artistic side of things – your capacity to express yourself creatively will develop over time if that's what you desire. Remember, the main purpose of Bible Journaling is to record what God is saying to you during your quiet time with Him.
Get creative and try new techniques or art supplies
Hop onto Pinterest or here at Woman of Noble Character. Look for inspiration and try your hand at new supplies or techniques if you feel the creative itch. (Check out these great Bible journaling techniques, here, here or here).
Study the verse and pray about what God would have you illustrate it with
Some passages lend themselves to easier interpretation or ideas for images as they contain words for objects (such as heart, lamp, dove, arrow, bird, etc) Verses evoking feelings or abstract ideas might inspire you for doodling or an image of something that represents that idea.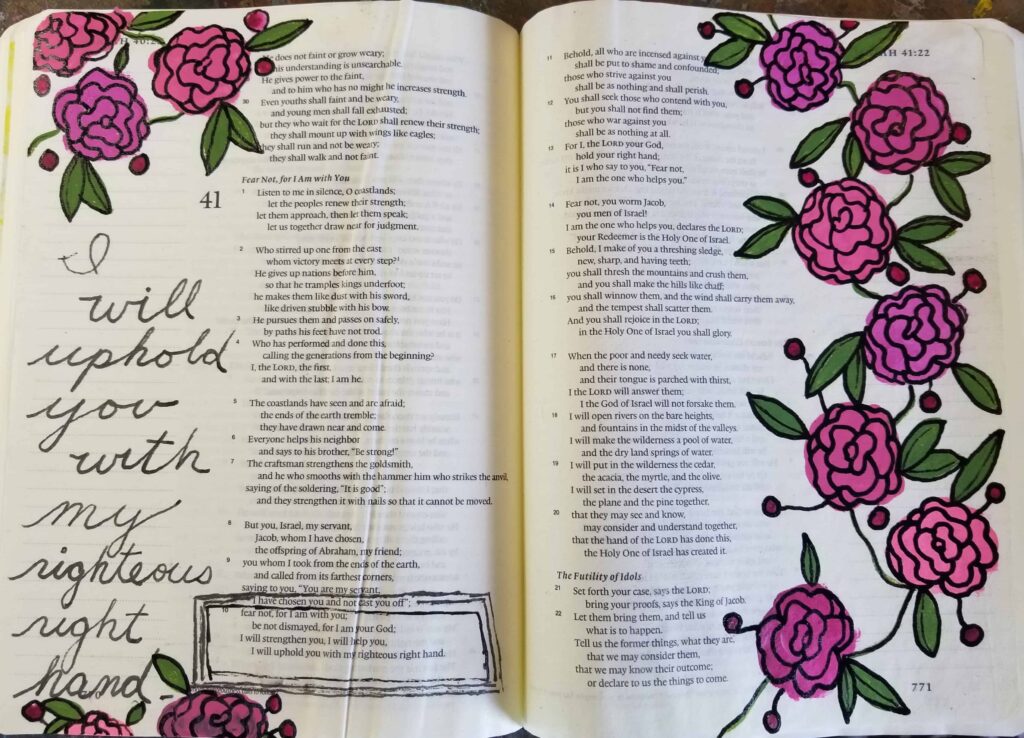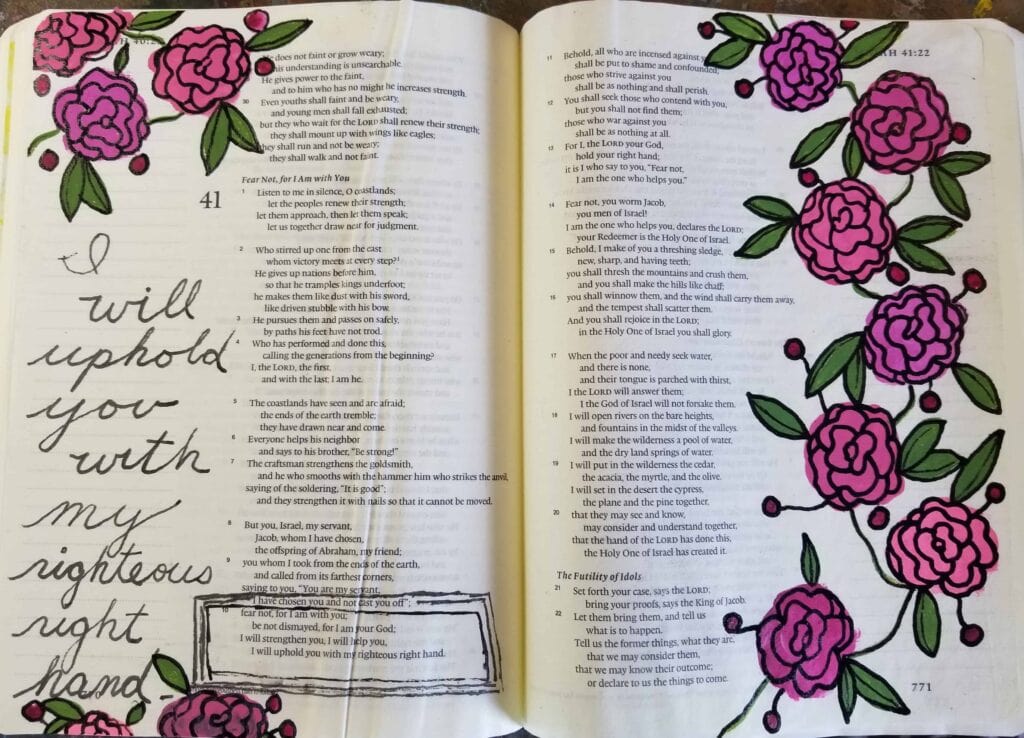 Although our Bibles reflect our personal spiritual journeys with God, Bible journaling blesses us and beneifts us in so many ways:
It draws you to the Word.

It helps you leave a visual legacy.

It makes memorizing scripture easier.

Its a spiritual discipline accessible to all ages.
Our Journaling Bibles are living testaments to God's greatness and His faithfulness in our lives. Let's use them to minister as we minister to others, share our personal testimonies, and testify to God's glory!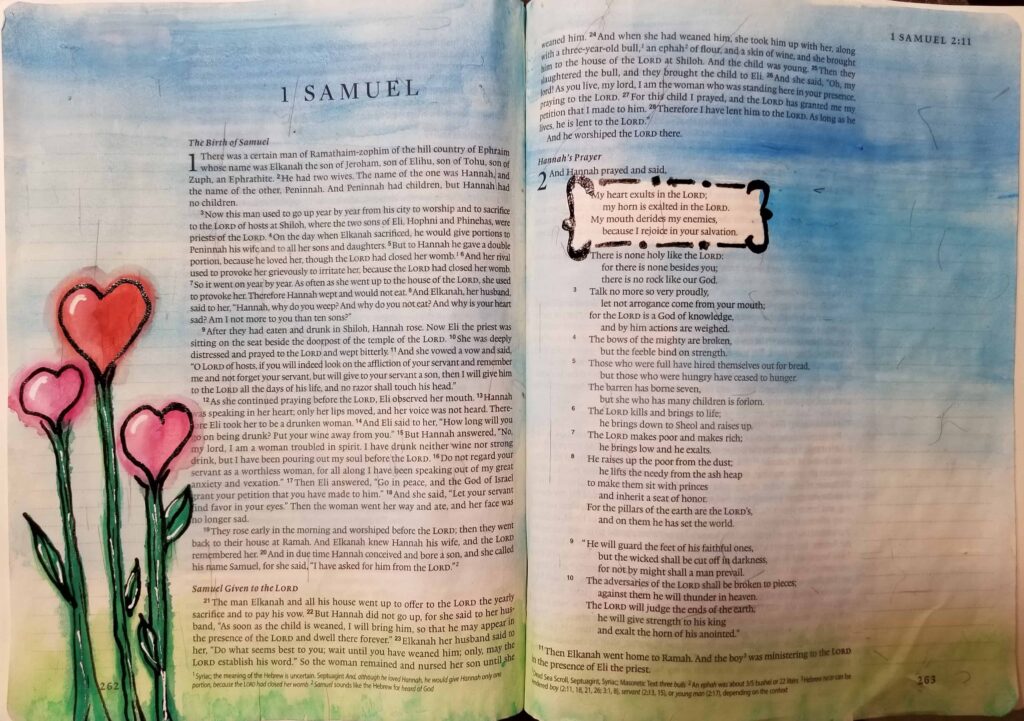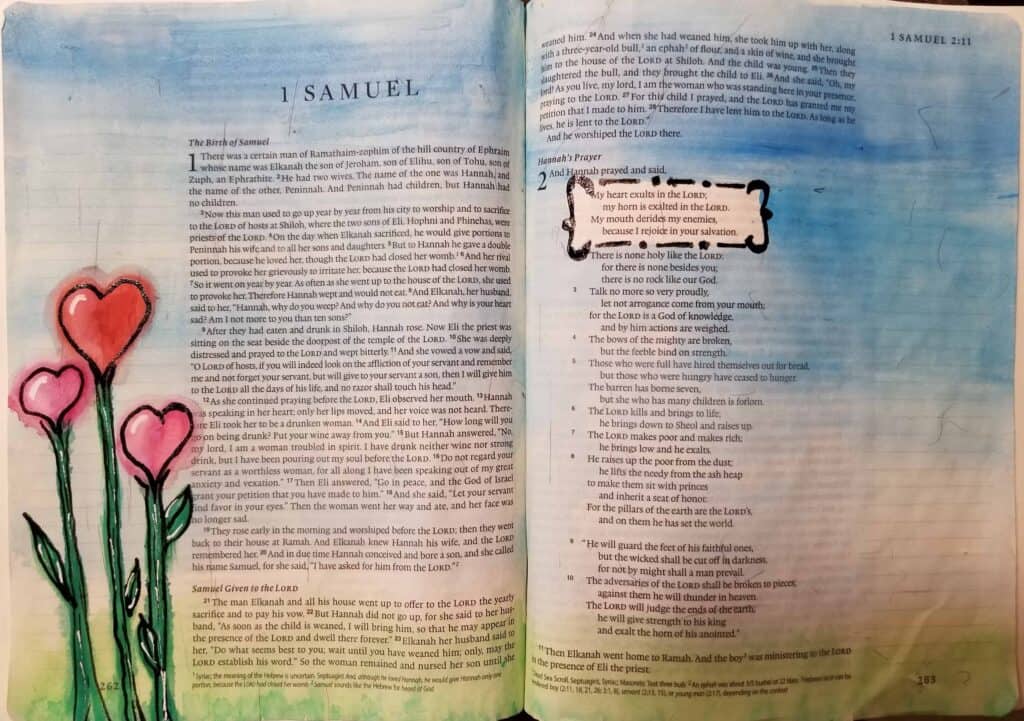 Do you currently use Bible journaling in your personal worship? If so, what do you enjoy most about it? If not, are you inspired to get started?
Ready to dig into what the Bible says about our identity in Christ? Join us in Bible and Art Journaling Through the Bible: Our Identity in Christ six week course. Learn more!
Looking for some more Bible Journaling Resources? Check out these recommended resources:
Because of Him,
Sue