This page/post may contain affiliate links. As an Amazon Associate, as well as an affiliate of other programs, this means if you purchase something using these links, I will receive a commission on qualifying purchases at no cost to you! For more detailed information, please visit our Affiliate Disclaimer page
As a parent, you want nothing more than for your children to grow in God's Word. Use these 25 Bible verses for children to memorize to help your children, whether toddler to elementary school age to teen, grow in knowledge of God's truth with these verses for them to hide in their hearts.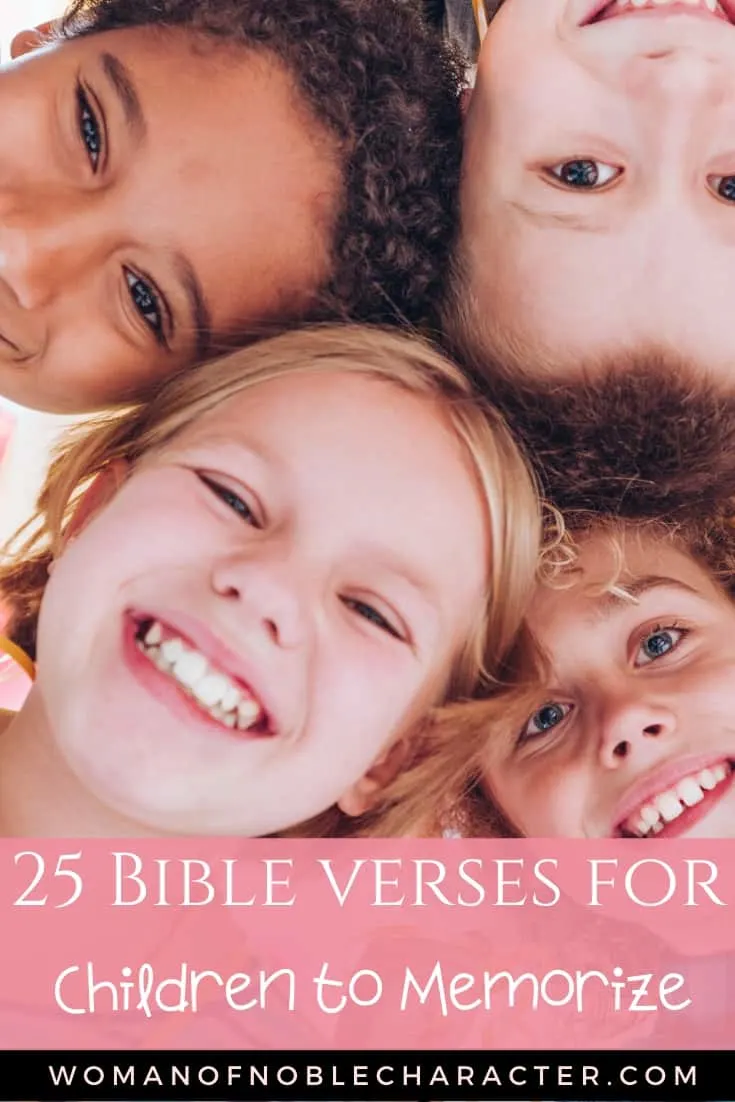 Why Scripture Memory Work is So Important
Hebrews 4:12 says, "For the word of God is alive and active. Sharper than any double-edged sword, it penetrates even to dividing soul and spirit, joints and marrow; it judges the thoughts and attitudes of the heart."
The Bible is unlike any other book because it is God-breathed and divinely inspired as the Word of God. The Bible does not just contain the Word of God, the Bible IS the Word of God. This means there aren't some parts that are true and some that aren't true. The entire Bible is true and useful for instruction in Christian living.
Memorizing scripture is important for Christians of all ages, but it's especially important for children as they grow in maturity and understanding of the truth.
How to Help Your Children Memorize Scripture
Here are some tips for helping children of all ages to memorize Bible verses.
Make it fun! All of us learn better when we are having a good time. Make Bible memory work something to be celebrated rather than a chore. Consider offering prizes to kids who can recite the whole verse.

Repeat, repeat, repeat. Repetition is how we learn.

Practice in the car. You have a captive audience so car time is the perfect time to practice the verses.

Use music. There's something about music that taps into other parts of the brain and helps us learn. Check out You Tube for scripture memory songs or create your own little tune.

Write the week's verse and put it up somewhere you all will see it like on a kitchen cabinet, by the dinner table, or on the bathroom mirror.
How to Use these Bible Memory Verses for Children
You can use these Bible memory verses for kids in a way that works for you, but here are some suggestions.
Incorporate the verses into lessons for Sunday School, Vacation Bible School, or religion classes at private school, church, or home school.

Plan to memorize one verse per week together as a family. Consider creating a family celebration (popcorn and movie night, a special dinner, or a fun outing) when you've accomplished memorizing 5-10 verses together.

If you have older children, get them involved in teaching your younger children.

Consider giving each child a simple journal to write the verses in and draw pictures or explain what the verse means to them.

Pray for your children. Ask God to give your kids the ability to memorize scripture. Pray for protection on their hearts so the enemy, Satan, would not have the power to thwart their ability to learn.
The following Bible verses for children to memorize are listed in NIV – New International Version.

Bible Verses for Toddlers or Pre-Schoolers to Memorize
Here is a list of Bible verses that are appropriate for toddlers or pre-school age kids to memorize. For toddlers, I suggest shortening the verses even more to keep them extra simple.
Genesis 1:1
"In the beginning God created the heavens and the earth."
Psalm 136:1
"Give thanks to the Lord, for he is good."
Psalm 145:9a
"The Lord is good to all."
Matthew 22:39b
"Love your neighbor as yourself."
Ephesians 4:32a
"Be kind and compassionate to one another."
Proverbs 3:5a
"Trust in the Lord with all your heart."
Matthew 28:20a
"And surely I am with you always."
Bible Verses for School Age Children to Memorize
These verses are appropriate for elementary school age children to memorize. To start, try having your child write the verse on a note card to put on the fridge or by his bed. Next, try writing the verse with some fill-in-the-blank lines, and finally see if he can speak it to you totally from memory.
Numbers 6:24
"The Lord bless you and keep you."
Hebrews 13:8
"Jesus Christ is the same yesterday and today and forever."
James 1:17a
"Every good and perfect gift is from above, coming down from the Father."
Psalm 118:24
"The Lord has done it this very day; let us rejoice today and be glad."
Philippians 4:13
"I can do all this through him who gives me strength."
Psalm 119:105
"Your word is a lamp for my feet,
a light on my path."
John 10:11
"I am the good shepherd. The good shepherd lays down his life for the sheep."
Proverbs 30:5
"Every word of God is flawless;
he is a shield to those who take refuge in him."
Isaiah 43:5a
"Do not be afraid, for I am with you."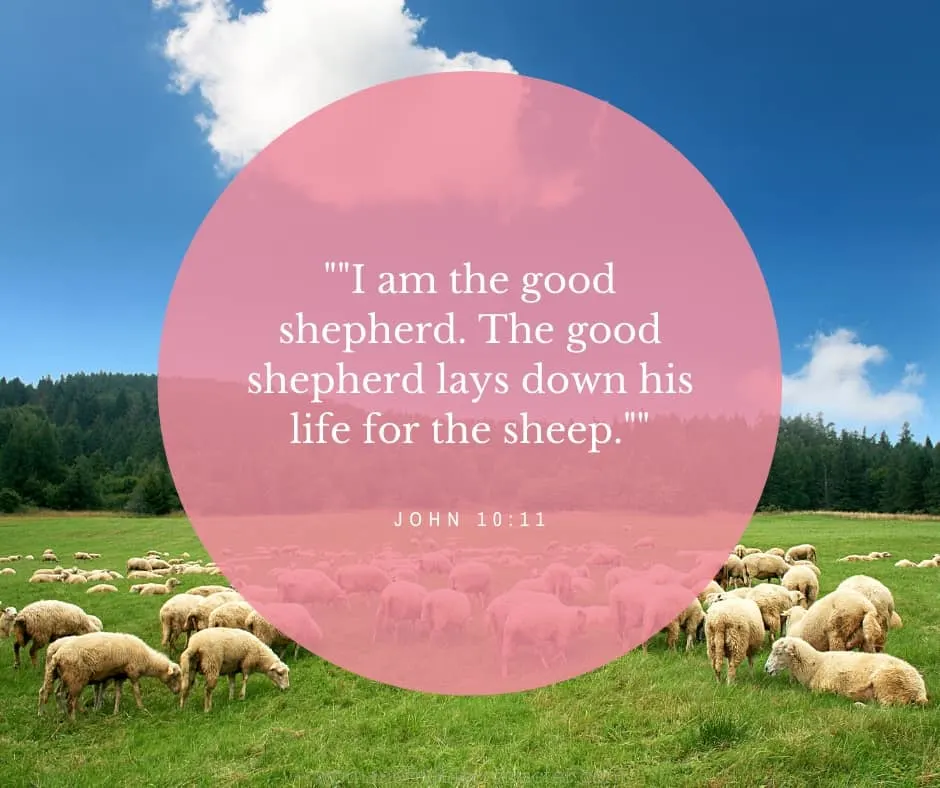 Bible Verses for Teens to Memorize
These verses are great for pre-teens and teenagers because they speak about seeking God for direction and wisdom during this critical time in their development.
1 Timothy 4:12
"Don't let anyone look down on you because you are young, but set an example for the believers in speech, in conduct, in love, in faith and in purity."
Deuteronomy 31:6
"Be strong and courageous. Do not be afraid or terrified because of them, for the Lord your God goes with you; he will never leave you nor forsake you."
Exodus 20:12
"Honor your father and your mother, so that you may live long in the land the Lord your God is giving you."
Galatians 6:9
"Let us not become weary in doing good, for at the proper time we will reap a harvest if we do not give up."
Isaiah 41:10
"So do not fear, for I am with you;
do not be dismayed, for I am your God.
I will strengthen you and help you;
I will uphold you with my righteous right hand."
Jeremiah 29:11
"'For I know the plans I have for you,' declares the Lord, 'plans to prosper you and not to harm you, plans to give you hope and a future. Then you will call on me and come and pray to me, and I will listen to you. You will seek me and find me when you seek me with all your heart.'"
Psalm 119:9
"How can a young person stay on the path of purity?
By living according to your word."
Romans 15:13
"May the God of hope fill you with all joy and peace as you trust in him, so that you may overflow with hope by the power of the Holy Spirit."
Philippians 4:6
"Do not be anxious about anything, but in every situation, by prayer and petition, with thanksgiving, present your requests to God."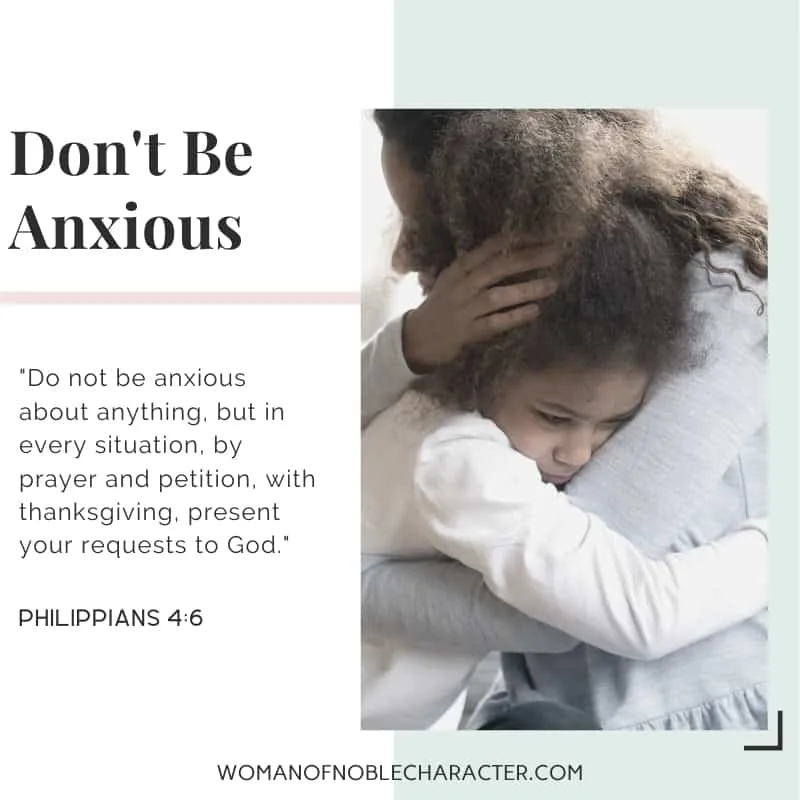 By using these lists of Bible verses for children to memorize, you will be giving your children a gift that will last their whole lifetime – and beyond, into eternity. Isn't this what we want the most as Christian parents?
Did you know that Woman of Noble Character has a shop? Yes! And we have an awesome array of printables including matching games and 30 days of prayer for kids plus more! Check it out here or by clicking the image below.


Additional Christian Faith Parenting Resources
10 Encouraging Bible Verses for Special Needs Moms
Good Parents Can Have Kids Who Make Bad Choices

Sara Borgstede Bio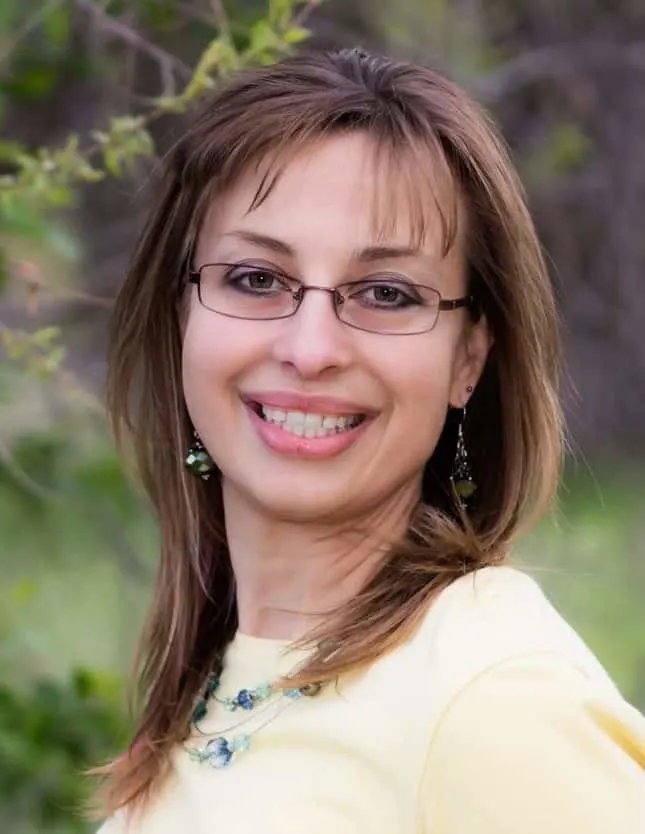 Sara Borgstede is a speaker, writer, and 100 pound weight loss success story. She and her husband, Mike, who is a pastor, are parents to 5 children through birth and special needs adoption. They were also foster parents to 35 children. When Sara isn't power napping, you can find her at www.theholymess.com.
For more on this topic, see Raising Godly Children in a Broken World.