This page/post may contain affiliate links. As an Amazon Associate, as well as an affiliate of other programs, this means if you purchase something using these links, I will receive a commission on qualifying purchases at no cost to you! For more detailed information, please visit our Affiliate Disclaimer page
As Christians, we are called to be confident in who we are and what we believe. But sometimes, it's hard to feel confident, especially when life is tough. That's why it can be helpful to pray for confidence. These 16 prayers for confidence will help you focus on what God has to say about this critical topic. With His help, you can overcome any obstacle and live with confidence!
For years, I allowed insecurity and a lack of confidence in myself to keep me from living an authentic life and one that is genuinely God-honoring.
I know it's common, but insecurity doesn't have to control us! The best way I found for my feelings of Insecurity was growing in prayer and pressing into the truths from scripture. This post will help you find strength through prayers for confidence.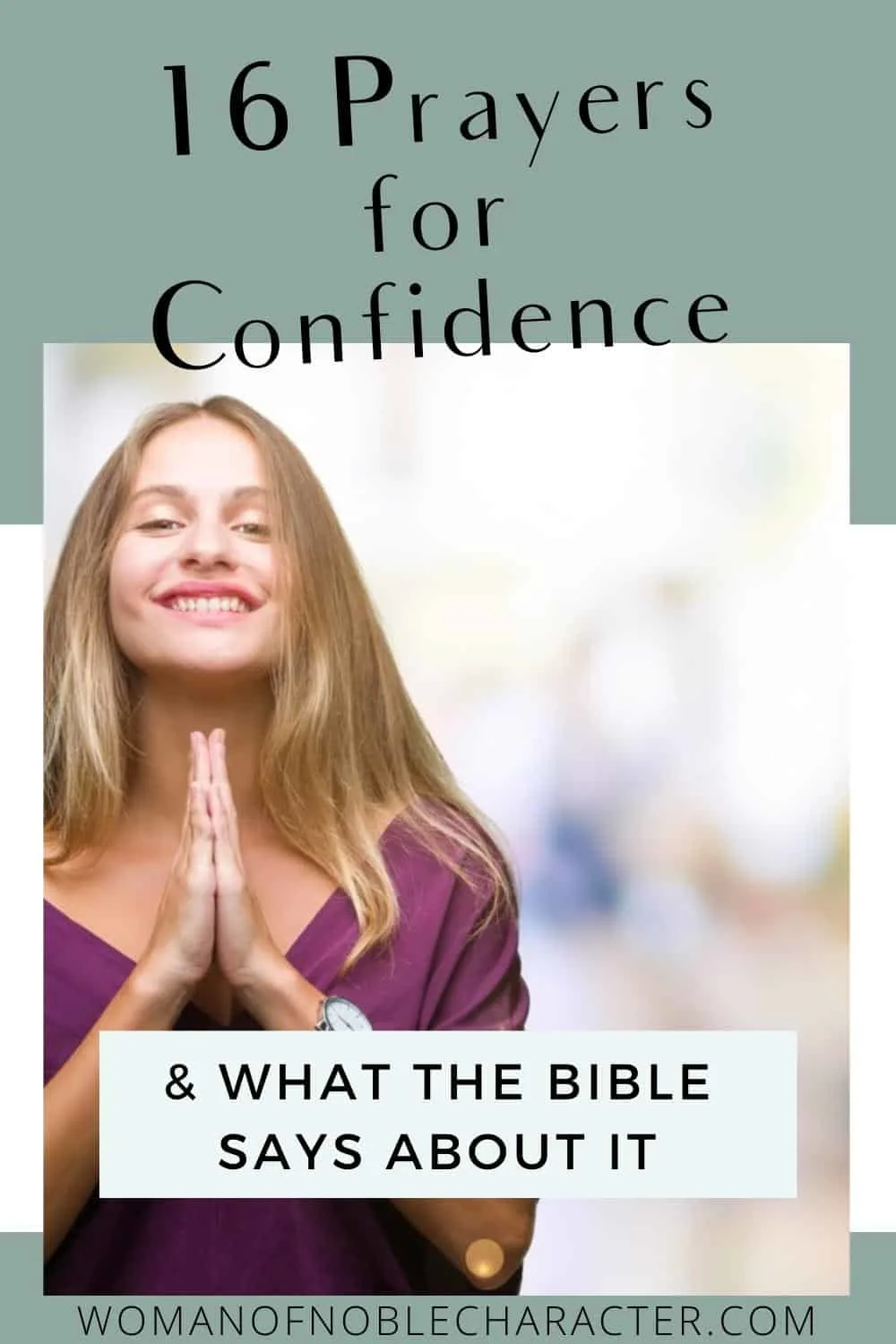 What the Bible Says About Confidence
To have confidence in yourself and your abilities can, at times, feel like it is sacrilegious. So how do we gain the faith to be confident?
There are many reasons why someone may not trust their capabilities, but when you know who YOU really belong to, there's no limit on what you can achieve.
How can we be confident in ourselves and our abilities and glorify God?
Our confidence comes from God alone.
Self-confidence and a godly heart can coexist. In Hebrews 10:32-36, the author encourages those who have accepted Jesus as their savior to be patient and strong, knowing they will face adversity. He tells them that God is always there for their needs and encourages them to remember who they are in Him.
We can exhibit the same confidence as we recognize who we are in Christ. As a co-heir with Jesus and having access to God, you're indeed born again-an essential part of your identity as a believer!
When you believe this truth and make it a core part of your belief system, the mind automatically praises God for bestowing such great gifts on us.
You can also walk in the confidence of that identity and believe bigger for yourself and those around you. So you see, our self-confidence is an extension of the truth that we are children of God.
How Do We Pray for Confidence?
The enemy is always trying to bring us down and make it seem like we're not good enough for heaven's standard, but remember that Jesus died so you could be saved. Make sure your confidence never wavers in Him.
There are at least four ways to pray for confidence. For each, I will share some prayer points for you to include in your prayers for confidence.
1. It's important to pray for confidence because it means you're ready, willing, and able. Praying against limiting beliefs will set you up in a way that allows God's plan for your life to shine through!
These prayers seem more suited towards asking for forgiveness or binding any spiritual hindrances, but they are essential in prayers for confidence. Prayer points against limiting beliefs include:
Praying against untrue identities of yourself
Praying against low self-esteem
Praying against the spirit of Fear
Praying against insecurity
Praying for forgiveness for sins
Praying against shame and guilt
2. Praying for confidence is asking God to remind you who you are in him. Your identity in Christ.
We show appreciation for what God has given us by giving thanks and praise. We also humble ourselves before Him to ask His help with any challenges that may come up throughout the day or week ahead. These can be mighty prayers for confidence.
They may include praying biblically-based affirmations over your life. Prayer points for identity include:
Pray that God will remind you of your identity
Thank God for the gift of eternity
Praise him for your testimony
Thank Him for all of the troubles he has delivered you from
3. What would it be like to have a spirit filled with God's power? To enjoy his love and self-control every day. That is what we are given when the Holy Spirit comes in, so remember that He does not give us a spirit of fear. Instead, he gave us the gift of the Holy Spirit and power, love, and self-control.
Here are a few prayer points to pray for confidence:
Pray that God will direct you in his will
Pray for boldness in faith
Pray for God's strength to guide you
Pray for wisdom
Pray for humility
4. We are seeking God's promises for our lives and praying for them with all of the confidence that they will come true. We know because He has already answered yes to every one of these prayers (and Amen).
The best way to grow in confidence is by continually prayerfully believing that God has already answered every question and applied His word to our lives.
This Complete Guide to War Room Strategy and Effective Prayer ebook includes how to develop your war room strategy for battling the enemy with prayer. What the Bible says about prayer & barriers to effective prayer plus and how to define your own war room strategy.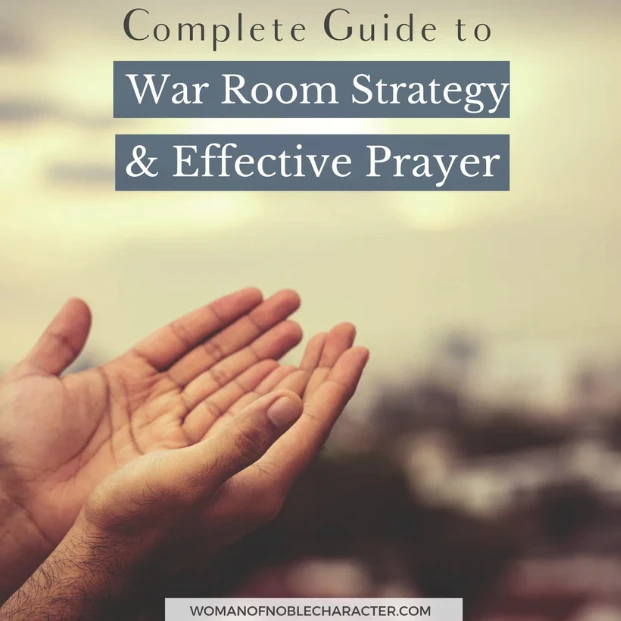 16 Prayers for Confidence
God is always with you. Prayer helps us build a relationship with Him and gain confidence in ourselves as we grow closer to Him and remember His love for us.
Additionally, praying for confidence directly from scripture can help us when our confidence is low.
Below are several sample prayers that will encourage you in tough times:
Lord, Walk With Me
You bring me back to your light when I am lost and alone. You are the one who helps keep my feet on solid ground when all around seems dark, with every step that takes me closer to You. God, you are my strength and rock. Though I will find dark places that make me feel like giving up, with You, there is hope for the future. I ask you to walk with me in every step of my life. In you, I will be confident and strong. Not afraid to take the next step. You are my fortress and help. Amen.
Prayer for Courage and Confidence
Father God, I love You, I am Yours, and I cling to You. When everything around me seems confused and out-of-order, I lean into You because Your love for me makes perfect sense. And When the evil one is telling lies about who I am, you remind me that I am worthy.
You saw me before I was formed in my mother's womb and rejoiced over Me. You made plans for me to prosper and grow in Your love.
Even when I was far from You, You pursued me with a relentless love that only a Father could have for his daughter! Lord, I pray favor for today. Give me the courage to walk in all your plans and do what is right because it pleases you, even if sometimes those things are hard or seem impossible.
I am not afraid to face the future, for I know that you have always been by my side. You give me peace and confidence now, so please stay with me until we reach the destination you have planned for me! In Jesus' name, I pray. Amen
Prayer for Success and Confidence
Heavenly Father, You are All-Powerful. I commit my Steps, my ways, and my life to You! I know that if You are in the midst of my plans, then they can succeed. I can do all things through You. Please help me to walk in Your ways, for I long to follow Your commands. I know that all good things come from You! Thank You for all of the good things you have given me in my life. In your Son's Holy Name, Amen.
Prayer for Confidence: Help Me, Lord
Lord, while I have often doubted my strength and abilities, I know that you have blessed me with talent and a resilient heart. Help me pursue my dreams as I ask for Your help in doing things worthy of You. Multiply my confidence so that it might befit Your name; l
I ask for your help as I pursue my dreams. Let me believe that you have set me up to succeed and for Your glory. Amen
Strength to Share the Gospel Prayer
Father, when I think about all the blessings in my life, they far exceed what I can humbly express. Yet it's because of your grace and mercy, especially when I am unworthy, that I can be so thankful for what has been given to me. With this prayerful intention, may You give me the strength as You work within me to let me speak forth Your praise among friends and strangers. Let them boast continually upon every breath about Your goodness. Amen.
Prayer for Confidence in Myself
As the song says, Heavenly Father, you are a good, good father. You never waver. You sing over me with songs, and You delight in me. You know that, at times, I have struggled to believe this. I have also struggled to walk in the truth that I am Your daughter. I forget that You are always with me.
When the grip of insecurity begins spreading lies in my mind's corner, I will not be moved from your truth! You are a mighty God Who gives strength to those weak in heart and body. Because you encourage me so greatly with both Your right hand and radiant love, today I stand tall knowing I am a child of the King of Kings. Amen.
Prayer for Confidence and Strength
Father in heaven, hide me in your shelter, be my refuge. I seek your strength as I take this step of faith. Lord, there are uncertain things about this situation, but although I can not see what's before me, I know you are with me. Therefore, I trust you and walk in obedience with your strength as my guide.
You are my everything, and I will not let go of that. When the opinions of others try to take hold of me or how I see myself, you help remind me what matters: Your love for me. Give me strength as I navigate life's challenges with You because it is only when You are by my side that these obstacles become growth opportunities. In Jesus' name, Amen.
Prayer For Assurance
Lord, I know that you are the giver of all things and will give me whatever is needed for my life. Grant me your peace as we walk together through this journey. I pray in Jesus' Name Amen.
Prayer for Self-Worth
God, you are the air that I breathe. My identity is found solely in You because it is through Your grace alone that my completeness comes. I'm perfected when I am with You– fearlessly and beautifully made in Your image.
When others surround me with labels they try to force on me, You can see how precious and worthy Your child is. Forgive me for believing any false identities they have tried to give me. Help me to know that I am the daughter You created and that You see no flaws in me. In Your eyes, I am precious and worthy. Please fill me with the revelation of your thoughts towards me.
You don't expect me to be anything other than myself when I draw near to You. You simply ask me to bring my brokenness to you.
You take all the heartaches, the messes I have made, and my downfalls. Thank you for your identity in you. I praise you for calling me worthy of saving.
Prayer for Confidence in Leadership
Lord Jesus, I am thankful for your greatness in my life. The opportunities granted to me are all thanks to the goodness of You! Now I'm required to lead people with love as well; it is an honor but also difficult. So I humbly ask you, Father, to walk with me every step and to fill me with Your wisdom to be the confident leader You created me to be. Amen.
Prayer for Confidence in the Lord
God the Father, I praise Your name, for You are worthy of all praise and honor. You are faithful, keeping Your promises even when we don't understand them or see how they work in our lives.
I am grateful that you do not consider my worth based on outward appearances. You know me, truly and fully, and You know my heart.
You are pleased with me that you could not imagine heaven without my presence. You gave me a gift that I can never repay. And when all hope was lost, sent your son to stand in my place. You withhold no good thing from me and call me your own.
Prayer to Be Satisfied
Lord, my heart desires to be content. Fill me with a sense of satisfaction and peace that I may never doubt the importance in this world. You have given your magnificent love for all those who seek it; let there be no fear when faced with difficulties or dangers because you are present, helping guide each step forward towards success! Remind me that I am your precious child and a gem that cannot be replaced. Amen.
Prayer for Confidence and Self-Love
Dear Lord, I pray that You plant me firmly in Your Word and love. Sow my roots so deep the storms of life cannot uproot me; Remind me that Your Spirit lives inside me. Teach me to love myself unconditionally so that I may be confident wherever life takes me with You at my side. Teach me to love myself the way You love me. Amen.
Prayer to Follow God's Plan
Holy Spirit, please help me always to have confidence in You and Your plan for my life. Guide and direct all of the ways I go so that I can reflect on you to others. Amen.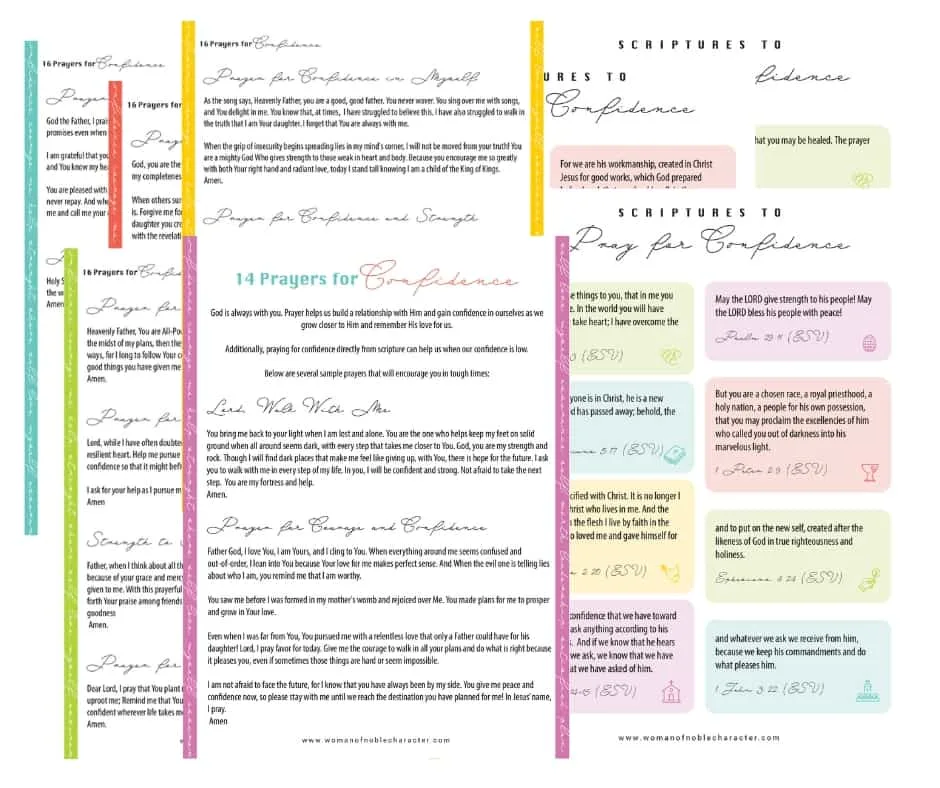 A Confident Heart Devotional: 60 Days to Stop Doubting Yourself by Renee Swope
200 Prayers for a Positive Mindset by Valorie Quesenberry
Do you have a favorite prayer for confidence? Let me know in the comments below. I'd love to add it to my list and pray it over myself when I need an extra boost. In the meantime, let's all commit to remembering that we are confident because of who God is and what he has done for us. We don't need to muster up our own confidence; instead, we can rest in his promises and allow his Spirit to work through us with boldness and courage.
ESV – "Scripture quotations are from The ESV® Bible (The Holy Bible, English Standard Version®), copyright © 2001 by Crossway, a publishing ministry of Good News Publishers. Used by permission. All rights reserved."