Naomi and Ruth – A Unique Relationship
Naomi and Ruth. What a beautiful story of loyalty and love! Listen to any group of women talking and invariably you will hear quips about someone's mother-in-law. Mother's-in-law get a bad rap. Some deservedly so, other's not so much. In a man's life, the two most important people are usually his wife and his mother. When a man marries, he is to leave his parents and become one with his wife.
"For this reason a man will leave his father and mother and be united to his wife, and the two will become one flesh'?" – Matthew 19:5
For many mother's-in-law, this is tough. They birthed their son, they raised their son and now they are to willingly give their son to another woman. As a mother of two sons, I understand how hard this is. It can make many mother's-in-law jealous or feel that the woman is not good enough for her son. There are many reasons that mothers and daughters in law have contentious relationships. We won't get into that today, but I wanted to point out what a difficult relationship this can be.
Want more on living a Proverbs 31 Life?
Grab my FREE 5 Steps Toward a Proverbs 31 Life!
In the Bible, we are shown a mother and daughter-in-law relationship that is quite different from the norm. Let's take a look at this relationship. (For the full Book of Ruth, go HERE)
The Story of Naomi and Ruth
The story of Ruth took place "in the days when the judges ruled" (Ruth 1:1). It was to be in Moab that all the men of this Israelite family, who ventured there for food, were also to die. The death of all the men left Naomi (Ruth's mother-in-law), Ruth, and Orpah (Ruth's sister-in-law) widowed, helpless and without support. In the Old Testament women were not allowed to own property; therefore as widowed women they had no means by which to support themselves.
Knowing that destitution was a possibility; Naomi advised her ex-daughters-in-law to return to their fathers' households where they could find support until they married once again; since both were childless and young enough to bear sons. It could be that, Naomi was encouraging remarriage as a means of staying viable once their fathers died. Such was the Old Testament planned way of life for women.
While Orpah returned to her father's household, Ruth forfeited the promised quality of life and remained with Naomi to care for her on her journey back to Judah where by this time the famine had ended. Both women loved Naomi; for when Orpah left she wept. Naomi, as a mother-in-law, to have earned the love and respect of both her daughters-in-law and in particular Ruth, a Moabite, of another culture, and one that did not believe in God must have been the ultimate example of a family position. It served her well when her husband, Elimelech, died.
Naomi loved God. Upon the death of Elimelech, Mahlon, and Chilion, when she decided to return to Judah she told her daughters-in-law, "The Lord grant that you may find rest, each in the house of her husband" (Ruth 1:9). Naomi had relatives in Judah and perhaps she thought if she made the journey there she could seek assistance from them. But this was not to be the case, Naomi did not receive help from her relatives and no one offered to take her and Ruth in.
A journey, alone in the Old Testament days, did not promise a widow safety. Yet, we are not told she showed fear of the future, lamenting what would happen to her then, nor becoming depressed. She had a goal according to which she set a plan and set about carrying it out. This shows that Naomi lived a Godly life and placed her trust in the Lord. Naomi lived her life to the fullest because she remained faithful to God and to His Will for her life. It is apparent she did not worry for herself or cause others to worry on her account.
I believe that Naomi's example of loving the Lord was in large part why Ruth would not leave her mother-in-law behind. Naomi and Ruth have a unique relationship, but one that I think we can learn much from.
Of course this Bible story illustrates how a daughter-in-law cares for her mother in law after the passing of of her husband/son, but I'd like to examine the relationship of the mother and daughter-in-law during the marriage.
You may have a mother in law that butts in to your marriage or tells you how to raise your kids. You may have a mother-in-law who is openly rude to you. Here's the thing: you can't change her. Only she can change herself. What you can do is to love her son and love her. God has commanded us to love others and this is a great example of ministering at home.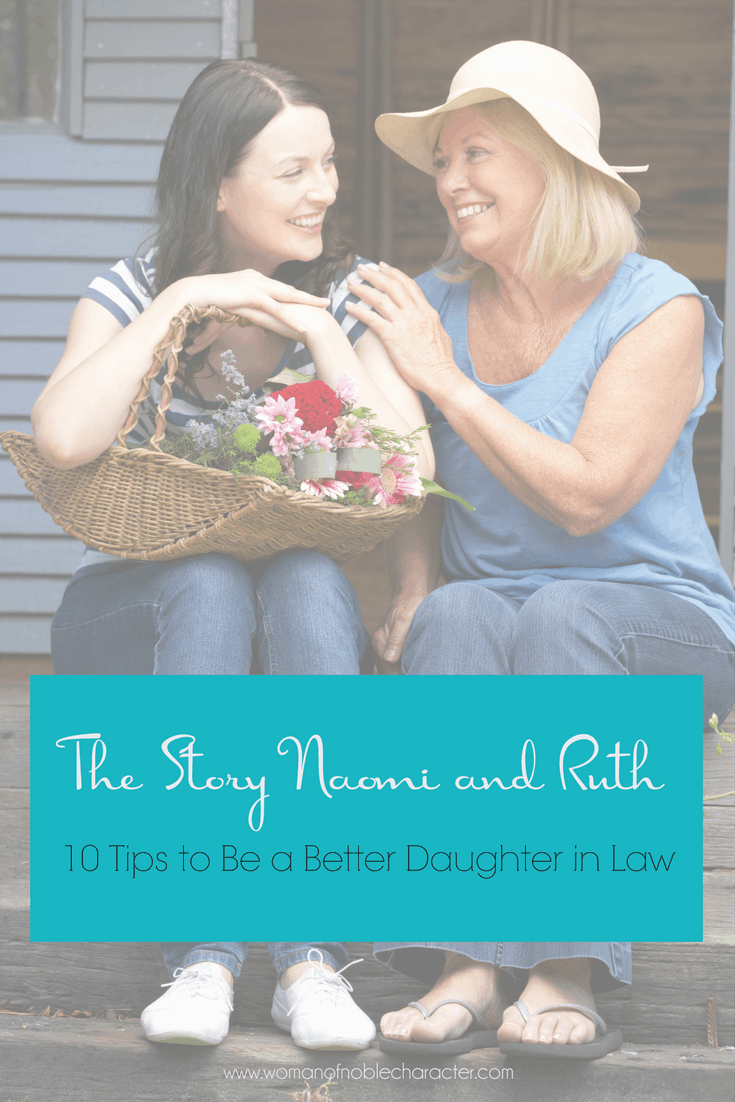 Naomi and Ruth: How to be a Better Daughter-in-Law
Here are some tips for being a good daughter in law:
Speak only in kindness. Don't engage in arguments with your mother in law or complain about your husband to your mother in law.

Listen to her advice – even if you don't take it

Give her some leeway to spoil your kids (within reason)

Don't compare your in-laws to your parents

Go out of your way to help her (If she doesn't drive, offer to take her shopping.

Cultivate a relationship with her (Invite her for coffee or a movie, etc. Treat her as you would a girlfriend by calling just because or inviting her to do things with you)

Don't expect her to babysit all the time. Once in a while is fine and she may say that she doesn't mind, but don't take advantage of her.

Don't talk bad about your in-laws to your spouse

Talk to your husband and his family about holidays way in advance to avoid hurt feelings

Thank your in-laws for the way they raised your son.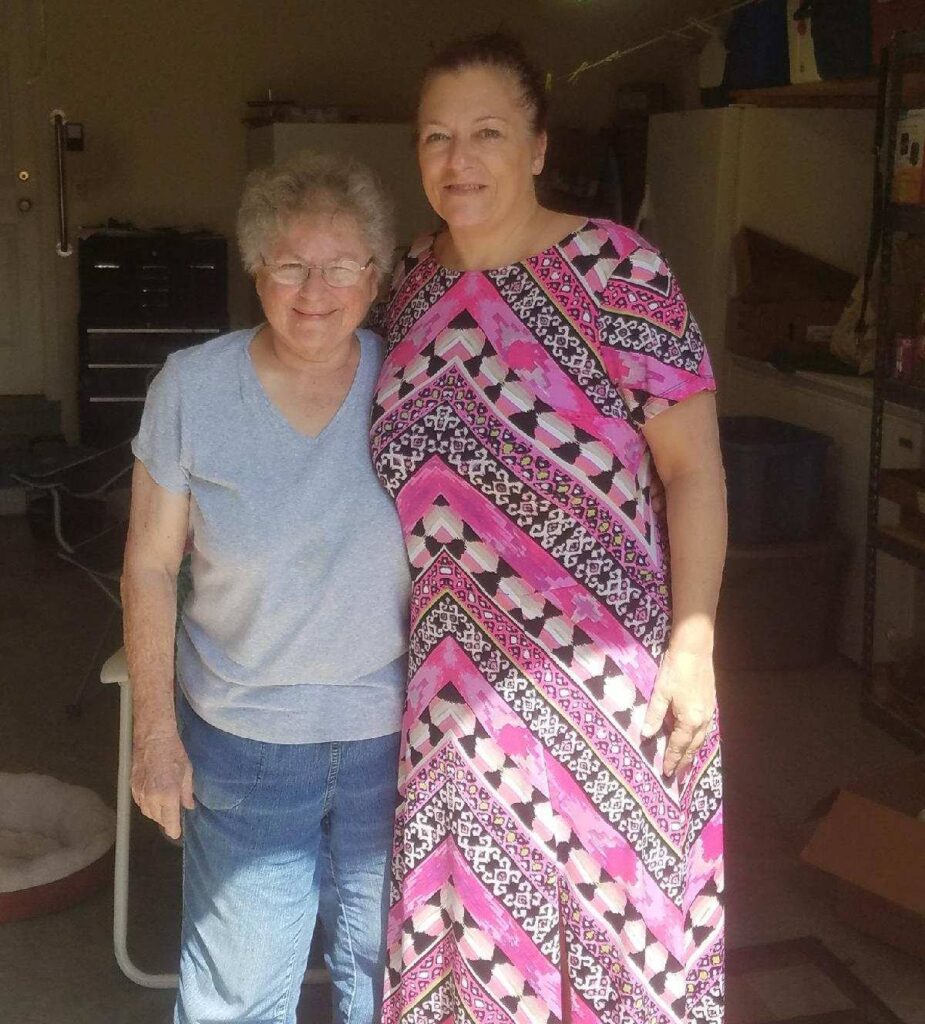 I have been blessed with an amazing mother-in-law. When describing her to others, I often say that if I wrote a job description for the perfect mother-in-law, she would far exceed it. She is kind, loving, compassionate. She may not always agree with me or the decisions that my husband and I make, but she never says so. She is thoughtful and has brought me gifts of plants and coffee mugs (two things I enjoy) and, during my recent cancer diagnosis and surgery, helped in numerous ways from preparing meals for us to letting the dogs out while I was in the hospital. I love spending time with her and learning from her. She is a strong Christian woman and one I admire as a Proverb 31 woman. She makes me want to be a better person, wife and daughter-in-law. Linda Lou is the perfect mother-in-law. I pray that our relationship honors Naomi and Ruth.
I know that I'm in the minority when it comes to amazing mother's-in-law, but perhaps you can impact your relationship with your mother-in-law a bit by taking some steps to love her a little more. When things get tough, think of Naomi and Ruth.
How is your relationship with your mother-in-law? What can you do to improve the relationship?
If your relationship with your mother-in-law doesn't come close to the relationship that Naomi and Ruth had and you need further resources, there are a few good Christian books on the subject that you may wish to consider:
Or my book, The God Centered Marriage, where we dive into boundaries and relationships with family members including mothers-in-law.
In Him,
Sue