This page/post may contain affiliate links. As an Amazon Associate, as well as an affiliate of other programs, this means if you purchase something using these links, I will receive a commission on qualifying purchases at no cost to you! For more detailed information, please visit our Affiliate Disclaimer page
The Best Gifts for Christian Women
If you are like me, you have a number of Christian women on your shopping list. Maybe friends, moms, aunts, grandmoms, nieces – the list can get pretty long! I'm always on the hunt for unique gifts for Christian women on my list.
Whether the occasion is Christmas, Mother's Day, a birthday or just to show how much you care, finding a great gift can either be overwhelming (too many choices) or underwhelming (you can't find the right gift.)
You want something special, something meaningful, something that reflects her walk with Jesus, but where can you find great gifts like this? So many brick and mortar Christian book and gift stores have closed their doors in recent years, so, depending on where you live, that might not be an option.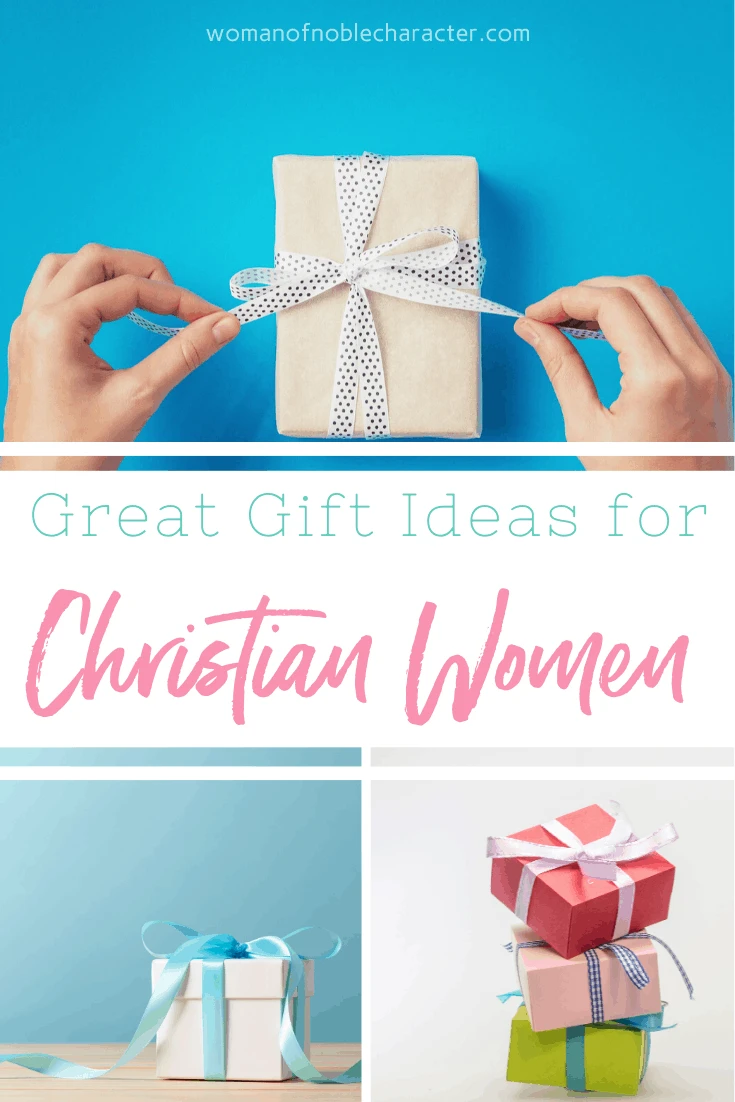 Fortunately, I've compiled a list of the best gifts for Christian women below. From Bible study and Bible journaling to home decor and jewelry, I've got a great list for you.
Let me know what you would add to the list of great gifts for Christian women. What was the favorite faith-based gift you've received?
Best Gifts for Christian Women
Whether it's Christmas, birthdays or another special occasion, chances are you have a few special women in your life to buy for. So what are the best gifts for Christian women? We've rounded up the best to make shopping a breeze.
Photo Credit: www.amazon.com
Necklace featuring elaborate Celtic cross pendant in antiqued, oxidized sterling silver. Classic cross design to represent one's faith. Oxidized sterling silver is created through a controlled oxidation process to cause a natural tarnish. The slight tarnish is then polished to leave darkened areas in the detailing, most notably to enhance design elements. 18" rolo chain with spring ring closure
Hand-crafted in pure .925 Sterling Silver;
Photo Credit: womanofnoblecharacter.com
Personally, I have a number of Bible study tools on my own Christmas list this year. Bible study gifts included timelines and concordances can help one go deeper than ever before in their personal study of God's Word. They make a thoughtful gift.
Photo Credit: www.dayspring.com
What a great reminder while your friend is enjoying their morning cup of java! Hold 16 oz. and features Psalm 46:10 to remind us that God is in control
Photo Credit: www.dayspring.com
"Everyday is an opportunity to be shaped and formed" From the author and creator of Gracelaced, this beautiful journal and planner for 2020 to fill your artwork and grow closer to Christ.
Photo Credit: www.faithbox.com
It's like Christmas day every month! These amazing Christian subscription boxes help you stay centered in Christ every month with their amazing devotional, inspired content, and hand-picked products that do good
Photo Credit: www.dayspring.com
Everyone loves to receive a card in the mail, but who has time to shop for them? Greeting cards make great gifts. Your friend will always have a card ready to send for the right occasion. Add a nice pen and some stamps and you have the perfect gift.
Photo Credit: christianstrong.com
A top item on the list of best gifts for Christian women. Your friend will wear their faith proudly and have a conversations starter to share the gospel. Christian strong offers oodles of awesome t-shirts and hoodies and more to choose from.
Photo Credit: www.dayspring.com
This is a GORGEOUS decorative tray great for entertaining or display. Brighten your home and be reminded that every day is worth rejoicing in! Perfect size for any area: 15" square x 3" Sueded back to protect surfaces
Photo Credit: www.dayspring.com
This set of Bible journaling tools from Illustrated Faith is perfect for gifting to anyone who enjoys illustrating their faith in their journaling Bible, personal journal, or devotional! Six tools that will enable recipient to write, tape, and stamp, and protect pages while doing it!
Photo Credit: www.dayspring.com
I love this necklace! How often are you simply amazed at our God? He can and does more than we can ever ask or imagine. This necklace is both a great reminder and a conversation starter. Pendant Size: 1/2"W x 3/4"H, brushed pewter
Photo Credit: godsfingerprints.co
The gift of art is so appreciated and what a better gift of art than one that shares God's Word. I am in love with this print, God's Fingerprints, by a company with the same name. You can read my full review of God's Fingerprint here.
It's getting chilly out and what better way to keep warm than to wrap yourself in God's word (or an encouraging thought). This is one of my favorite gifts for Christian women of all ages.
Photo Credit: www.amazon.com
The most comprehensive study Bible ever prepared for women and by women, the CSB Study Bible for Women invites you to explore the riches of God's Word. Follow God's grand story across this Bible for women, guided by threads of specialized study that explain essential doctrines, answer hard questions, discuss biblical womanhood, and apply truth to our hearts and lives.
The CSB Study Bible for Women is edited by Dr. Dorothy Kelley Patterson and Dr. Rhonda Harrington Kelley, both long-time women's ministry leaders, authors and seminary professors at two of the nation's most respected seminaries. As you learn from these women extensively educated in Biblical studies and languages and passionate about God's Word, you will be equipped in turn to mentor others in the truth and hope found in Scripture.
Photo Credit: womanofnoblecharacter.com
One question that I'm asked at least a few times each week, is if I have any recommendations for the best devotionals for women. As an avid reader, who spends daily quiet time with God, and one who writes reviews on Christian books and products, I've come across quite a few good (and not-so-good) ones. Click here to find the best ones!
For great gift ideas for Bible study, see this post.
For great gifts for him, see this one.
Because of Him
Sue