This page/post may contain affiliate links. As an Amazon Associate, as well as an affiliate of other programs, this means if you purchase something using these links, I will receive a commission on qualifying purchases at no cost to you! For more detailed information, please visit our Affiliate Disclaimer page
She perceives that her merchandise is profitable.
Her lamp does not go out at night. – Proverbs 31:18 (ESV)
Does this woman ever sleep? First, we read that she gets up early, now, we read that her lamp does not go out at night. Wait. What? That was my reaction to this verse. I can barely function on eight hours of sleep. Now Proverbs 31:18 tells us that she is up all night, too? Well, not so fast. In a deeper study of this verse, we learn much more about this woman who is above rubies.
Let's take a look at both parts of this verse:
She sees that her trading is profitable
Many will point to this verse to indicate that the Proverbs 31 woman was an entrepreneur. We talked a bit about that in this post. While she may very well have been an entrepreneur, let's look a little deeper to get at the meaning of this part of the verse. Many verses in the Bible use allegories or stories to illustrate Biblical truths. Upon further study of this verse, I believe that this, indeed, is one of those illustrations.
She perceives that her merchandise is profitable." To perceive something means much more than just being able to see something or simply take notice of it. The Hebrew word for perceive used here is ṭā 'am which means: to taste, to see, to discover by experience. Let's look at Matthew Henry's commentary below:
"She is one that makes what she does to turn to a good account, by her prudent management of it. She does not toil all night and catch nothing; no, she herself perceives that her merchandise is good (v. 18); she is sensible that in all her labour there is profit, and that encourages her to go on in it. She perceives that she can make things herself better and cheaper than she can buy them; she finds by observation what branch of her employment brings in the best returns, and to that she applies herself most closely."
~ Matthew Henry's Commentary on Proverbs 31:18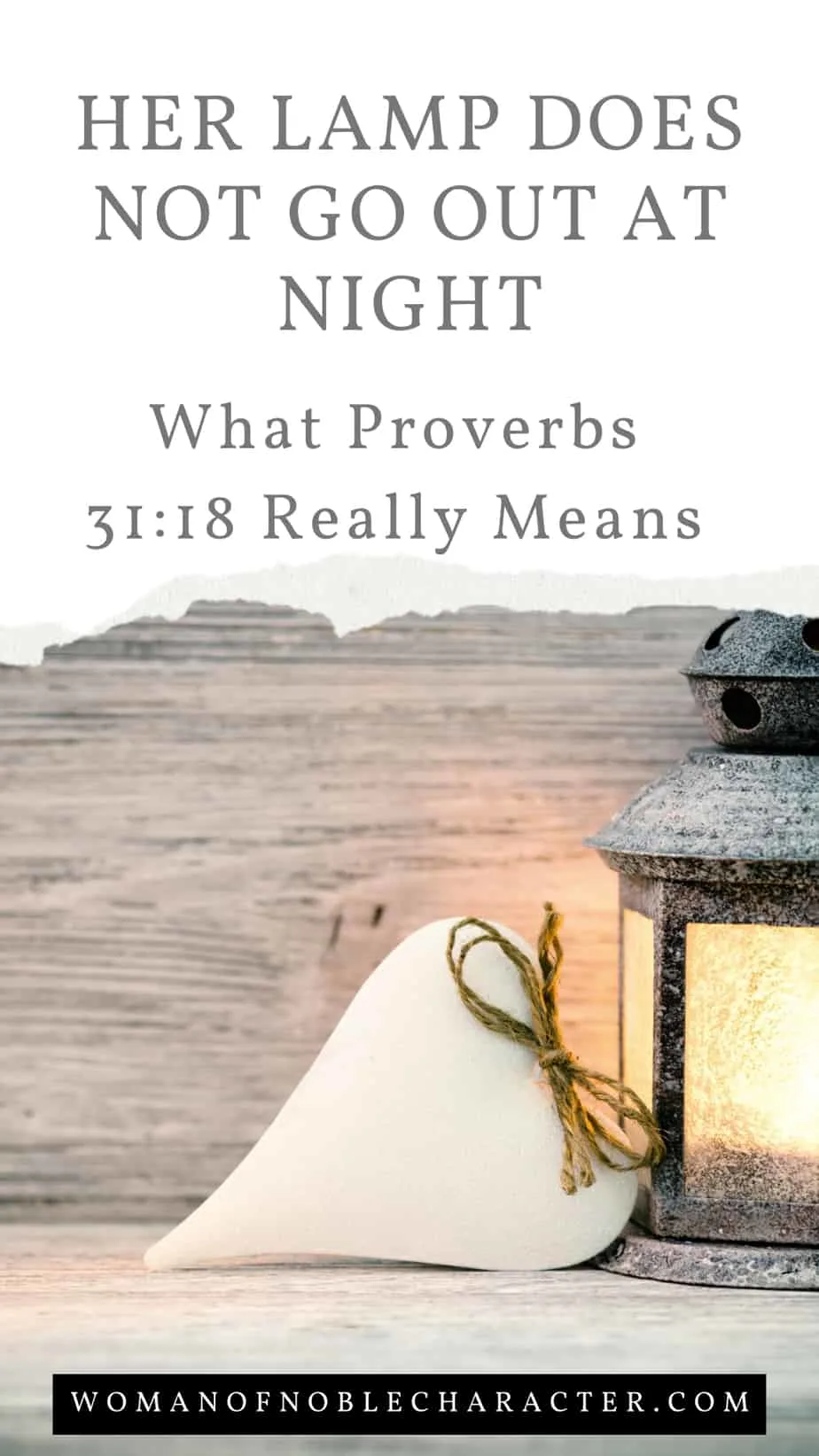 Let's examine this first portion of Proverbs 31:18 with another Scripture that uses the same Hebrew word ṭā 'am, so we get a better understanding and see how she uses her merchandise to ensure it will bring in profit.
In 2 Samuel 19:32-38 read of Barzillai, a wealthy, 80-year-old man who lived in Mahanaim. Barzillai provided food and safety for King David as well as opened his home to David after he fled from his son Absalom, who attempted to overtake his throne. We see in verse 35 of this passage, that the same Hebrew word ṭā 'am is used to describe why Barzillai did not accept King David's generous offer to return to Jerusalem with him to personally be provided by the King for the rest of his life.
I am this day eighty years old. Can I discern what is pleasant and what is not? Can your servant taste what he eats or what he drinks? Can I still listen to the voice of singing men and singing women? Why then should your servant be an added burden to my lord the king? – 2 Samuel 19:35 (ESV)
Barzillai was a humble servant and responds to King David's generous offer by telling the king that he is too old to "perceive" (that is, to taste through experiencing the pleasures of a young man) and that it would be better if King David took Chimham in his place.
Two other passages that use this same Hebrew word, ṭā 'am, are Job 34:1-4 and Psalm 34:8.
Then Elihu answered and said:
"Hear my words, you wise men,
and give ear to me, you who know;
for the ear tests words
as the palate tastes food.
Let us choose what is right;
let us know among ourselves what is good. –
Job 34:1-4 (ESV)
And this one that you may be more familiar with:
Oh, taste and see that the Lord is good!
Blessed is the man who takes refuge in him! – Psalm 34:8
Through reading and exploring these Scriptures, as well as reading commentaries, we learn much more about this Proverbs 31 woman.
She is a highly intelligent, extremely frugal, and wise manager of her home and of her God-given gifts, talents, and abilities. She does not squander all that God has given her. Instead, she realizes that God has made her the greatest blessing her husband will ever have on this earth, and she does well with this knowledge.
She doesn't use this knowledge to lord it over her husband but chooses to use everything God has blessed her with. She trains their children in the way they should go using all that she's been given by God. She also seeks to serve others when He gives her time or resources
In Gill's Exposition of the Bible (note that this is from the King James Version), he writes:
"She perceiveth that her merchandise is good…. That it turns to good account; that her trading to heaven is of great advantage; that she grows rich hereby; that her merchandise with Wisdom, or Christ, is better than the merchandise of silver, and the gain thereby than fine gold; and though her voyages are attended with trouble and danger, yet are profitable, and therefore she is not discouraged, but determined to pursue them; she is like the merchant man, seeking goodly pearls, who finds a pearl of great price, worth all his trouble"
According to Gill, her merchandise is what she is doing with her time on earth in exchange for the riches we are promised in heaven!
Another exposition, Matthew Poole's English Annotations of the Bible, says, "she finds great comfort and good success in her labours."
Wheedon's Commentary on the Bible explains it this way:
"Valuable, profitable, and highly appreciated, and this makes her all the more industrious; so that sometimes, at least, she works at it all night in order to supply the great demand for her goods."
We are called to examine our lives and ensure that we are living in the faith, striving to walk more like Him every day. If you "examined" your merchandise, are you living a life pleasing to God? A life that you can find comfort in knowing that you are inheriting the riches of the Kingdom?
Let's look at the second part of the verse.

Her lamp does not go out at night
Another look at Gill's Exposition and we find:
"…her candle goeth not out by night; her lamp of profession, which is always kept burning, or the glorious light of the Gospel, which always continues in the darkest times the church ever has been in; or her spiritual prosperity, which, though it may be damped, will never be extinct; when the candle of the wicked is often put out, Job 21:17; It may denote her diligence in working; who, as she rises early in the morning, Proverbs 31:15, so sits up late at night, and is never weary of well doing, night and day" (Gill's Exposition).
And Poole's:
"Her candle goeth not out by night; which is not to be taken strictly, but only signifies her unwearied care and industry, which is oft expressed by labouring day and night, or continually."
So, it seems that the candle or lamp illustrates that she is unwavering in her commitment to serving her family and God. She does work hard, often into the night, but it is the light of the plan of salvation that keeps her going.
"Her lamp does not go out" carries our minds to the parable of the wise and foolish virgins (Matthew 25:1-13). In the parable, the lamps are faith, the vessels in which we keep God's grace. The foolish virgins did not tend to their lamps, and when the cry rang out, "Here comes the groom!" they were not ready. The arrival of the groom is the arrival of Christ on judgment day.
Keeping her lamp burning takes a little effort, but not much. It really only requires an hour or two each day if you're on top of it, and don't forget!
She understands the importance of feeding her children healthy food and spiritual milk. And, without those, they will not be able to grow physically or mentally and spiritually. She also realizes the importance of good exercise and a balanced diet in order for them to succeed at an early age.
She understands how important staying strong in faith through prayer can "fill every empty space inside our souls" by giving us hope stronger than any obstacle we may ever face; God's love is greater than anything we can imagine.
There is another side to the heroic wife's lamp burning through the night. In the next verse, we will hear about the extra work she does at home (spinning yarn and linen). Work that lasts into the night. We see that the ideal wife and mother doesn't demand "me" time after so many hours of being a wife and mother.
She is wise enough to spend time on herself, her children, and her marriage. She will learn how to enjoy life while she does these things by teaching the kids what she's doing so that if a day comes when one of those things can't be done, then there won't be an issue with them picking up where mom leaves off, or a crisis arises.
God's plan to bring man and woman together in marriage was to give Adam an 'ezer, a "helper suitable for him" (Genesis 2:18). This kind of helper is someone to bring help and advantage (unlike the lack of such help in Isaiah 30:5, someone who brings only "shame and disgrace").
Biblically, an 'ezer is one who helps.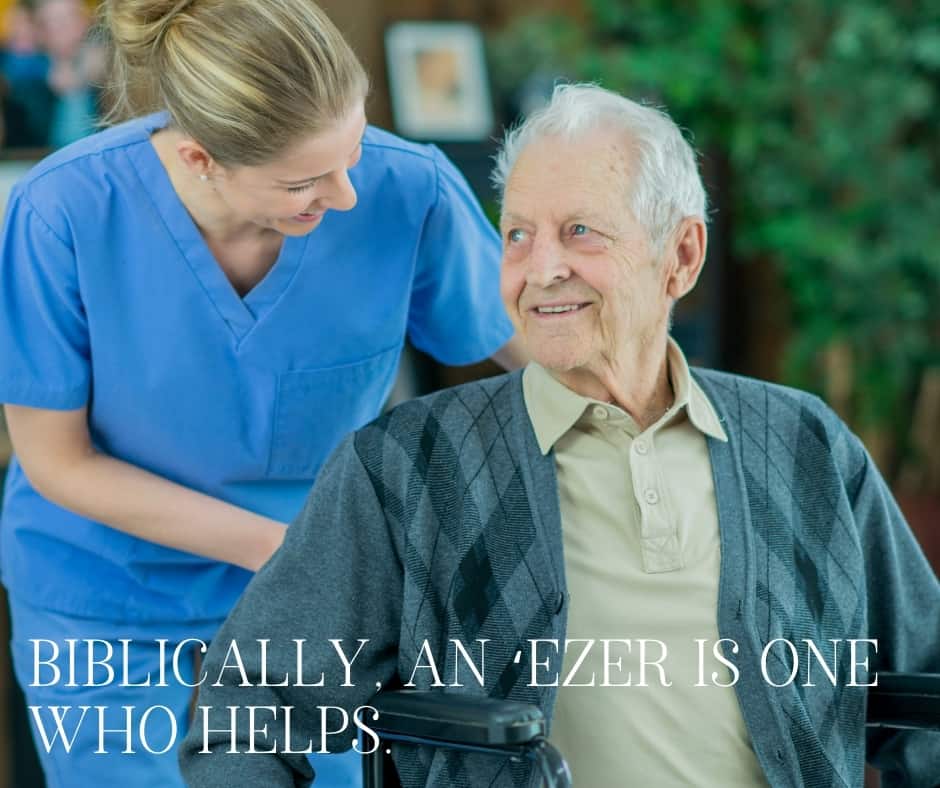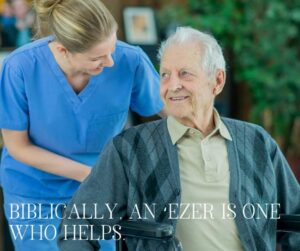 It is found in numerous passages of the Bible, including:
Genesis: 2:18; 2:18; 2:20

Exodus: 18:4; 18:4

Deuteronomy: 33:7; 33:26; 33:29

Psalms: 20:3; 33:20; 89:20; 115:9; 115:10; 115:11; 121:1; 121:1; 121:2; 124:8; 146:4

Isaiah: 30:5

Ezekiel: 12:14; 12:14

Daniel: 11:34

Hosea: 13:9
An 'ezer gives what is needed: strength for the warrior (Psalm 89:19), help to family and neighbors (Deuteronomy 33:5), spiritual help for those who doubt or are persecuted (Daniel 11:34), or whatever help there might be to give. God told Israel, "If you see your brother's donkey or his ox fallen on the road, do not ignore it. Help him get it to its feet" (Deuteronomy 22:4).
When they stumble, they shall receive a little help. And many shall join themselves to them with flattery, – Daniel 11:34 (ESV)
You shall not see your brother's donkey or his ox fallen down by the way and ignore them. You shall help him to lift them up again. – Deuteronomy 22:4 (ESV)
We have hope that the living God is on the throne. It is through our overworked and overwhelmed days that we can press on. No matter how difficult the season of your life is. No matter how many things are on your to-do list. No matter how many spills you've cleaned up or dishes you have done, or laundry you still have to do, God is still in control.
We have a promise in Him. We are called to be salt and light on this earth. How can we be the salt and light if we are stressed, worried, frazzled, and not keeping our eyes on the Father? When we cast our fears and doubts aside, we can live in the truth of His promises and share that truth with others.
For I know the plans I have for you," declares the LORD, "plans to prosper you and not to harm you, plans to give you hope and a future. – Jeremiah 29:11
What can you do today to live a life pleasing to Him and to the promises we have in Him? What can you put into practice today to ensure that her lamp does not go out at night? (yours)
If you want to dig deeper, see this post on Gospel-led homemaking or check out my book, The Complete Proverbs 31 Wife: A Verse by Verse Exploration of What it Means to Be a Proverbs 31 Woman in Today's World.
Because of Him,
Sue