This page/post may contain affiliate links. As an Amazon Associate, as well as an affiliate of other programs, this means if you purchase something using these links, I will receive a commission on qualifying purchases at no cost to you! For more detailed information, please visit our Affiliate Disclaimer page
In this biblical narrative of the "ideal" Christian wife, we read about how she manages her time, her home and even how she is revered by her husband. When I first studied the Proverbs 31 woman, I was struck by verse 16: "She considers a field and buys it; out of her earnings she plants a vineyard".
Not only is her home impeccable, she takes care of herself and is organized, but she buys fields, plants vineyards and sells her handmade goods! That's quite the standard to live up to. While I would agree that this virtuous wife is a female entrepreneur, it is these verses, which we will talk about in future posts, that seem to indicate she is a savvy business woman:
"She sees that her trading is profitable, and her lamp does not go out at night." (Prov. 31:18)

"She makes linen garments and sells them, and supplies the merchants with sashes." (Prov.31:24)
In verse 16, one could argue that this is another example of her female entrepreneur skills and experience, I think it goes deeper than that. Let's take a closer look at this verse.
The first part of this verse illustrates that she makes decisions carefully "she considers". In other words, she does not make rash decisions. In this case, she thoughtfully (and most likely prayerfully) evaluated the land and decided that it was a good decision to buy it. The location may have been excellent, the land rich and the price right. While we don't know her exact reasons for determining that the field was a good purchase, we do know that she "considers" it first.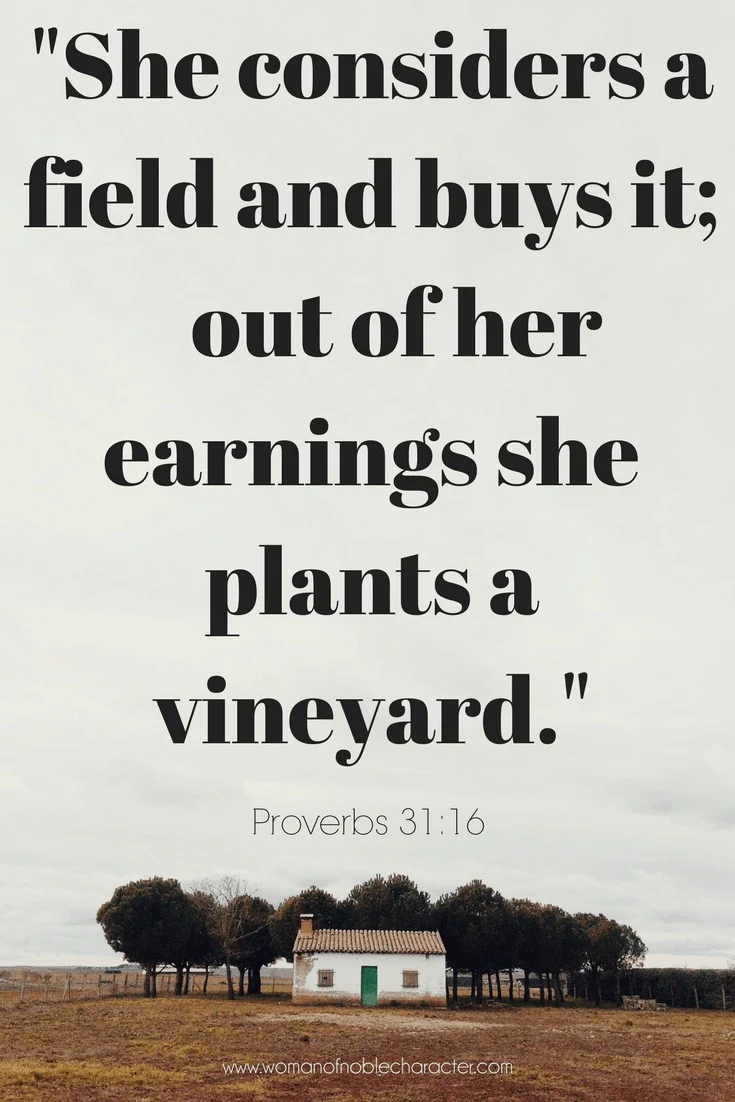 The next key to learning more about the Proverbs 31 woman is that she made the purchase "out of her earnings". Most likely these earnings were from the sale of the linen garments mentioned in verse 24. She didn't take out a loan or ask her husband for money (although I am certain that, as head of household, she discussed the purchase with him, first), but rather purchased the land with her own earnings.
Finally, "she plants a vineyard". She does not restrict herself and her family to the bare necessities of life; she is able to enjoy some comforts, as well.. She plants a vineyard, for which the yield of grapes may be used for wine, medicine, or sacrifice. Planting a vineyard is hard physical work. We don't know from this text, however, if she physically planted it or used household labor to do the planting. In Gill's Exposition of the Entire Bible, we do glean some context:
"And it is observable, that in the Hebrew text there is a double reading; the "Keri", or marginal reading, is feminine; but the "Cetib", or writing, is masculine; to show that she did it by means of men, she made use of in her vineyard for that service; it being, as Aben Ezra observes, not the custom and business of women to plant vineyards, but men. It may be rendered, "he planted", and be applied to her husband, Christ; who, through the ministry of the word in his church, plants souls in it; and happy are they who are the planting of the Lord! trees of righteousness, that he may be glorified, Isaiah 61:3."
With deeper study of Proverbs 31:16, this verse shows me that while she may be an entrepreneur, she makes judicious decisions, is financially responsible and industrious. Would you agree or disagree? Let me know your thoughts! I'd love to hear from you!
For more posts on the Proverbs 31 woman, see this article on the a wife of noble character in today's world or this one on how the Proverbs 31 woman is like merchant ships 🙂
If you want to dig deeper, check out my book, The Complete Proverbs 31 Wife: A Verse by Verse Exploration of What it Means to Be a Proverbs 31 Woman in Today's World.
In His Amazing Love,
Sue