This page/post may contain affiliate links. As an Amazon Associate, as well as an affiliate of other programs, this means if you purchase something using these links, I will receive a commission on qualifying purchases at no cost to you! For more detailed information, please visit our Affiliate Disclaimer page
Are you ready to tantalize your taste buds and experience home-style Israeli cooking? The Middle East has a rich culinary history that pairs well with the region's natural herbs and spices. Whether you are a beginner or experienced in the kitchen, this article has something for everyone.
Here, you'll learn about the most popular traditional Israeli recipes in all their flavor-filled glory. From hearty stews to savory kabobs, discover the best Israeli recipes and learn how to make them in your own kitchen.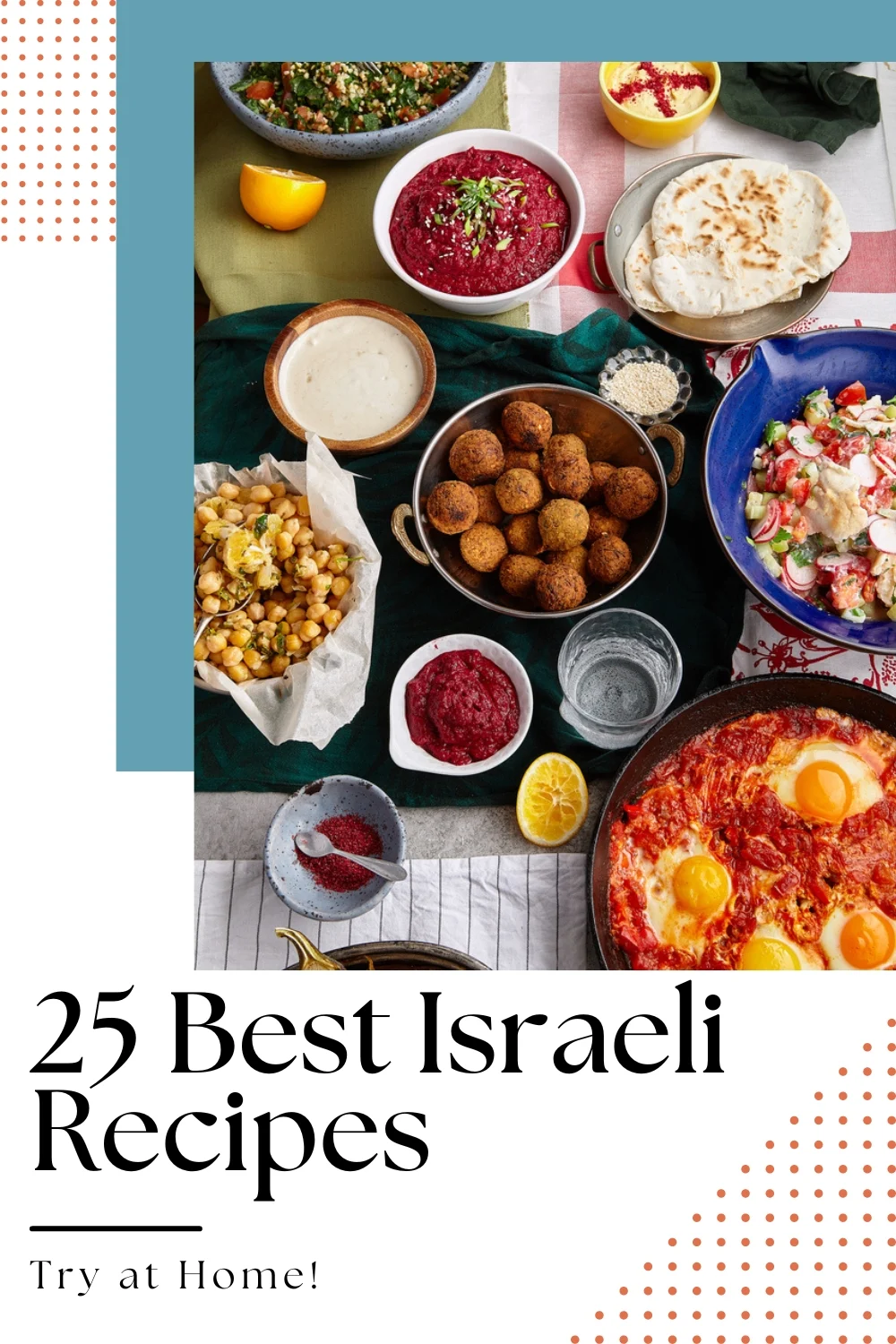 Not only are these recipes easy to follow, but they're also designed to give you a genuine taste of the flavors, aromas, and culture of Israel. So, get ready to experience Middle Eastern food like never before!
The Best Israeli Recipes
Tantalize your taste buds with a round-up of delicious Israeli recipes. Tour the world without leaving home. With a huge variety, many easy-to-make, you're sure to find some perfect recipes for you and your family.
From warm Shakshouka and Falafel to savory Hummus and Sabich, Israeli cuisine is full of fresh and flavorful recipes that make it one of the most exciting and diverse cuisines the world has to offer.
With so much variety and tradition, there is something to please all palates. Whether you're looking to impress at your next dinner party or just satisfy your own cravings, Israeli recipes are the way to go.
As this article has shown, Israel has much to offer in the way of culture and cuisine. It is a country that is vibrant and diverse, and its food reflects that spirit.
For all of its unique flavors and variety, the best Israeli recipes prove that there is no limit to the wonders of Israeli cooking.
"Israeli cuisine is all about the flavors, customs, and loyalty of the people who created them,"

Israeli food expert Michael Solomonov.
So, no matter what dish you choose, you can rest assured that it will be delicious and full of cultural significance.
From its traditional dishes to its fresh ingredients, Israeli cuisine is sure to please everyone. To experience it first-hand is to take part in a living history that has been passed down from generation to generation. So why not take the opportunity to explore the best of Israeli cooking with the next delicious, hearty meal?
Want to stay up-to-date with our newest posts on Hebrew, Israeli, and Israeli food? Join our newsletter!
Must-Have Israeli Cooking Spices
Original Jerusalem Zaatar Spice Blend by Julian's Valleys
Sumac by Z&Z – Premium Sumac, 3.25oz – Tangy Middle Eastern Spice
Want to try a bit of Israeli food without the hassle? I love the ArtzaBox quarterly subscription box. Each box contains a food item or spice from an Israeli region. Use code NOBLE25 for 25% off
You may enjoy this video on My Israelite Cuisine – 10 Israeli Foods You Should Try! By Traditional Dishes