This page/post may contain affiliate links. As an Amazon Associate, as well as an affiliate of other programs, this means if you purchase something using these links, I will receive a commission on qualifying purchases at no cost to you! For more detailed information, please visit our Affiliate Disclaimer page
Prayers for the nation begin in the comfort of our homes, international events are unfolding and preparing the way for Jesus's return. Prayer warriors all over the world are making tremendous power available by petitioning God on behalf of their government leaders. Through the outpouring of His Spirit, God is steering the course of each government according to His divine will and plan. As Christians, we have the privilege of witnessing this amazing process!
Consider this your simple prayer guide for prayer for the nation.
Whether you're standing for your own country or for another nation, as a Christian, you can offer prayer to ask for God's blessing and protection. Here's a prayer you can use to make your request: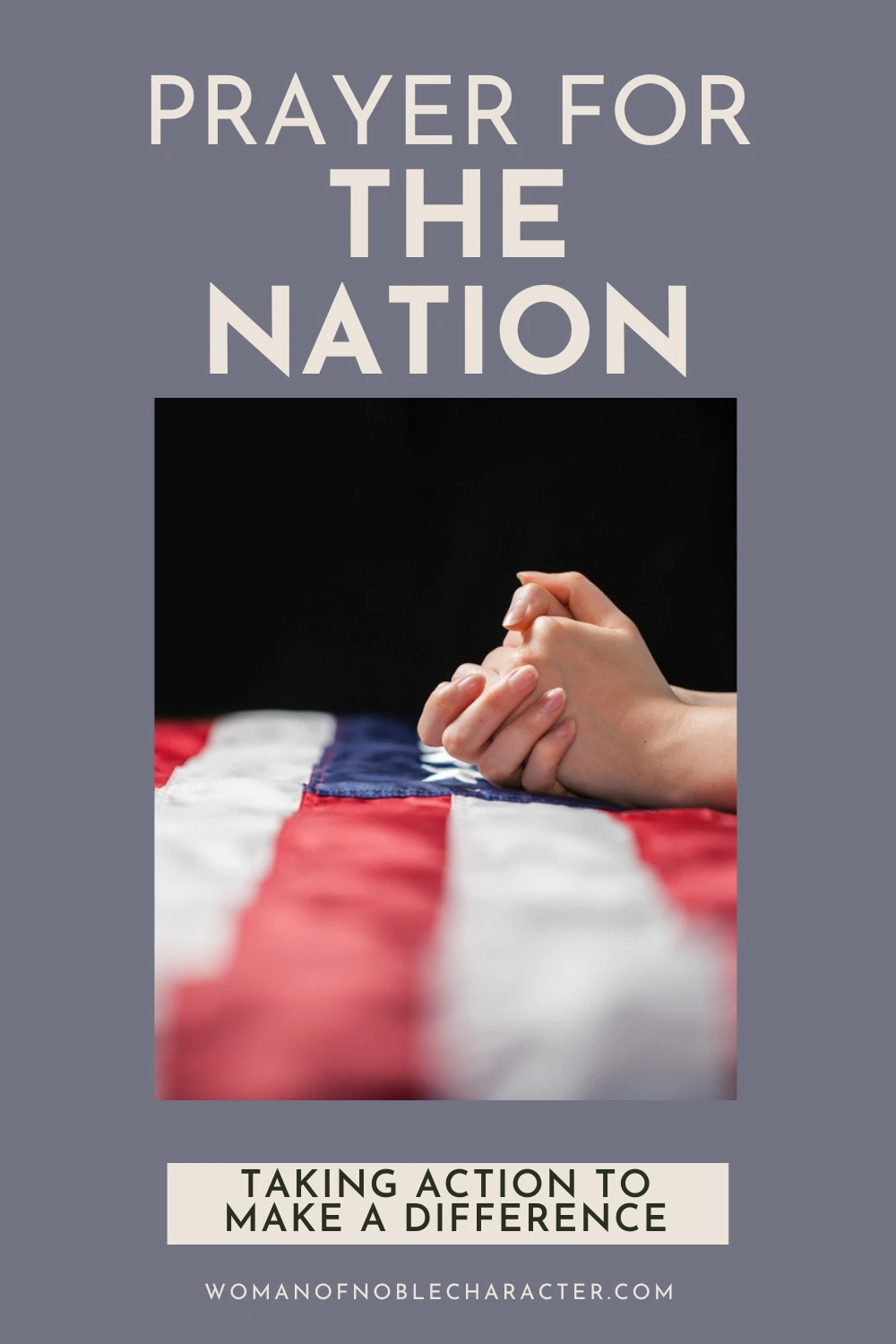 O God, we humbly come before You in Jesus' name on behalf of the leaders of (name the nation). As Your Word states in 1 Timothy 2:1-2, we pray for kings and those in authority, that we may live peaceful and tranquil lives. Almighty God, fill our leaders with courage, strength, and wisdom as they make decisions and lead Your people in this nation. Grant them Your peace that surpasses all understanding, and let Your perfect will be done.

O Lord, we pray that Your Word would be given free course and that Your people would be rescued from unreasonable and wicked men (2 Thessalonians 3:1-2). We know that the very heart of kings is in Your hands and that You can direct it in whichever way You choose (Proverbs 21:1). Give our nation's leader the wisdom to make decisions that will bring our country in line with Your ways and Your Word.

Almighty God, we thank You for bringing Your transformative power to the politics of (name the nation). We ask that You send laborers filled with wisdom and might to surround its leaders, providing godly counsel and insight. Furthermore, we pray that You would remove from positions of authority those who stubbornly deny righteousness and replace them with those who humbly follow You and Your appointed course for (name the nation). Let your will be done on this earth as it is in heaven.

As we draw closer to the end of days, I ask that the presence of faith and miraculous acts become more strong across nations. Let us, as believers in Jesus, the Anointed One, unite in spirit and stand firm in our faith. May Your glory be evident throughout the world as a demonstration of Your Holy Spirit and power.

We give thanks to the Lord for hearing and granting our requests. We stand firmly in faith, believing we have received them. Amen.
After a chaotic year, it can be easy to grow weary of praying for our nation. We may be feeling burned out on politics and desire to focus on something else when we pray; discouraged by the thought that God didn't answer our calls for righteous leaders and peace in our streets. We may even feel outraged by the wicked ways of many, but as a child of God, we can still pray for many other things!
We can lift up our nation in supplication for a variety of issues, from the health of our communities to the growth of our economy. Let us not forget to pray for the utmost peace and safety for every US citizen, no matter their differences. Together, we can make a difference.
If you're feeling a lack of motivation to keep up your prayers for our nation or drawing on the right words to express your faith, look to the tradition of liturgical or pre-written prayers. Not only can they make the task of prayer easier, but they also allow Christians everywhere to join together in praying the same words, no matter the time or place.
Prayer for The Nation
Let's join together in interceding through prayer for the nation with these prayer points:
1. Pray fervently for God's grace and mercy to be bestowed upon our nation and on ourselves.
Let us seek our Creator's help and guidance as we strive to build a better future.
As followers of Christ, we are called to receive God's mercy and love and share it with our neighbors. But what if we took it a step further?
What kind of faith-filled, transformative impact would it have on our nation if we all committed to prayer for ourselves, our friends, and our country? Let us humbly seek His mercy and ask God to usher in a revival of love, justice, and peace.
2. As Christians, let us pray for justice and restoration of our nation, so that its brokenness may be healed.
Let us come together in faith to seek divine guidance to bring about lasting peace and an end to the strife that has divided us.
We must have the courage to stand up for what is right and rely on our core beliefs to seek peace and justice for all. Let us pray for God's grace and mercy on our nation, that it shall be made whole again.
As Christians, we recognize that even as we pray for justice and restoration, the answer to our prayers often starts with us. We may not directly have the capacity to make the change we want to see in our governing authorities, but God's Word calls us to demonstrate justice and mercy in our humble reliance on the Lord.
Furthermore, we can also pray that our nation's leaders will take the same route for the right path.
3. Pray for unity to mend the widening rift between us.
As Christians, let us kneel in harmony and offer God's merciful love to bridge the gaps that divide us. In humbly beseeching Him for His grace, may we be united in spirit and find peace.
Just hours before his arrest, Jesus prayed for all believers everywhere, entrusting them into God's loving care despite the ultimate sacrifice he would soon make on the cross. As Christians, this reminder of Jesus' faithfulness and love can bring us comfort and strength.:
As followers of Christ, let us heed His call to come together. Let us unite for more than just peace and harmony but for the salvation of souls and transformation of lives. This is the greatest need not only for America but for the whole world. Believe in the power of His message and accept His challenge, so that those around us will see His love and grace in us.
We all struggle with sin and things that separate us, so it's only natural that perfect unity is impossible. However, as Christians, Jesus' grace gives us the power to work towards unity! Just imagine the impact on our great nation if the church embraced this same unity.
Let's strive together to display the same unconditional love and acceptance that Jesus showed us.
4. Intercede to God for the integrity of our leaders, imploring Him to empower them to stand firm against temptation and corruption.
Despite our leaders and politicians not being perfect, we, as Christians, understand that their potential for abusing power can only be avoided through the grace of God. Unfortunately, they likely don't realize their need for help, but it is our responsibility to pray that they are open to receiving God's mercy.
Before we utter a single word about any leader's wrongdoings or injustice, let us remember to lift them up in prayer. As followers of Jesus, it is our moral obligation to seek the peace and well-being of our leaders, no matter their decisions or actions.
Let us never forget our sacred duty to pray for our leaders and ask that God guide them in all they do.
5. Christian brothers and sisters, let us lift up our voices together in prayer for the salvation of our nation and of all the people of the world.
As Scripture instructs us,
Humility and prayer can open the door to God's grace and mercy. We come before Him with supplication, trusting that our prayers will be answered according to His perfect will – a will so good that we can be sure of its outcome in the mighty name of Jesus.
As Christians, let us rely on God's infinite understanding and ability to provide for us in just the right ways as we pray for a spiritual awakening in our country.
6. Pray for Protection for our country and neighbors
As Christians, the rising waters across the nation today are a cause for deep concern. Our cities are under threat of being engulfed, emphasizing the urgency to take action and save them.
We must come together and find a way to keep our homes safe. Let us pray for each other as we work to protect our communities.
Dear Lord, we humbly implore You to extend Your hand of protection over this nation in our time of unrest and turmoil. Grant safety to all involved in this turmoil, whether they be the outraged, angered, officers, military personnel, and all in between.

Calm the passions of our hearts with Your peace and bring the restoration of justice through acts of humility, repentance, and extraordinary love. May You use this time to sing Your song of deliverance over our wounded nation. In Your mighty Name, Amen.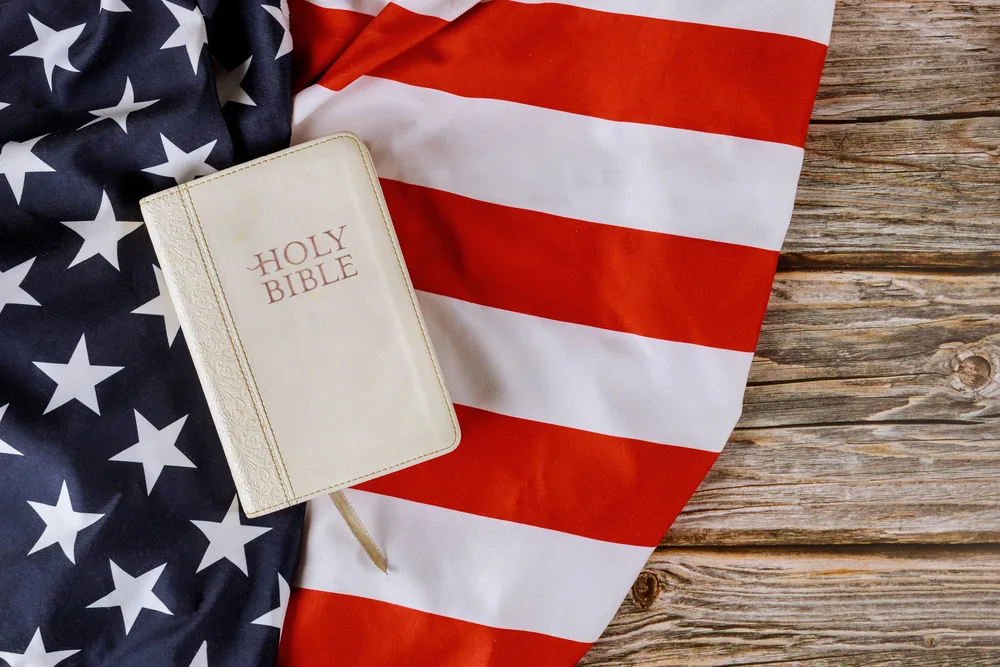 7. Pray for Our Awesome God's Presence
Prayer is an outward show of faith, but when we call on the One true God to intervene in our lives and in our nation, we are inviting the Presence of the Lord to transform us in ways that words cannot express.
By welcoming the Presence of God, we are providing an opportunity for Him to meet our individual and collective needs, and to bring renewal and transformation to our culture. Let us remember that the Presence of God can bring about miraculous changes–so let us pray in faith and trust.
O Lord God Almighty, Let us make your presence known, Lord! Shine Your glorious light in the midst of darkness, confusion, and despair. Welcome our Lord to walk among us and use us as vessels of His will. Change lives, bring unity, and stir Your people to be the image bearers of Jesus in this troubling hour. We yearn for Your presence to saturate our culture and transform our nation. Be with us, Lord!
8. Pray for Peace for Our Nation
In the Old Testament we read:
The Church has a divine calling to bring peace to a nation fractured by division. In this time of moral unrest, it's more important than ever that Holy Spirit-led Christians step up and stand for righteousness and justice. We can be the instruments of God's healing, and bring peace through His mercy to a hurting world.
In these turbulent times, the Church cries out for the Prince of Peace! Come and save our cities, Lord, from violence and destruction. Give us Your courage and kindness to be the peacemakers You designed us to be. Let us demonstrate justice for all people and bring about the unity of a people made one in You, for You created us as equals! We long for Your peace to fall upon our nation, O Lord! Amen.
America has been a bastion of freedom for two centuries, and with great freedom comes great responsibility to use that freedom for the benefit of all.
And what better way to employ this freedom than to spread the good news of the gospel and share the joys of the salvation offered by Christ?
As a nation of believers, let us strive to use our rights and liberties to bring glory to God.
As Christians, our mission is far greater than achieving the peace and prosperity of our nation – it is about saving lives. We must use the tools God has given us, such as those in high positions, laws, freedoms, and resources, to spread the Gospel and bring about salvation around the world.
Let us ask God that He gives us the strength and courage to fulfill His mission and bring salvation to mankind. It is only through the power of God that this can happen.
O Lord, our heavenly Father, who has so graciously provided us with this beautiful land as our legacy, we humbly ask You to help us to remain devoted to You in all we do and always ready to obey Your will. Guide us with moral work, knowledge, and righteousness. Protect us from violence, discord, and confusion, as well as pride and arrogance, and every other of the spiritual forces of evil.

Let us unite to honor and defend our liberties and the countless people from various cultures and language groups who have gathered here. Fill our leaders with the spirit of wisdom and grant them justice and peace in the name of your law. Whenever we experience prosperity, let us be filled with thankfulness, and in times of hardship, do not let our faith in you waver. All this we ask through the mighty name of Lord Jesus Christ, our Lord. Amen.
In these turbulent times, it's easy to feel overwhelmed and powerless, but as Christians, we mustn't forget that our prayers have the power to move mountains! We have the opportunity to call upon God in prayer, crying out for his intervention and for insight as to how we can show the love of Christ through our actions. Let's use our voices to ask for God's help today!
You may enjoy this video: Prayer For Our Country | Powerful Prayer For The Nation and Its Leaders
Or one of these recommended resources:
Pray for Our Nation: Scriptural Prayers to Revive Our Country by Keith Provance (Author), Megan Provance
Pray For Our Nation! by Pamela Whittington
5 Things to Pray for Your World: Prayers That Change Things for Your Community, Your Nation and the Wider World by Rachel Jones
ESV – "Scripture quotations are from The ESV® Bible (The Holy Bible, English Standard Version®), copyright © 2001 by Crossway, a publishing ministry of Good News Publishers. Used by permission. All rights reserved."