This page/post may contain affiliate links. As an Amazon Associate, as well as an affiliate of other programs, this means if you purchase something using these links, I will receive a commission on qualifying purchases at no cost to you! For more detailed information, please visit our Affiliate Disclaimer page
Have you ever heard of Zion in the Bible but have found yourself wondering what it actually refers to? Zion is a significant concept for many Christians, as the Bible mentions it no less than 150 times. For believers, understanding the definition and history of Zion is essential to understand better their faith and what it stands for. In this article, we'll discuss Zion, its origins, and what it symbolizes in the Bible. We'll also look at the various interpretations of what Zion means and the importance it holds for Christians today. So if you're interested in finding out more about what Zion means and how it's viewed in the Bible, read on to learn more.
Naomi of Artza Box explains:
"It's a Hebrew word you may highly likely be familiar with because of how it sounds like; tzi-yon (צִיּוֹן).

If you linked it to "zion", you're absolutely correct! Tzi-yon is the Hebrew word for "zion".

It is said that tzi-yon holds up to four layers of meanings and significance in the Bible and we'll look into two of them today.

For starters, let's look into tzi-yon's geographical significance. Tzi-yon, at its core refers to the hill in Jerusalem where King David established his capital which later became synonymous with the city of Jerusalem. The hill's name is none other than Mount Zion.

This is also why some know of Jerusalem as a city so nice they named twice; Zion and Jerusalem."

Naomi of Artza Box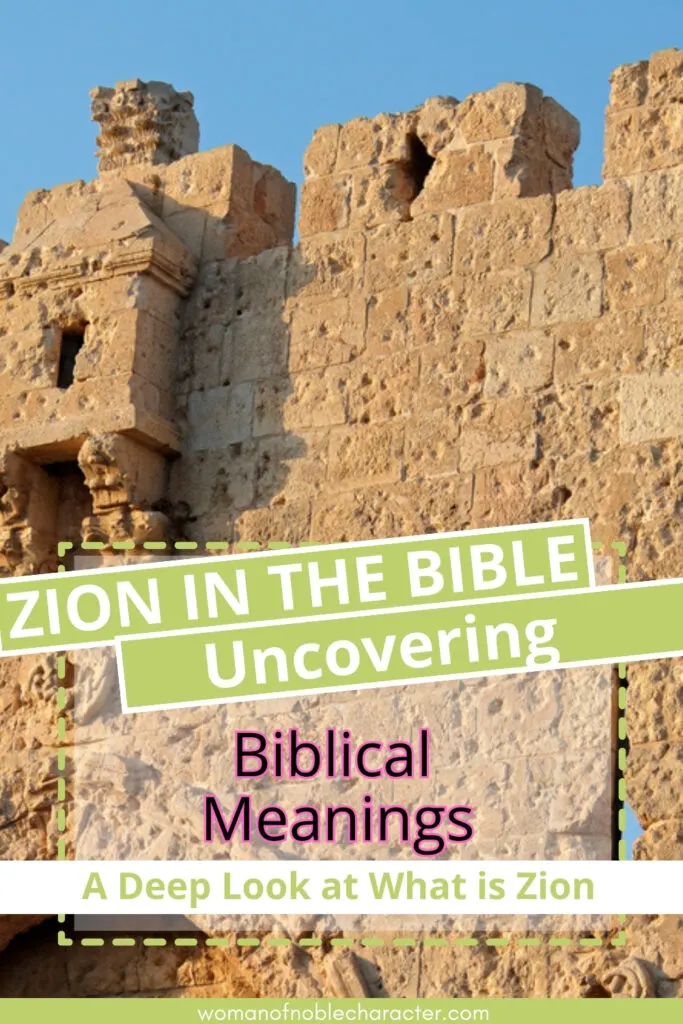 Psalm 87:2–3 says,
the Lord loves the gates of Zion
more than all the dwelling places of Jacob.
Glorious things of you are spoken,
O city of God. Selah
Psalm 87:2-3 (ESV)
God's love for His people can be seen in Zion, the city of God. Located in Jerusalem, Mount Zion is the high hill on which King David built a fortress situated on the southeast side of the city. Here, God's love for His people is symbolically represented in Zion.
Tzi-yon holds a profound spiritual significance for Christians and Jews. It's the dwelling place of God, representing His nearness to His chosen people. Here, God chose to reveal Himself, create His covenant, and enter into communion with His people – a reminder of His faithfulness and provision.
The name Zion is often used to describe a place appointed by the Lord where his followers can live and serve God. Scripture refers to Zion as the "City of Holiness" and a "city of refuge" where the Lord protects his people from the evils in the world.
God's presence in Zion is a powerful reminder of His unwavering faithfulness, guidance, and protective care. For Jews and Christians, this is a significant source of comfort, security, and peace. Not only does it remind us of God's promise to bless us, but it also serves as a reassuring reminder that He will never leave us alone.
Tzi-yon is the spiritual and epicenter of worship in Israel, renowned for its connection to the Temple where in the past, sacrifices were offered and people sought reconciliation with God. It is a place of deep spiritual significance to the faithful around the world.
It symbolizes a sacred place where the divine is encountered and where they can offer prayers of worship, devotion, and reverence to God. Here, they can connect with their faith, find peace, and draw strength.
The land of Israel and Mount Zion, located just outside Jerusalem's wall, has long been connected to the spiritual—both as a place of worship and a symbol of hope for God's people. The psalmist writes of "songs of Zion" as a sign of faith in spite of their exile in Babylon, the persecutor of God's people and a city of sin. Zion is thus both real and spiritual, a paradise contrasting to Babylon's darkness. In this way, Zion serves as a reminder to Jews and Christians of God's protection and promise of redemption.
By the waters of Babylon,
there we sat down and wept,
when we remembered Zion.
Psalm 137:1 (ESV)
For there our captors
required of us songs,
and our tormentors, mirth, saying,
"Sing us one of the songs of Zion!"
Psalm 137:3 (ESV)
See also Revelation 18:1-24
The form you have selected does not exist.
Zion Definition
The Bible-renowned City of David is revered as Zion (Tsiyon), the ancient Hebrew word for Jerusalem's hill fortress, captured by the renowned King David, also knowns as the "City of David".
For both Christians and Jews alike, Zion is a powerful symbol of faith and hope. It is often referenced in the Bible as a mountain– both in literal and figurative terms. Furthermore, Zion is symbolic of the Kingdom of God and the New Jerusalem that will come from above, as described in Revelation 21. As Isaiah 30:29b reminds us, Zion is the holy Rock of Israel. In this sense, Zion is an excellent representation of the divine and eternal qualities of our faith.
You shall have a song as in the night when a holy feast is kept, and gladness of heart, as when one sets out to the sound of the flute to go to the mountain of the Lord, to the Rock of Israel.
Isaiah 30:29 (ESV)
Zion has three distinct meanings: the hill where the oldest parts of Jerusalem once stood, Jerusalem the city, and the dwelling place of God. Christians recognize Jerusalem as the site of the most important moments of Jesus' life and consider Zion an integral part of their spiritual journey.
Zion in the Bible
Old Testament
The Bible's first reference talks about "the stronghold of Zion—that is the City of David."
Nevertheless, David took the stronghold of Zion, that is, the city of David.
2 Samuel 5:7 (ESV).
The Psalms often reflect the deep desire of Christians to be in God's presence at Zion, the Lord's holy mountain and the dwelling place of His throne. Here, believers look for deliverance and hope. In the words of King David, they cry out for salvation.
"As for me, I have set my King
on Zion, my holy hill."
Psalm 2:6
Sing praises to the Lord, who sits enthroned in Zion!
Tell among the peoples his deeds!
Psalm 9:11
that I may recount all your praises,
that in the gates of the daughter of Zion
I may rejoice in your salvation.
Psalm 9:14
Isaiah is another prolific source: "And he who is left in Zion and remains in Jerusalem will be called holy; "tribute will be brought to the Lord of hosts".
" (Isaiah 18:7)
"And he who is left in Zion and remains in Jerusalem will be called holy, everyone who has been recorded for life in Jerusalem,"
Isaiah 4:3 (ESV)
At that time tribute will be brought to the Lord of hosts
from a people tall and smooth,
from a people feared near and far,
a nation mighty and conquering,
whose land the rivers divide,to Mount Zion, the place of the name of the Lord of hosts.
Isaiah 18:7 (ESV)
Zion, the Biblical hill in Jerusalem, is mentioned in several Old Testament books, including Jeremiah, Lamentations, and Micah. This hallowed place holds religious and historical significance for Christians and Jews alike.
New Testament
New Testament writers Matthew, John, and Paul all draw upon the words of the Old Testament when referencing Zion. Beloved by both Jews and Christians, Zion is a major concept in the Bible, carrying spiritual, religious, and historical significance for both faith traditions. As Matthew, John, and Paul quote from the Old Testament, they offer an enduring reminder of the shared history and faith of these two religions.
"in Zion a stone of stumbling, and a rock of offense;
and whoever believes in him will not be put to shame." 1 Peter 2:6 says this stone in Zion is Jesus, "a cornerstone chosen and precious."
as it is written,
"Behold, I am laying in Zion a stone of stumbling, and a rock of offense;
and whoever believes in him will not be put to shame."
Romans 9:33
For it stands in Scripture:
"Behold, I am laying in Zion a stone,
a cornerstone chosen and precious,
and whoever believes in him will not be put to shame."
1 Peter 2:6
In his vision of end times, John saw "on Mount Zion stood the Lamb, and with him 144,000 who had his name and his Father's name written on their foreheads."
Then I looked, and behold, on Mount Zion stood the Lamb, and with him 144,000 who had his name and his Father's name written on their foreheads.
Revelation 14:1
The term "Daughter of Zion" (Isaiah 1:8) holds special significance for both Christians and Jews. It is believed to represent the bond between God and His people, as commentators describe it as "the daughter of God's people." This phrase emphasizes the strong and special connection between the The Lord and His children.
And the daughter of Zion is left
like a booth in a vineyard,
like a lodge in a cucumber field,
like a besieged city.
Isaiah 1:8
This powerful verse expresses the deep love the Lord has for His people, encapsulated in His special relationship with Jerusalem. His tenderness for this city, which serves as a symbol of His people, is unceasing and indelible. Jews and Christians alike can take comfort in knowing that their covenant with the Lord is steadfast and cherished.
Sion and Zion
Sion, as defined in Strong's Concordance, is an alternative pronunciation of Zion – an often-used term among Jews and Christians alike. By understanding its origin and its meaning, believers of these two faiths can gain a better understanding of their spiritual heritage.
Mount Hermon, commonly referred to as Sion, is an important feature in both Christianity and Judaism. Referred to in the Bible as the site of Jesus' transfiguration, its Hebrew meaning, "chief mountain," recognizes its significance as a backdrop to the events of Christ's life and ministry. In Strong's Bible Dictionary, Sion is identified as a separate entry from Mount Hermon, an apt description for its prominent place in faith traditions from both sides of the Abrahamic divides.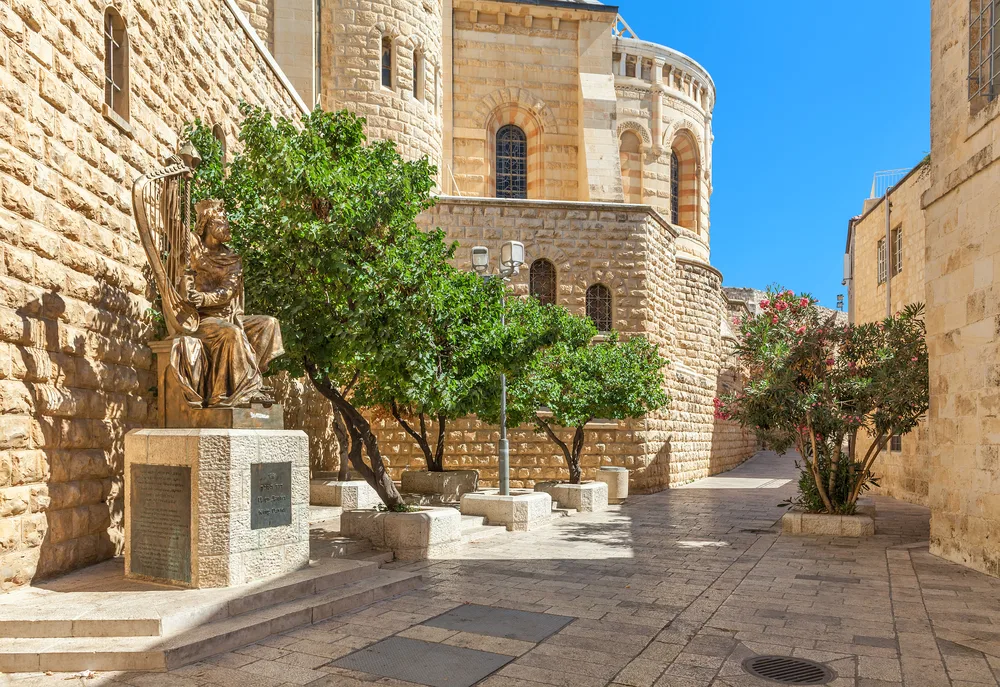 Imagery and Meaning of Zion
The imagery of Scripture offers a combined temporal and spiritual structure – Zion. While it's a section of Jerusalem, it's also a center of a grand endeavor to construct a unified Jerusalem. As a church of individuals devoted to God through Jesus, Zion is a fortress – a fortified place – to protect its citizens. Ultimately, the message of Zion is that God is faithful to His people and remains hopeful for the future.
For both Christians and Jews, the Kingdom of Heaven is not just real, but a physical entity that began with a literal cornerstone. Jesus is the metaphorical cornerstone of Zion, essential for the spiritual foundations of the faithful. His relationship and knowledge guard believers against spiritual attack and provide peace and direction. In the same way that David's son Solomon used a stone to build the temple, Jesus is the cornerstone that builds the inner temple of our hearts.
God offers a special kind of comfort to the oppressed and lonely – the tenderness of His love as demonstrated through "Daughters of Zion" in the Bible. Christ's compassionate teachings in Luke 4:18 and 6:20-35 express the irenic essence of the gospel that the brokenhearted, ignored, and neglected are at the heart of the Christian fellowship.
"The Spirit of the Lord is upon me,
because he has anointed me
to proclaim good news to the poor.
He has sent me to proclaim liberty to the captives
and recovering of sight to the blind,
to set at liberty those who are oppressed,
Luke 4:18
Christ, the cornerstone of spiritual Zion, offers hope to the poor, the weak, and the hungry instead of the powerful and wealthy of both 1st Century Jerusalem and the present day. In doing so, God demonstrates His true Fatherly care for His children.
Zion, once a place of both physical and spiritual significance, is now being constructed in the hearts of each devoted follower of the Lord. Those who's faithfulness and pursuit of knowledge and serenity are integral to constructing their own Zion.
The word 'Zion' appears 150+ times in the Bible, with an underlying theme of "fortification" and "raised up as a monument." For Christians and Jews, Zion is seen as both the city of David and the city of God – its spiritual meaning expanding throughout the pages of the Bible. It is a reminder of the promise to those who are faithful and trust in God.
Join us for a fun, interactive Hebrew Letter and Bible study every other week. All replays are available. We include Israeli cooking demonstrations, learning games, and, of course, Bible studies.
The historic dispute over Mount Zion in the Middle East has been highlighted in the Bible; it's clear that one day, Zion will be the exclusive property of Jesus. Jews and Christians alike eagerly await the promised restoration of Zion — both the nation and the city. This vision of restoration brings hope to both of these faiths and offers a future filled with optimism.
Awake, awake,
put on your strength, O Zion;
put on your beautiful garments,
O Jerusalem, the holy city;
for there shall no more come into you
the uncircumcised and the unclean.
Isaiah 52:1 (ESV)
The sons of those who afflicted you
shall come bending low to you,
and all who despised you
shall bow down at your feet;
they shall call you the City of the Lord,
the Zion of the Holy One of Israel.
Isaiah 60:14 (ESV)
In conclusion, it is clear that the term 'Zion' in the Bible has several meanings and associations. At its most basic, it is a name used to refer to Jerusalem. But it also has been interpreted to represent a paradise – both here on Earth and in the afterlife. It has also been used to refer to God's people and a place where they can reunite in safety and joy.
As we have seen, the term has had many different interpretations and meanings over time, demonstrating its importance and relevance to this day. There is no doubt that its many connotations inspire us to keep our hope alive and to remain confident that God will continue to provide us with strength and protection. As the Bible says, 'The Lord will be a safe haven for his people.' Zion indeed.
You may enjoy this video by Got Questions on What is Zion?
Or one of these recommended resources:
Out of Zion – Journal & Devotional: Finding your kingly place of dominion in God by Anthonia Udemeh
Sinai to Zion: The Untold Story of the Triumphant Return of Jesus by Joel Richardson
If you want to experience Artza and Israel without leaving home, check out their amazing recent boxes.
ESV – "Scripture quotations are from The ESV® Bible (The Holy Bible, English Standard Version®), copyright © 2001 by Crossway, a publishing ministry of Good News Publishers. Used by permission. All rights reserved."