This page/post may contain affiliate links. As an Amazon Associate, as well as an affiliate of other programs, this means if you purchase something using these links, I will receive a commission on qualifying purchases at no cost to you! For more detailed information, please visit our Affiliate Disclaimer page
Symbolism in the Bible is one of my favorite things to study. (I also love to study women of the Bible!)
The Bible uses a variety of symbols, or word pictures, to describe characteristics of God and His plan for salvation.
Symbols in the Bible and their meaning are something that are often overlooked but with careful study can reveal many wonders to us.
Why God May Use Symbolism in the Bible
Throughout the symbolism in the Bible, we can see that God uses people, things or other concepts that we can easily understand to represent those ideas that are more complex to help give us a better understanding. This method of teaching is very common throughout the Bible. Much of the writings of Moses are considered largely metaphorical. Unfortunately, some people deny the literal meaning and then there are others who only look at the literal application and are unaware of the symbolic meaning found there. So, in addition to the literal meanings, there are often deeper meanings, which describe various features of God's great Plan of Salvation.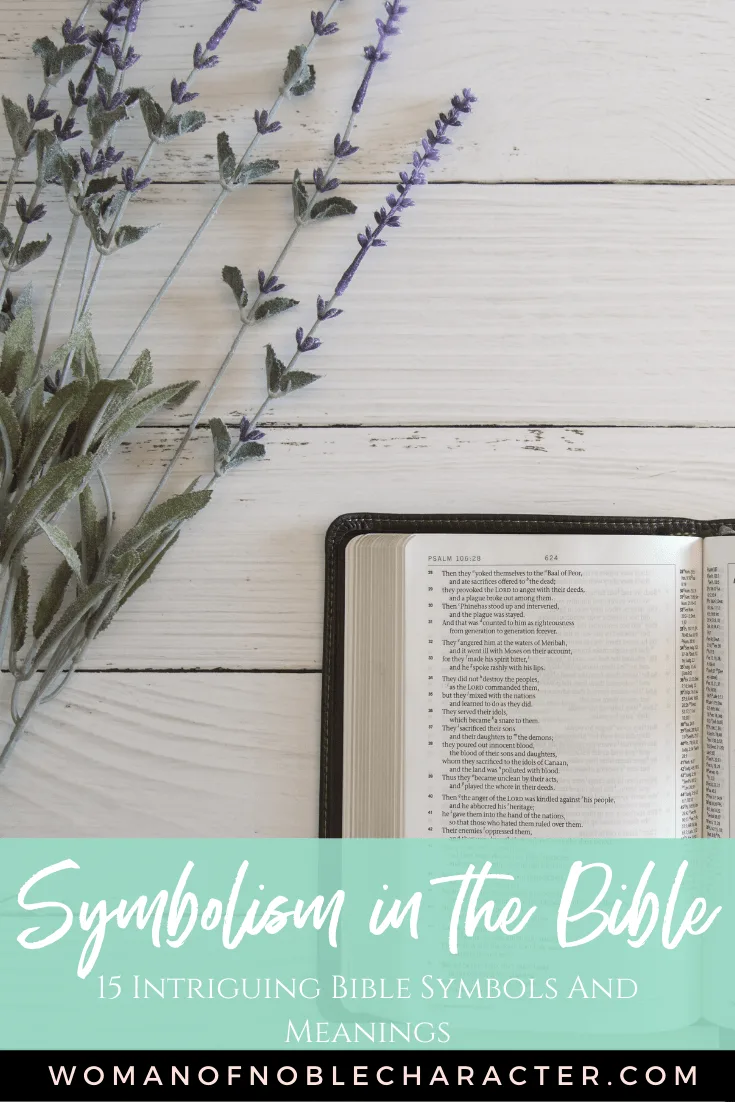 Sometimes God's Word is cloaked in symbols to hide a deeper meaning or to protect the messages.
"He said, "The knowledge of the secrets of the kingdom of God has been given to you, but to others I speak in parables, so that,

"'though seeing, they may not see;
though hearing, they may not understand.'"

– Luke 8:10
Many of the apocalyptic prophecies were given while the prophets were in a hostile foreign land. One reason God cloaked the prophecies in symbols was to protect the messages.
If you enjoy symbolism in the Bible, I hope you enjoy the following round up of posts about Bible symbols and meanings.
Symbolism in the Bible
Color Symbolism in the Bible
Colors are used throughout the Bible to reflect meanings or spiritual truths. They have a symbolic significance and can remind us of God and his plan for our salvation. Here is a round up of posts I've written about the symbolism of colors in the Bible. Bible symbolism is one of my absolute favorite things to study in the Bible. How about you?
Do you enjoy symbolism in the Bible? What is your favorite type of Bible symbolism to study?
I've found a few great resources that you may enjoy to help you study God's Word on a deeper level.
Because He Lives,
Sue