This page/post may contain affiliate links. As an Amazon Associate, as well as an affiliate of other programs, this means if you purchase something using these links, I will receive a commission on qualifying purchases at no cost to you! For more detailed information, please visit our Affiliate Disclaimer page
While there are many beautiful prayer journals on the market, sometimes you just want something special or, you may want to use it for more than just a prayer journal. I'm creating this one as a second War Binder as my first one is getting a bit full.
(For war room prayer strategies and barriers to effective prayer, see this post).
I'm going to walk you through the simple steps that I took to create a simple, but beautiful DIY prayer journal.
You'll need just a few supplies and a heart of prayer.
Whenever I create a prayer journal or war binder, I begin by asking God for my project to glorify Him. I thank Him for all He has done in my life and ask for guidance in creating a journal that would act as a symbol of worship to Him.
Here are the supplies you will need to create your DIY Prayer Journal or War Binder:
Small Binder
(I used a 6 x 8 binder from Stampin' Up! which was blank on the front to allow me to decorate it the way I want. It was also the perfect size to throw in my purse or keep on my desk)
Scrapbook or Other Decorative Paper
(I used a thicker scrapbook paper from Simple Stories, Faith Collection. I love this collection and all of the beautiful, optional accessories that coordinate with it. I'll share some of the ones I used later in this post. This pack also includes sheets of cards with Bible verses and phrases which I loved and use in this binder.)
Loose Leaf Paper or Grid Paper
(I used 8 1/2″ x 11″ grid paper from Amazon)
Hole Punch
(Because this small binder only had two holes and rings, a three-hole punch wouldn't work so I used my "Crop-A-Dile", but any hole punch will do)
Adhesive
(I used my ATG gun, which I love because the adhesive roll lasts so long, but you can use liquid adhesive such as Mono Liquid glue or any tape runner or glue stick).
Grab your free War Binder printables below!
Optional:
Decorative Tag Punch for divider tabs
(I used the Stampin' Up! Everyday Label Punch)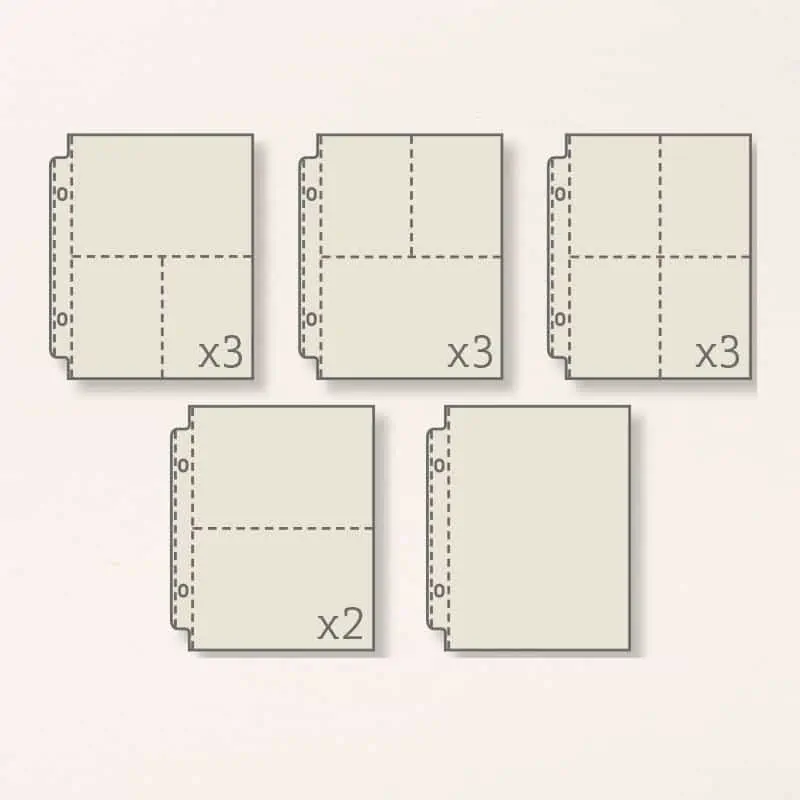 I'll some of the decorative items I used at the end of this post.
Instructions for Creating Your DIY Prayer Journal or War Binder
Decorate the cover of your DIY Prayer Journal or War Binder.
You may choose to do this at the end, but if you do, you may need to take out the pages and divider and add them back in when the cover is complete. Since I knew I was using a wet medium, I did this first. (I have the steps for the painting with Q-tips technique that I used for my cover in this post).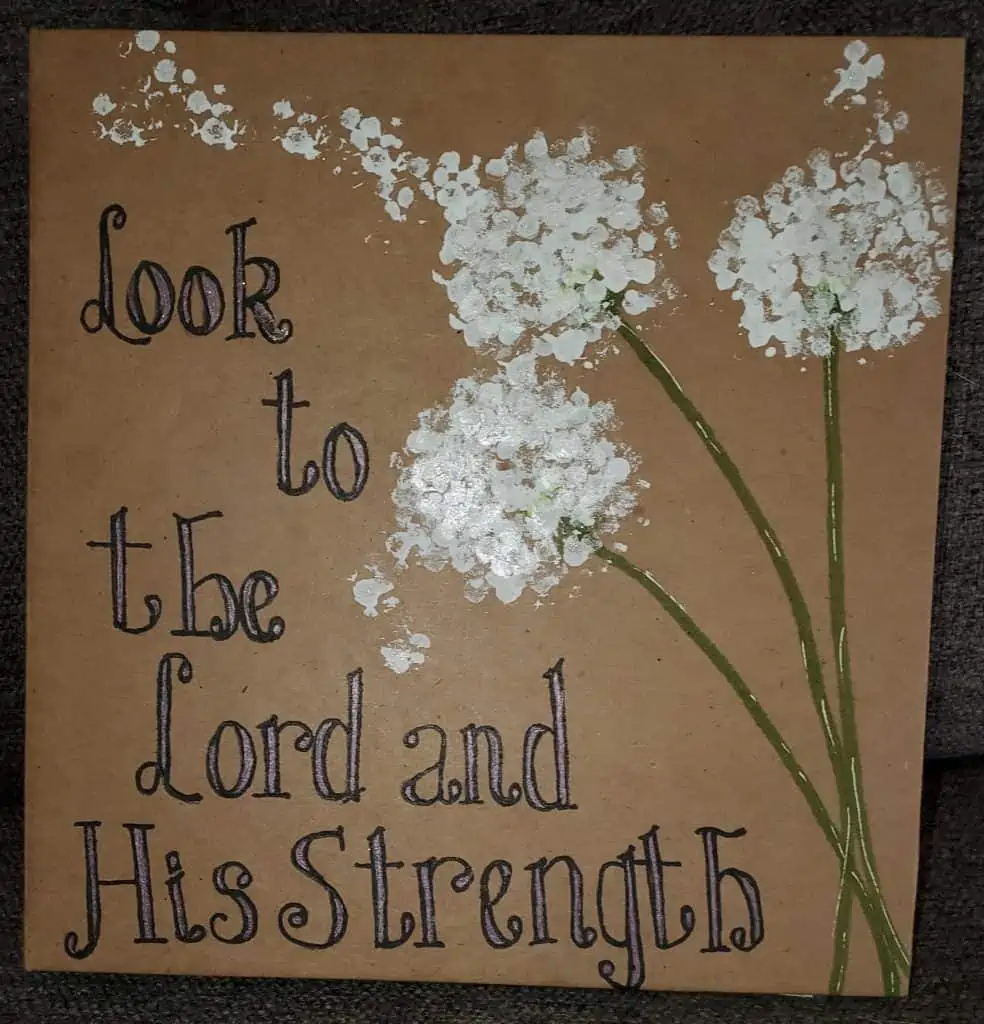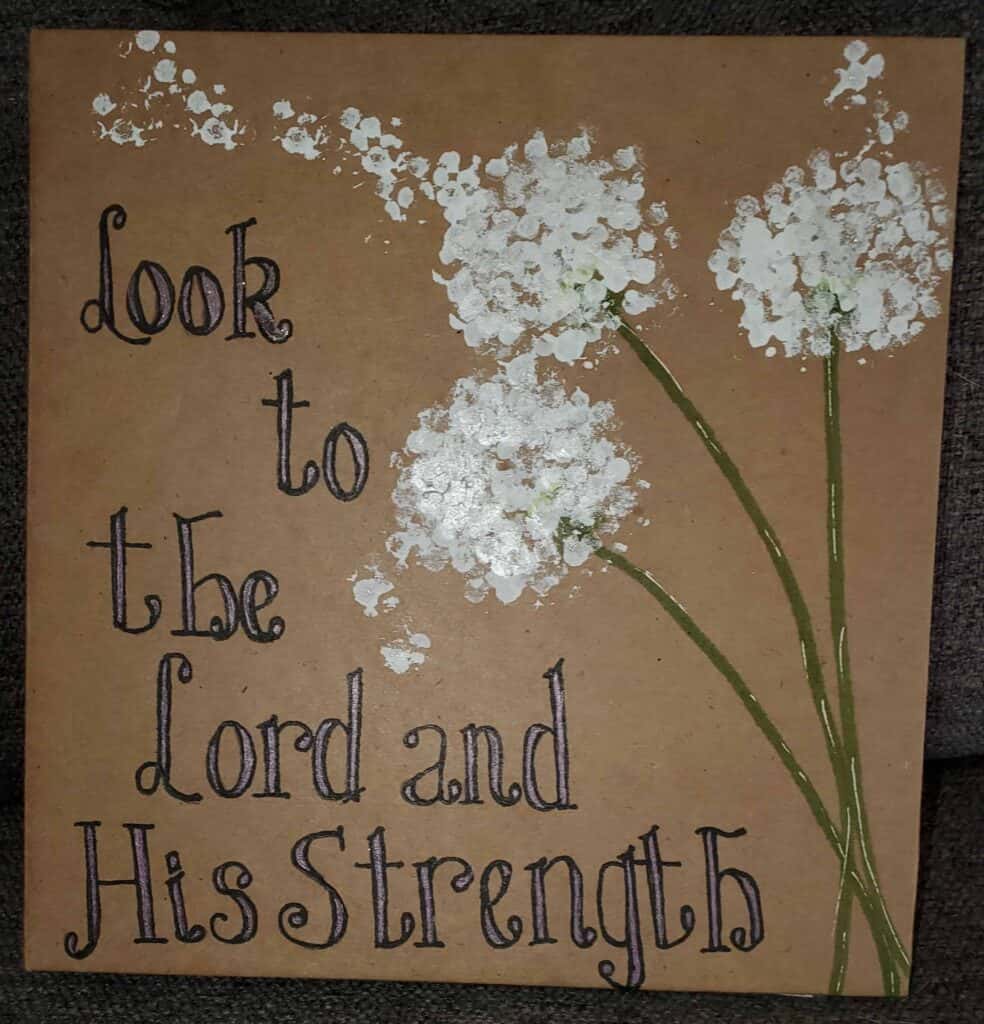 2. Select, Cut and Punch
Start by choosing the papers you want to use for your dividers and cut them to 6 x 8 (if you are using a different sized binder, you'll need to determine the page size you'll need). Then punch the holes where the binder rings need to be.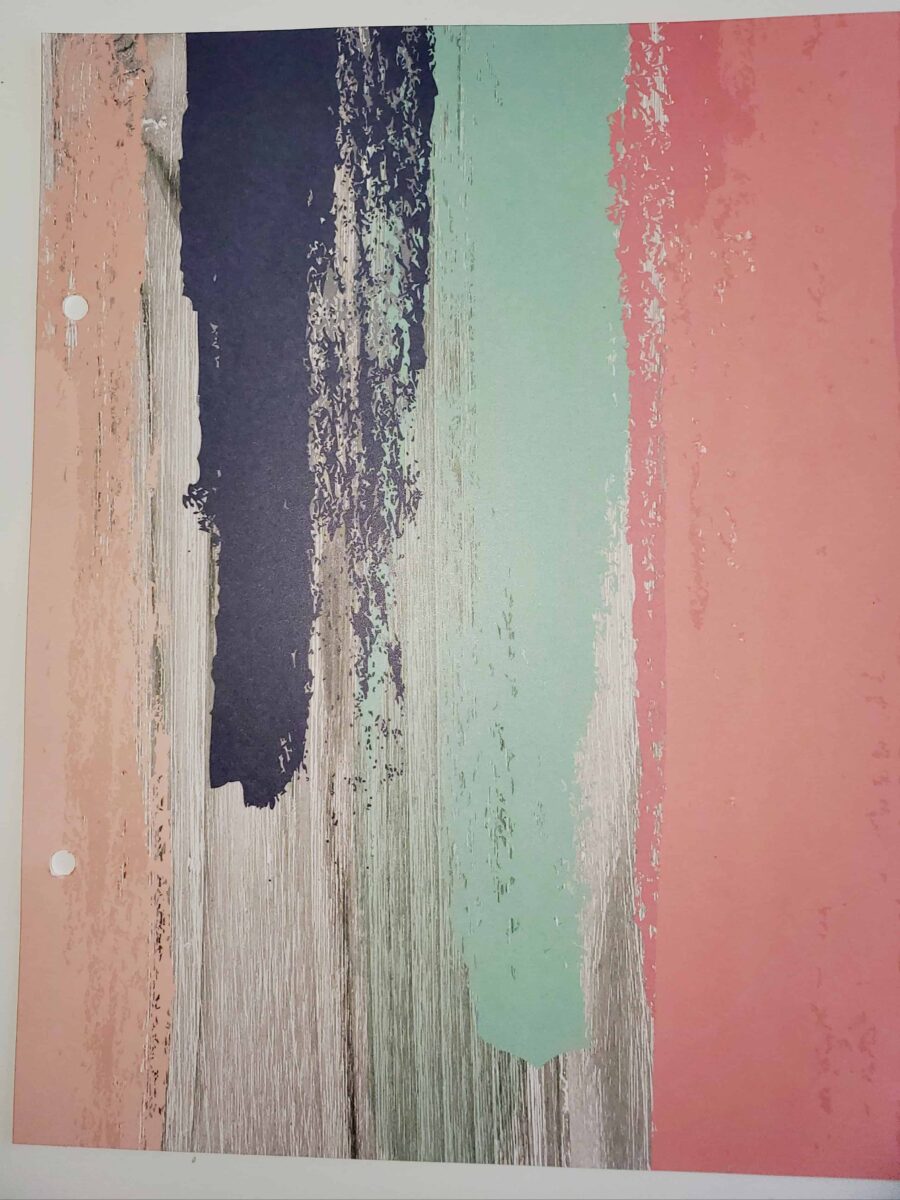 2. Punch Tags for the Divider Tabs
3. Adhere your divider tabs to your dividers.
(I like to adhere them like steps so that I can easily see each section tab).
I normally wait to add the divider names until later when I'm decorating my DIY Prayer journal.
4. Cut your insert paper (where you will do your journaling, writing, verse mapping, etc.)
Then punch the holes to insert into binder. Since my paper was 8 1/2″ x 11″, when I cut it to 6 x 8, I was left with strips which I tucked into a pocket in the back to use as notepaper or to jot additional prayers which I can insert anywhere in the binder.
5. Add any pockets or pocket pages to your DIY prayer journal
As listed in the supplies above, I used the pocket pages from Stampin' Up! They fit perfectly in my binder and come in a variety of layouts. I keep the scrap grid paper in one, as shown above and have used others in this way.
The paper pack from Simple Stories includes sheets of cut-apart cards that worked perfectly in the pocket pages.
6. Decorate your DIY prayer journal!
Setting up the DIY prayer journal, including cutting all of the inserts, dividers and tabs plus the pocket pages, took me just thirty minutes, but decorating, well…that's another story!
I only decorate a bit when I set up my DIY prayer journal and then, add to it as I am led.
Get your free war binder printables below!
The first thing I did was to add the Simple Stories notepad (it is pre-punched and fits in perfectly to my binder!).
I love having this notepad handy so that when I receive a prayer request, I can jot it down here and then, when I write my prayers, I have the list handy.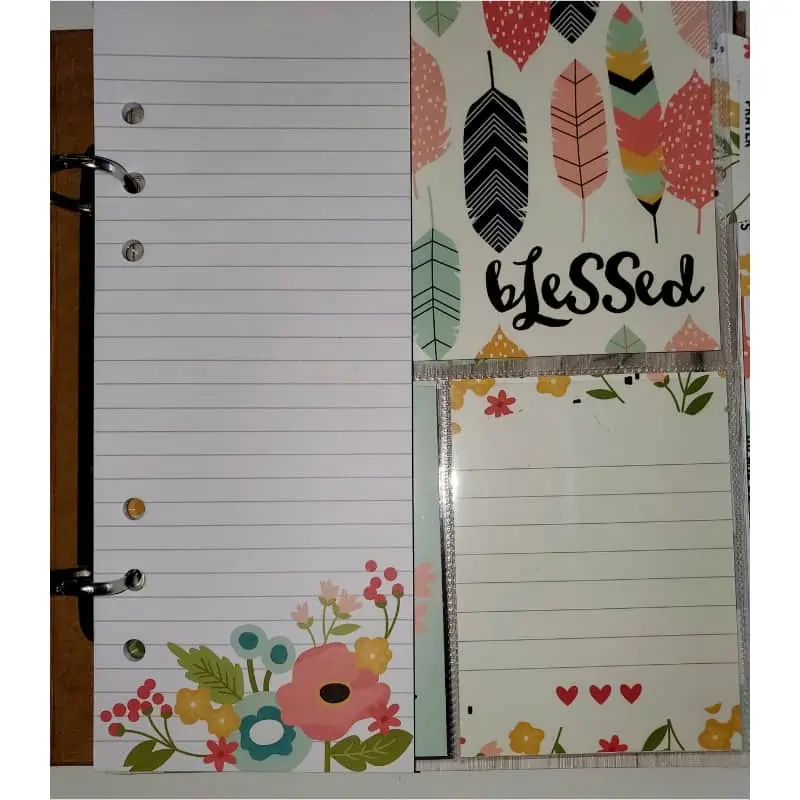 Next, I added the stickers included in the Carpe Diem Sticker Tablet (they coordinate with the Faith paper pack) as my section divider labels as shown below.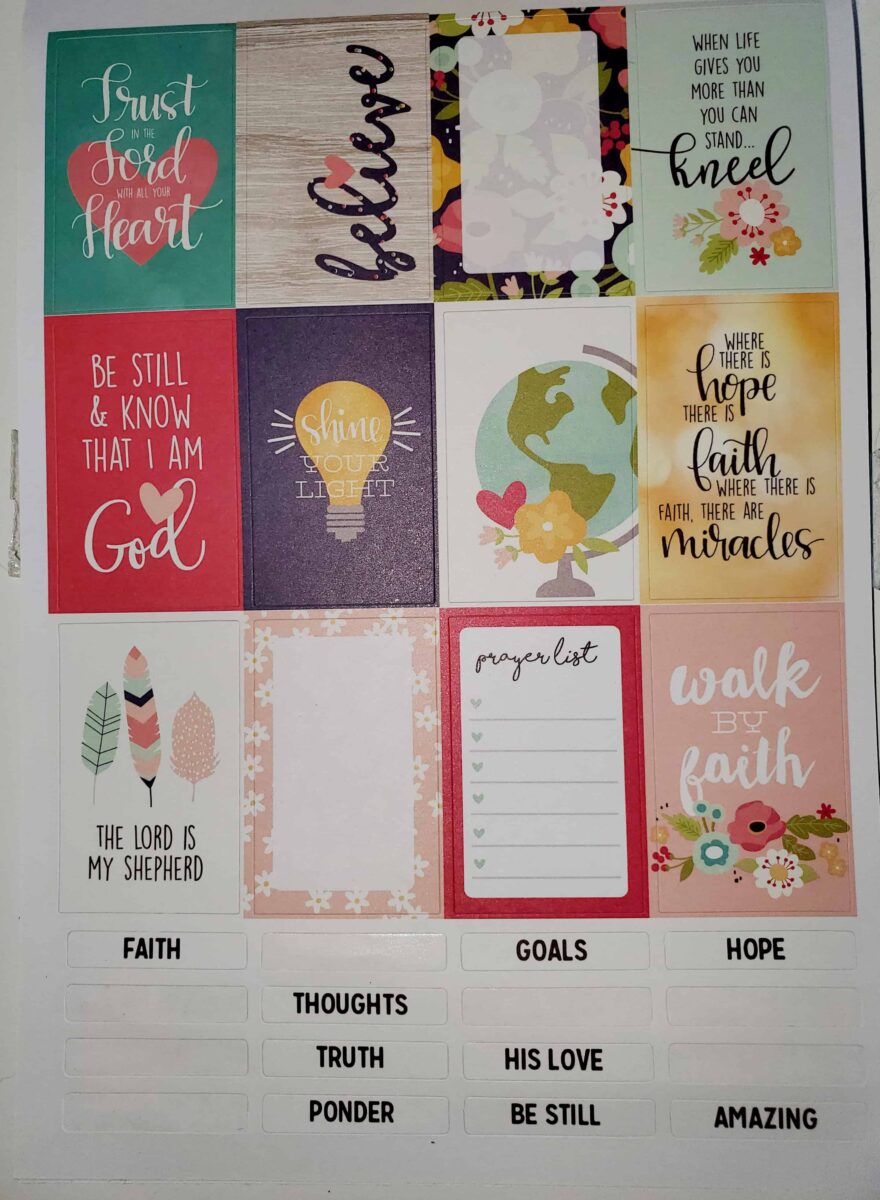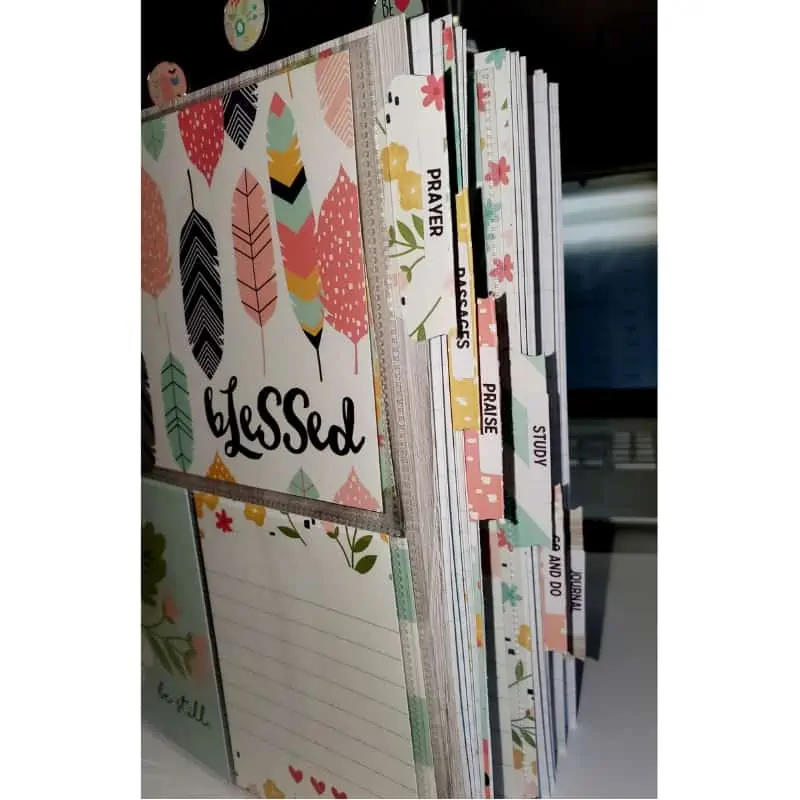 I also added some fun clips to mark my place in the book.

Finally, I begin to pray, praise and study the Word!
Here is one of my semi-decorated prayer pages.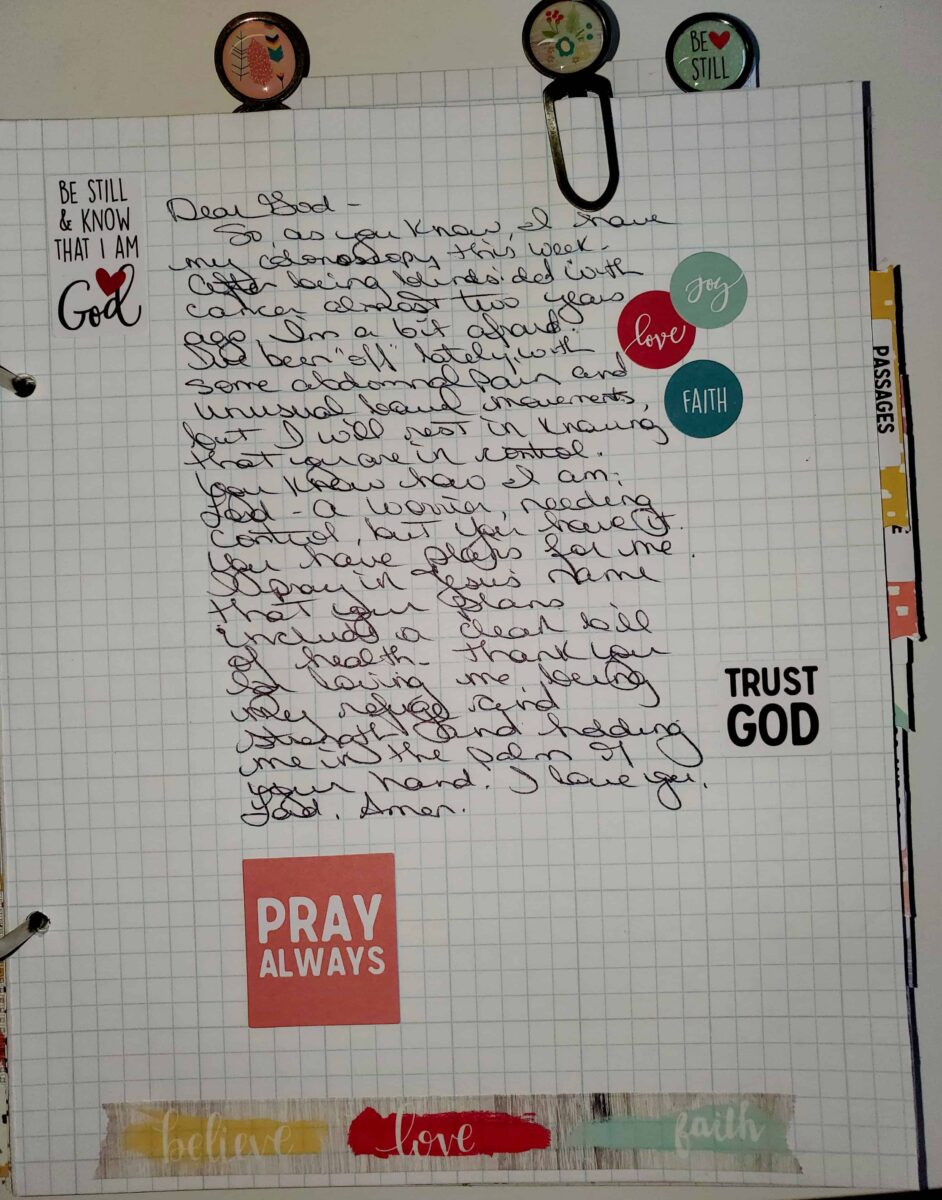 I absolutely love creating DIY prayer journals and war binders. To me, the creating is part of the worship. I don't worry that it isn't fabulous and Pinterest worthy. All I worry about is that it is pleasing to my Heavenly Father.
You may also like the Warrior Women: Creating a Custom War Binder for a Powerful Prayer Life.
Have you created your own prayer journal? If so, I'd love to see it!
Because of Him,
Sue