This page/post may contain affiliate links. As an Amazon Associate, as well as an affiliate of other programs, this means if you purchase something using these links, I will receive a commission on qualifying purchases at no cost to you! For more detailed information, please visit our Affiliate Disclaimer page
The story of Christ's birth has always been a favorite for me to read on Christmas Eve. I love how it brings our family together to celebrate Jesus' birth and Mary of Nazareth.
Mary's faith is truly amazing. What must have gone through her mind when Gabriel, the angel, approached her? How must she have felt when she learned that she and her betrothed, Joseph, were to raise the Son of God? What depths of sorrow did she endure while watching her Son die on the cross?
While there are many lessons we can learn from Mary of Nazareth, I'd like to share just thirteen of them with you today. But, before we do, let's recap Mary's story.
The life and times of Mary, mother to Jesus, will be remembered through our lives on this earth and in heaven. Her importance in Christianity cannot be understated- she is one of the most influential figures in the Bible.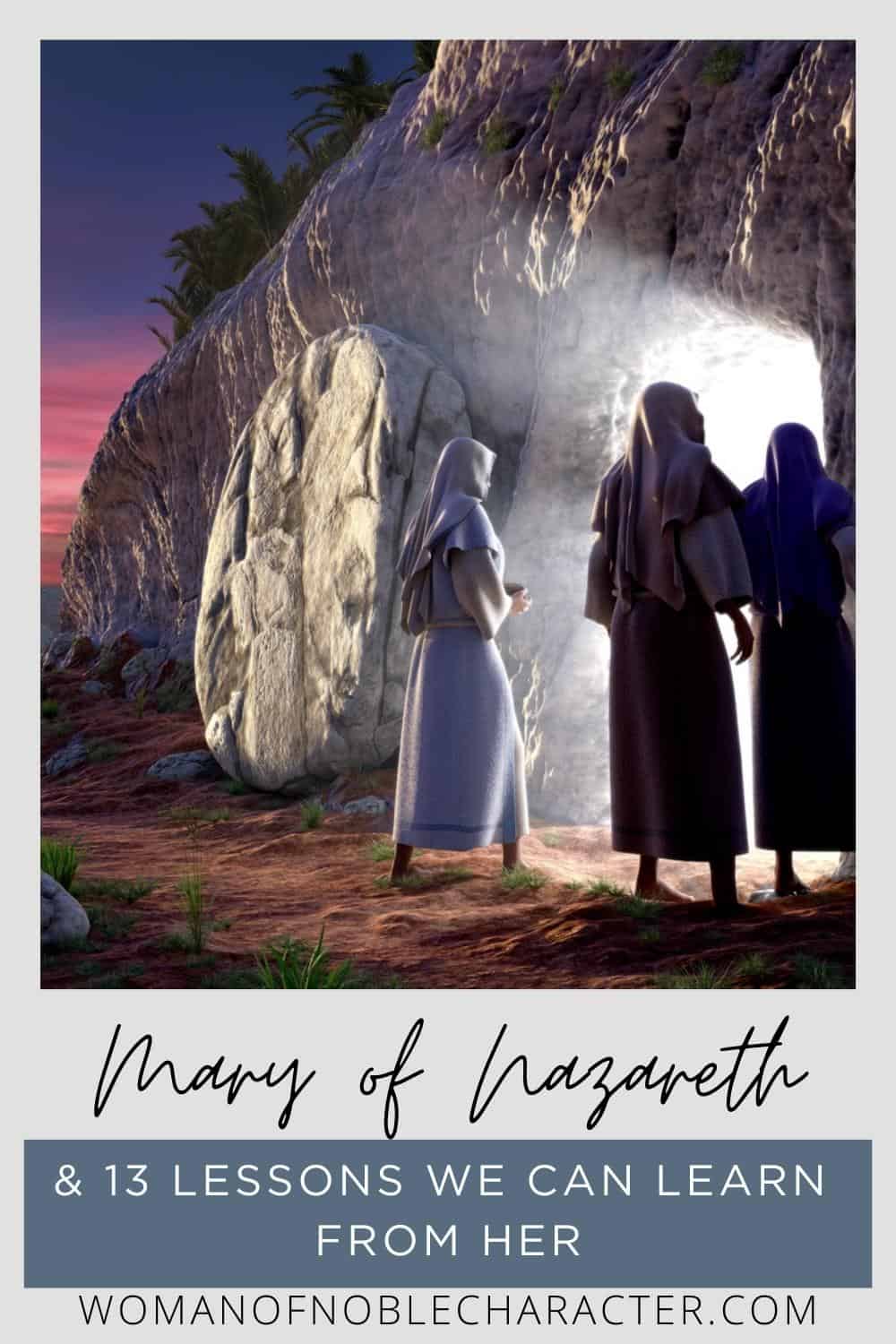 She was the Virgin Mary, chosen by God to bring forth Jesus Christ.
She is revered among many religions, venerated by others, and has been given specific honor in Christianity.
Mary, or Miriam as she would have known in Hebrew, is an endlessly fascinating woman, but she has been interpreted differently by every culture she's ever touched. Mary of Nazareth has been portrayed in stories, icons, sculptures, paintings, music, songs, prayers, liturgies, spiritual writings, theologies, and official Church doctrines.
Mary of Nazareth (ca. 18 BC-AD 50) was just a girl, about fourteen years old when she was betrothed to Joseph. Her home in Nazareth was a dusty backwater town in Galilee known for producing troublemakers.
One day Gabriel, an angel and a messenger from God, came to Mary and informed her that God chose her to conceive and bear God's Son, who she would name Jesus.
When Mary heard the news, her world turned upside down. She had just been betrothed to Joseph -a carpenter from Nazareth- and now she's pregnant with the Son of God! Fear was her first response. The presence of this divine messenger scared her. She wondered: How would she explain this to Joseph? What would her parents think? What would the community think? Why did God choose her?
The angel's response to Mary was elegant and touching. It showed that even though she had never been with a man, her faithfulness could still bring God joy in heaven above as well to the people on Earth.
Gabriel's reply must have convinced Mary of Nazareth that he was indeed a messenger from God. The angel's last sentence probably helped to persuade Mary: "For nothing will be impossible with God." She immediately replied:
Mary's response to God was an act of faith and trust. She took a step in obedience, saying "Yes." When we respond to God with yes without question or analysis, our lives become better because He is there working on His plan for us and humanity.
Unfortunately, Mary has been virtually ignored in many Christian churches today. She has been pushed to the edges of the story of salvation. But Mary of Nazareth plays a critical role in God's plans to save the world. Not only did she carry God's son in her womb, but she was also the one who nursed, mothered, and raised Jesus into the man who changed the world, the Savior and Lord of the universe.
The first follower of Jesus Christ was God's chosen vessel, Mary of Nazareth. As God took on human form to live among us to carry out His plan of salvation. She trusted her life with God. Mary was among the circle of disciples he gathered around himself. When Jesus was abandoned by his followers at the cross, Mary was among other women who never left him. Mary of Nazareth, Jesus' mother, and Mary of Bethany were among the first people to see Jesus after he rose from death.
Mary is a perfect model for us as we strive to be Christ-bearers in the world. God has a unique plan for each one of you. You are all chosen and called by him to be like Mary of Nazareth, the mother of Jesus. When we look at Mary, it is clear that God wants Christ to grow and be seen in each of us. If you are a follower of Christ, then your life should be an offering. You bear him in the world and offer Him to others.
We bear Him in our hearts as Mary bore Christ into the world. And, like Mary of Nazareth, God comes to us with the assurance that "nothing is impossible with God" (Luke 1:37). We face our fears head-on and overcome them through hope in Jesus. As Christ's representatives in the world, we live as God wills it, and Mary's song becomes our song.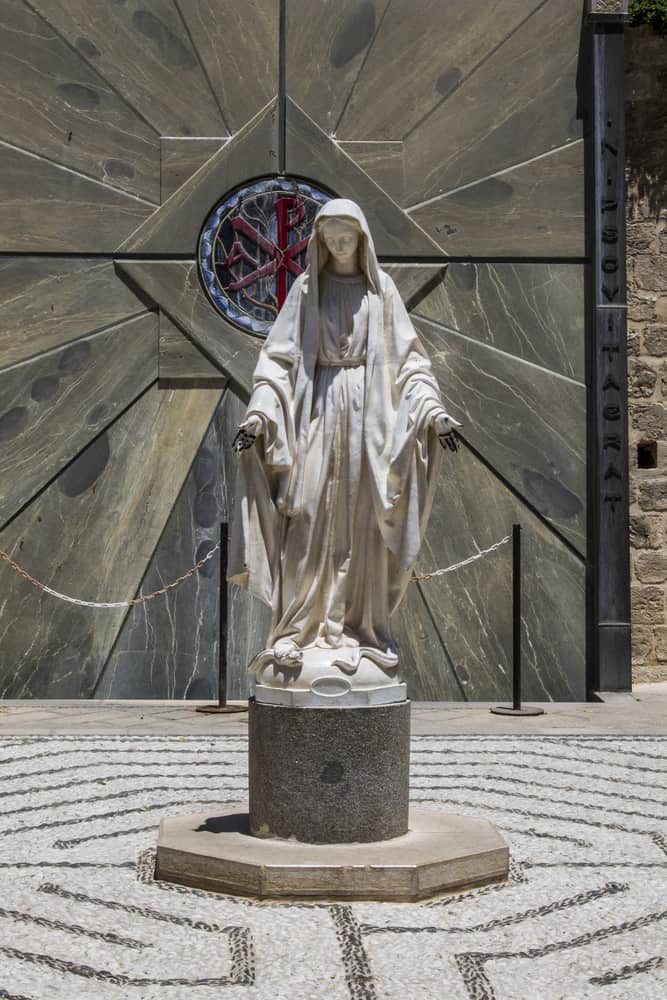 Mary of Nazareth's Song of Praise: The Magnificat
Thirteen Lessons We Can Learn from Mary of Nazareth
Say "yes" to God's plan for your life. Mary was a humble, obedient, and submissive woman. Are you willing to say, "yes, Lord," to whatever task He calls you to? Are you ready to be an obedient and faithful servant?
2. Be prepared to be used by God. Mary was an unwed young woman from Nazareth with low social status, but God didn't seem to mind. Mary of Nazareth is one in a long list of regular people, sinners, and those who felt inadequate (Moses, Rahab, David, Jonah, Naomi, for example) that God used to fulfill His promises and carry out His plan.
3. Turn to Jesus for Help. Mary of Nazareth turned to Jesus for help when she needed help. When you are facing an issue or need in your life, where do you turn for guidance? Do you seek Jesus first or turn to others? Do you try to solve it all on your own? Do you worry and fret? Do you point others toward Christ?
4. Know and Live God's Word. The life of Mary of Nazareth is an example for all Christian women. She was most likely illiterate, but she still heard God's word and kept it hidden in her heart. How well do you know God's Word? Are you able to speak the Words of His truth to others? Is your time in the Word an essential part of your day?
5. Be filled with the Spirit. The presence of the Holy Spirit is manifest in our lives; there's nothing we can accomplish without His power. Do you tap into the power of the Spirit, or do you rely on your strength to get through difficult situations and trials? May we submit our lives to Him working in and through us just as Mary of Nazareth did.
Warrior Women: Creating a Custom War Binder for a Powerful Prayer Life
6. Put your faith in God. Her cousin Elizabeth described Mary of Nazareth as the one who had believed, despite her husband Zechariah's doubts.
The father of John Baptist did not believe what Gabriel said about him being born with a son, but Mary had great faith; She believed His word and trusted in God even when others did not.
7. Be Quiet Before the Lord and Show Gratitude Toward Him. Mary of Nazareth's life was full of hope and gratefulness before the Lord. She spent time daily meditating on what He had done in her life. How often are you truly quiet before the Lord, remembering all He has done and is doing in your life? Do you take the time to meditate on His Word?
8. Mary of Nazareth was a chosen vessel of the Lord. If you are a believer, you are a chosen vessel God uses to fulfill His plan and purposes. God has called you to be a channel of His grace and blessing. As your God, He wants the best for each in His flock that he loves so much! Mary was chosen to give spiritual life to the Son of God, and we are chosen to give spiritual life and encouragement to others. Are you living an eternally focused life? Do you take the time to share the truth of the life-giving Gospel of Jesus Christ with others?
9. Mary of Nazareth was a woman of worship. Knowing that the road before her was going to be difficult, she praised Her Lord. Do you praise Him in and through all circumstances in our lives, both good and challenging?
10. Live your life as a servant of the Lord. Mary ultimately responds to Gabriel with the powerful words:
God used Mary to show us how we can be a living sacrifice. We should follow her example and make ourselves available daily for God's work.
11. Mary of Nazareth Trusted in the Lord and His timing. A virgin betrothed to be married to Joseph just had a visitation from an angel of the Lord telling her she is to give birth to the Son of God. How would you explain this to Joseph? Mary didn't try to convince him of this news. Instead, she let the Lord change Joseph's heart. How often do you feel the need to change our husbands instead of letting God do His work in them? Women are born controllers, but we need to learn to trust God and wait for Him.
12. Be a faithful servant. His mother, Mary, followed Jesus to his cross, showing that she believed in him even when others did not. Today, not many professing believers are ready to follow Jesus to the cross. Are you a true follower of Christ? Are you faithful to Jesus no matter the circumstances or the difficulty of what you may be called to endure? Unfortunately, many claim to be followers of Jesus but are deceived (Matthew 7:21).
13. Mary knew Jesus was dying on the cross for her redemption. Jesus was her son, but he was also her Savior. She also watched the child she loved die on a cross for the world's sins. Do you know that Christ died for your sins? Have you repented and put your faith and trust in Him and Him alone for your salvation?
Mary of Nazareth is an example for all Christians, regardless of age or stage in life. She was obedient to God and humble in the face of great adversity. As we reflect on her story, we can learn thirteen essential lessons that will help us live more faithfully. Which lesson resonates with you most? No matter what challenges you face right now, know that you are a chosen vessel of the Lord, and He is with you every step.
You may enjoy this movie of Mary of Nazareth. It's a compelling movie about her life and faith.
You may also enjoy one of these highly recommend resources for further study.
Walking with Mary: A Biblical Journey from Nazareth to the Cross by Edward Sri
The Women of Easter: Encounter the Savior with Mary of Bethany, Mary of Nazareth, and Mary Magdalene by Liz Curtis Higgs
Mary of Nazareth: A Novel by Marek Halter
ESV – "Scripture quotations are from The ESV® Bible (The Holy Bible, English Standard Version®), copyright © 2001 by Crossway, a publishing ministry of Good News Publishers. Used by permission. All rights reserved."